Have you ever heard of 360 lace frontal? Some may be familiar with it, but some may think it sound strange. Many women nowadays are craving for this type of human hair wigs. So if you are curious about 360 lace frontal, read through this article to understand more about it.
What is a 360 lace frontal?
360 lace frontal is the latest innovation in the hair industry. It often comes with a full lace covering the entire perimeter of the head. Unlike normal lace front that only can be applied at the forehead hairline, 360 lace frontal can create a 360-degree natural looking hairline.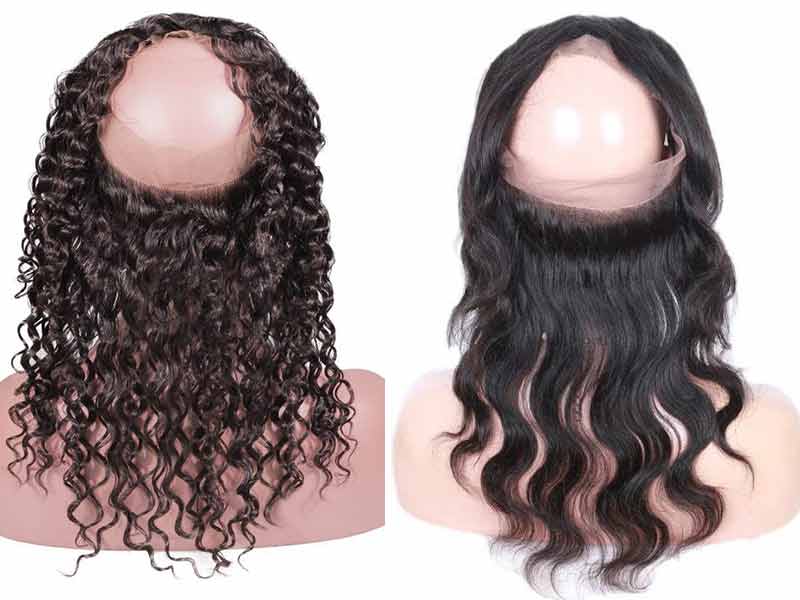 How long does a 360 lace frontal last?
In fact, it is not easy to answer this type of question- How long does a 360 lace frontal last? The answer will depend on the types of wig you choose. General, human hair 360 lace front typically lasts longer than the synthetic one. Moreover, the technique of installation and the way you take care of your hair also determine how long your lace frontal will last.
With proper treatment and care, sew-in 360 lace frontals can last at least 6 months. If your weave uses glue to bond, it can last up to 2-3 weeks a. And if you use the tape to apply your 360 lace front with bundles you should apply and remove it weekly since it is easy to slide off.
Similar posts:
Why you should choose a 360 lace front hairpiece?
Before making any decision, let's consider the pros and cons below related to 360 lace front first.
Pros
A 360 lace front can match perfectly with your skin tone, reducing the difference between your hairline with its lace. Hence it will be hard to detect that you are wearing a 360 frontal.
A 360 lace frontal can last at least 6 months with proper treatment and care.
A 360 lace front will add length and volume to your hair as you desire
A human hair 360 lace front hairpiece can be styled straightened, curled and dyed as your real hair.
360-degree lace piece, with special design, requires less weft and bundles, which can assist you to gain a full hair look but still saving your time and money.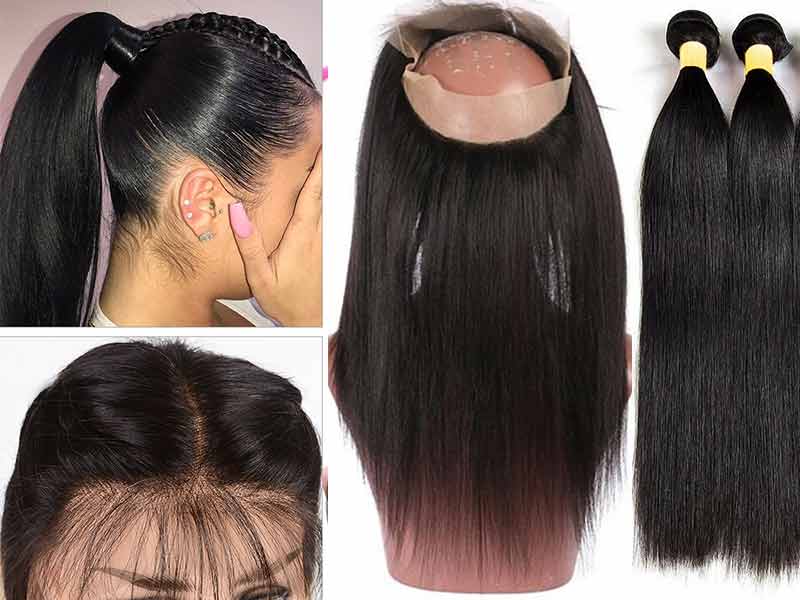 Cons
Lace front 360 with glue method can easily slip off sometimes
360 lace frontal can damage your scalp if you treat it improperly
The glue or tape just last about a week so you need to install and take it off frequently
The adhesive may irritate your skin sometimes.
So, if you want a long-term use, we highly recommend you to choose sew-in 360 lace front wig. This is because this method offers a longer installment so you don't need to remove regularly. If you are looking for a weave used in a couple of days, the tape-ins or gluing method can be more appropriate.
Note: The application requires high skills, hence, we advise you to have your hairstylist install it for you.
How to install a 360 lace frontal with bundles?
What you need:
360 lace front and bundles
C-Curve needle, hair sewing thread, glue or wig tape
Scissors
Weaving net cap
Styling Tools & Products
Installing steps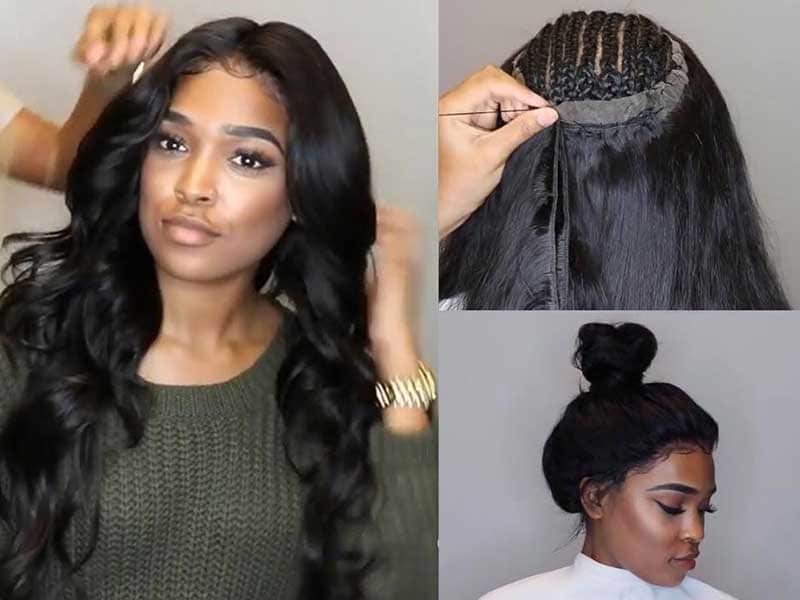 Step 1: Wash, condition and trim your natural hair if needed before applying. About your 360 lace front, dye or bleach the knot, cut off the excess lace to fit your head if needed.
Step 2: Braid your hair into cornrows neatly and tightly than place the wig cap on your head. Cut off the remaining cap if needed.
Step 3: Carefully place your hairpiece along your hairline.
Step 4:
If you sewing it in your head, thread the c-curve needle and start sewing from the back to front.
If you use adhesive to apply, start to bond the hair bundles with wig glue or tape from the back to upwards.
Step 5: After finishing, trim the remaining lace along your hairline and style your hair as you desire.
Read more:
How to take care of the 360 lace frontal with bundles?
You weave hair can be damaged by many factors so if you want to protect your hair and prolong its lifespan, note down the following tips:
Wash and condition your hair with 360 lace front wig bi-weekly.
Detangle your hair before washing.
Avoid rubbing, scrubbing your hair while cleansing it, just gently massage.
Dry the hair thoroughly after washing, do not live it wet or damage while you sleep
Wrap it with a satin scarf while sleeping to prevent breakage or frizziness.
Do not overuse styling or hair care product, ask your hair seller for the appropriate styling methods.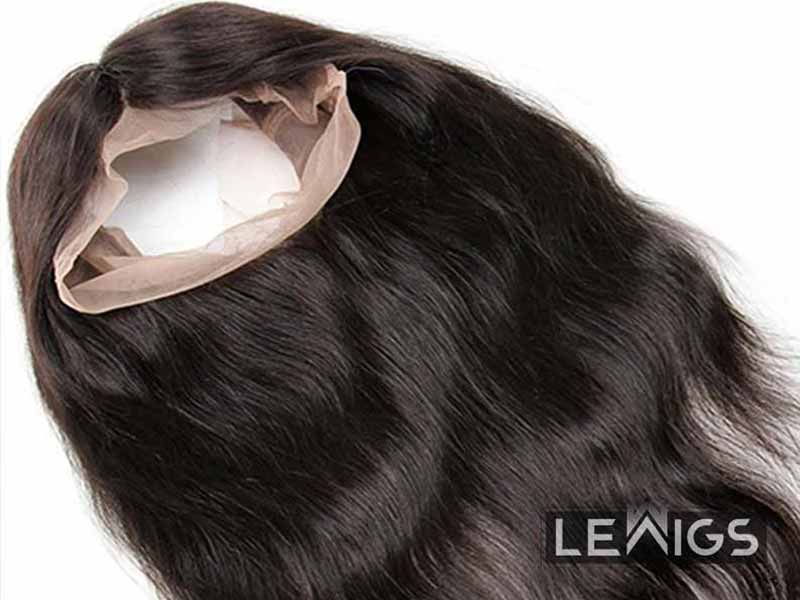 Where you can buy high-quality 360 lace frontal with hair bundles?
If you want to know where you can find a great 360 lace front with human hair, Lewigs will be the best decision for you.
All of our hair wigs are made of hair gathered from Vietnamese and Cambodia virgin human hair that is durable, strong and natural-looking. Therefore, once you get to us, you will never regret.
We also offer your high-quality 360 lace frontals and human hair bundles at a very good price that you can find nowhere to do that for you.
If you have any questions, just contact us. Our professional customer service team will try best to answer you in the shortest time
Our conclusion
We do hope that the information we provide you can help you understand more about 360 lace frontal and hair bundles. Note down what you think is good and share it with your peers, you all may need it in the future. We still advise you to have your hair professional to install 360 lace frontal for you.
If you have any other questions about your 360 lace front or you want to learn about other types of human hair hairpieces, feel free to tell us.
Don't forget to follow Lewigs' blog right now for more useful and interesting articles!
Thank you for your time!