Afro hair weave is the most popular hair product for almost all black women. With this curly pattern, you can switch up your hair drastically without killing your natural locks. Following our post to answer these questions What is afro curly hair weave? or Why should use and where to purchase a reasonable afro weave human hair?
What is afro hair weave?
Afro weave hair looks so special and fashionable. People also call it a curly afro or afro kinky hair weave. The afro is a natural hair texture in people of African ancestry. Sometimes, it can be found in some areas of Oceania and the southeastern region of Asia. 
Compared to straight or wavy hair, afro-textured hair appears with tightly coiled and denser. It is naturally dry and spongy in texture. The weave may come in different forms, like spirals, coils, loops, or zig zags.
Wearing hair weaves is a discrete method to put on more hair to your mane. The technique involves sewing weft tracks into your natural locks once it has been neatly braided. We suggest using human hair extensions for afro hair as it comes up with a natural look and is long-lasting.
Why black women wear afro kinky human hair weave?
In fact, most African women have naturally curly hair. Hence, they use afro hair weaves to get a thicker hair look and easily blend their existing hair. Here're some reasons why this hair is preferred by women:
Similar posts:
Ease of use
Afro curly human hair is designed to be utilized for a short time. So you can easily install and take it off. The weave is a low commitment option allowing wearers to change their hair. If you are unsure about the application technique, either ask for your hairstylist to do it. This also works for people who like to switch up their hairstyles. 
Add more length and volume
Weaves with afro texture can add length and volume where you want it. The hair can hide all your thinning areas and balding spots on your scalp. Whether you want short or long hair, weaves are available to help you adjust and improve your hair look without waiting for curls to grow.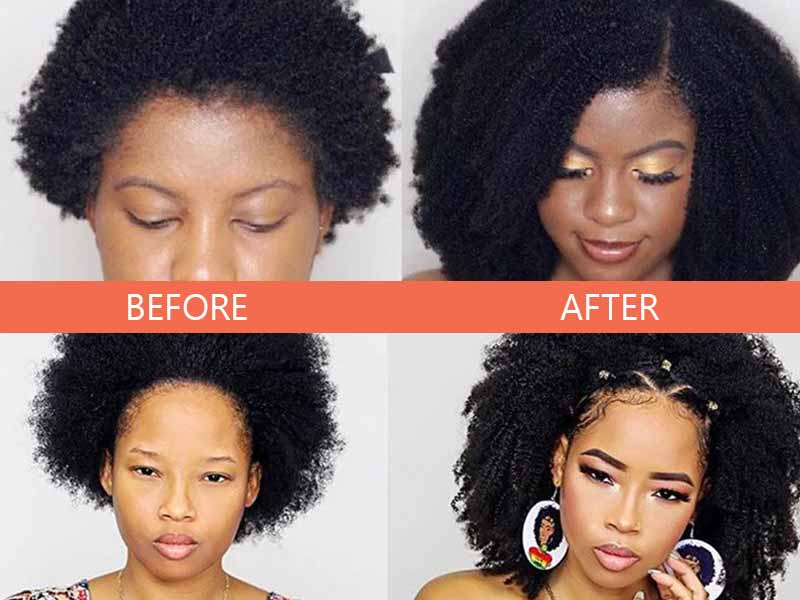 Curly afro weave hair is low-maintenance
You don't have a lot of time to style or care for the hair. You are looking for a low-maintenance solution, opt for this weave. It helps save you time for time-crunched mornings. All you really to do is keep the hair free of tangles and go. You can relax and enjoy your morning without spending precious minutes styling your mane.
Offer a protective style
In the case of sewn-in curly afro hair weaves, your curls are braided close to the scalp. It means that the weave will cover your existing hair, protect it from dirt, styling tools, and other elements. Your hair strands will not suffer abuse from chemicals and heat processes.
Therefore, hair weaves are a good option to prevent your natural hair from dryness and split ends. If you are craving a trendy and unique look, just wear a natural afro hair weave. No need to style your existing hair, you still get your desired look.
Not only black women, beauties across the world also head over heel in love with this hair weave texture. Instead of waiting for hair growth or styling tresses, just simply apply the weave to your head and get your style repertoire. If you have never thought about wearing an afro weave human hair, it's time to try.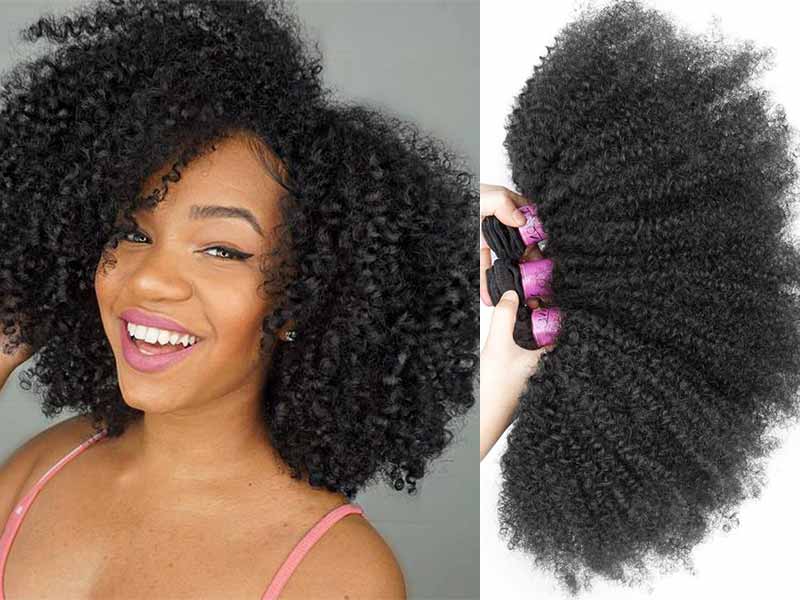 So how to maintain afro weave hair extension? Because the curly afro texture is quite coarse and not your own hair, please care for it. Detangle is the first but essential step to keep the weave in a good condition. This hair is more prone to get knots; hence, use a wide-toothed comb to get rid of all tangles. Next, shampoo and deep condition the weave to cleanse and moisturize all hair strands. Opt for hair care products that are specially designed for human hair extensions. Just use cool water to rinse out the hair thoroughly, since hot water will dry the hair out quickly. 
Jump to:
Lewigs – A Trusted Destination For Purchasing Afro Weave Hair Extensions
With years in this field, we are a wholesale hair vendor supplying human hair systems and weaves. Buyers are assured when getting our hair as they are manufactured to fit a variety of heads. Our human hair weave and other hair pieces come in different lengths and colors, so you are able to get the best one. 
We also supply afro hair weaves processed from high-quality strands. They provide a natural look as well as long-lasting shine. As it is made of real human hair, feel free to sew-in it directly to your natural locks. Or if you use the quick weave method, you can feel comfortable to wear the weave as it is lightweight. Our afro textured hair weave is tangle-free since all hair cuticles are kept running in one direction. We believe that the hair can meet all high requirements of fastidious wearers.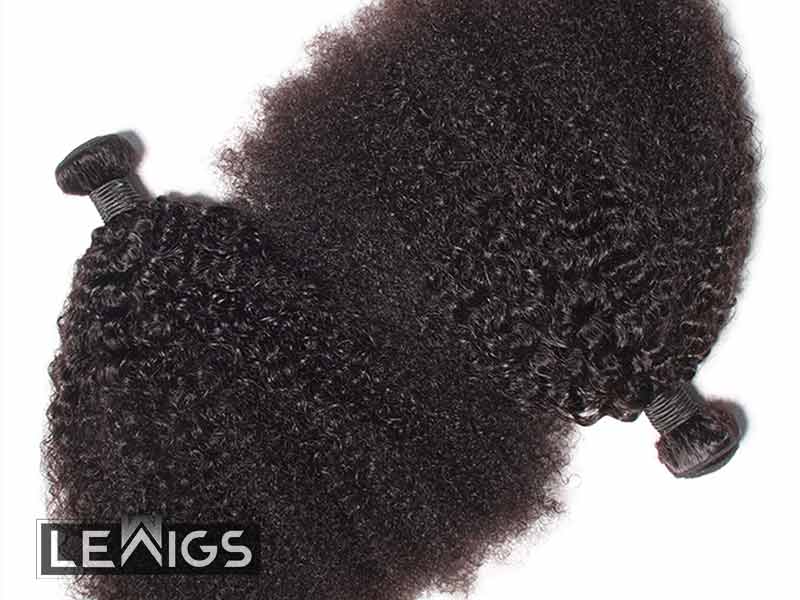 How much does the best afro weave hair cost? You will receive tons of results when searching for the hair price. This helps you easily compare the hair price that hair sellers offer. At Lewigs, we supply prominent hair items at affordable prices. No matter where you are living, we are ready to serve and meet your needs.
Additionally, we commit to gives professional services. If you have any questions or queries about human hairpieces and extensions, reach us, and we will bring you the most satisfaction.
Last but not least
We hope that the article brings you everything about kinky afro hair weave and where to purchase it. However, don't ignore your own curls because you have weaves. You have to care for your tresses, including shampoo and condition it. Leave the afro hair weave in no longer 6-8 weeks to avoid the hair shedding. 
Interested in hair weave or any hair systems, visit our well-built blog to get more interesting information.