Owning beautiful hair is everybody's dream. However, there are various causes that break this dream and create hair damage and hair loss: We want to use hair styling tools to get a new hairstyle or a new hair color. We have a bad diet that lacks nutrients. We stay up late. Or we are suffering from pollution, stress or aging, etc. Having ugly hair may reduce self-confidence, resulting in other physical and mental health problems. Therefore, we can see thousands of hair care products on the market today. However, do you know that you can find a way to improve your hair condition in your kitchen? That's right! The answer is that apple cider vinegar for hair.
In our article, Lewigs would like to talk about the great benefits of apple cider vinegar for hair. Is apple cider vinegar good for your hair and what does it do for your tresses? Let's see how this simple ingredient may surprise you.
What Is Apple Cider Vinegar
Apple cider vinegar (also called cider vinegar) is a type of vinegar made from fermented apple juice. We often find it in salad dressings, marinades, chutneys, etc.
Due to being rich in enzymes, amino acids, minerals and vitamins, apple cider vinegar is a home remedy for reducing cholesterol, regulating blood sugar, fighting against cancerous cells, preventing hypertension and reducing weight.
Besides the health benefits, people can use apple cider vinegar for beauty purposes such as improving skin and hair conditions. No matter what type of your locks is, apple cider vinegar can help you solve the problem. It is beneficial for natural hair, colored hair, curly hair, oily hair, and greasy hair also. 
Other topics:
Benefits Of Apple Cider Vinegar For Hair
Reduce Dandruff
We all know that dandruff appears due to fungus. Instead of using anti-dandruff products, why don't you choose apple cider vinegar? According to many dermatologists, apple cider vinegar has antifungal properties and anti-inflammatory properties. Besides, apple cider vinegar controls the fungus growth by maintaining the pH level balanced on the scalp.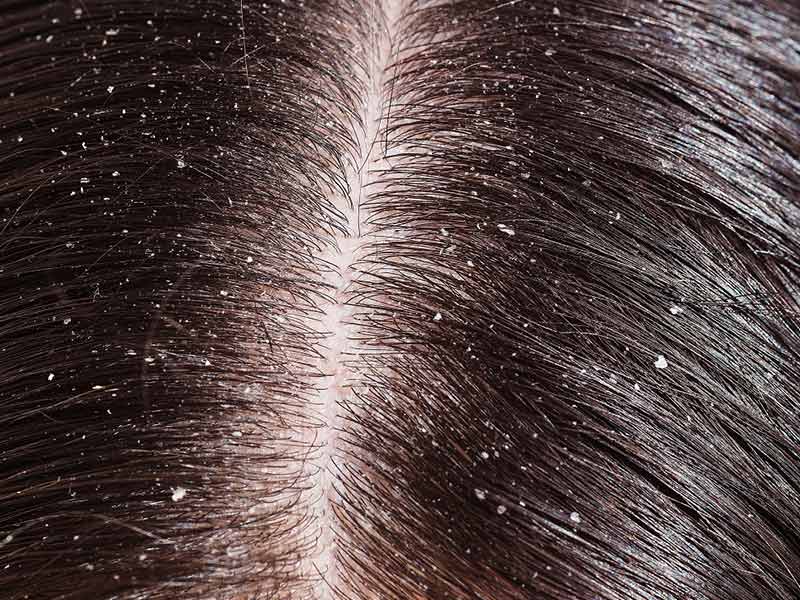 Treat Itchy And Dry Scalps
Bacteria creates crusty flakes on the scalp because hair follicles are clogged. Apple cider vinegar is famous for keeping the scalp healthy. It may reduce dandruff meaning that it is useful to reduce the itchiness and irritation caused by dandruff. Furthermore, the anti-inflammatory and antimicrobial properties in this vinegar may combat the yeast and irritation leading to the build-up of dead skin cells, flakes, and itching.
Bring Shiny Hair
You have long hair does not mean that you have beautiful hair. Do you think that you should apply apple cider vinegar to make your tresses more attractive? Believe us, using this easy-to-find ingredient will help hair feel smooth, soft, and shiny due to a large number of vitamins and minerals in it. Meanwhile, certain highly alkaline or acidic shampoos may cause hair to become dry, brittle and break off more easily.
Prevent Hair Loss
If hair loss lasts for a long time, you may get baldness. The healthier your scalp is, the less hair you lost. Thanks to owning the active enzymes and malic acid that have antiseptic properties, apple cider vinegar prevents the growth of yeast and bacterial infection causing hair loss.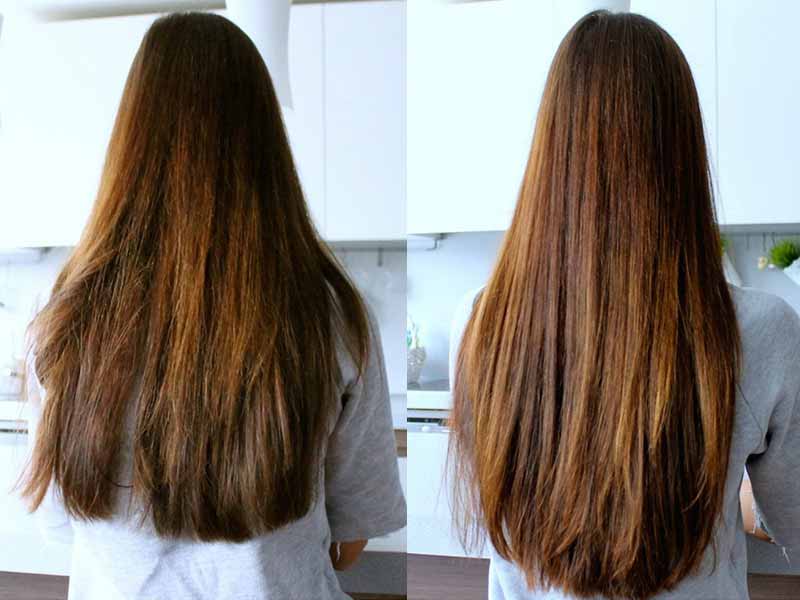 Boost Hair Growth
It is good news for anyone who has thin hair. It is time to try to use apple cider vinegar for your hair. Along with reducing hair loss, apple cider vinegar is an effective way to promote hair growth. The reason is that this easy-to-find ingredient may act as a skin exfoliator and pH keeper. Additionally, apple cider vinegar promotes better circulation to your hair follicles, then essential more nutrients go to the follicle cells. Therefore, if you are finding a method to make your hair thicker, you can try apple cider vinegar for thinning hair.
How To Use Apple Cider Vinegar For Hair
The method is very simple. You can make apple cider vinegar rinse as following:
– Have a mixture of water and a couple of tablespoons of apple cider vinegar
– After shampooing and conditioning, use this mixture to pour over your hair evenly
– Wait for a couple of minutes
– Wash it out carefully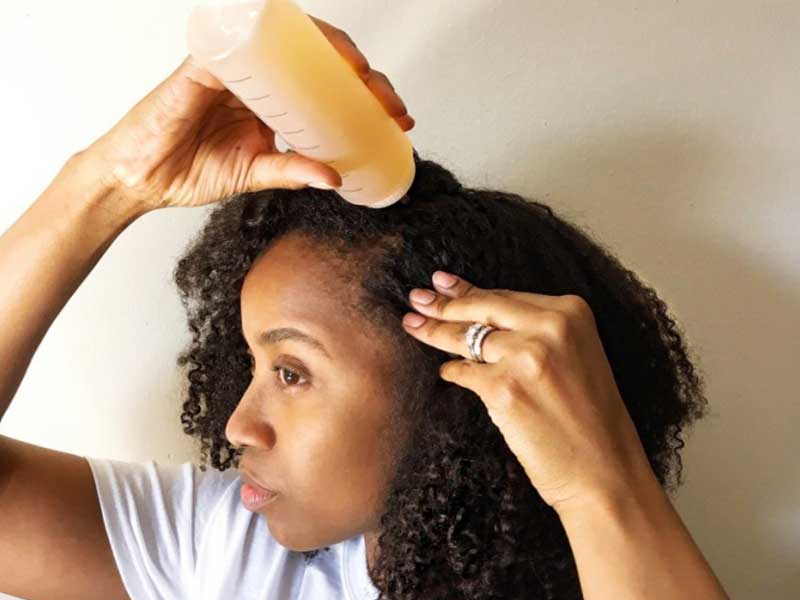 Precautions
Apple cider vinegar is a natural ingredient, so it is safe for almost everyone. However, some people may be allergic when using it. Therefore, check it carefully!
Moreover, there is some evidence showing that too much apple cider vinegar may cause chemical burns on your skin. As a result, remember to take a sufficient amount of apple cider vinegar to avoid burning feeling on your scalp.
Hair problems may be health problems' signals. You should go to see the doctor immediately if you suffer from those problems for a long time. 
Read more:
Hair Protection After Treating Hair With Apple Cider Vinegar
Using apple cider vinegar only is not enough to help you have beautiful breadth. You should be healthy from inside. It is essential to:
– Protect your hair from sunlight and other sources of ultraviolet light by wearing a hat when going outside
– Limit the use of styling equipment and devices
– Avoid hot water when washing hair
– Have a healthy diet: eat more vegetables and fruits, reduce fast food, drink enough water, etc.
– Avoid smoking and alcohol
– Keep stress in control
Instead of spending too much money on expensive hair care products, you can try some home remedies from natural ingredients. Apart from coconut oil, avocado, grapefruit lotion, etc., apple cider vinegar is a good choice.
Lewigs hopes that you get more information about apple cider vinegar for hair. We also have other hair care topics, please check them on our blog. Additionally, do not hesitate to give us your comments and questions. We always welcome your visit and will reply as soon as possible.