Wigs are a best friend for those with baldness spots and thinning hair. It is used to cover your all defects on your head and leave a realistic look. It is the easiest and fastest way if guys want to have a flawless look. There happen to be various types of wigs out there. Do you know all of them well? Have you ever heard about a bald wig? What it is and how to wear it properly? Scan through our post to answer the question about the bald spot wig.
About Bald Head Wig
As its sound, a bald wig is a type of cap mimicking the look of a partially bald head. Go down on the Internet, you can find a variety of this hair product from bald clown wig, bald wig with hair on sides, bald head wig with hair, and more. This wig is often used to make the wearer look older, sometimes it also creates fun for others. Bald wigs are easy to wear and versatile medium. It can be worn in children, the adult as well as the elder.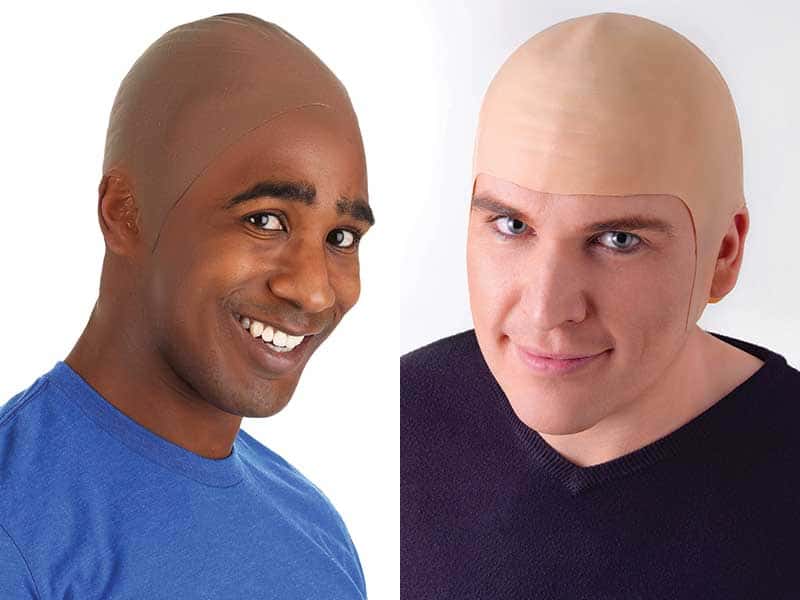 Just like other hairpieces, bald cap with hair can be purchased ready-made or you can make it by yourself. The users will use a liquid adhesive to attach a wig to a bald head. To make the wig blend with your skin tone and look realistic, you can use the make-up technique. Color medium is often applied to the hairpiece or bald cap wig as it is easy to blend the skin tones.
In the hair market, there are tons of bald hair wigs and hair vendors. You find it a little hard to find the best one. What standard is for the best hairpiece for bald head? Purchase the hair from a reliable and familiar seller, they will supply you good products. Pick a wig that is made of real human hair, so you can wear it many times.
Read more:
Bald head wig cap simulates the appearance of a bald head.
Sometimes, wearers choose a bald head cap wig to make up their heads. It is often made of good stretchy materials, simple and reusable. Plus, it is not easy to tear when you pull to cover the entire head. Fit perfectly. The cap is produced to fit adults as well as teenagers. It is easy to get on and you are able to adjust it to fit the head.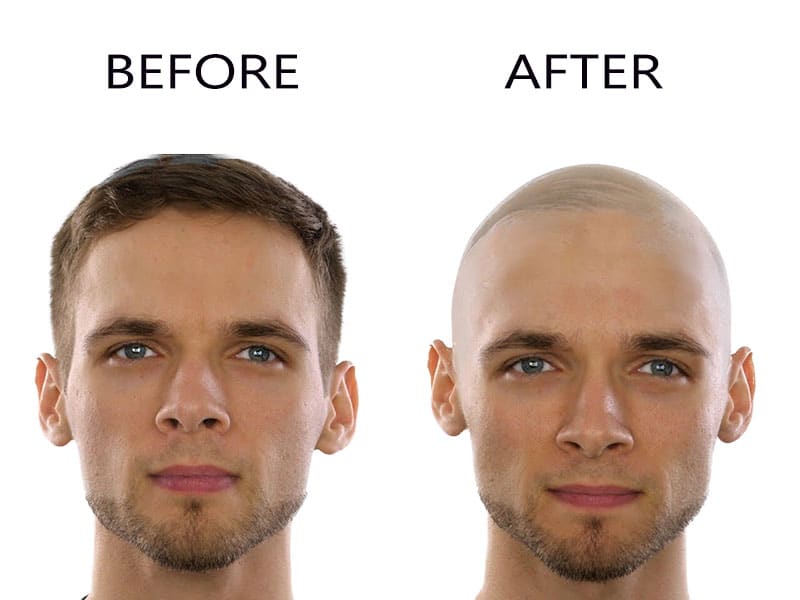 People use this for costume and it worked exactly as expected. It is a great product at a reasonable price. Besides, the wig cap for a bald head is great for putting under the wigs for a clean look. The wearers will not have to worry about the hair coming out under the wig. It can work perfectly to cover up your bio hair, it even had some people fooled into thinking you shaved your head.
How To Wear A Wig If You Are Bald
When you find the right wig, you have to know how to wear it properly. We going to show you guys how to apply a wig and make it look natural whole rocking up on your bald head.
Wash your scalp and spray scalp protector
Make sure that your scalp is clean before wearing a wig. Wash the scalp with soap and water to remove all dirt and oil from your head.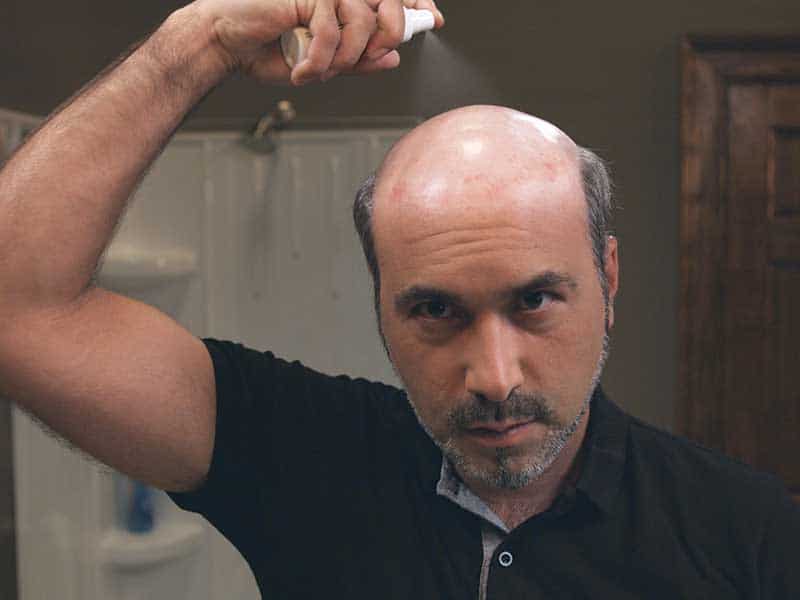 Don't forget to spray or apply the scalp protector on your scalp. It will create a barrier protecting your scalp from chemicals in adhesives. It helps wearers avoid skin irritation. What's more, it also mitigates skin oil-producing and moving the hair system around. Wait for 15 minutes until the protector is completely dry.
Wear a bald cap or not, it is all up to you. Put a wig cap on your head. This can keep all your natural hair in place. Opt for a bald cap wig that has the same color as your hair color or skin tone.
Apply adhesive
How to glue a wig to a bald head effectively? Use a small brush or your fingers to apply liquid adhesive to your scalp. Put the glue on the areas where you attach the wig. You should use an adhesive that offers a stronghold, so the hair can't be blown out when wearing.
To dry the liquid quickly, you can use a hairdryer at the cool level for 30-45 seconds. If the glue is moist, you can't keep the wig in the right place.
Wear a wig on bald head
It's time to put on the wig. Place the front of a hair system on the forehead and press it firmly. Keep the hair until it is completely steady on your head.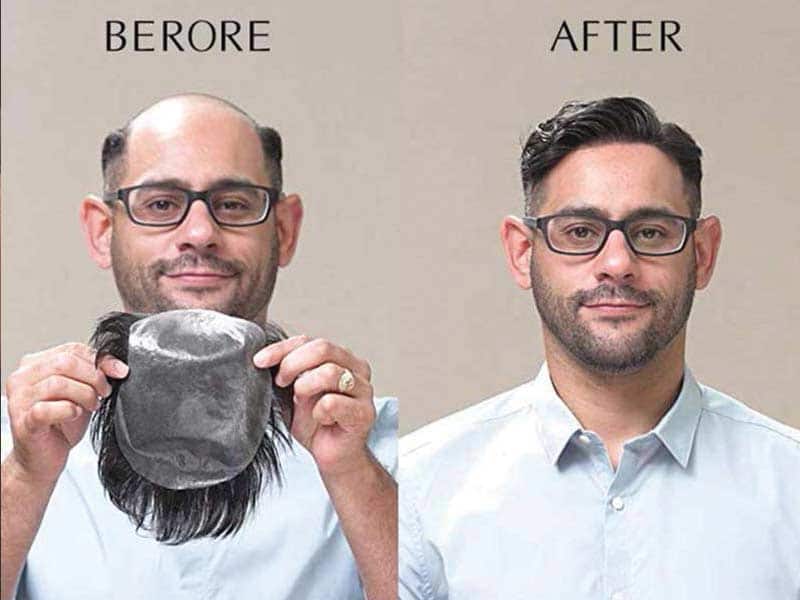 How to keep a hairpiece on a bald head? You should keep the pressure on the hair for about 1-2 minutes. Then press both sides and back of the hair wig over the areas where you applied the glue adhesive. Continue waiting until the wig is completely secured on your head. Finally, cut the excess lace and style the hair wig as you desired to have a finished look. Done! 
No use adhesive to attach a wig, how can I secure a wig to a bald head? There are different ways to keep it on bald head when wearing a glueless wig. Use an adjustable strap, clips, or even wig grip band. These methods are great for those who have baldness and sensitive scalp.
Jump to:
All in All
Lewigs hopes that our sharing about the bald wig is helpful to you. It is simple to maintain. With your proper care, the hair system will be incredibly durable. You can style them the way you are into.
Also, if you feel interested in getting other human hair wigs such as lace wig on bald head for your own, take a look at Lewigs' website. We have all excellent pieces of hair that could satisfy even the most discerning wearers.
Hope you enjoy!