For a long time, people looking at men who are both bald and bearded usually have had the same sense about them: brutal, quick-tempered, and 'bossy'. However, many women have different words to describe those bald heads with beard: attractive, smart, and dominant.
But how about those men? Are they feeling comfortable with this? Combining baldness with beard is such a difficult thing that requires certain techniques. It is also very dependent – each face shape needs different beard styles. If you are looking for an information source about this and how to choose the right combination, this post is what you need.
Bald With Beard – How Beneficial Is It?
There has been a misapprehension among men about bald heads with beard, especially when many hairstyles come in a wide variety of creative ways – people think that they are not attractive. However, throughout years, baldness with beard has come back to the world as a fashionable way to emphasize men's masculinity. If you don't see it as a fabulous combination, you may not know the reasons to try this out. Now we let you know about them.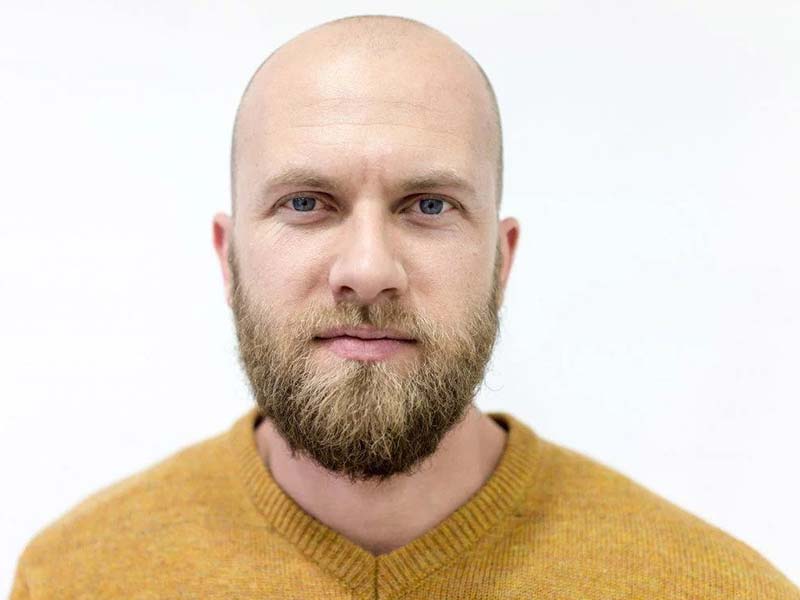 Help Achieve The Desired Face Shape
The main reason that many people concern about losing hair is that they cannot hide their head shape. Without the beard, your head will look like a 'deformed ball'. Sounds very terrible, right? You may think, 'I am confident with your head shape and don't need to hide it', then there would be some holes in your cheeks that you want to fill, or sometimes someone tells you that your round-shaped face will look better if it's longer a little bit. A good beard always works in these cases. 
Other interesting articles:
Help In Attraction
As mentioned above, shaving heads with a beard these days appear as one of the most fabulous ways to emphasize men's masculinity. So an outstanding look also explains its reputation. What's more, modern people usually pay more attention to unusual and unique appearances, so they always look for ways to create vivid individuality via various parts of the body, especially hair. It's not hard to see that the combination between bald head and beard is extremely extraordinary and creative. 
Help In Younger Look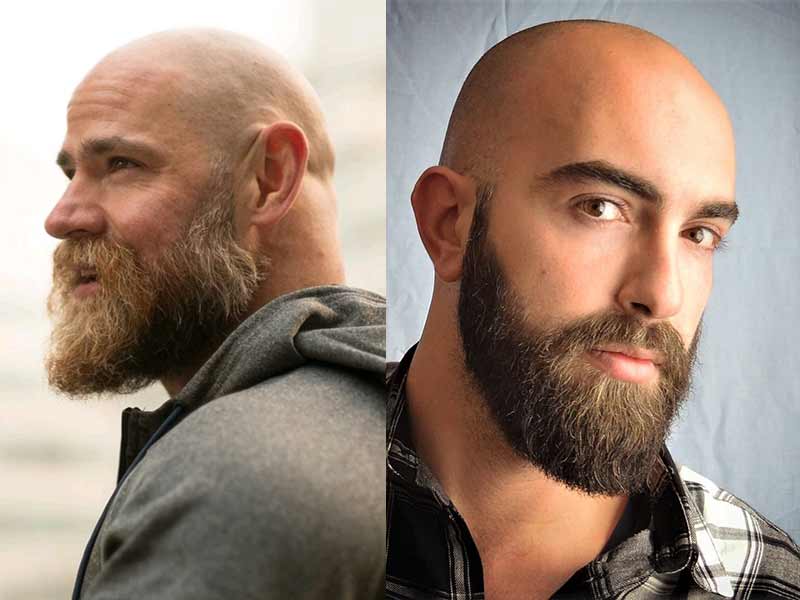 According to statistics, men do not pay much attention to bald with beard when they were young. It is understandable: young people usually prefer something trendy, few want to show their unique characters but in different ways, such as unique clothes, or unique hairstyle (with hair, of course). However, when reaching certain ranges of age, usually over 35, everyone comes with a natural desire about younger looks. The desire will even go stronger if they get problems with hair loss, which is very popular among middle-aged ones. Studies show that bald men will look younger due to the addition of a beard comparing to ones without beard.
Help Emphasize The Masculinity
This is what we mentioned above as one of the most popular reason for men to choose bald head with beard. We see middle-aged men trying to get younger look, then, guess what, we also see younger ones complaining about their childish look. Well, let's find them a solution – growing a beard. Yeah, a beard is the best factor that contributes to a mature look and, more than that, emphasize the masculinity of men. It's such a magic: the combination of a shave head and a great beard can helps middle-aged men look younger and, at the same time, helps boys look more mature.
Avoid Skin Irritation
Unlike women, men usually finish their skincare badly – they are getting problems with irritated skin and even ingrown hair. The reason is that the facial skin is much more delicate and vulnerable than that on the other parts of the body. Growing a beard will help in reducing damages that lead to skin irritation.
Hide Unwanted Chin
While a great beard can help a round-shaped face look longer, it also helps a lot in hiding an unwanted chin. Your chin is too long or a double chin makes you feel bad? Just grow a beard and it will hide all them out!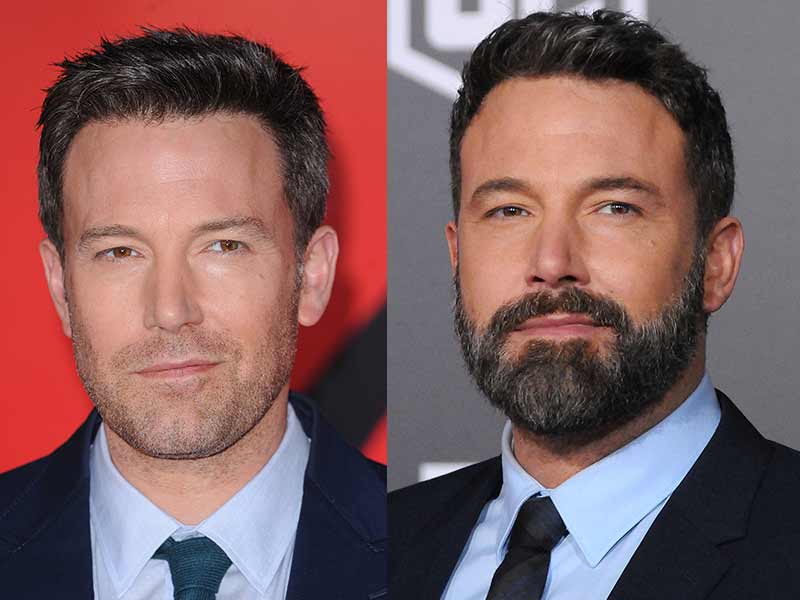 Bald With Beard For Popular Face Shapes
You just read about the ability of the combination between shave head and beard in adjusting face shapes and getting desired ones. Now we are going to know about how it supports those things.
Oblong Face Shape
This face shape comes with a very long and narrow bone structure. It needs a beard that helps in a wider look. Thus, the beard should be short and narrow following the laws of symmetry.
Our recommended beard styles for Oblong face shape with a bald head are Mutton Chops, Imperial, and Boxed beard.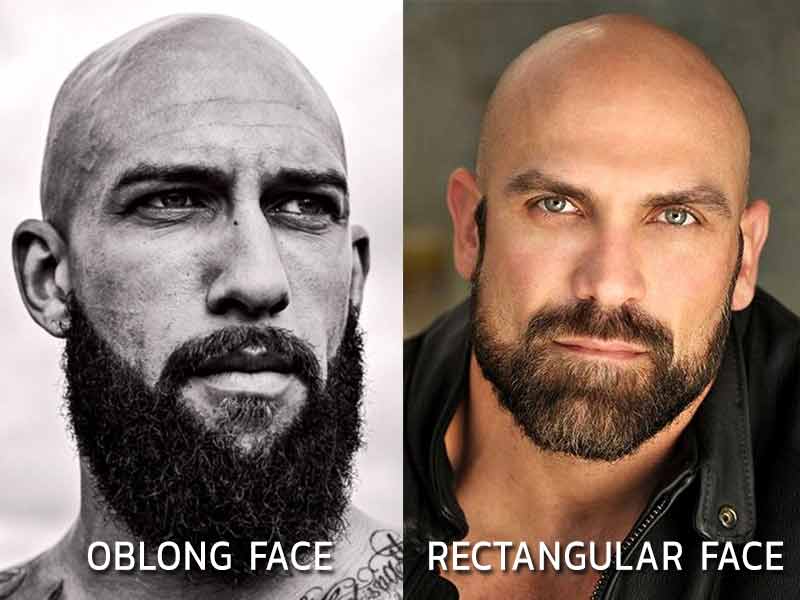 Rectangular Face Shape
Rectangular face shape have many similar points as oblong shape, except its angular jawline. With this face shape, we have more suitable beard to recommend: Full beard for a 'tough guy look', Chin Curtain for a manly look, and Extended goatee for a well-performed look.
Other inspirations:
Round Face Shape
This is a face shape that needs a great beard a lot. It comes with full cheekbones and wide hairlines, thus being quite too short for some people. A beard add extra lengths to your face; thus making it look better.
Our choices in this case are Goatee (Including classic Goatee, Half Goatee, Extended Goatee, full Goatee, and Goatee with moustache), Stubble (including classic Stubble and light Stubble), Chinstrap beard, and Soul patch beard.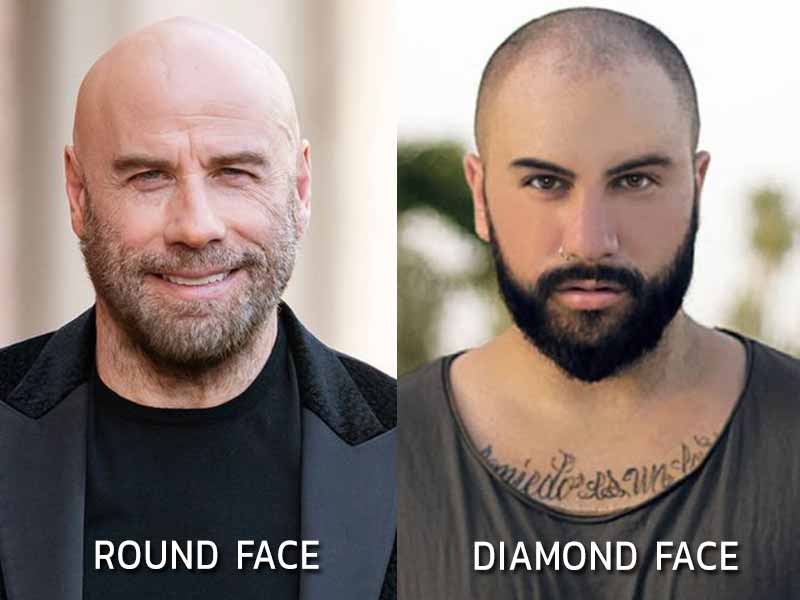 Diamond Face Shape
The diamond face shape comes with a narrow forehead and chin and wide cheekbones. Great beard styles for this should 'fulfil' the chin with narrower sides such as full beard, Balbo beard, Chinstrap beard, and Goatee beard.
The Bottom Lines,
Now you know a lot about bald with beard which comes as a fashionable and fabulous way to emphasize men's masculinity, achieve desired look, avoid skin irritation, and hide unwanted chin. We also gave you some recommended beard styles with shaved heads according to certain face shapes.
Finally, we hope that you would find this post useful and have a nice day.