No one wants dandruff appears on their heads. A dandruff shampoo could be a good solution but the thing is that there are various brands of shampoo for dandruff and you may be confused with it. Moreover, dandruff happens mostly on dry skin. So Lewigs decide to share with you the best shampoos for dry scalp and dandruff, which have good effects on any kind of human hair as well as dandruff.
What shampoo is good for dandruff? Here are some worth-mentioning names.
Nizoral A-D anti-dandruff shampoo
Nizoral A-D is the best dandruff shampoo for men and women as well to fight with flakes or dandruff. It is formulated with a small amount of ketoconazole (about 1%). Ketoconazole links with your hair protein to kill dandruff and give your manageable and shiny hair.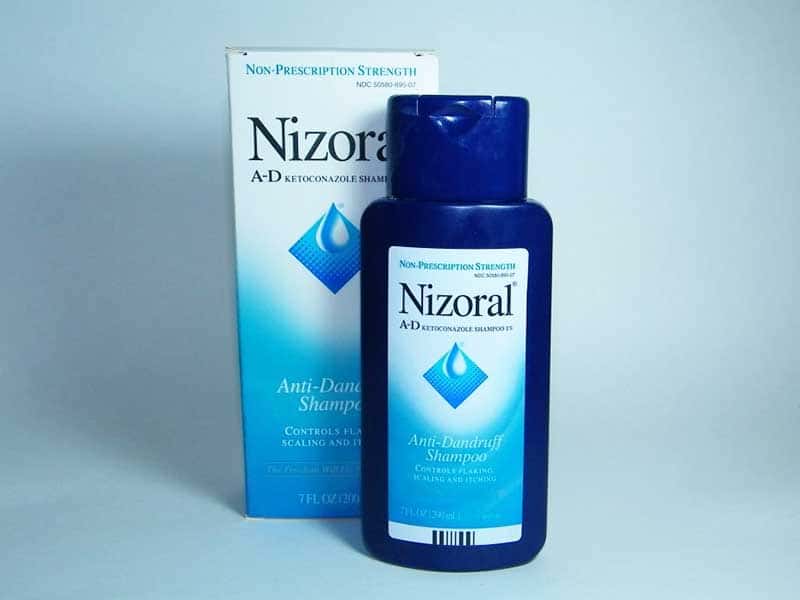 Moreover, this is the shampoo for color-treated hair and chemical processed hair since it is gently. It is also Clinically proven that Nizoral anti-dandruff shampoo will prevent flaking, scaling, and itching triggered by dandruff.
It is suggested to use twice a week. Wetting your hair before applying a proper amount of this dandruff shampoo, massage gently and wait for 2-3 minutes then rinse out well. You can see the result after the first use with a fresh small left on your hair.
Phyto Dandruff Treatment Shampoo
This dandruff shampoo is designed with chemical exfoliant which helps to purify and eliminate dead cells away from your scalp. It also contains soothing ingredients that benefit in relieving the seriously itching feeling while preventing dandruff from happening another time. Phyto Dandruff Treatment Shampoo will give your deep clean scalp after every use because it contains anti-fungal and anti-bacterial benefits and free of silicon.
To use this dandruff shampoo, first wet your hair, take a small amount of shampoo then lather it. Wait for 2 to 3 minutes then rinse out well. You can use it daily without the fear of drying out your hair
Philip B Anti-Flake II Relief Shampoo
Unlike the two anti-dandruff shampoos mentioned above, Philip B Anti-Flake II Relief Shampoo kills dandruff and psoriasis by using zinc and coal tar instead of ketoconazole or chemical exfoliants. This shampoo helps to moderate a dry or oily scalp. Moreover, it also slows down the process of cell drying or flaking.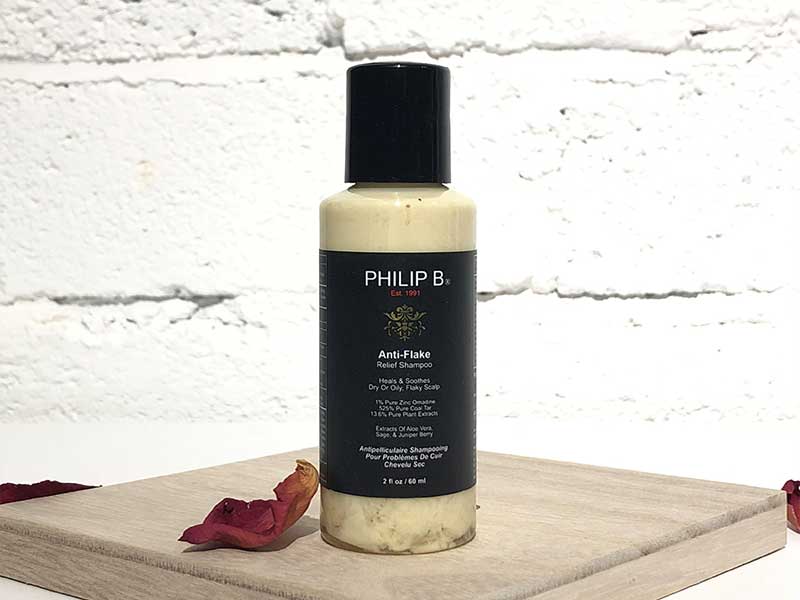 To get an effective result from this shampoo. First, shake well the bottle. Take a small amount onto your hand then lather it thoroughly on your head. Massage gently from 2 to 3 minutes or little more before rinsing well with warm water. For a better outcome, you can combine using this shampoo with a mild deep condition or toning mist for detangling hair.
Similar posts:
Sachajuan Scalp Shampoo
This is the best dandruff shampoo for women and men formulated with Piroctone Olamine and Climbazole. Sachajuan help to eliminate dandruff and ease the itching and irritating feeling. Moreover, it also has Ginger extract, Menthol, and Salicylic Acid as main ingredients, which nourish your hair from the root and balance oil on the scalp. Sachajuan Scalp Shampoo not only removes dead cells but also promotes the growth of the new one. Therefore, your hair skin always looks healthy and fresh. This may not the best anti dandruff shampoo but it brings out the most satisfying experience.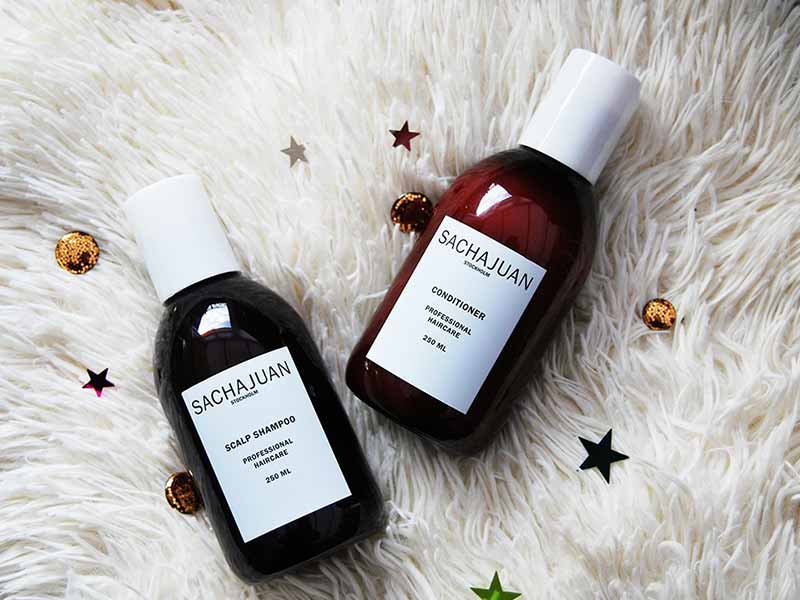 For the best result, wetting your hair before applying a small amount of shampoo, combining massage gently the scalp then leave it for 1-2 minute and rinse out with cold or warm water
Neutrogena T/Gel Therapeutic Shampoo
Neutrogena dandruff shampoo contains 3 famous fighting dandruff ingredients, namely Neutar, Salicylic Acid, and Zinc Pyrithione. Neutar will have you slow down the rate of cell death and prevent potential inflammation. Salicylic Acid will help to split flakes into small pieces, which make them invisible and easily-removed. Zinc Pyrithione will relieve the itching feeling and ease the irritation caused by dandruff. This dandruff shampoo is highly recommended by a dermatologist since it provides you clean and healthy scalp just after first use.
As usual, wet your hair first then lather the shampoo, gently massage in 2-3 minutes then rinse out. It is better to use it twice a week for a great outcome.
BRIOGEO Scalp Revival Charcoal + Coconut Oil Micro-exfoliating Shampoo
This dandruff shampoo has won the Allure Best of Beauty award due to its magical functions. As other anti-dandruff shampoos, it helps to get rid of buildup, relieves the itchy and irritated feeling as well as moderate the oily or dry scalp. But the key ingredient of it is different, it uses charcoal- and coconut oil-infused to solve your hair problem. Hence it can be the best organic dandruff shampoo due to its vegan ingredients. This BRIOGEO shampoo also contains tea tree which helps to clean your hair well and prevent inflammation. Enriched with vitamin, this shampoo also nourish your hair from the root.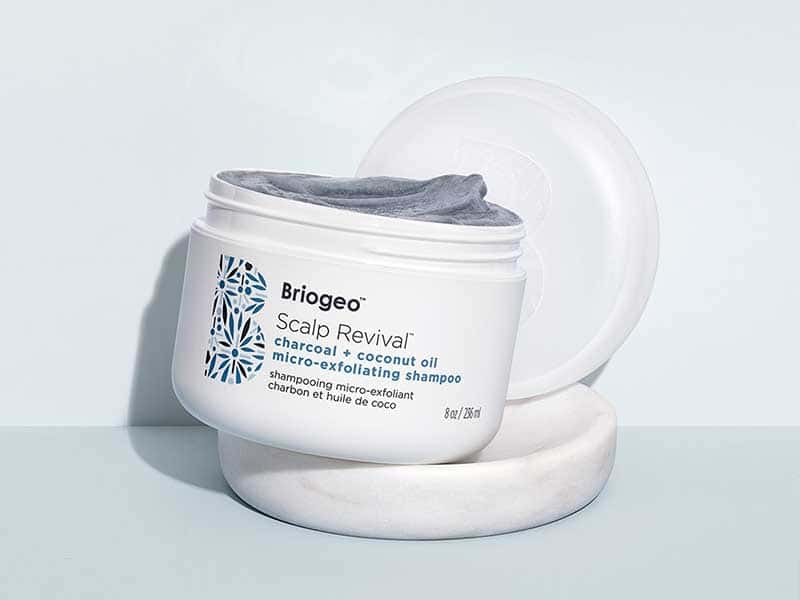 It is better to use this product twice a week. You can apply the way of washing hair above, wet hair then applies shampoo to your hair, slightly massage in 2-3 minutes then rinse out.
Oribe Serene Scalp Anti-dandruff Shampoo
Oribe Serene Scalp Anti-dandruff Shampoo is designed with salicylic acid and caffeine, which are famous for treating flakes buildup. The key ingredient Salicylic Acid helps to gently remove dandruff from your scalp while soothing the itchiness and irritation triggered by it. The caffeine will help to nurture your scalp as well as rejuvenates hair follicles. Moreover, it is also well-known for being color safe shampoo since it just contains natural ingredients and free of Paraben, Sulfate, and Gluten.
To get the best outcome, do not forget to wet your hair first and massage your scalp in at least 1 minute before rinse well. You can see the result after the first very use.
Redken Scalp Relief Dandruff Control Shampoo
Redken Scalp Relief Dandruff Control Shampoo was tested for safety by Dermatologists. It is the specialized treatment with pyridine zinc as a key ingredient. It helps to cleanse hair, alleviate the itchy and irritated feeling, provide healthy and shiny hair strands and especially solve the dandruff problem.
This Redken dandruff control shampoo is quite unique in using. You can apply it to your hair when it's wet or even dey. For normal care, massage your scalp and leave it on 5 minutes then rinse out. For intensive care, you can use this shampoo when your hair is dry and extend the time to 10 minutes before rinsing out thoroughly.
Shea Moisture African Black Soap Dandruff Control Shampoo
This is another best natural dandruff shampoo that has many functions such as balancing moisturizing, soothing, cleansing and fighting bacteria. Enriched with Essential Oils And Vitamins, shea moisture dandruff shampoo help to prevent dry scalp.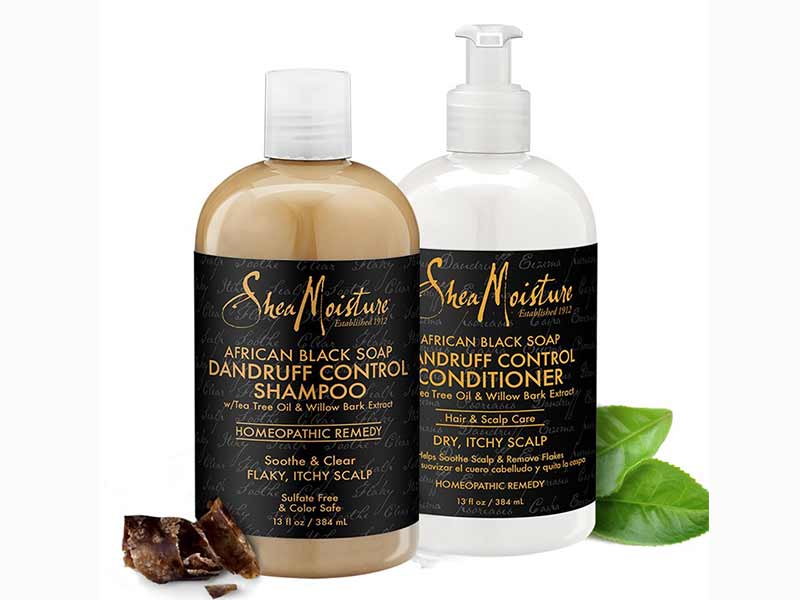 Moreover, the Willow Bark Extract in it provides moisture to your hair, make it look shiny and healthy. The combination of Aloe And Tea Tree Oil in the recipe help to relieve itchiness and irritation. And the African black soap, traditional recipes in West Africa, was applied in this Shea product, which is antibacterial and makes your hair clean.
For the best care, wet your hair before applying the shampoo. Then massage your scalp gently at the root. Rinse out well after all. You can repeat if needed.
Read more:
Ducray Kelual DS Intensive Shampoo
Ducray is a French brand with the philosophy is that the skin of your scalp and skin on your face and other part is the same so it needs to have skincare too. Hence, Ducray Kelual DS Intensive Shampoo was produced to make a long-term treating hair dandruff and relieving hair scalp from the itchiest and driest conditions. Its creamy formula which contains zinc pyrithione and piroctone olamine as key ingredients helps to decrease flaking off and remove dandruff effectively.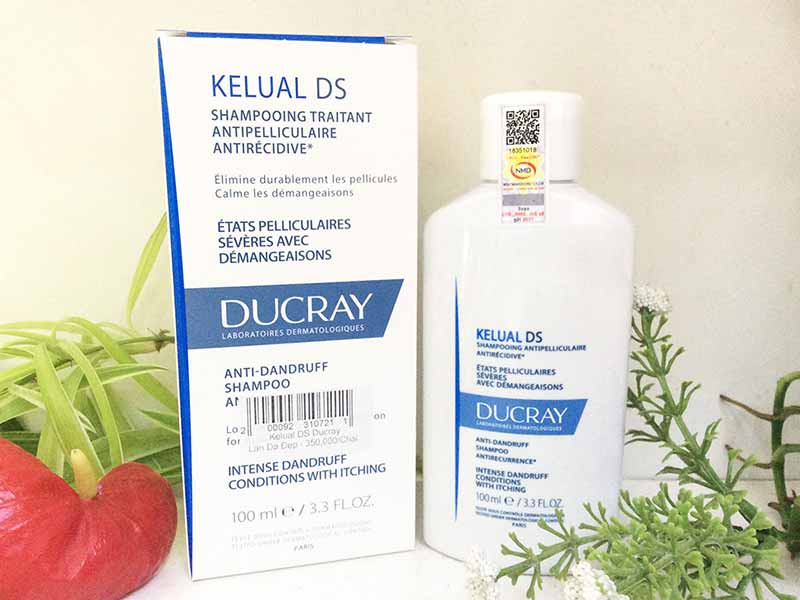 This anti-dandruff shampoo also enhances the shine and healthiness of your hair after one use. It contains no harmful element like paraben or silicon so you can use with the fear of damage your hair.
To use it effectively, rich lather the shampoo to your hair, massage gently the scalp then rinse out thoroughly. You can repeat if needed.
Dove Derma Care Scalp Dryness & Itch Relief Anti Dandruff Shampoo
This dove dandruff shampoo is infused with pyridine zinc, famous stuff for preventing and removing dandruff as well as soothing uncomfortable feeling such as itchy. It also contains coconut and shea butter, which help provide moisture, Coconut Shea butter scent, and nutrition for your hair, make sure it will never dry out. This shampoo follows the pH balanced formula so it helps to balance the oily scalp, reduce redness on the scalp and make it less frizzy.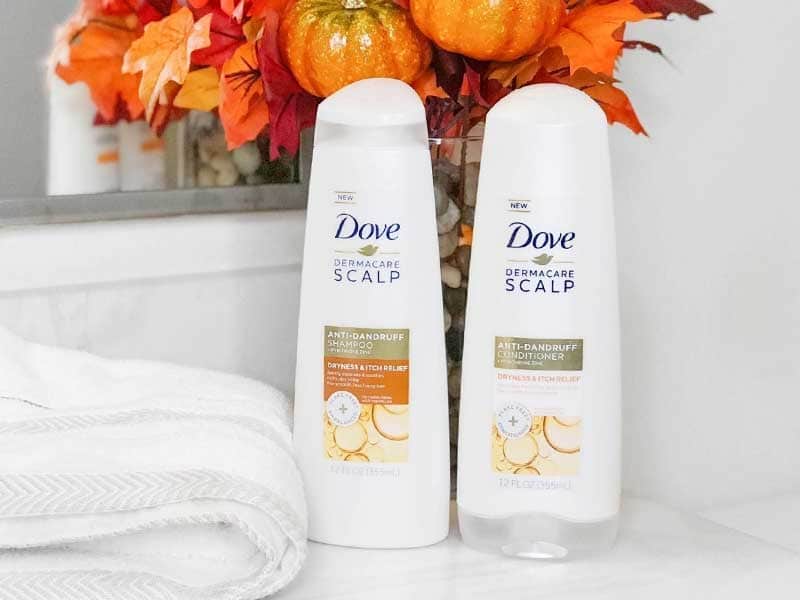 To achieve the best outcome, wet your hair before carrying out other steps as usual. Use it at least twice a week, or follow your doctor's instructions. You Dove conditioner after rinsing out the shampoo for a more smooth and shiny effect.
Final words
Do you find it useful? Hopefully, after this article, you can choose the best product to treat your hair problem. All the products we mention are highly recommended by doctors or users, so you don't have to worry about the result it brings about. Just pick the one which fits your hair features most.
If you want to share with us other brands of the best shampoo for dandruff or some recipes to make effective homemade dandruff shampoo, comment down below.
And don't forget to visit Lewigs to see our beautiful collection of human hair wigs and topper extensions.