Curly hair will undoubtedly make many girls miserable in beauty. So the following best hairstyles for natural curly hair will help you improve the hair state and grow your love with hair. A beautiful, trendy hairstyle every day will make you love life more.
Many ladies get trouble with their natural curly hair. They straighten their hair with chemicals and heating tools, but it is a temporary method.
If you understand the importance of a smart haircut choice, you – a curly-haired girl will love your hair. But not everyone knows how to live with that suffering. Therefore, this blog post will share with you some haircuts for natural curly hair as well as human hair curly wigs so that they help you improve this situation. 
Bouncy Curls – simple hairstyles for natural curly hair
The curly styles for natural hair are perfect for any kind of curls. Whether your hair texture is slightly curly or deep curly, you can apply this style. Keep your natural hair color or add some highlights, it depends on you. And choose highlights that are in a neutral tone such as brown.
This shoulder-length hairstyle is flexible since it looks equally beautiful and attractive when you parted it down the middle or on the side. Also, pull and tie the curly hair into a high ponytail or a topknot in summer day for an extra-sporty style.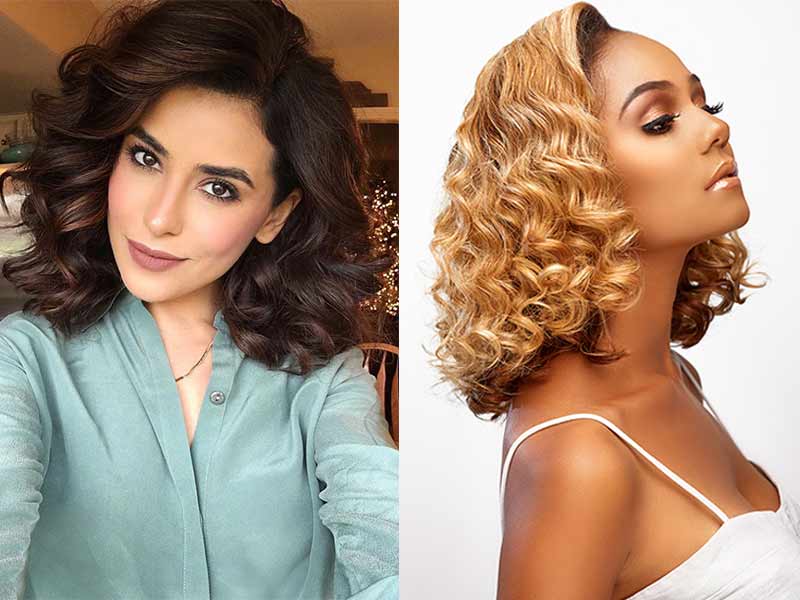 However, just like your skin, your curly hair needs some extra care to combat the negative effects of the weather elements. You can use shampoos and conditioners that contain herbal and natural ingredients. Besides, eggs, honey, mayonnaise, and yogurt are especially good and extra shine and bounce to your hair. You should avoid brushing too much as it causes split ends and hair breakage. While brushing, make sure that you do gently. Use your fingers to detangle all knots.
With this hairdo, you can absolutely stand out when going to work, going out with friends or enjoying parties. To add more impression, you can combine with the accessories that come with striking tones.
Shaggy Curly Bronde Bob
You are seeking cute hairstyles for natural curly hair, no need to find, this hairstyle is born for you. It is lovely, neat and can be extremely appealing in any color. Like a character out of a fairy story or an anime, you can dye your curly hairstyles for natural hair in violet or yellow color. The combination offers unexpectedly cool haircuts.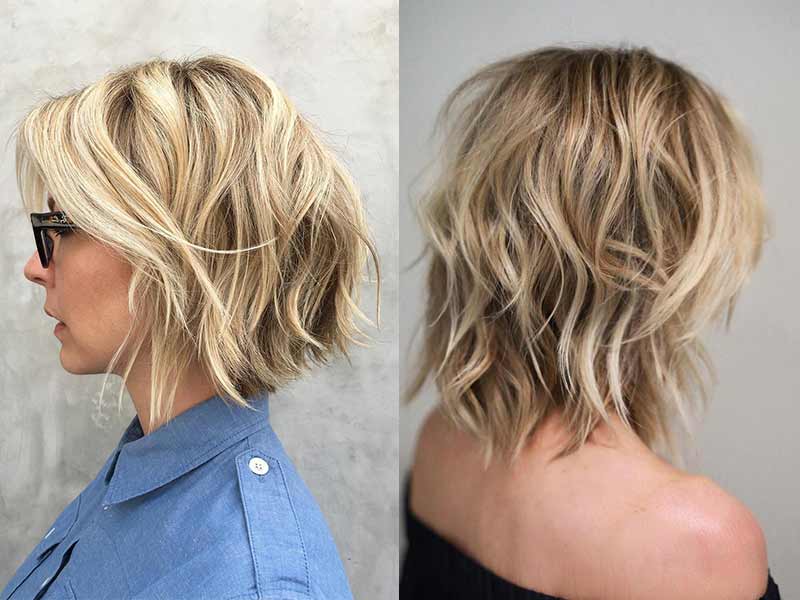 The trick is using a high-quality hair care product that can tame frizz and keep the curls looking orderly and styled throughout the day. With this bob style, curly-haired women will no longer worry about their hair. They look much more lively and manageable. To make your ringlets softer and more impressive, add some serum or moisturizer on your hair before you style your mane. We sure that you feel confident with a perfect appearance. Finger comb your hair and use a lightweight product to control hair strands into the direction you choose. Sometimes, the curly life can truly be this simple.
Short Blonde Curly Hair
This color is never out of date and among the best hair color for natural curly hair. With big charming curls, the hairstyle for short natural curly hair will definitely suit your face shape. Also, it offers a feminine style for girls. Natural curls will gently embrace your head, creating a fashionable look. You can freely part the hair in any direction. Wait until the others compliment your new fresh look.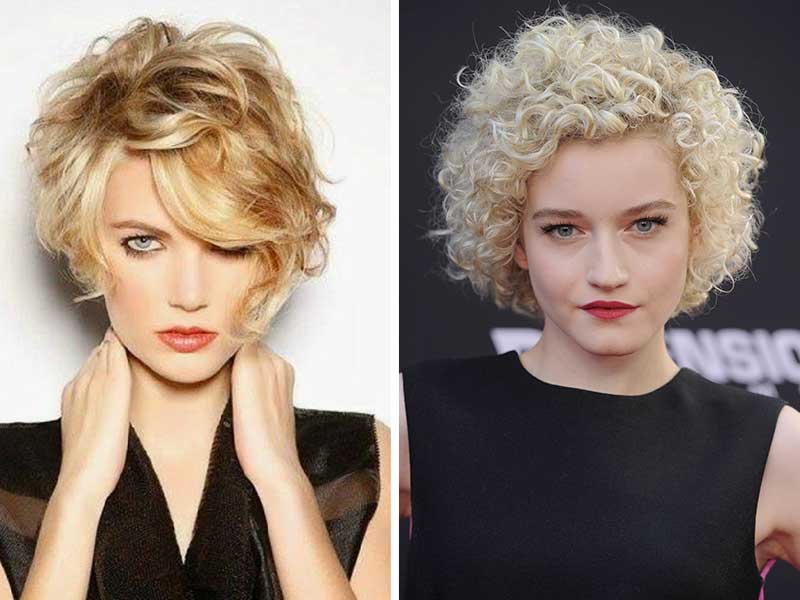 The maintenance is very crucial for this look. You have to bleach and color the hair to get this color, so try to care for it. If not, your hair with curls will tend to be dry and fragile. It also affects your own scalp.
Stick to regular deep conditioning treatments to protect the hair. Promise that you use the right hair care tips and products for moisturizing your fluffy blonde curls. Visit your hairstylist per month so that he/she helps you maintain your hair. Keep in mind that always diffuse it in the low heating level. You know healthy curls can bring nice color. To keep the curls staying healthy, you must be consistent with haircuts and trims. Remember not to use too much heat, braids or overdo anything that can compromise short hairstyles for natural curly hair.  
Related posts:
Messy Curls
A mid-length layered natural curly hair is ideal curly-haired girls because it is easy to wear and style. Try it. You will look spectacular day by day! How to create beautiful messy curls?
First, messy means your part does not need to be perfect. How you part your hair? Often messy curls go well with side or center parts, but you can change it up freely when wearing throughout the day. It is better if you determine your part before styling the hair.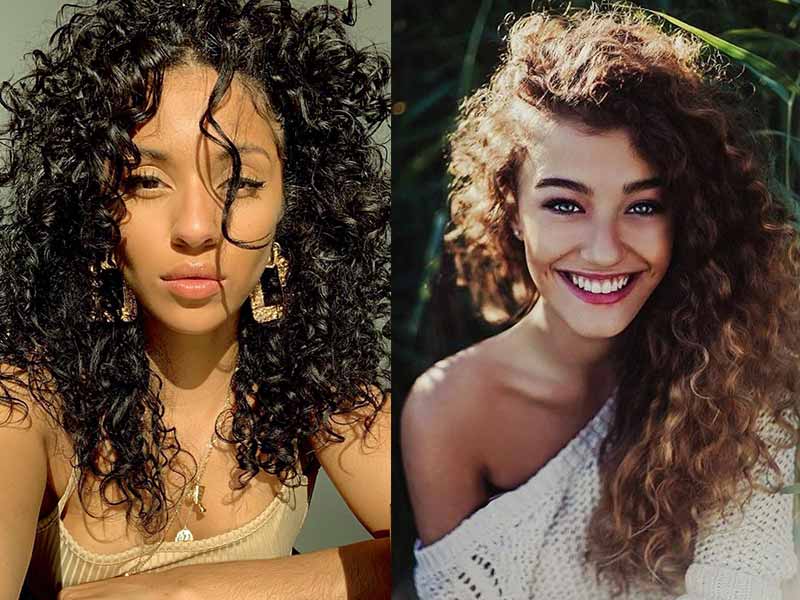 Next, you can curl different sections of your hair. Design both tiny curls and big curls, change the direction of curls to create naturalness. Don't need to make uniform shape curls. Varying the size and shape of curls will give you that purposefully messy look. Use your hands to shake the hair. 
You love the sexy or lovely style, the haircut can help you reach it. No need to comb your hair thoroughly, you can improvise style your hair according to your taste. With the curly hairstyle for natural hair, you have an eye-popping and beautiful appearance as French ladies.
Pretty Curly Black Bob with Side Bangs
There is no doubt about this natural curly hairstyle for short hair. Being one of the favorite forms, this jet black bob creates both gentle and cute appearance for those who don't have overly curly locks.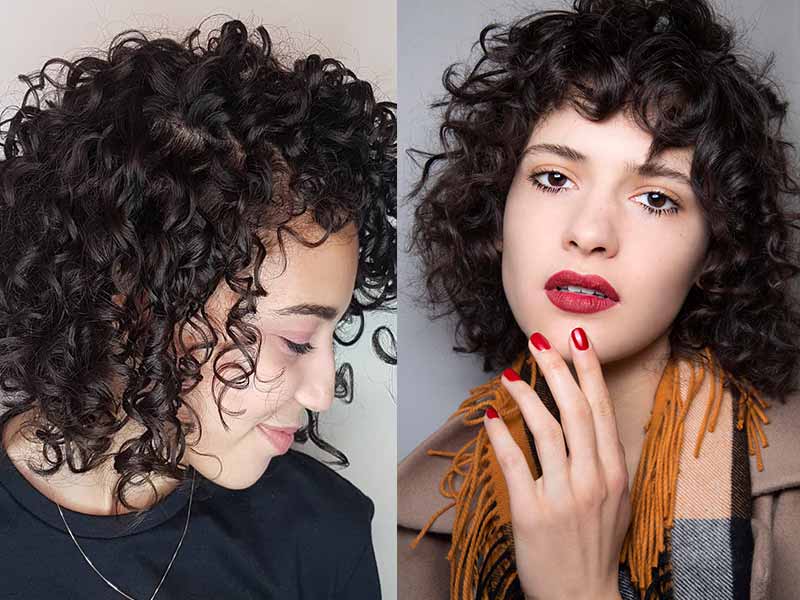 Curly bob hairstyle with bangs helps to cover your face imperfections perfectly. Being one of the most popular hair trends today, it is chosen by many international stars to appear in front of the cameras. Bring a feminine look, curly hair is also suitable for most faces without being out of date.
You might also want to read:
Long Layered Haircut
Your curly hair is strong, long and has uneven curls, natural curly hairstyles for long hair are your best bet. It is one of the most requested salon staple haircuts of all time. Layers allow you to add hair dimension and texture to your haircut. Moreover, we sure that long layers suit most hair textures (curly, wavy, etc) and face shapes.
Many curly-haired beauties think that getting their haircut in layers can lose their hair volume. Well, let us tell you. Layering is a common technique that cuts and removes weight from the internal length of the hair. Keep in mind that layers do not add more volume, it creates more movement. Adding layers to your naturally curly hair is a good way to keep the shape of your hair.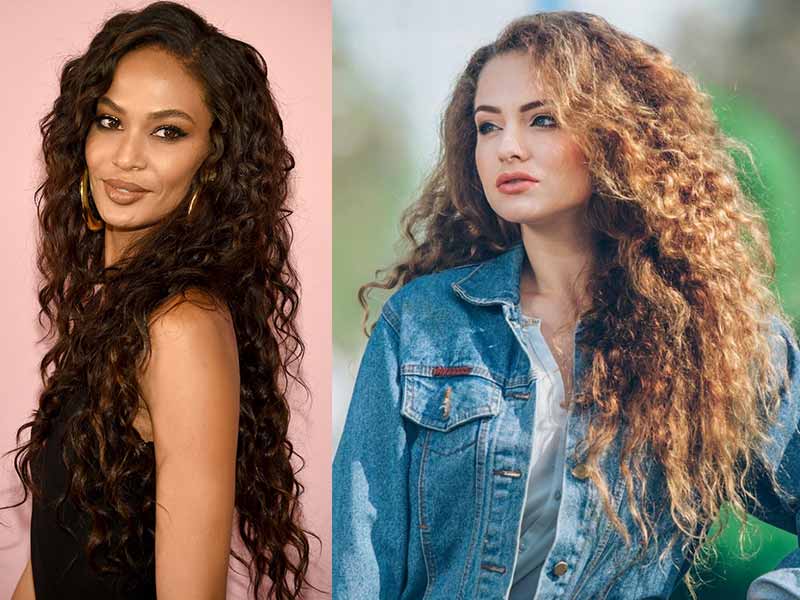 An exciting thing about the hairstyles is that there are a ton of ways in which you can try with it. If you have thick curly hair, get your hair in layers style and part it on one side to create a magnificently natural look.
Layered Bob to have voluminous natural curly hairstyles
If you have been blessed with a head of curly hair, then this hairdo is what you have been finding. With a layered bob, you will manage to build some hair volume, and accentuate your facial features as well. To get this hair, you should go to a hair salon and ask for help. The hairdresser knows what to do to create your hairstyle. He/she gives you a lot of layers. If your hair is in the same length, the bob will be too heavy at the bottom, making it look unflattering. When you look at the fantastic layered bob hairstyle from the back, it is like a soft curly cloud!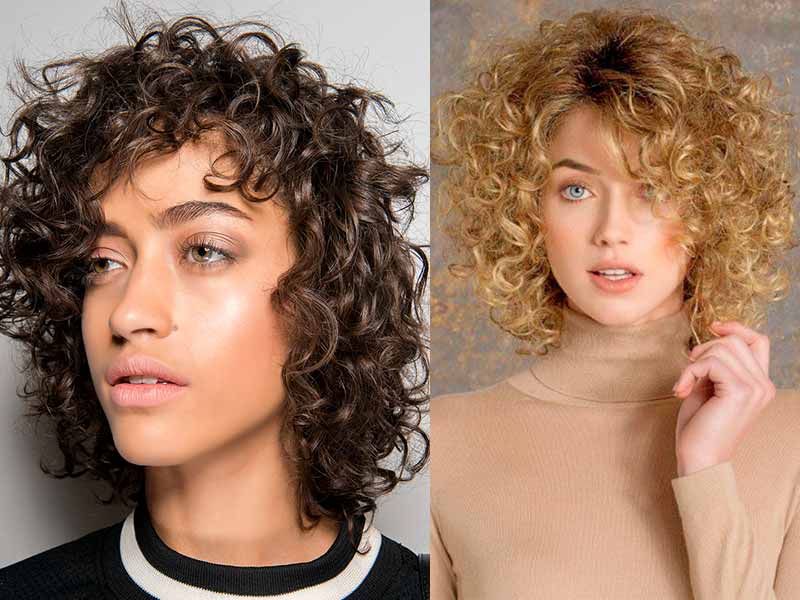 We think that layered hair is among the best options if you are searching to give your hair a natural finished look. If you have dark color curly hair, shine it even more by adding some highlights on it.
Our Thoughts
Beautiful hair is always your pride as well as making everyone admires. We hope that our sharing about hairstyles for natural curly hair can help you in some way. Be confident to choose for yourself the best one from our list above. Continue to be more beautiful and attractive!
Have straight hair and love to change your hair? Let's try wearing curly wigs for natural hair. Come to Lewigs, we have a wide range of wig collection to offer you. Either you have long or short hair, black or brown color, tell us your requires. We will completely satisfy you.
If you need more helpful information about wigs, human hairpieces, tips or how to make natural hair curly, don't hesitate to browse our website or contact us directly at any time.