For those with hair loss, from moderate to severe hair loss, lace wigs are ideal. They are lightweight, usable, and comfortable. No matter how your hair loss condition is or what causes your hair loss, wigs will solve all. Your hair problem is the result of medications for cancer treatment, lupus or something else, so wigs will help you regain your confidence. Wear a wig, you will feel like yourself again. Let's find out together what wigs for cancer patients exactly are and how to benefit from them.
Human Hair Wigs For Cancer Patients
Wigs are a popular accessory that conceals hair defects most quickly. In less than 5 minutes, you already own a trendy hairstyle that no one will detect it is a wig. People with hair loss always rely on wigs to regain their looks and confidence. And cancer patients wear wigs too. Because of the side effects of the drug and radiation, cancer patients' hair falls a lot revealing the scalp. And it takes a lot of time for hair regrowth. Therefore, cancer wigs are their closest companions.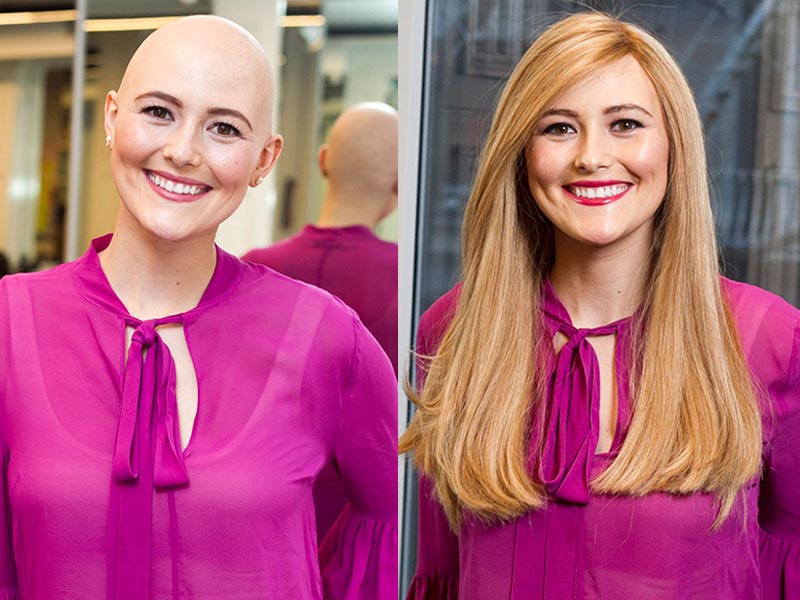 Today, wigs are constantly being improved to bring convenient products for users. Wigs for women or kids with cancer come in a variety of designs and colors. Depending on the age and preferences of wearers, you can choose the suitable one such as short hair, shoulder-length hair, etc. The wig will help the patient no longer feel inferior to their appearance as well as have a good spirit to continue treatment.
Before chemotherapy or radiation, both patients and families should be mentally prepared to deal with hair loss. The best solution is to buy real hair wigs for cancer patients to ease this anxiety.
Quality of Wigs For Cancer
Like normal head coverings, wigs for people with cancer are now made from 2 main materials: synthetic fibers and real hair. Each hair has its own advantages and disadvantages, but our sincere advice for you is to choose a human one as it brings comfort.
Natural hair wigs for cancer patients are made from 100% real hair so the strands will be strong, soft, and smooth. It is versatile to style without damage. This wig offers you a natural hairline and appearance as well. If you choose monofilament wigs for cancer patients, you will feels satisfied since their durability won't let you down.
Not all but wigs are expected to be a psychological remedy to help cancer patients be more optimistic to continue the treatment process.
Take a look at our wigs for cancer patients:
How to Pick Out Best Wigs For Cancer Patients
From the length, style, color to the wig brand. Depending on your needs and budget, you can choose realistic wigs for cancer patients.
Down below, Lewigs would like to share the important things that you should take into consideration when going shopping:
Wigs color
Let's choose a wig that is lighter than your existing hair color. Why? After the cancer treatments, your skin may become pale or greenish. Hence, a lighter color wig will draw less attention to the surface due to the not as sharp contrast. Secondly, the hair of wigs always thicker than your bio hair, making them appear darker. So the lighter color is a reasonable option.
Hair Length
You should choose a short wig instead of the long one. With short and quality wigs for cancer patients, you don't have to take a lot of time in the washing and maintenance step. Moreover, it suits your daily activities. You can ask the hair vendor to create custom wigs for cancer patients as you desired.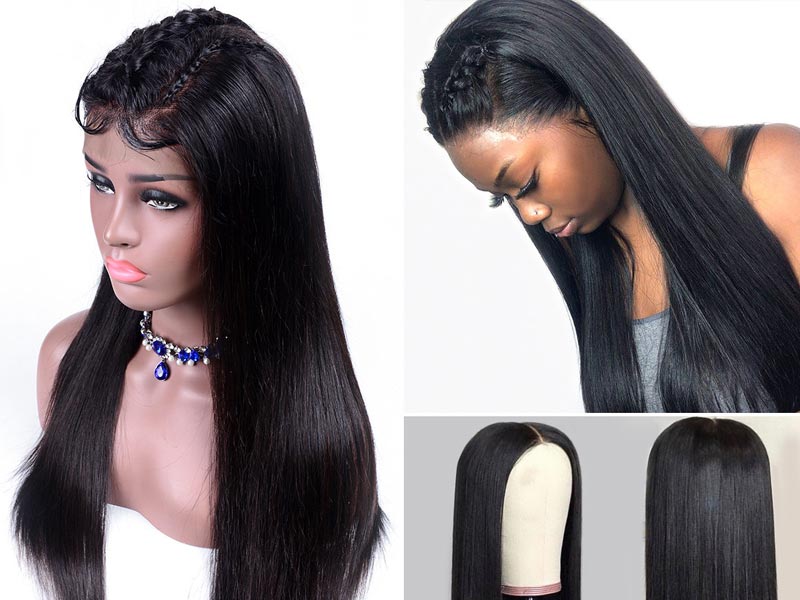 Natural look
Of course, no one loves an unnatural-looking wig. To meet the high demands of customers, manufacturers provide top-notch hair products that are entirely flexible. You can style it in a high ponytail, elegant up-do, so on. Try and the full lace wig will surprise you at how it works with any style. Plus, wigs for cancer patients can be parted anywhere you want. Left part, middle part or right part.
In short, it can just do many things just like your natural locks. It will not let you down.
Are cancer patient wigs expensive?
You have to consider the cost of wigs for cancer patients when it comes to buying. Of course, the real human hair wig is more expensive than the synthetic one, but it is not too expensive. Invest in a human full lace wig is worthy.
Search on the Internet, there is a list of thousands of brands which supply quality wig. Find out who they are, where their hairs come from… and then compare the prices of wig they offer. Now you have some good places to buy inexpensive wigs for cancer patients with high quality. Even you can't find after doing that, ask someone who used to buy wigs and they can give you a piece of advice.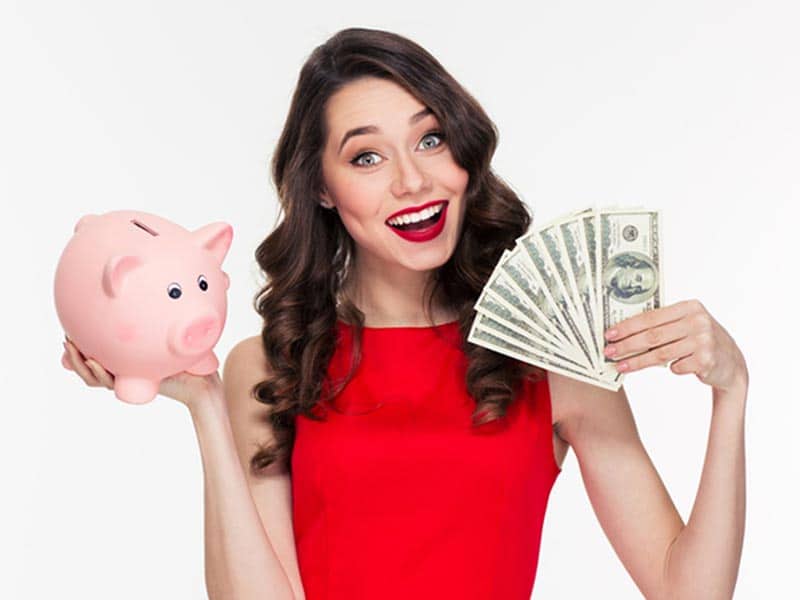 Look for funds
It is a good way if you can get some burden off your finance, after going through a battle with cancer. Nowadays, there are many organizations all around the world such as the American Cancer Society providing free wigs. The American Cancer Society provides for adult women who are facing hair loss due to cancer. Many wigs offered are donated items and some are purchased. You can find some non-profit and voluntary organizations for wigs for kids, for female cancer patients or for men.
Jump to:
Where To Buy Wigs For Cancer Patients?
How to find the best place to buy wigs for cancer patients? In the hair market, manufacturers provide hair systems that are made of virgin hair, Remy hair, Non-Remy hair or synthetic fibers, etc. So what should you do?
You can find wigs on big websites like Amazon or AliExpress or ask experienced wig wearers to get advice. They know where sells good and cheap wigs.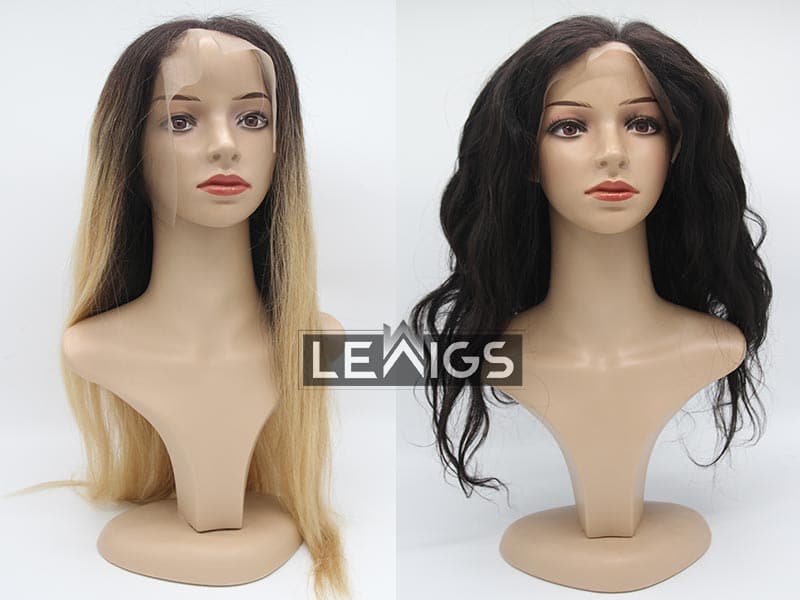 Do you want to buy a wig at a friendly price? Visit Lewigs now. Being one of the leading hair wholesalers in Vietnam, we supply a range of premium quality hair products. You can be assured when purchasing our hair products as they are created to fit a variety of heads.
The hair we use to create fun wigs is high-quality hair harvested from strong donors. The hairs are lightweight helping wearers stay comfortable while wearing it all day. We also do custom made wigs. Only give us your head size and how you want the wig looks like, we will create for you. You want to have yarn wigs for kids with cancer. With Lewigs, it is easy. Trust us, we will not disappoint you.
Where to buy wigs for cancer patients near me? This is now a no-need-to-answer question. As the world is becoming one with the help of the internet, you can buy hairpieces from anywhere on Earth. Shipping would be done quickly, also.
At Lewigs, we export hair all around the world. You can receive the package that you ordered within only 3 days.
Last But Not Least
We hope that the post brings you everything about wigs for cancer patients. If you would like to buy women's wigs for cancer or breast cancer patients, visit our product line to get one. To get more useful articles about hair products and hair care tips, please visit our website.
Or kindly contact us directly via line (+84) 98 261 44 86 (WhatsApp/ Mobile) or email: info@lewigs.com at any time. We are willing to support at any time.