Applying the bleaching wrong may cause terrible results. Because the bleach is a harsh chemical used to switch up the hair structure. It causes skin burns, dry out your natural locks if you don't follow the rule of bleaching hair. In the worst cases, it leads to serious hair loss. We guess that you don't want to be the victim of these terrible side effects.
In this article, we will focus on the question "Can you bleach wet hair?". Or can you bleach wet hair and if not why? If you want to reach a good hair look, reading it now.
Can you pit bleach on wet hair?
Put simply, our answer is "Yes." Remember that you can lighten your hair up while it is wet as the strands are easily clogged with water and bleach. You may hear that wet strands also heat up your hair, increasing the absorption. Still, depending on your aims for bleaching, you can determine whether to brighten your wet natural locks or not.
What do you know about the bleach? It is a chemically treated process that is called oxidation. Hairstylists often mix the developer and conditioner with the bleach to brighten your hair effectively. If you decide to go for semi-permanent or demi-permanent hair color products, wet and damp hair is a great way to go.
Other questions:
Is it better to dye your locks, wet or dry?
As I stated above, it depends on how the light of color you want. To get the best results, you should do on your dry tresses. Can you bleach hair wet? If you decide to do, you have to understand how this bleaching process works. The bleach combines with a developer, from 10 to 30 percent of hydrogen peroxide. These developers are based on water. So when you bleach your hair can you bleach it wet? You should consider to bleach hair while wet when you want to wear a darker shade. If you want to go for a bold lightening tone, you should consider bleaching your locks while they are dry.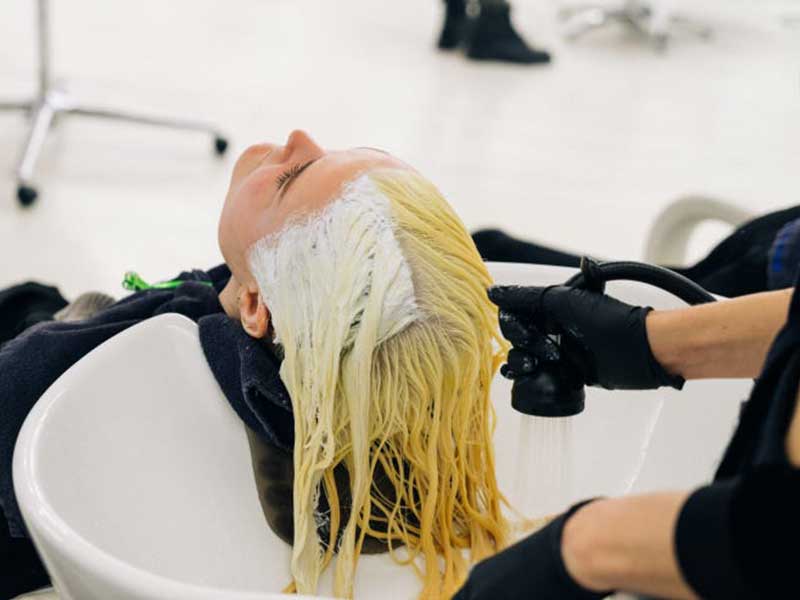 What happens when you bleach or dye hair while it is still wet?
Although bleaching the wet hair is not recommended, many women still decide to give it a try. You want to lighten your hair up one or two tones, this is a great solution. Lighten hair color up when its wet helps you end up with a soft lightening tint but not too light.
Because the water in your damp hair can mix and dilute the bleach, the bleaching needs more time to complete. The bleach will not dry so fast, so you can leave it on your hair longer than you would do on dry hair.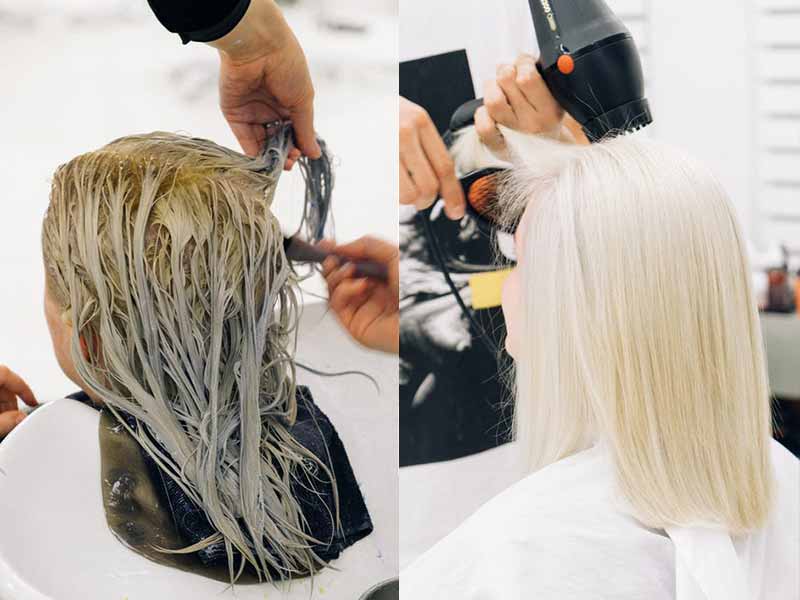 One more common question we received is that "Can you bleach knots wet hair wig?" This process is similar to bleaching your natural locks. But you only bleach your hair when it is made of real human hair. You should mix your bleaching paste with a strong conditioner or a hair mask to bleach your wet hair extension. This helps maintain the item's shine and silky feeling. You have to treat the wig as you would do your natural locks to keep it in good condition.
Jump to:
Our Thoughts
Above is our shared about the common question: "can you bleach wet hair?". So can you apply the paste to wet hair? Can or cannot, we guess you have your own answer. If you want to rock a soft lightening color, it is perfectly fine to put bleach on wet hair. But if you need a decent lightening hair color, bleach your dry hair will satisfy you. You have other ways to bleach and dye your hair, share it with us. And feel free to leave your comments below to let us know what you are thinking.
For further tips and advice on the hairstyling process, hair care tips or hair products, feel free to take a look at our blog. Lewigs has lots of exciting posts for you to browse.
Also, find us directly via our hotline or email at any time if you have further queries to ask. Don't hesitate to come to us – Lewigs hair vendor. We will help you change yourself in the best ways.
Cheer!