Chris Hemsworth is one of the most influential celebrities not only in Hollywood but in the world. Talking about Hemsworth, except his career, we also enchanted by his appearance, styles, and hair cut.
The famous actor makes his fans dizzy. Chris Hemsworth's hairstyle leaves a big impression on the fans as he always regularly change his hairstyles to suit his filming characters. For example, his mid-length cut becomes his iconic look. Check out the newest updates on Chris Hemsworth hair below! 
About Chris Hemsworth
Chris Hemsworth, born in 1983, is a famous Australian actor and known as a sexual symbol. He is one of the most successful male actors in Hollywood today. His acting career started in 2004, but he began a film career in Hollywood in 2009 in the science fiction film Star Trek.
His greatest success is in the Marvel Cinematic Universe – a series of superhero films. He plays Thor in the series. And Endgame (2019) is his recently successful film. He is one of the leading and highest-paid actors in Hollywood in particular and in the world in general now.
In June 2019, the Walk of Fame Selection Committee announced a new list of honorees to the Hollywood Walk of Fame, and one of the prominent names is Chris Hemsworth. With his contribution to the entertainment industry, the Australian actor has confirmed his name in this field.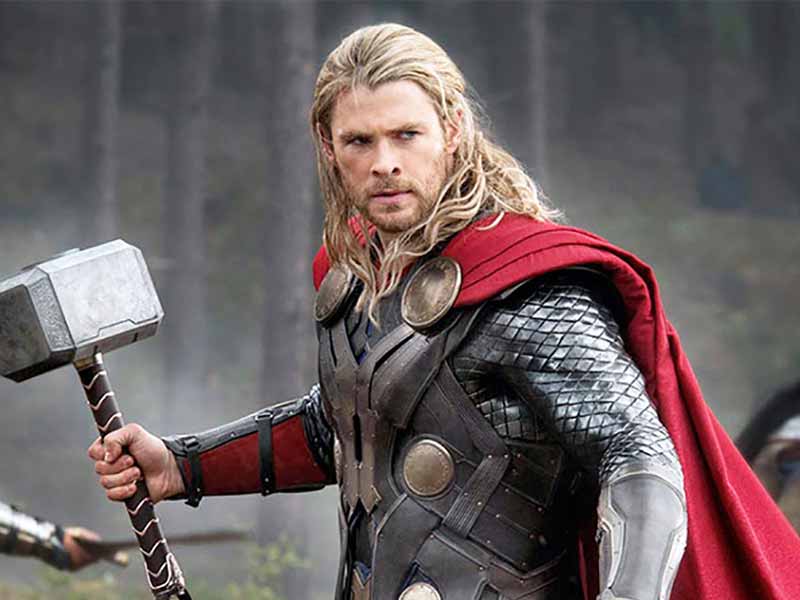 Many people love Chris as he is known as a perfect man. He is handsome, talented, and has good dignity. He got married in 2014, and they live happily so far.
A man of wealth
As I stated, Chris is one of the highed-paid actors in Hollywood. In 2019, he ranked 24th in the magazine's list of Highest-Paid Celebrities. Forbes estimated that he earned about 76.4 million dollars in 2019.
The total net worth of the actor is $130 million. The net worth does not refer to his available cash, including shares, homes, vehicles, insurance accounts, and so on.
Just like other celebs, Chris knows how to make his fans dizzy. He changes his hairstyles and always experiment with new haircuts. He does change as a way to suit his filming characters as well as to discover himself. Let's move to the main topic today – Chris Hemsworth hair.
Other stars:
Chris Hemsworth Natural Hair Color
His natural hair color is brown that suits his skin tone. When he rocks a cropped or layered haircut, he looks dapper. Once he appears in public, his hair is trimmed and styled carefully. Does Chris Hemsworth hair loss? There are many rumors that the actor has the sign of receding hairline and is experiencing hair loss. He tries to hide his hairline by getting a haircut that embraces his widow's peak. He keeps his hair longer on top and shorter at sides. This haircut is easy to get as well as hides receding hairline. Chris may apply a styling product such as hair clay to give his cut some texture and height.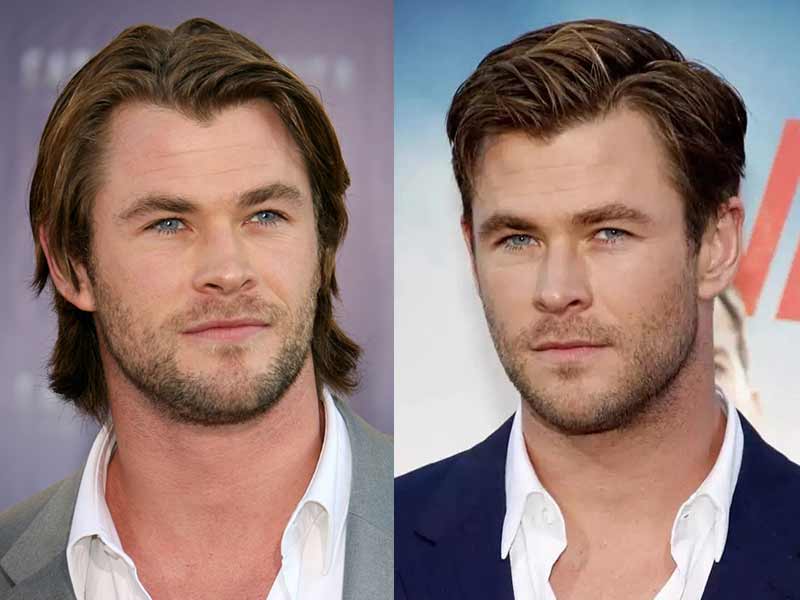 In an interview about preparing for the role in Rush, Chris said that he had to lose weight for his character. And he mentioned his hair shedding, a side effect of lose too much weight. His hair fell out and seemed thinner at the front. His doctor advised that a drastic diet was the main reason causing hair loss. If he modified his diet, he could change his hair condition. In many recent photos, you can see that Chris's hair does look thicker.
Chris Hemsworth Hair's Attractive Moments
Chris Hemsworth hair cut is the unlimited inspiration for hairstylists and his audiences. Long or short hair, which do you prefer?
Chris Hemsworth long hair
Do you remember Thor with long hair? It is one of the most stunning images of Chris' character Thor! Chris also appeared on the red carpet with his long hair. He tied all strands into a bun or ponytail. To keep the look and create a wet look finish, he applied hair gel. It is perfect for giving the actor a beautiful bun. Many said that they love Chris Hemsworth blonde hair with long hair. The combination creates Thor character.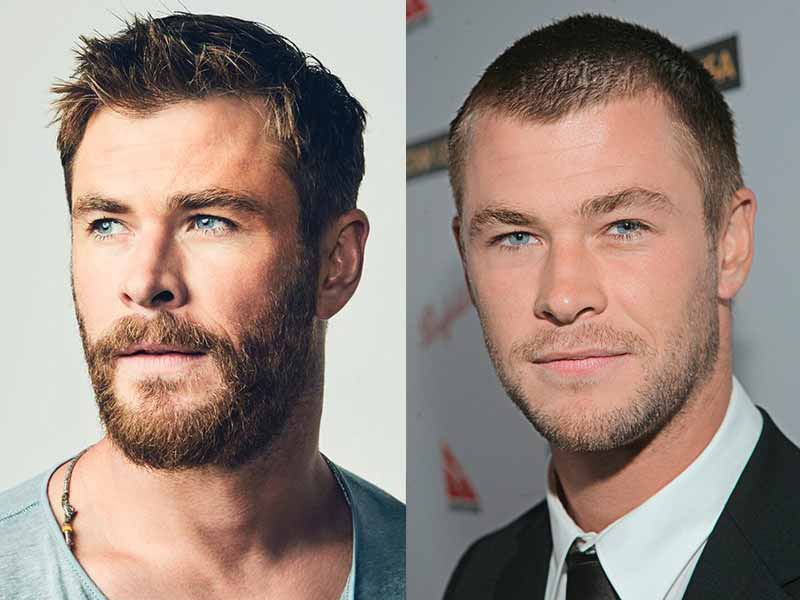 The short haircut
Along with Chris Hemsworth long hair Thor, short haircut is also his iconic look. Chris's hair is short and trims neatly, which looks like a classic cut. The hair on the top is the longest section and styled with gel to create a voluminous finished look. You will love Chris if you see him in neat hairdo pairs well with the grey suit. Imagine, he is elegant and masculine. He is the dreamed man of many gals. Chris Hemsworth hair color is brown, and it suits his skin tone well, creating a dapper look!
Chris Hemsworth long hair and beard
Looking to style your hair and beard shape like Chris? Many guys try to replicate the look he has in the Thor films. Taking a look at his photographs on the Internet, he appears with his short hairstyle and neatly trimmed and a short beard. He looks so masculine and wild. Does Chris color his beard? Maybe. When you look at his beard, it is between a dark blonde and brown color. Depend on the lighting, you can see different hues of his facial hair.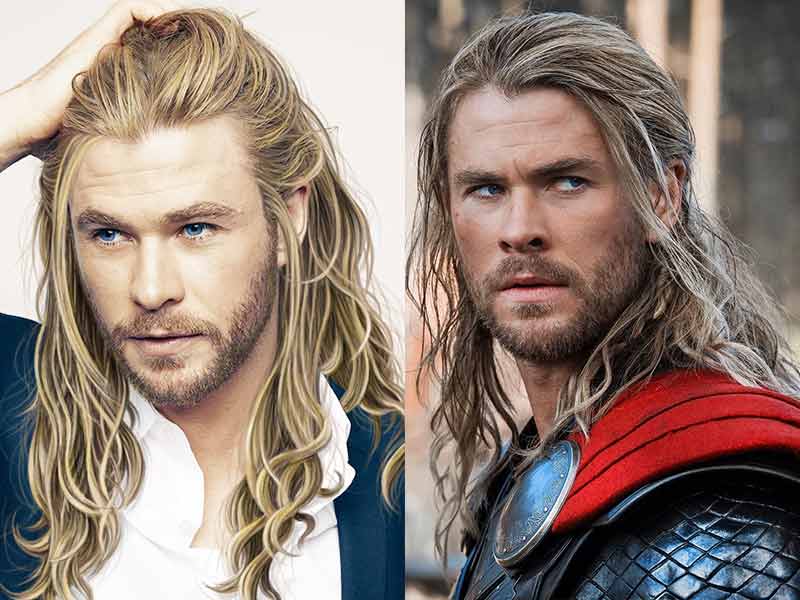 Shoulder length haircut
Shoulder-length hair is the compromise between short and long hair. For example, Chris's side-swept haircut is a perfect example of this hair length. Opt for this side-swept style and pair with suitable suits. He looks very handsome when sporting it.
The Shaved
The Australian actor always wore this haircut before making his debut in Hollywood. It is short, not shaved clean completely. If you want to rock this look, ask your barber to pull it off and create a new cut. It requires super low maintenance, suits most people. In addition, Chris Hemsworth black hair is also attractive. Although it is not his iconic style, it is still a good ideal for men.
These celebs are facing baldness, do you know?
Chris Hemsworth Hair Tutorial
You love Chris, you love nice simple Thor Ragnarok haircut, too. You really want to copy his Thor haircut to replicate the image of your idol. How to style hair like Chris Hemsworth? Can I ask my hairstylist for this hairdo? How can I style it myself at home?
How to get Chris Hemsworth short hair
The hair cut in Thor: Ragnarok is also called as a textured crop. You know that the crop hairstyle comes out with different variations, and most of them are nice and simple. You can see that the hair on two sides of Thor cut is quite short, and not taken too high. The top is kept in texture that looks natural and seems messy. This haircut makes Thor look masculine. Whether your style your natural locks or not, it still looks good.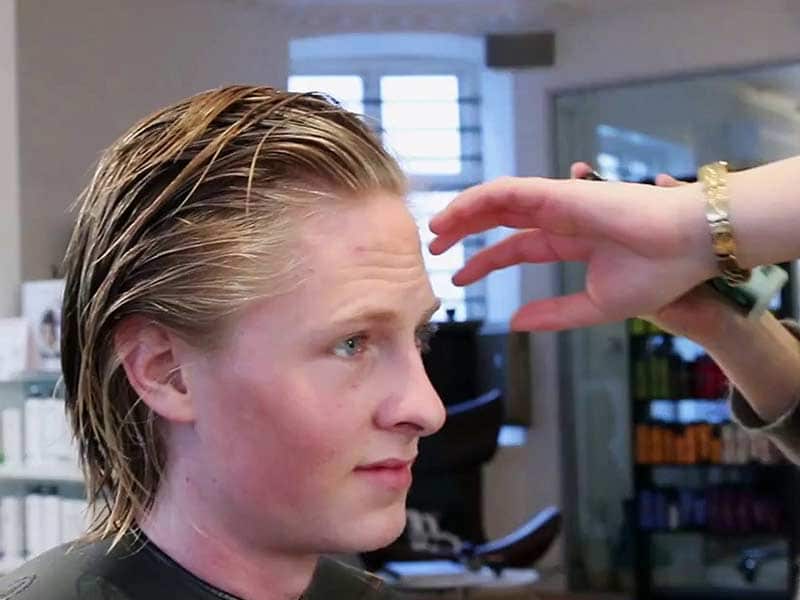 To get Chris Hemsworth Short hair Thor, the barber leaves your hair on the back & sides around a half of an inch. Ask him/her not to take your hair too high. Cut around 1.5 to 2 inches on the top. Create the texture is very important, ask your barber to use scissors to cut texture throughout your hair. Leave strands on the left side slightly longer than the rest side so that you can make the flick up at the front like Chris Hemsworth Thor short hair. You can apply a styling product to add texture and shine to your hair.
There is a myriad of ways to get Chris Hemsworth Ragnarok hair. But all of them bring guys a casual and relaxed look. Straight locks with texture haircut.
In The Last Words
Do you really want to copy Chris Hemsworth hair? The question "Is his hairline more noticeable?" is a hot topic now. We hope that our blog post today can help you know more about Chris Hemsworth and hair natural locks. The professional actor may spend a lot of his time to take care of and maintain his hair look.
Replicate Chris Hemsworth hair Thor is easier as Lewigs is always here. We are a trustworthy human hair vendor, offering top-notch hair products. You want to get Chris's haircut, don't fret to talk to Lewigs. We will customize the hair so that you have the best look. We only sell real human hair, no mix synthetic fibers. Hence, you can rest assured about our hair quality and prices. If you are experiencing hair loss or thinning hair, visit our product line and opt for a human hair toupee. It is the fastest and most convenient method to conceal your hair defects and add hair volume. Our hair products also come in plenty of color, sizes, and lengths. Visit Lewigs right away and choose a suitable hair is not too difficult. Since the hair is raw human hair, feel free to color and style it.
Have any queries about the hairpieces, don't hesitate to contact us directly. We are online 24/7 to support you at any time.