If you are finding an easy way to spruce up your appearance on Christmas Day, change your color is a surefire way to do it. You want to totally reinvent your look, give the light color a try. But there are too many stunning colors out there, you find a little bit overwhelmed. It is hard to choose a suitable Christmas hair color for this holiday season.
To help you out and save your time, we've got you covered some stunning Christmas hair colors. We think these hair color ideas will help you in the next trip to the hair salon.
Red Hot – the best Christmas hair color
Current color trends also include lighter and darker hues. And red color has never been out of the list of stunning Christmas hair colors. It is a favorite hue for people who love unique colors. Also, red hot is one of the color showing the most Christmas spirit. To get the perfect red hair color, go to a hair salon and professional will bleach and dye the hair with care. The girl is on fire! You should rock this powerful color in winter.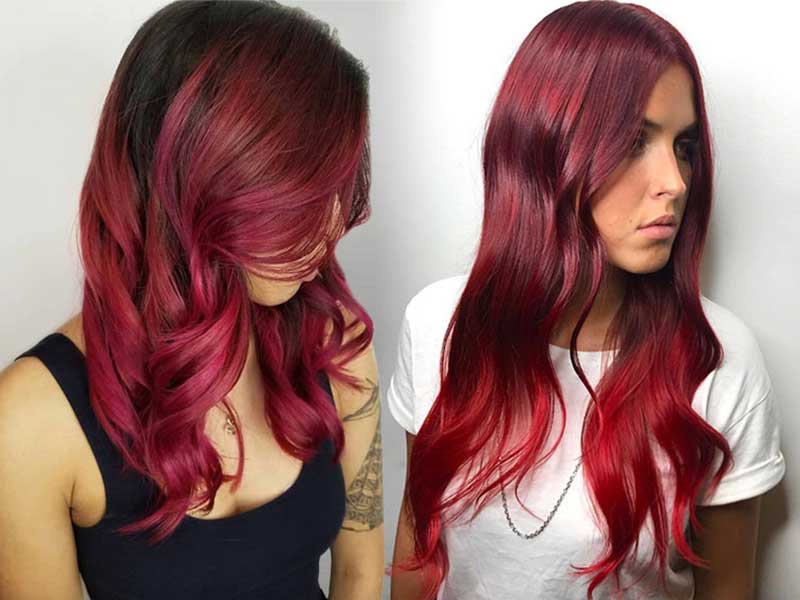 You take the plunge and dye red hair color, you wonder how to maintain the red hot shade as long as possible. The important thing you should do is to use the right hair care system. It can repair the damage and against color fading. Apply deep conditioner and skip the heat as well.
Icy Silver
Go for the silver hue in this Christmas, it is perfect for both men and women. Try a new silver with darker roots to become the ice King and Queen. Cool boys and active girls will be easily falling in love with this Christmas color hair. It is so edgy, chic, sexy and definitely fashionable!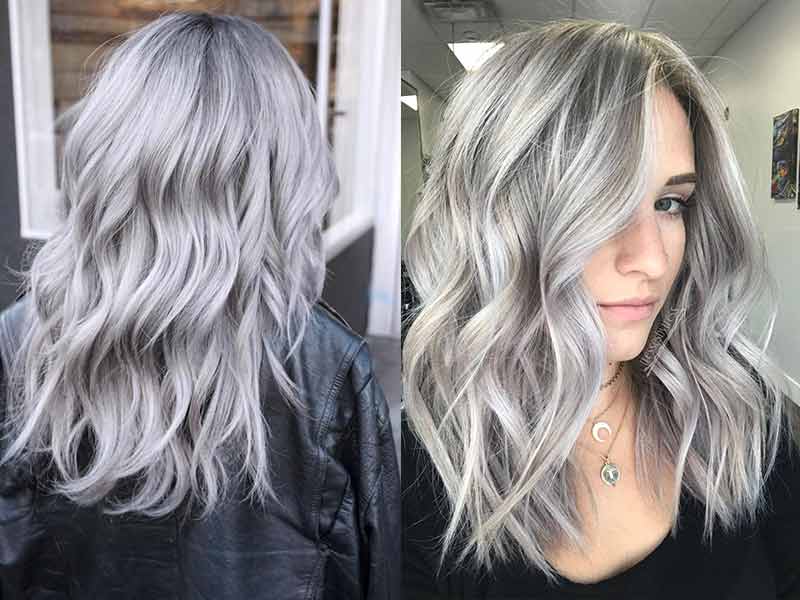 The trendy hair color is preferred by many Hollywood stars like Cardi B, Kim Kardashian, Winnie Harlow, Ariana Grande, etc.
Orange and Yellow Mix
Are you ready to switch up your look with the brightest hair color? Wanna try an unusual hair color for this holiday season? Select this orange shade. You will be surprised every time you see yourself in the mirror. The lemon yellow and orange mix highlight your beauty perfectly.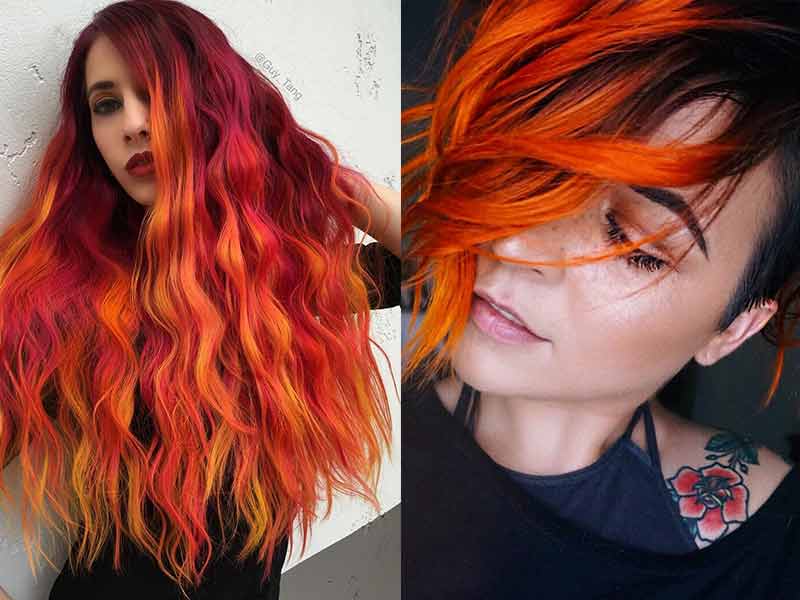 For most of you planning to go this Christmas hair dye, you need to bleach your real hair first. You were born with natural black hair, you need a 10 or 20 volume developer to bleach the tresses. Then you have to condition the hair to protect it from dryness and breakage.
Smoky Blue
To blend in the Christmas atmosphere, you can change your look by dyeing an exciting hair color and evokes a sense of freedom. Try a shade of smoky blue or blue highlights. You can be more fashionable in this hair color if you do it the right way. To get this Christmas fashion color hair, you can't skip the bleaching process. So you should ask for hairstylist help. Moreover, the color will fade soon, learn about some tips and tricks to keep the blue.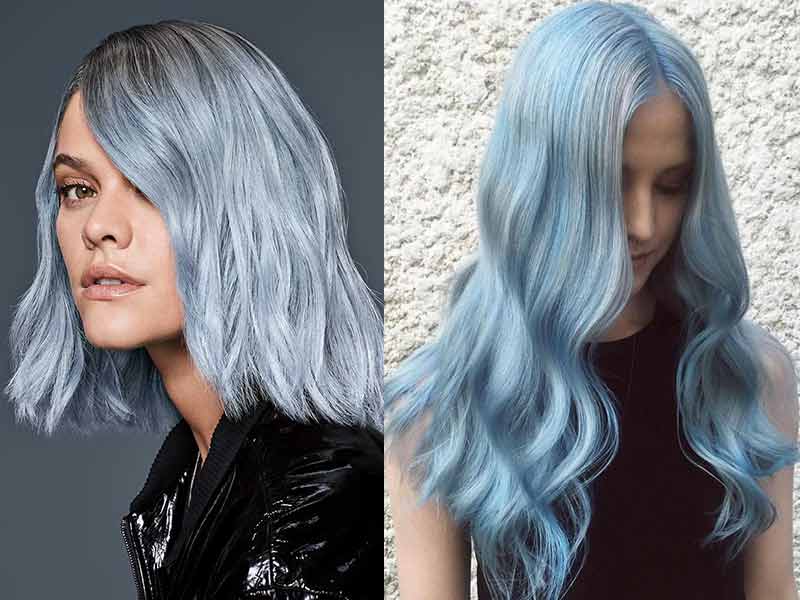 If you are still a little concerned with highlighted hair colors, smoky blue is a perfect option. The color makes people think of clouds or the color of denim clothes. Smoky blue now is gradually conquering many beauty believers. You can see that a lot of beauty bloggers around the world are obsessed with this fashionable shade.
Similar posts:
Pastel Pink Christmas hair color for sweet girls
The new trend hue is pastel pink hair color. You will fall in love with this cute tone color! In fact, pastel tone brings personality and charm as well. It makes you more feminine but no less unique!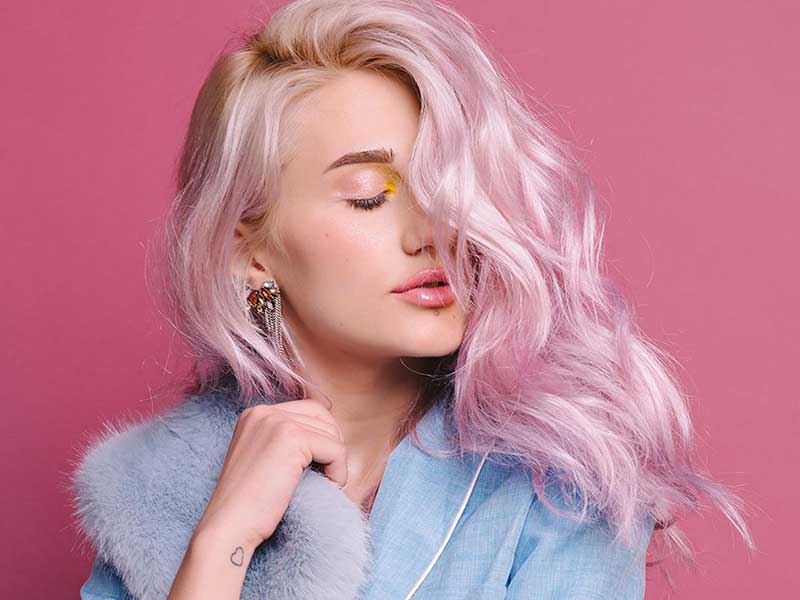 Pastel pink needs pretty high maintenance, so it is important to care for your hair carefully and properly. Use sulfate-free shampoo and conditioner to keep the hair color stay healthy and against fading color. Remember that keep moisture and moisture!
Strawberry Blonde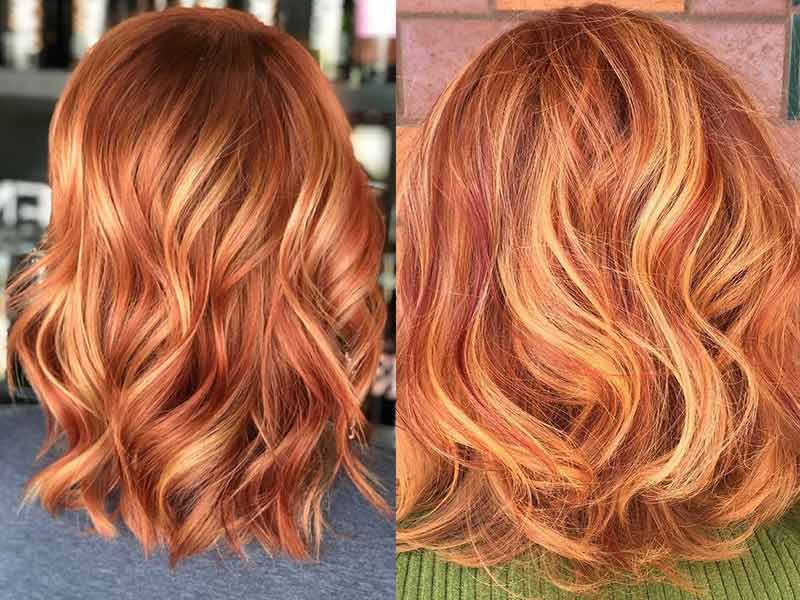 You want a warm hair color for this Christmas and winter. This color belongs to the red hair group but it is lighter than red hair. Sunny strawberry blonde is an ideal you should give a try. It can light the surroundings and warm up the Christmas atmosphere. You can dye the root with ash rose color to highlight your tresses. Cute hair color for Christmas! Lewigs sure that you will love this color as it looks gorgeous.
Pearl Blonde
It is another excellent example of the blonde color. The brighter and softer tone is among the best options for the hair color in this winter. It suits best for those who have a cool skin tone. You can pair the hair color with a wavy style. Appear in a night party or Christmas festival, you look like a fairy tale princesses.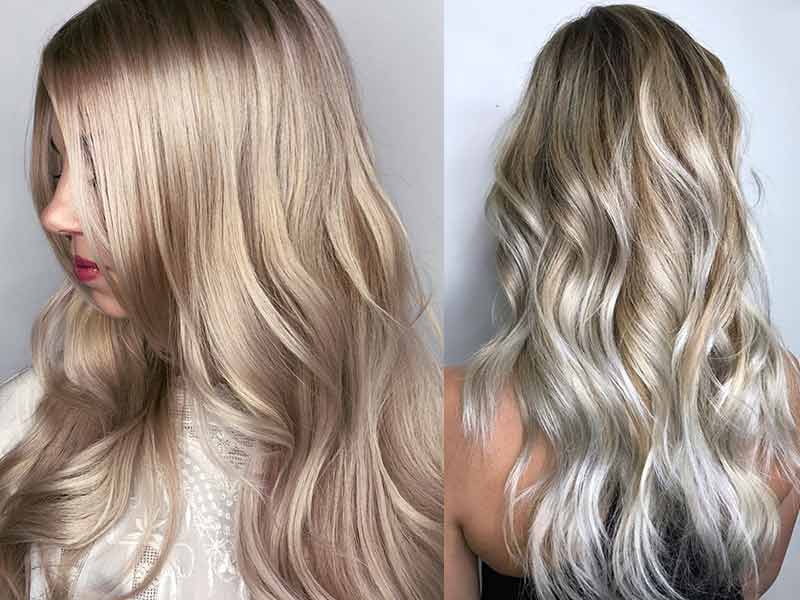 What makes it apart from the others? It looks ultra-cool, shiny and just like a real pearl. It will make your hair dream come true. You should take care of this hair color intensely to protect it from dullness and frizz. Shampoos combine conditioners or hair mask to moisturize the bleached hair and keep the blonde. It is better if you apply a hair mask and leave it overnight.
Rooty Blonde
Are you looking for a Christmas guy hair color? You want to change your look through using a new color but still hesitant. You can try this hair color idea – rooty blonde.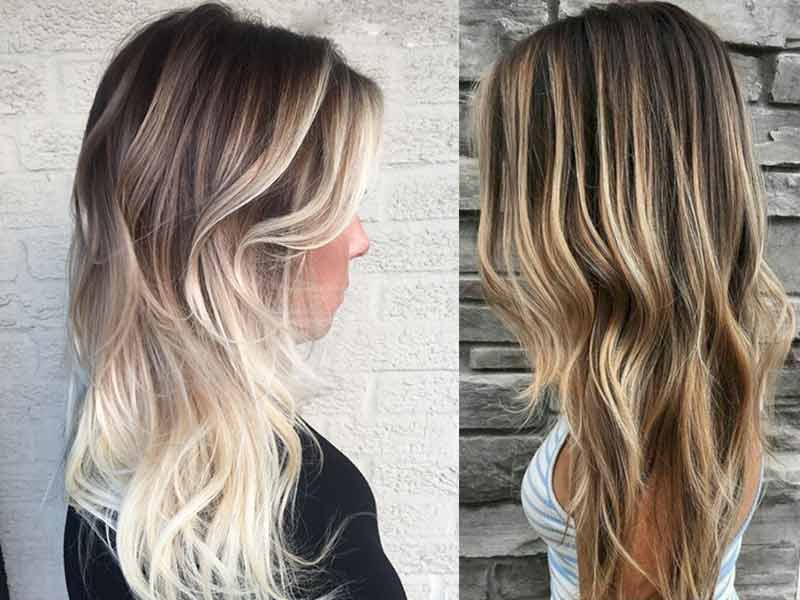 This hue needs a personality to get the right color. The root is kept darker or black and the edges are bright blonde. It suits best for brown and black men. What's more, rooty blonde looks great on all skin tones, cool and hot. The darker your natural hair is, the better result you can get. You should consult your hairdresser before applying this trendy color. Not only that, the hair is also a great combination with your light color outfit.  
Jump to:
Smokey Grey – Christmas hair color for chic girls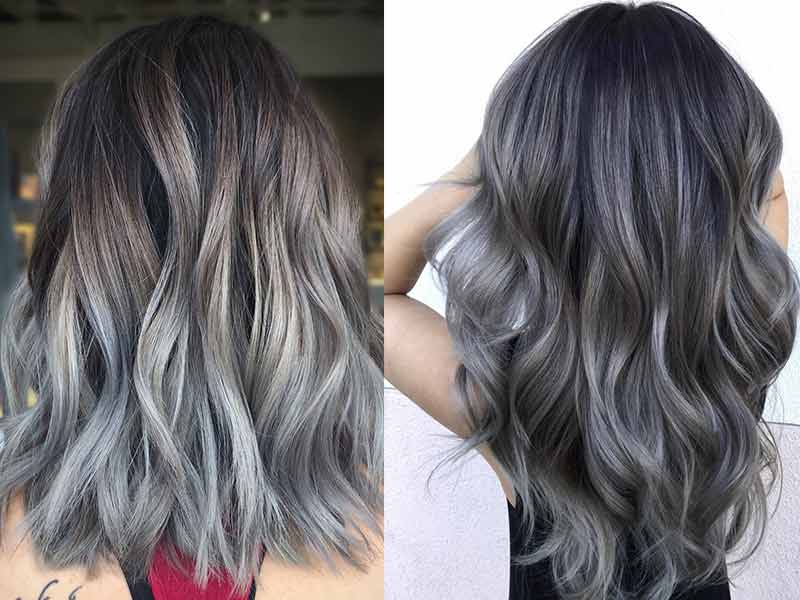 Many people think that grey color is boring, but it is a misconception. There are tons of fashionable and stylish grey shade that you should consider at Christmas. And smokey grey is an outstanding hair color male among them. Its subtlety never lets you down. This look is great for guys who want to switch up their appearance. The smokey will fade into a subtle and soft blonde which can create a more undone look. Maintain this look is easy by using a slate grey shampoo. 
The Last Words
Don't skip our Christmas hair color tips. To change your hair hue, rock one of those above Christmas hair color is an easy way to surprise everyone with your appearance. But don't forget to take care of it to maintain the shade and prevent other hair problems.
If you want to immediately get new hair color, try a colored wig. You can take a look at Lewigs' collection to see if there is any item that interests you.
Have any further questions, leave a comment below or contact us directly. We are online 24/7 to serve you.