Winter is coming with the Christmas holiday. Have you made any plans for this year? A party is gonna be fun. But thinking of how to look great this winter may confuse you. Hence today, Lewigs will share with you some creative Christmas hair ideas which can contribute greatly to your look this Christmas.
Here are some ways to style your Christmas hair. You may find some that you want to try out this winter.
Classic Christmas hair braids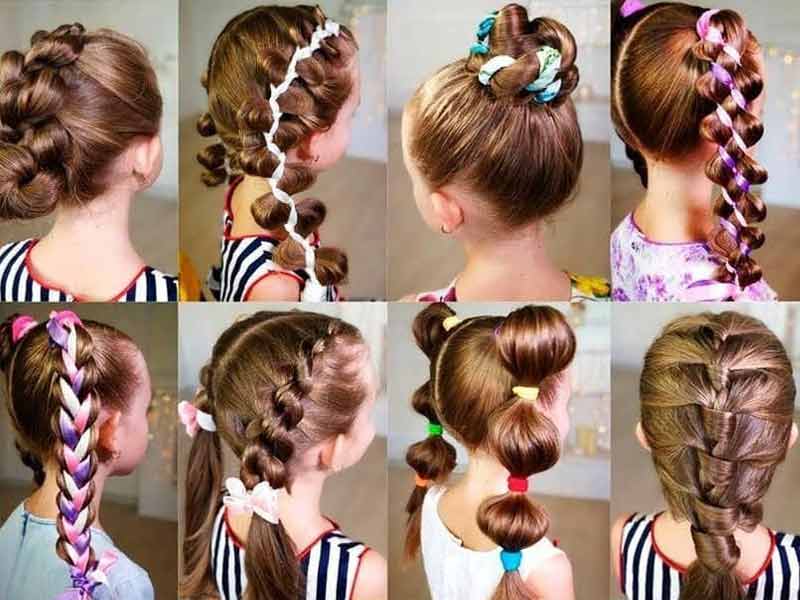 As simple as possible, Classic Braid may be what you need at Christmas. Sometimes, keeping it basic and simple can give you're a freaking cool and cute look. You can use a non-crunchy hair gel when slicking your Christmas hair for a more voluminous appearance.
Wavy Hair With Bling Hair Pins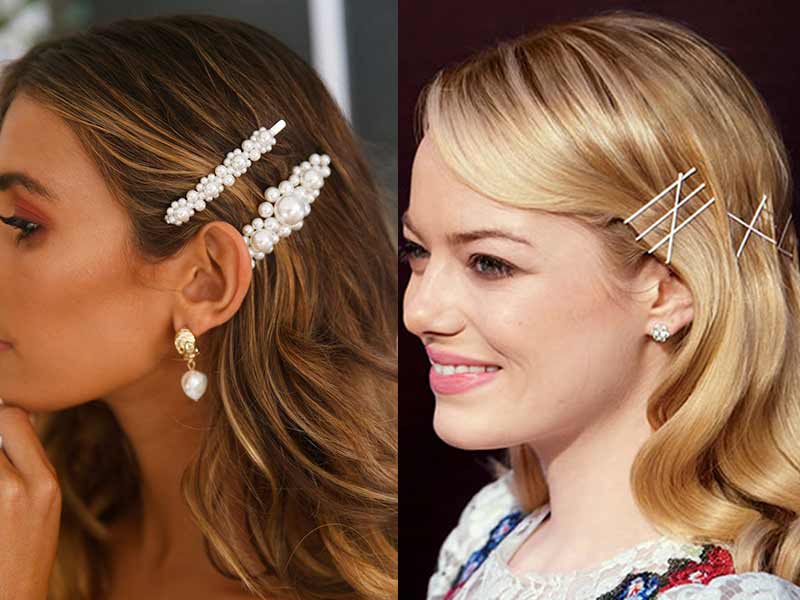 You can't deny that wavy hair cannot be missed in any season. If you want a classy look but not too over, wave hairstyles for long hair is for you. You can have hair clips help you complete this look at any time, even your bio is short. Pin your hair on one side with Bling Hair Pins will make it look sweeter.
Half Up Half Down Christmas Hairstyle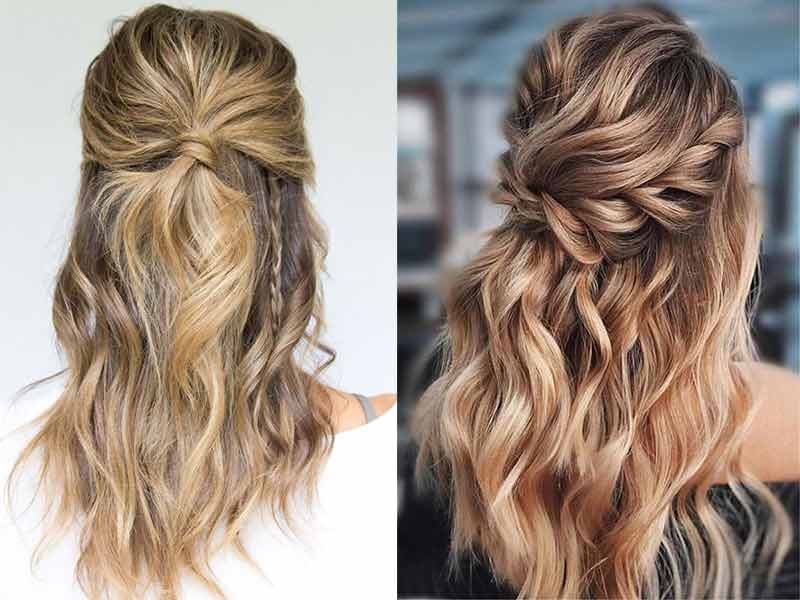 If you seek for Christmas party hairstyles for long hair, we highly recommend this style for you. Instead of letting your hair free to go, gather your hair into a simple half ponytail to manage an ultra-stylish and super chic look. It takes just around 1 minute for the whole process. You can use a flexible-hold hairspray to maintain your style during the party.
Similar posts:
High Ponytail
Another super simple Christmas hair for you this occasion is the high ponytail. To highlight your chic look, take a half-inch bundle of your hair then wrap it around the ponytail root. You can use a hairpin to keep it in place. Then apply edge control gel to keep in place.
You can tear up your ponytail if you want to look cooler and chic. It is also a way to add more volume and layer to your hairstyle.
Modern Lob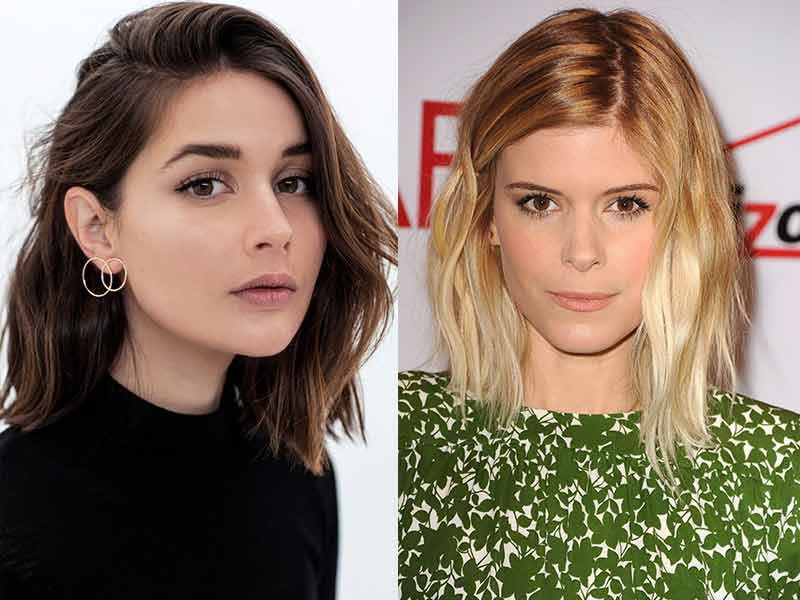 A winter fashion girl should not ignore this hairstyle and makeup trendy. This is perfect Christmas hairstyles for short hair for all. If you want to help your look stand out, simply go for the off-center hair part, slightly curl the end then attach some Christmas hair accessories you desire.
Topknot Christmas Hair Buns
Updo bun is always a classy style for all women, which helps them to show off the beautiful facial features. Pull it gently to get a gorgeous messy hair bun may provide you with cool-girl hair vibes. This also requires low-maintenance so it is listed among the top Christmas hair ideas for a night party.
Fishtail Braid
That braid hairdo easily becomes the favorite Christmas hairstyle on this holiday. It seems to require a ton of effort to complete this look but it is actually not. Search out on the internet, you may find some tutorial for this style, and we bet that it is really an easy task. Slight pulling the braid will make your look more messy chicer.
Side-swept Curls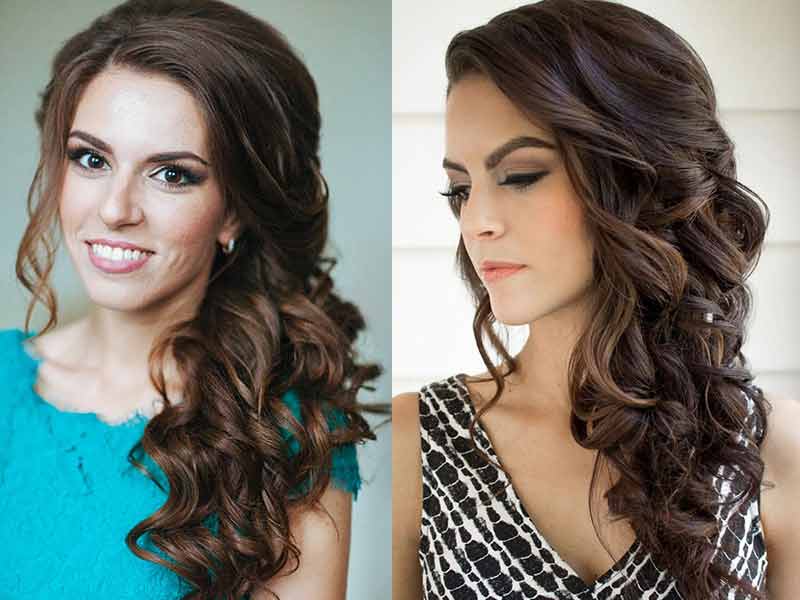 If you got curly hair, just simply brush it into a deep hair size for an edgy look. It also promotes your hair dimension and volume. Nothing too extra or ever in this Christmas hair idea.
Sleek Straight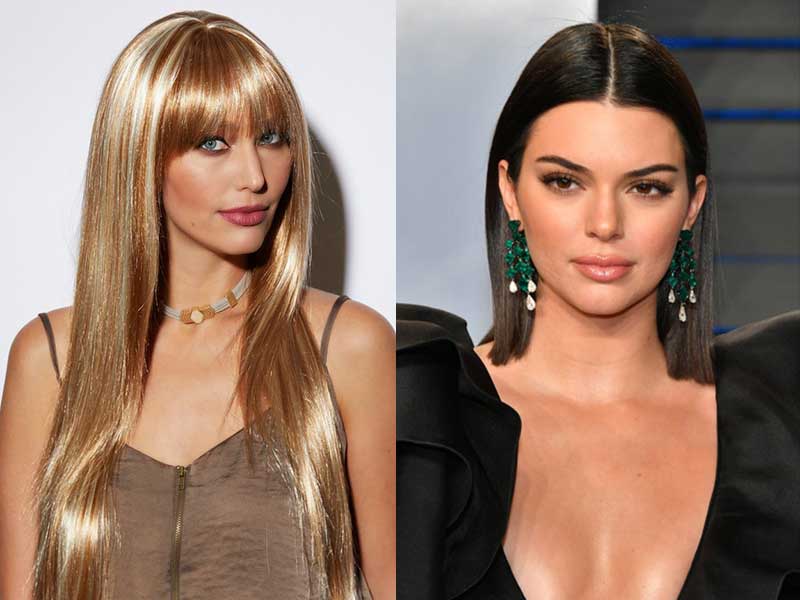 Part your hair off from the center then use a straightener to straighten your hair, which will end up in a holy chic and edgy look this winter. Then put your favorite outfit and makeup on and go out for a party.
The Wet Look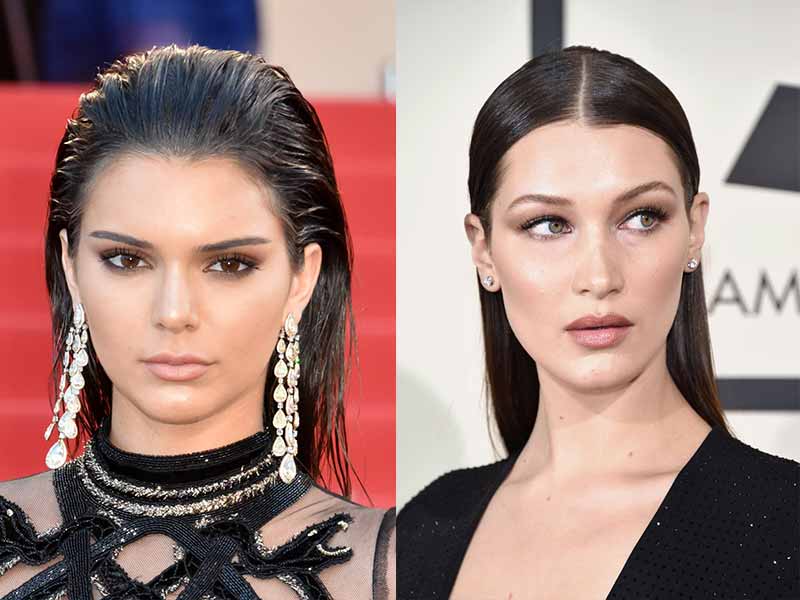 One of the best Christmas party hair ideas is the wet-look hairstyle. This style will be so outstanding with a glossy and high-shine look. All you need are hair gel and glossing spray to finish this look.
Half Up Half Down Hair With Ribbon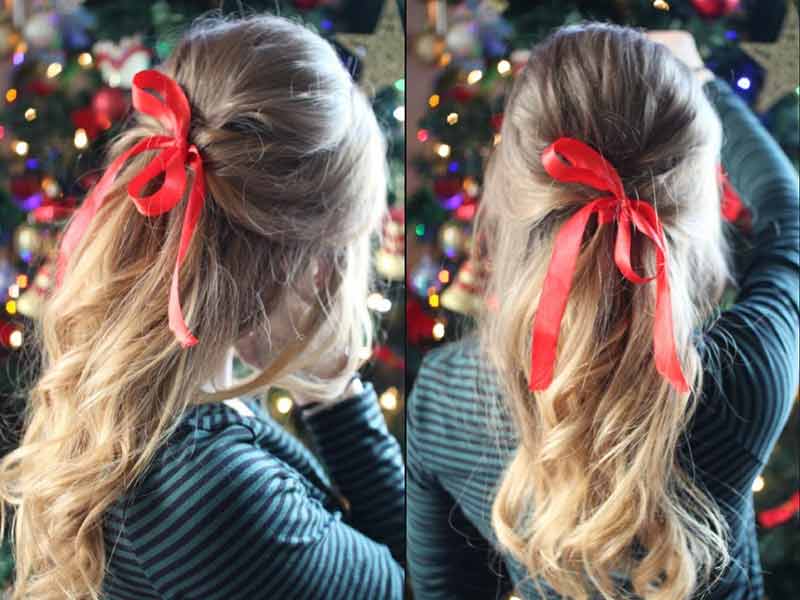 If you are interested in an edgy look and you are craving cute Christmas hairstyles, ribbon customized hairstyle can be your choice. Simply make a half-up ponytail then use a velvet ribbon to secure it then done!
Chic Chignon Christmas Hair Bun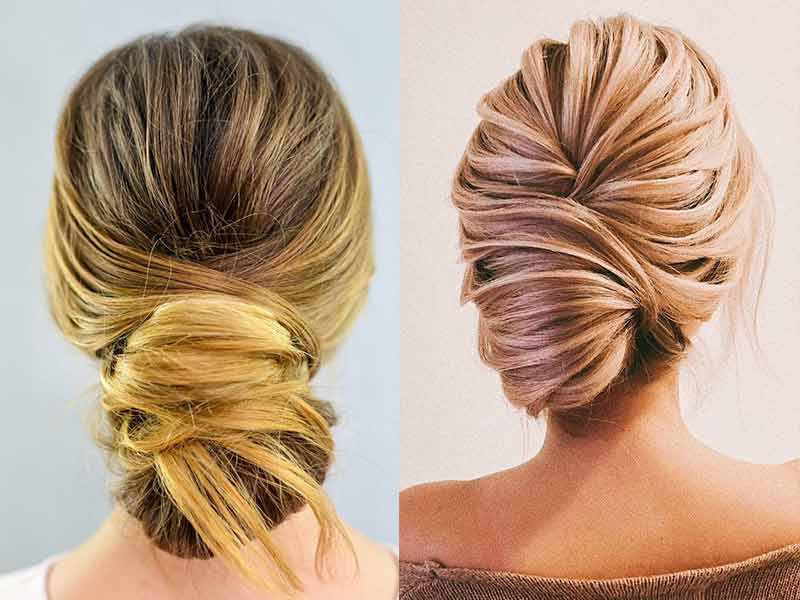 Chignons are the favorite hairstyles of all girls at all times. If you want to style your hair elegantly, you cannot forget this style. It's o perfect for the Christmas party or just a small date this winter.
Twisted Tie-back Hairstyles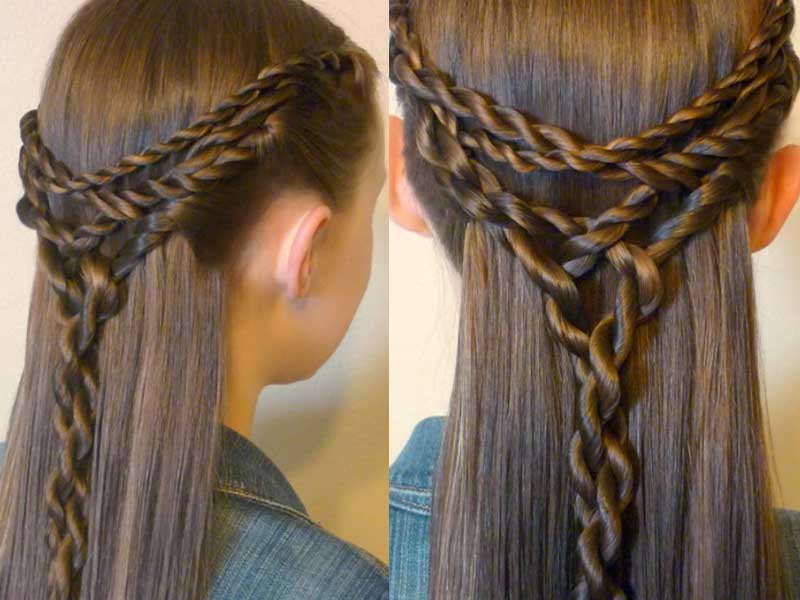 This is listed among the most desirable Christmas hairstyles for long hair. Another version of half up half down hairstyle but it seems more complicated in look. Simply twisted you two-side hair from the root to end then secure them at the back with a rubber band. Repeat this step and after secure the second bundles of hair, twist it inside the first one. Then you will finish so a pretty and sweet look.
Jump to:
Glitter Dusting Roots Buns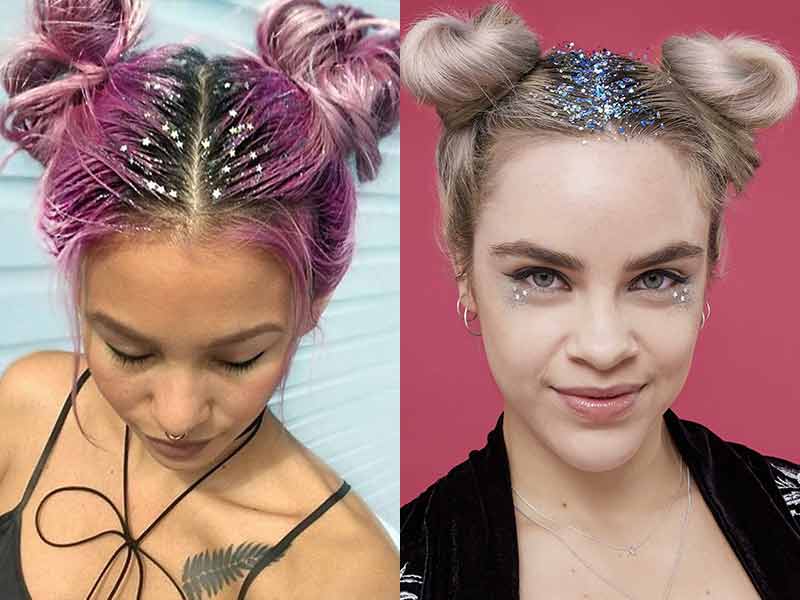 This seems to be a crazy Christmas hair but cute though! Just part your hair from the center than make two symmetrical buns. Next, put the glitter on to complete this adorable look.
Christmas Tree Braid With Green Ribbon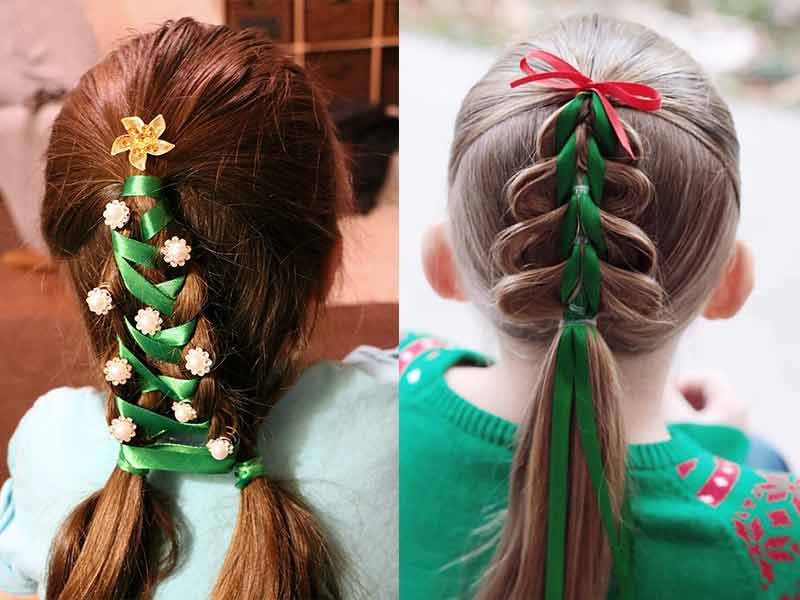 How creative when you come to this Christmas hairstyle. All you need is hair clips, hair bands, a long green ribbon with some Christmas hair accessories. Combining your braid with velvet green ribbon will make you got a Christmas themed vibes and feel more special.
Christmas Wreath Braid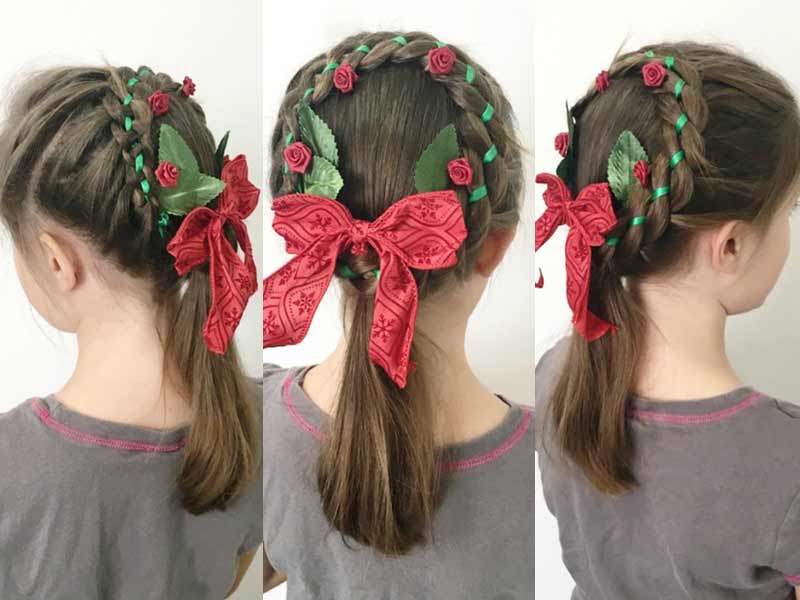 Another crazy Christmas hair idea to mention is to make your hair braids look like Christmas Wreath. It is great for both children and adults. It just looks so simple and rustic but it like a memo when winter passes by.
Final Words
Hopefully, after this article, you can find the Christmas hair that you desire. In case you love a style but your hair can meet its requirement of length or density, let visit Lewigs' website. Here we provide you with some kind of hairpieces such as wigs, weave and hair accessories which you may need to complete your look. And if you wonder about the quality, we assure you that all the products we offer are best in quality and give you so realistic look.
If you want to find some more interesting writing like this, follow our blog right now!