There are various methods to wear lace closures, either with clips or glue. Each way has its pros and cons; hence, it should consider which one suits you best before deciding to go with. In this post, we present you everything related to lace closure glue, including how to wear it to avoid embarrassing mishaps. 
About closure glue
What is the glue for hair closure? It is a type of adhesive that is specially produced for wearing hair extensions. Put simply, it is utilized to keep the lace closure on your head.
There are tons of adhesive products out there for wearing hair extensions. But you have to consider carefully before deciding to go with which. Opt for items that contain no or fewer chemicals because they may cause unwanted effects, including itching skin. We advise consulting your dermatologist to see if you have a sensitive scalp.
Wearers now prefer using ultra hold glue and invisible glue. For example, ultra hold glues are the most popular product as it can keep the lace closure for 3-4 weeks. Whilst invisible part glue in closure is waterproof and can hold your hair for 2-3 weeks. It is invisible, so others can not detect whether you are wearing a hair replacement system.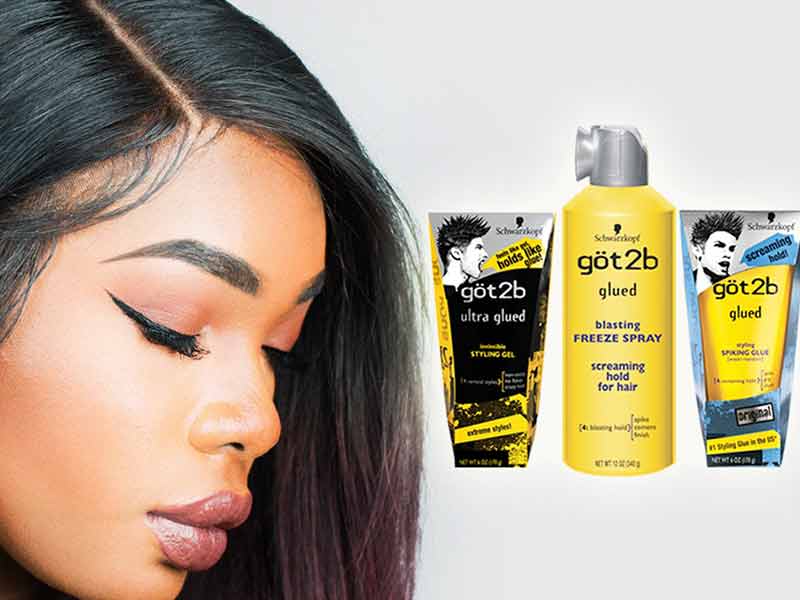 Things you may like 
Why should you use lace front closure glue?
– Longevity: Closure glue can hold the hair in place for a month or longer. Some ultra hold glue can keep your hair for four weeks without reapplying.
– Ease of use: Perhaps it is the most apparent benefit of this stuff. It's easier to install and remove the hair than other application methods (e.g: sew-in). Many review that this is the easiest way to wear lace closure on their own. Similarly, removing the hair is not hard.
– Natural: As long as you apply the proper amount of closure glue weave, it provides a natural look. Opt for an invisible adhesive is a good option to achieve a seamless look. 
Related posts:
Things you may not like
If your skin is sensitive, you should avoid using glue adhesive. Also, it is a lengthy process. You need to apply more than one layer of the adhesive to hold the hair; thus, you have to wait for each layer to turn dry before adding the next one. Be patient.
How to use lace closure glue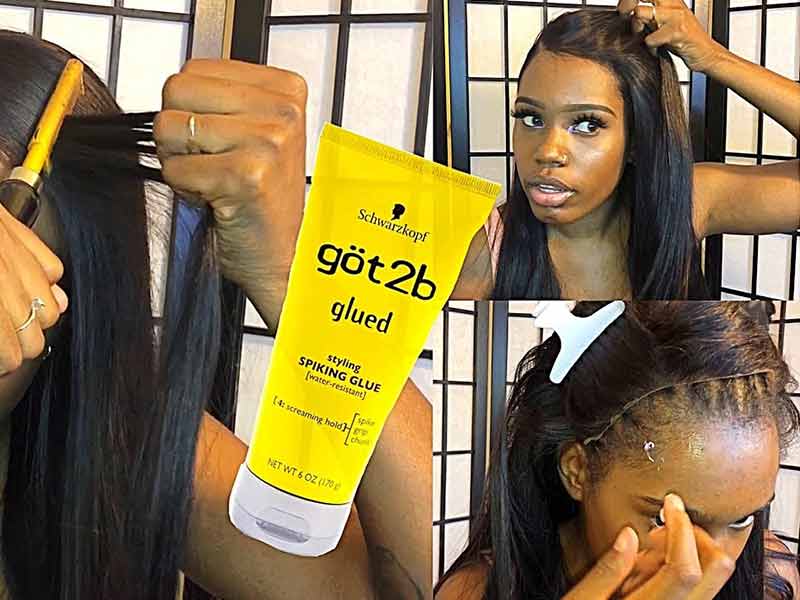 It is easy to apply glue on your scalp. Make sure that your skin is oil-free and clean before applying. Determine where you want to apply the closure, and then add layers of glue. Add once or more layers for strong hold as needed. You have to wait until the layers turn clear and install the extension. Press slightly so that the hair closure stick to your skin.
Alternatively, you can use a hot glue gun wig with closure. Prepare a hot glue gun and glue sticks to install the extension. The gun is a portable device that can be used to dispense hot melt adhesives.
Best lace closure glue for ensuring all good hair days
Have no idea where to start or which product to buy, don't worry! We are here to features some products we think you will love. Please be noted that this is our own opinion.
Ghost Bond XL Hair Replacement Adhesive
This adhesive works as advertised, it keeps the hair extensions on through it all. Manufacturers say that the glue is specially produced for oily scalp and humid climate. Or if you live an active lifestyle, the powerful glue can hold your hair down for the entirety of the day.
Wearers must follow the directions to get the best results. You must allow the adhesive dry before applying the lace. Let it turn clear and tacky even if you apply twice before installing lace closure. It dries clear, very quick, and leave no clump up.
When you're ready to take off your hair, use alcohol or make-up remover on cotton pads to remove and wipe the access glue off.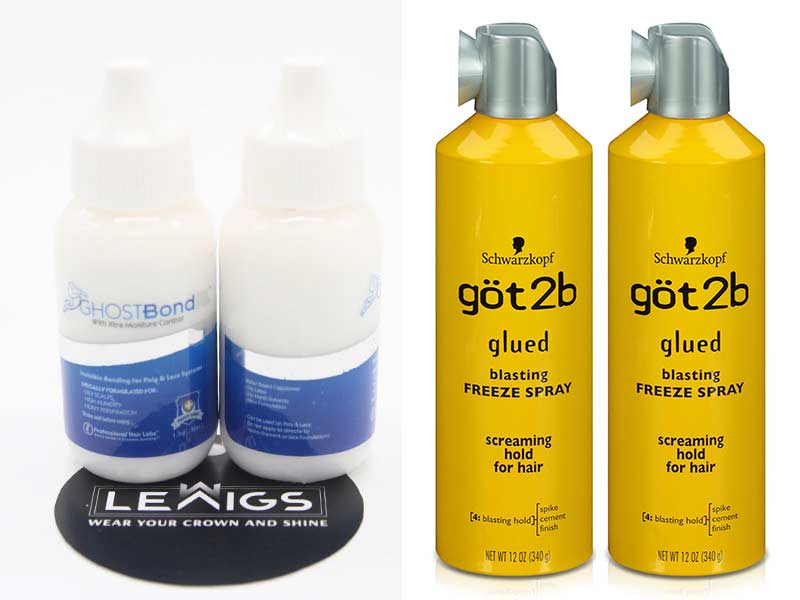 Got2B Glued Blasting Freeze Spray
Whether your hair is lace or skin base closure, the product can work well on both. Most wearers tried-and-true product for securing their hair extensions. With a smart design with a spray bottle, it allows you to control the amount of glue you use on your scalp.
Also, it is beginner-friendly. If you didn't glue down the closure correctly the first time around, you could adjust the hair without the glue compromising the material. This glue for skin closure will dissolve when sprayed with water that allows you to remove the hair easily.
If you want a product with max hold, free of chemical smell, you have found it here. It's great for all races and hair textures that can blast your style.
Read more:
OSI Works Cling Edge Safe Nontoxic Glue
Next up, we have a product from the OSI Works manufacturer. The glue for lace front closure is the best option for those looking for a super strong hold. Also, it is moisture-resistant, providing a high bond strength.
Cling is easy to apply and it dries clear, the lace will not come off until you use the remover. The bond is stronger depending on how many layers you apply.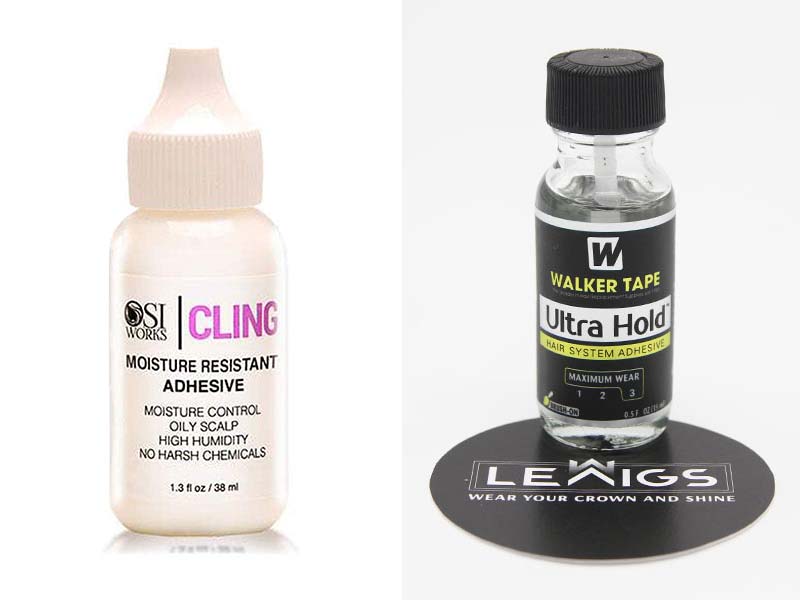 Walker Tape Ultra Hold Adhesive
You are looking for a long term solution for holding your skin closure, look no more. Ultra-Hold is a soft bond that provides 4+ week hold times.
The thing about the adhesive is that not only does it works, but it safe for the scalp. Instead of using a traditional silicone-based adhesive, Ultra-Hold uses acrylic adhesives. It works for all skin type.
However, the skin closure glue is strong and messy if you do not learn the proper way to apply it on your scalp. Don't apply too much.
In general, the adhesive is essential to keep your hair closure in place for weeks. Lewigs hope that our words are useful for you to get the best closure glue. Just try, experience, and share the results with us. 
Please SHARE with your colleagues and friends if you find this post helpful.
And follow our blog for more exciting hair tips and products.