Every girl is craving for color hair but afraid of damaging their natural locks. So if you love dyed hair, too, coloring weave hair will be a great alternative option. Whether you love your hair turn darker or lighter, human hair weave will give you the best result. If you are more of a DIY person, below are the simple steps that help you slay your look with colored hair. keep reading to check it out!
How to do a weave hair coloring?
Preparation
Choose the high-quality coloring hair weave
There are 2 main types of hair weave, namely synthetic hair and human hair weave. Synthetic hair cannot be treated with dye chemicals since they will be damaged. So, a virgin human hair bundles will be a perfect choice to customize hair. The human hair can cost higher than the synthetic on, but it can last longer and is easy to style as well.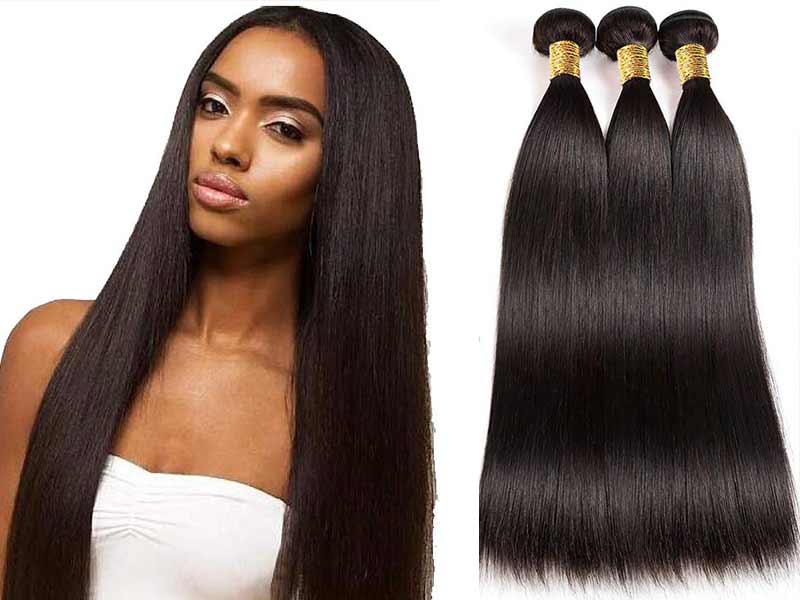 Wash hair before coloring weave
Many may ask: "Should I wash hair weave before coloring?". And the answer is "yes". It is crucial to ensure your weave hair is clean and buildup-free. Use a mild shampoo to cleanse your weave with lukewarm water. Then, use a bath towel to remove excess water. Start dyeing your weave when its hair is slightly damp since it will make the cuticles open, boosting the coloring weave hair the process.
If you got a brand new weave hair, you don't need to cleanse it. You can wet it by spraying some clean water.
Other related posts:
Choose a dye color
If you dye your weave hair darker, you will just need to prepare a dye box
Otherwise, if you want to color your weave lighter with the color of blue, pink or ash tone, you need to bleach the hair beforehand. This is because it will help the color show up correctly.
Think about whether or not you'll need to bleach hair first or multiple times in order to achieve the color you want.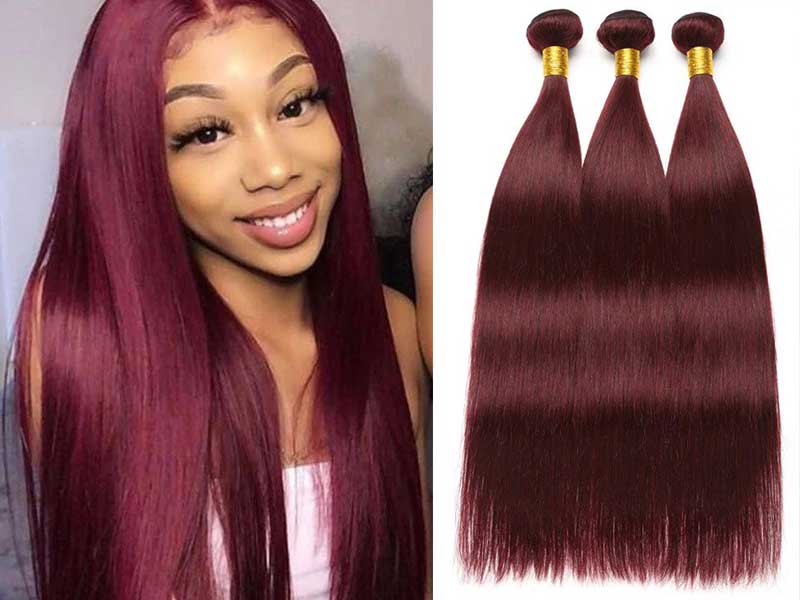 Wear Disposable Latex Gloves and start
The dye and bleach you use can harshly harm to your hands, so do not forget to wear disposable gloves. Wear an old t-shirt to prevent the dye from staining your clothes and a face mask to keep your nose from inhaling the chemicals' odor.
Lay your weave hair on a foil
Put your weave hair on a hairdressing foil, make sure it's large enough to let some extra area on the sides. You will use it to wrap the hair later on.
Weave hair coloring
Bleaching hair lighter
You only need to bleach or lighten the hair if you tent to dye it in a lighter color.
Mix bleach powder with the developer in a bowl.
If you purchase a bleach box, it will contain both bleach powder and developer with the proper amount already. So, just mix as it is. If you got a long weave hair, make sure you will get enough boxes.
If you purchase bleach powder and developer separately, mix them with a 1:1 ratio. Generally, developer 20V or 30V strength is mostly used since it will bleach your hair quickly without harsh damage.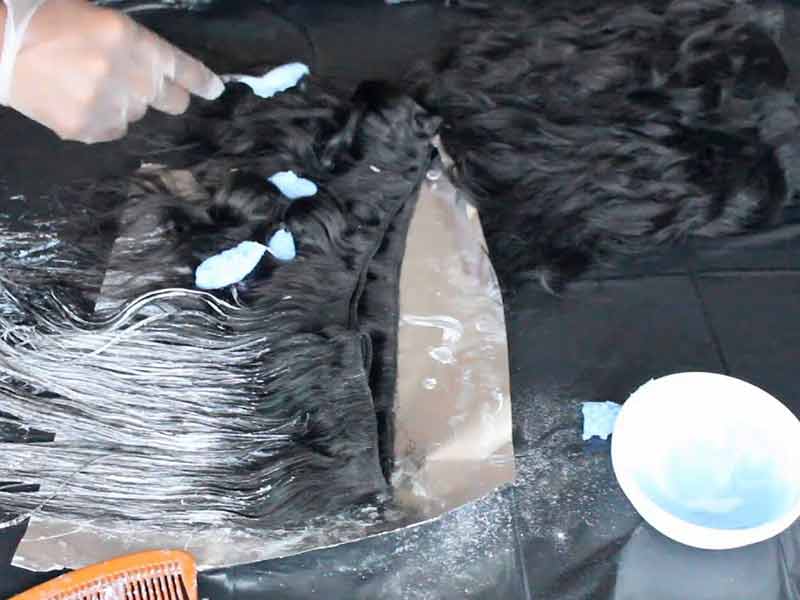 After mixing well the bleach, use an applicator brush to apply it evenly to your weave hair. Hold your weave on the top with one hand brush down to applying.
Wrap you weave hair with the foil and leave it for about 20-40 minutes. The hairdressing foil will help to speed up the bleaching process, letting your hair soak more evenly and intensely. Check how the bleach works every 5 minutes.
After 20-40 minutes, unfold the foil and take out your weave hair. Rinse out the bleach under the running water, use lukewarm water to wash it. Run through with your fingers to ensure that you strip away all the chemical residue. Then, towel-dry your hair and let it fully dry naturally.
After bleach, you may see that your hair is a bit brassy, no worry since it happens commonly.
You can repeat the process about 3 times more to get rid of that orange tone.
Coloring weave hair
Generally, a dye box will contain hair color and developer. So, all you need is to mix the two in a plastic dye bowl according to the instructions. Follow the ratio in the instructions to get the best result. Make sure you have prepared enough boxes to evenly dye your weave hair.
Brush the dye mixture onto the hair from the top to the end. To ensure the color will show up evenly, move the brush up and down and side to side.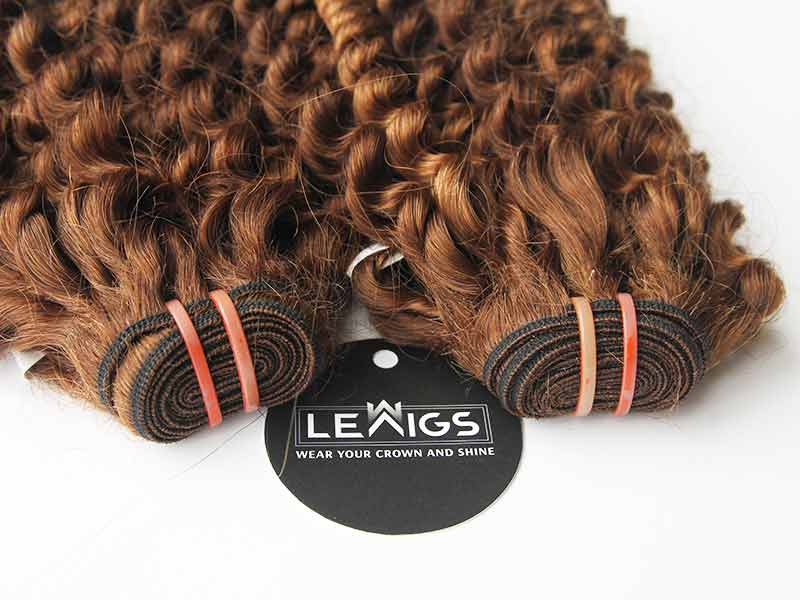 Cover the hair with a sheet of plastic wrap, leave it in for 20-40 minutes. Check how the dye works every 5 minutes.
Once your hair reaches the color you desire, take it out of the wrap and rinse it under the running water until the water turns clear. After that, condition the weave hair coloring to nourish and moisturize it after its exposure to harsh chemicals to bleach and dye. Leave the conditioner in for about 15 minutes then rinse it out of the hair with cool or lukewarm water. Then, use a bath towel to remove excess water and lay it on the towel to air-dry.
Jump to:
Where to buy high-quality weave hair for coloring?
If you love coloring weave hair but you don't know where to get high-quality hair weave, Lewigs is will be your best choice.
Our weave hair is made of 100% Vietnam and Cambodia virgin human hair that is long-lasting and natural-looking. With hair weave from our website, you can dye or style your hair in any way you wish. Moreover, we also offer weave hair in various styles and texture for you to choose from. If you are not sure what look you are aiming at, our professional staff members of service teams are so glad to help you to find the best human hair weave.
Final words
Now, you will never have to be worry to get the hair color you want since you have human weave hair. No more damage to your natural hair but you still slay your looks.
Hopefully, this article can help you learn more about how to do a weave hair coloring and you can get your desired look right away!
If you like this article, share it with your mates and follow Lewigs blog now for more interesting information!