You don't like the existing color of your hair system. You would like to have a luscious and unique hair hue. How to dye hair extensions? No stress! Lewigs Hair is here to help you solve your problem. Dive into our words to know some tips on dye the hair. It is effective and matches your natural locks. 
Which hair extensions can I dye?
Lost in the hair extension world, you may be overwhelmed if you are a newbie. There are different types of hair extensions, including human hair and synthetic fibers. But not all items work effectively and match your existing hair well.
Do keep in mind that human hair systems are better than synthetic ones. And they can be dyed, styled, or bleached like your natural locks. At Lewigs, we only provide human hair products that are super soft, shiny, and tangle-free. We collect raw hair to ensure all the cuticles are kept intact and not stripped.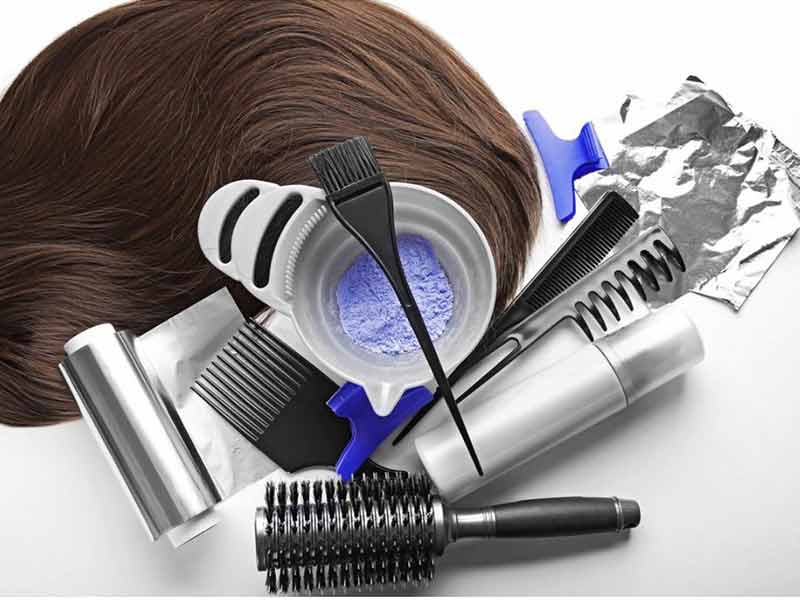 Can you dye hair extensions? Which hair extensions you can color? You can do with human hair products since they are flexible and durable. With virgin and remy hair systems, wearers can color it without damaging the hair. Experts and hair colorists advise that you should not attempt to lighten or darken synthetic fibers. They are not flexible enough to color.
How to dye hair extensions to match your hair
Before coloring, you should prepare some needed supplies:
– Hair dyes
– Developer
– Plastic or latex gloves
– A plastic bowl
You can purchase hair dyes from a beauty supply store or hair salon near you. Avoid buying hair dyes at the drug store because they will be more difficult to blend your natural hair hue, unless you will dye hair extensions ombre.
– Firstly, wash the full set and let it dry thoroughly. Then brush the set to remove all tangles.
– Next, prepare the hair color. Read on instruction and process on the product's shell and start mixing up hair dyes with the developer together. Remember to wear gloves before doing this step.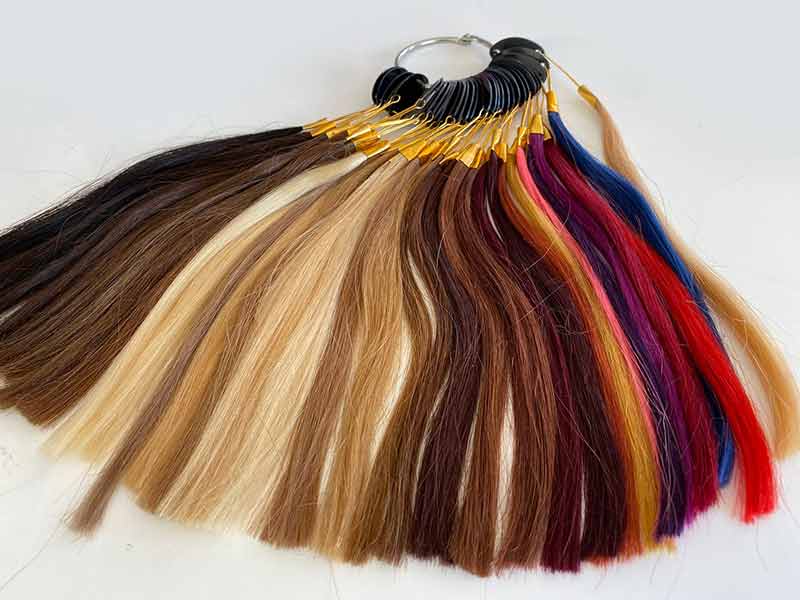 – It's time to apply the mixture. Coat the color on every strand of your hair extension, use enough amount. Run the comb through the set to distribute the dye evenly.
– Allow the hair dye to leave on your hair extension for the allotted amount of time, about 15-20 minutes. Do keep in mind check the result every 5-10 minutes during the process.
– If you are satisfied with the results, rinse the extension with lukewarm water. If not, let the dye sit more and then rinse. Apply conditioner so that it works to moisturize the locks. Rewash the hair and allow it to dry. Enjoy your newly colored hair. 
Related posts:
Experts tips on dyeing hair extensions
Can you dye human hair extensions? Be careful! It is essential to color the hair but still ensure the quality of your set. Naturally, you can dye remy hair extensions. Here we provide you with something you should or shouldn't do when dying your set.
Things you should do
Do a test strand before dyeing the full hair system
Kindly note, you should apply hair dye on a small section first. For instance, you can do a test on a section on your tape in hair extension. This tip helps ensure wearers satisfied with the results before toning the full set. If you don't like the color, you still have the chance to adjust. To get dreamt color, make a little bit of adjustment to the process or formula, then test again.
Can you dye hair extensions while in your hair? You can, but if you are smart in dyeing hair. If not, we advise you to take the hair system off, cleanse and then color it. Or take the hair to your hair colorist, and he/she help you do the rest task.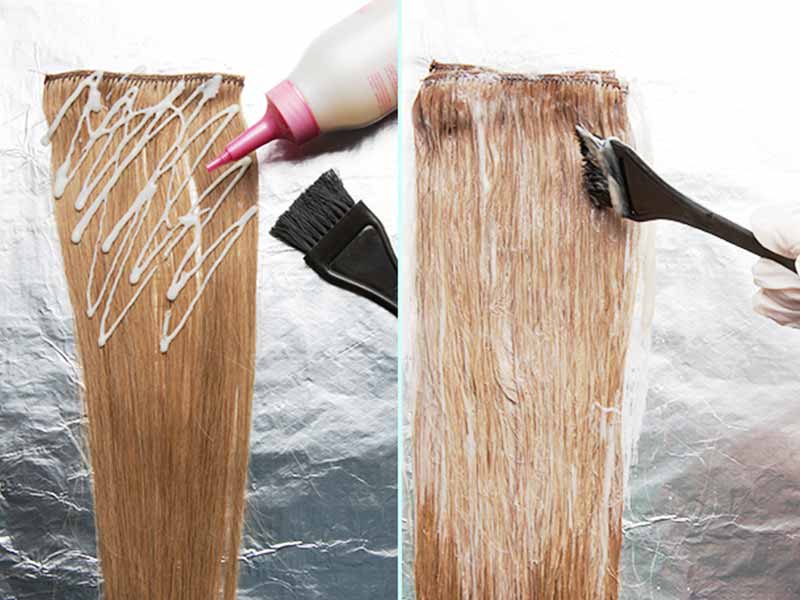 Pre-wash your extension before dyeing
As we all know, hair replacement systems are not our real hair. Hence, it requires more maintenance. Before the coloring process, it is necessary to wash the hair to remove all dirt and build-up. However, invest in a gentle shampoo that is alcohol & sulfate-free.
How to do? Fill a sink with water and apply some drops of shampoo. You mix them slightly and submerge the hair into the mixture. No rubbing otherwise it tangles the set. Let it air dry, and then your hair is ready to be dyed.
Utilize semi or demi hair dye 
You use semi or demi hair color instead of the permanent ones as they are much safe for your extension. They are the least invasive and will not affect hair quality. Also, users can easily adjust the shade if they don't like the results.
Apply the dye in one direction
Of course, you can dye real hair extension, but remember to apply the color to both sides of the system and in the same direction. Doing this helps you get even results.
When dyeing, apply the color in a downwards direction. Start from the root and move toward the hair tip. If you do upwards, it may damage the hair system and leave it frizzy and tangled.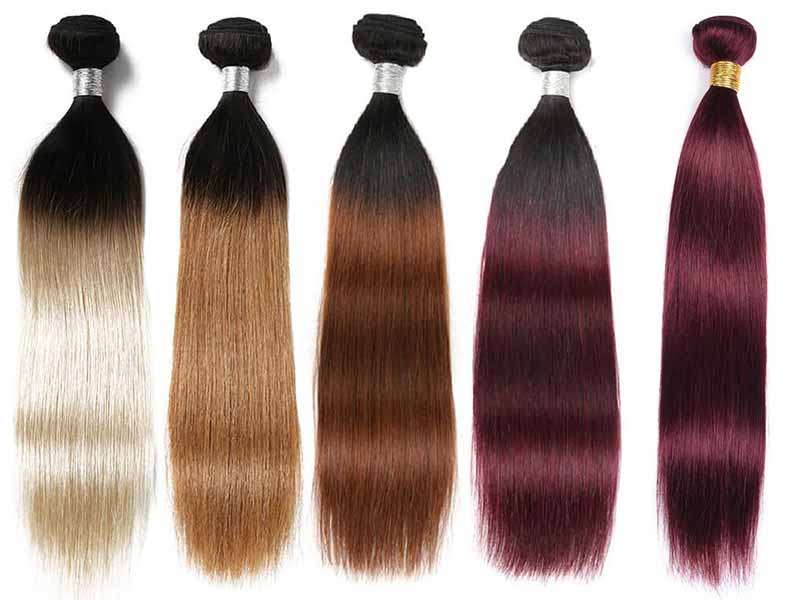 Things you shouldn't do
Use bleach
Real human hair extensions can be bleached, but Lewigs doesn't recommend it. Bleaching is a harmful process that will alter the quality of your extension. It means that if you bleach your set, it will lead to damaged and dried hair. And force bleaching on locks that have already been colored can be difficult. 
Read more:
Dye your set at home when you have no experience
You want to color tape in hair extensions, but you have never tried before. Not reckless! You will risk making the issue become worse. If you try to dye them yourself, it renders your hair unmanageable. Make an appointment with your hair expert if you are unsure about the coloring process.
To sum up
Bear in mind that all hair extensions and dyes are different; hence, they give different results. Can you color human hair extensions? As long as you do follow the manufacturer's instructions, you can. So can you color synthetic hair extensions? It depends on the type, quality, as well as your skill. But we don't recommend coloring the synthetic one as it is challenging to get your desired color.
Ultimately, dye hair extensions is a straightforward process. Just adherence to the formula and with a little experience, you can go your job smoothy. Follow our expert tips to get the maximum results. Good luck!