Nowadays, in modern life, long hair does not belong to women only. Finding a guy with long hair is not a difficult task. There are even guys with long hair so beautiful that many women are jealous. Today, we will see some famous guys with long hair – not only the hair but also their characteristics.
Tom Cruise
Let's talk about Tom Cruise – one of the most famous guys with long hair. If you are a fan of the action movie, you surely know Tom Cruise – one of the most famous actors with action films. Due to his fame, people tend to pay attention to his style, including hairstyles. During his career, he changes many hairstyles, but the manicured long bob is the most impressive one. Many men dream of having a hairstyle like him.
Are guys with long hair attractive? Yes, and Tom Cruise is an example. His hair is a bit dusty but still elegant and sexy. This hairstyle increases his masculinity on his face. All he needs are naturally thick strands which are easy to be styled in different ways and dyed with different colors.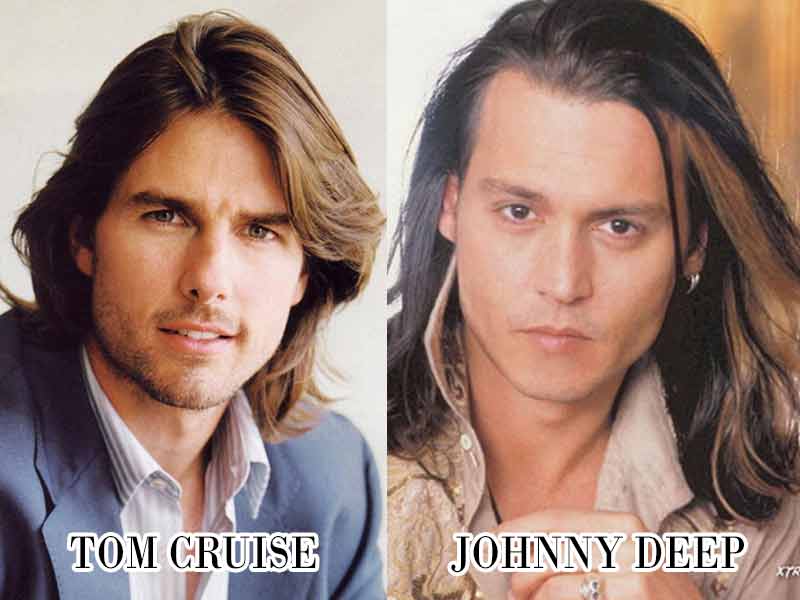 Johnny Depp
If you like adventure movies with a bit of humor, then surely you cannot miss Pirates of the Caribbean. Regarding the factors that make up the success of the movie, we cannot skip the talented main actor – Johnny Deep. Although he tries many hairstyles with different lengths, long hair is the most iconic one. We can mention his ponytail hairstyle. It looks a bit messy tied low but gives his face a unique look.
In case you have chin-length hair and you find it hard to style, do not worry, Johnny Depp will see you that you look younger and more handsome with this hair. After washing your hair, you should hold your head upside down and dry hair by scrunching/squeezing strands. Then, with your hands or a comb, make an off-center part and let your hair dry naturally.
Harry Styles
Harry Styles is a cute guy with long hair. For example, if you have shoulder-length hair, even if your hair is curly or straight, you still look very fantastic like Harry. Or if you have longer hair, do not think too much about styling hair. You can make a simple but attractive appearance with sunglasses on top of your head.
A different style with long hair is a man bun – which is also very easy to make but brings to you a different look: rugged and sexy. We are sure that people around you will be surprised with your new hairstyle.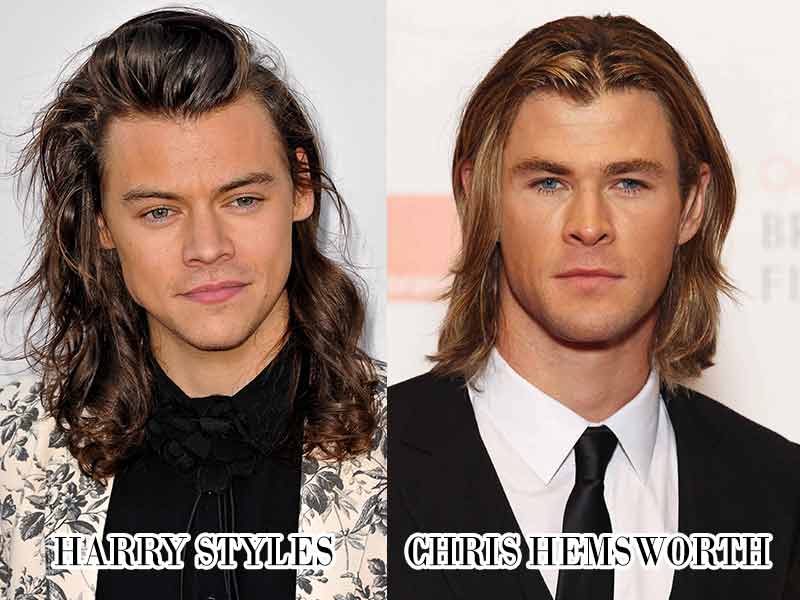 Chris Hemsworth
One of the most popular superhero films is the Marvel Cinematic Universe (MCU). Thanks to its interesting content, each part of the series attract a lot of people to go to the cinema as well as watching online. Many companies make related products such as toys, clothes, etc. It means that this series has a great influence all over the world.
One of the main characters of this successful series is Chris Hemsworth who plays a role as Norse God Thor. We are familiar with his really long hair with two braids caught in the back on the movie. Moreover, he has shoulder-length hairstyle. He only needs a middle part to highlight his classic hairstyle.
Other topics:
Kit Harrington
Kit Harrington is a famous actor in the movie Game of Thrones. He has many different hairstyles, from short to long hair. The hairstyle we have to mention is his Jon snow hair – a popular hairstyle that men want to own after watching the movie.
This guy with long curly hair makes your appearance not only strong but also sexy. Remember to slick hair back. Do be afraid that this hairstyle looks a bit messy. The mess is not always bad. For hair, sometimes, mess makes a perfect appearance.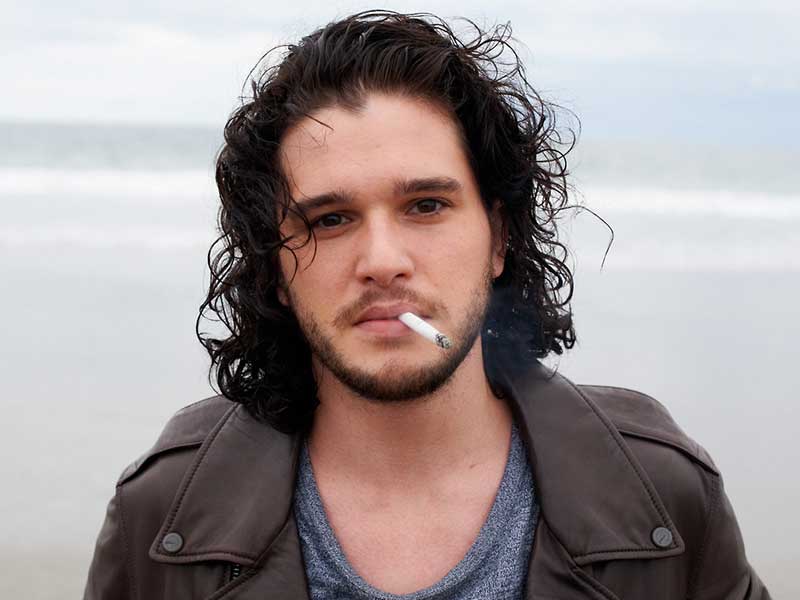 Guys With Long Hair – Hair Care
It is not easy to have long beautiful hair, we are sure about it. However, you can have it if you spend time taking care of your hair. Firstly, choose suitable hair care products for your hair type. For men who own curly hair or dyed hair, special hair care products are necessary. Using the right ones not only helps you prevent hair damages but also nourishes your hair by making it softer and adding more shine. Sometimes, you can use hair clay to disentangle and thicken your hair.
Secondly, you should have healthy diets. You cannot own beautiful hair when your health is not good due to a lack of nutrients. Thirdly, you should quit smoking and drinking alcohol as soon as possible to avoid hair loss. Fourthly, hairstyling tools with heat are helpful, but they also do harm on our hair, so try to limit using them.
If you think it is difficult to style your hair by yourself for the first time, you can ask the hairstyles to do it for you. After that, you can know which long hairstyle is suitable for you and how to make it at home.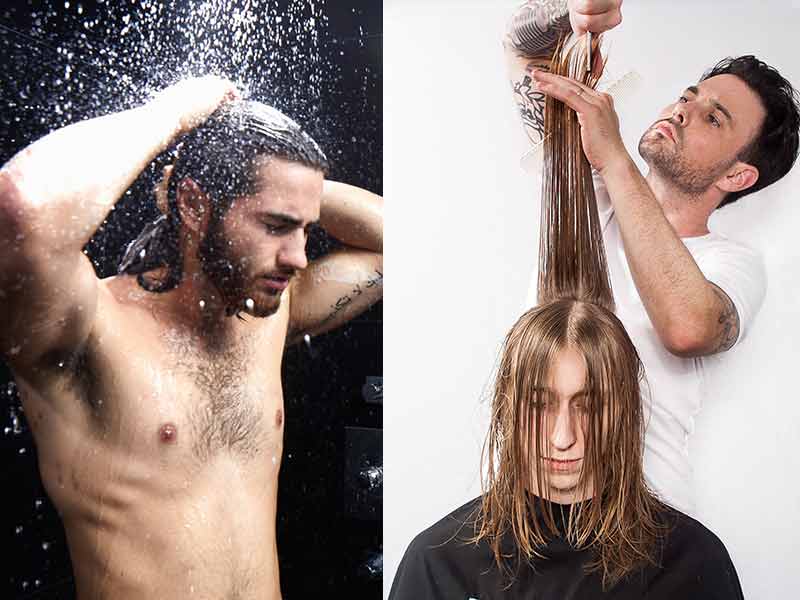 If you want to own long hair right now but they cannot wait for a long time or you want to keep your short hair but they want to change it into long hair on some occasions, why do not you use wigs? Wigs were born to serve the beauty needs of everyone. However, it is important to choose high-quality wigs to avoid side effects when using. You can consider buying wigs at Lewigs.
We provide you with wigs in high quality without too much being expensive. You may be afraid of the hot feeling on the scalp? Do not worry. Our wigs are made by Vietnamese and Cambodian human hair, so you will not get hot when applying our wigs. You can read good feedback from the customers on our websites. If you need help, we are always here. You can ask us any questions about wig hairstyles, wig preservation, etc. So, contact us when you need it.
We are very happy to share with you some guys with long hair in this article. We hope that you can find a good long hairstyle for your appearance, your style, and your characteristics. If you have any questions or feedback, send it to us immediately. For more hair care topics, please visit Lewigs blog.