Wigs are a beautiful and effective way for those who want to achieve thicker hair as well as conceal thinning hair or bald spots. They don't harm your natural hair and also protect your skin from harmful external factors. Looking for a good hair wig for yourself? Frontal vs closure sew in, what should you choose? 
You are a rookie, you don't know how to distinguish frontal vs closure. Curious about them? Here Lewigs will get you covered with closure vs frontal for beginners, consisting of the similarities, differences between these hair wigs. It takes only a few minutes to scan through, so keep reading till the end of this post!
About Closure vs Frontal
Lace closure vs lace frontal, both of them are the top choices for women today. But do you know how to distinguish between them?
Lace closure
It has a horseshoe-shaped lace piece that does not disguise your head from ear to ear. Closures are placed in the exact area – the middle of your hair. It is about 4 inches in length and width. The hair is available in different options such as the middle part, free part, and three-part. You want to use closure, it looks best once you properly stack them.
The closure is always made out of lace, sometimes it also made of silk material. Plus, they suit all women. Many people think that a lace closure is better for concealing the exact part. Plus, a silk closure is good at putting in the middle areas, it creates an illusion that your hair strands grow directly from your scalp.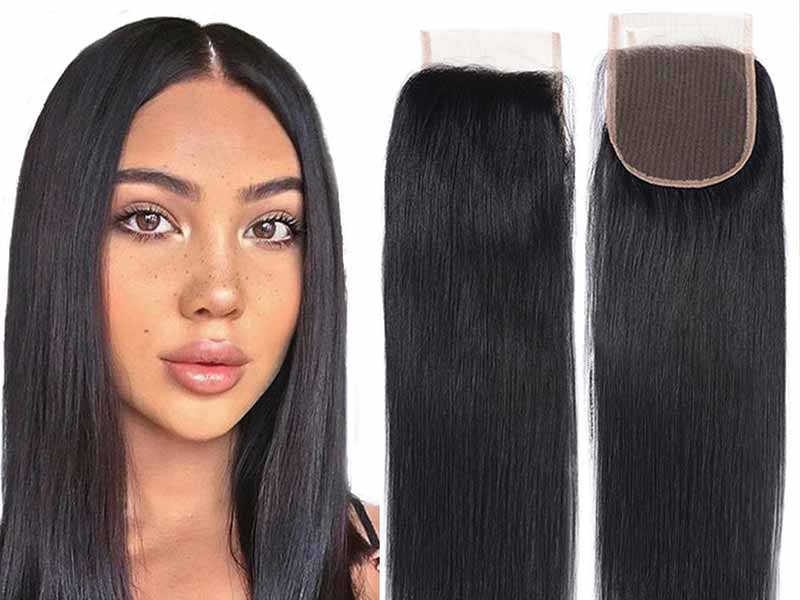 Pros
– It is a perfect option every day.
– Look very natural
– Great if you have small defects on your head
Cons
– It is not the most popular hair systems.
– Take you more time to stack properly
Related posts:
Frontal lace
A frontal piece covers your head from temple to temple. Lace frontals are typically sewn onto braids or can be used to create a wig. It is often 13 inches in length and 4 inches in width. It is the best option for those with thinning edges. If you find a quick and easy installation, this is the best option. There are different types of this wig like a lace frontal, silk and lace frontal, or silk frontal.
The frontal lace wig is easily applied on the head, creating a movable and natural look. It allows your scalp to breathe while letting the air and light pass through. If you have sensitive or sweaty skin, it is the best option.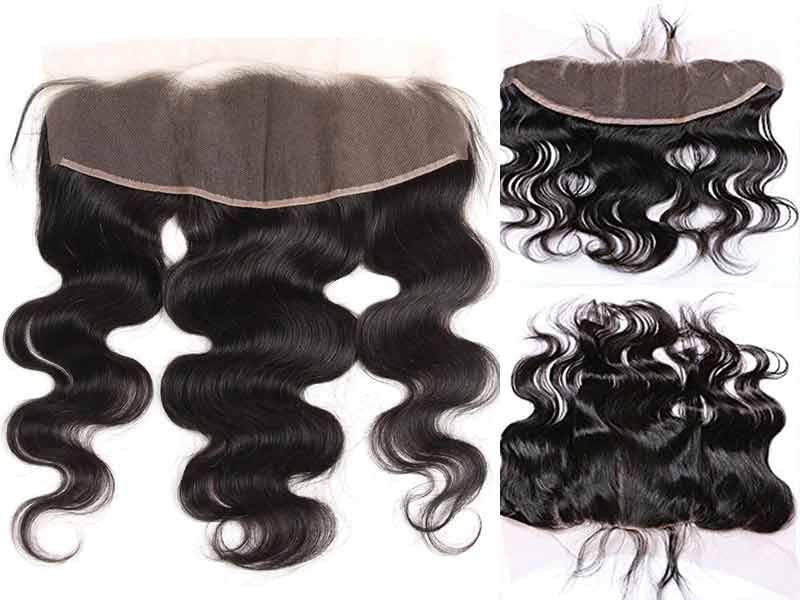 Pros
– Versatility
– Variety of styles: ponytail, pulled hairdos.
– Blend your natural hair
– It lets your existing hair rest
– Cover your thinning hair and bald spots
Cons
– Expensive
Similarities of frontal vs closure
Both types of wigs human hair are used to conceal defects on your head. They are made with real human hair and synthetic fibers. If you choose a human hairpiece, it can fit and mix your natural hair perfectly.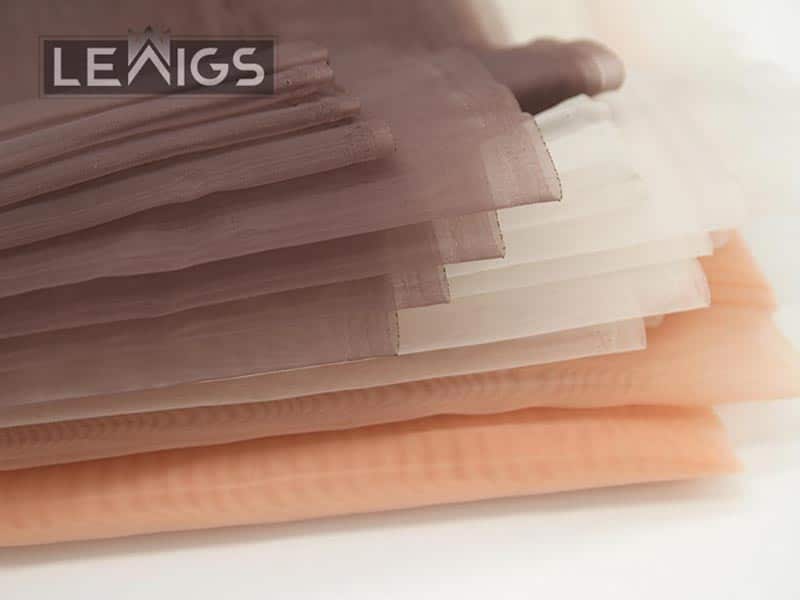 Both frontal and closure pieces are made of lace materials, which are breathable and movable. Lace closure vs lace frontal, they blend well on the scalp by using glue or tape adhesive. They all protect your own hair from other external factors such as pollution, UV rays, etc.
They both have plenty of textures such as straight, slightly wavy, body wavy, curly, kinky curly, and so on. Plus, they can secure textures well after shampooing.
The Difference Between Lace Frontal vs Lace Closure
Here are some main lace frontal and closure differences:
Size
Frontals are ideal at covering your entire hairline, while closures are enough to cover some small areas. In fact, the common size of closures is 4×4 inches and 13×4 with frontals. Note that the size here is the size of the lace material, not the length of the hair system.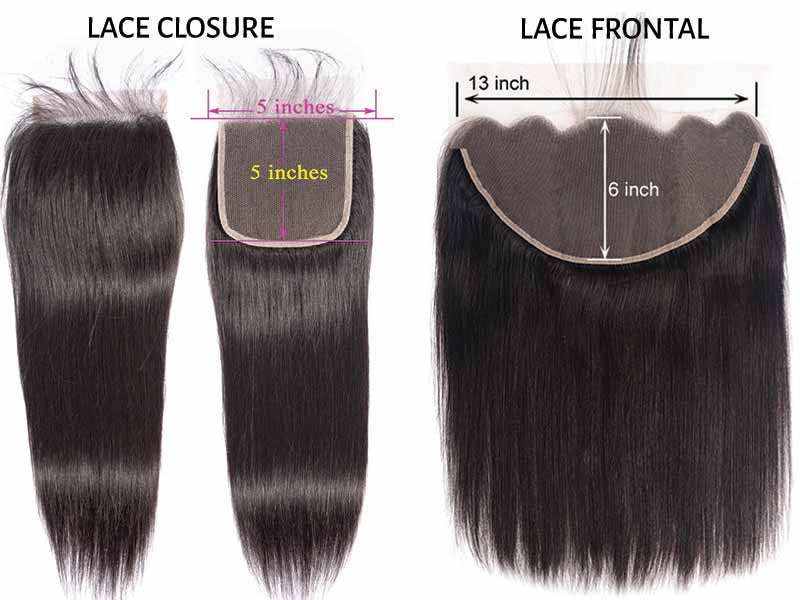 Style
Each hair system gives you different hairstyles. In fact, you can style a lace frontal in pulled hairdo, while the closure can't. With the closure, you can comb your hair back without the worry of the hairline. Frontal sew-in gives you an entire and beautiful hairline, so it is preferable by thinner hair women.
Price
Closure wig vs frontal, what is cheaper? Frontals are more expensive because it is considered as a halfway done wig. While closures are more realistic and easier to maintain.
Jump to:
Lace Closure vs Frontal, Which Is Better?
Frontal closure vs lace closure, the decision is all up to you. It depends on your demands and on the look you want to get. The preference for versatility of the hair system also affects your last decision. Closure cost is lower and it suits all. You can part it freely, in the side or middle parting. Frontal suits for those who mind maintaining the same hairstyle. It is the best option if you want to get greater flexibility to change and adapt your parting as you like.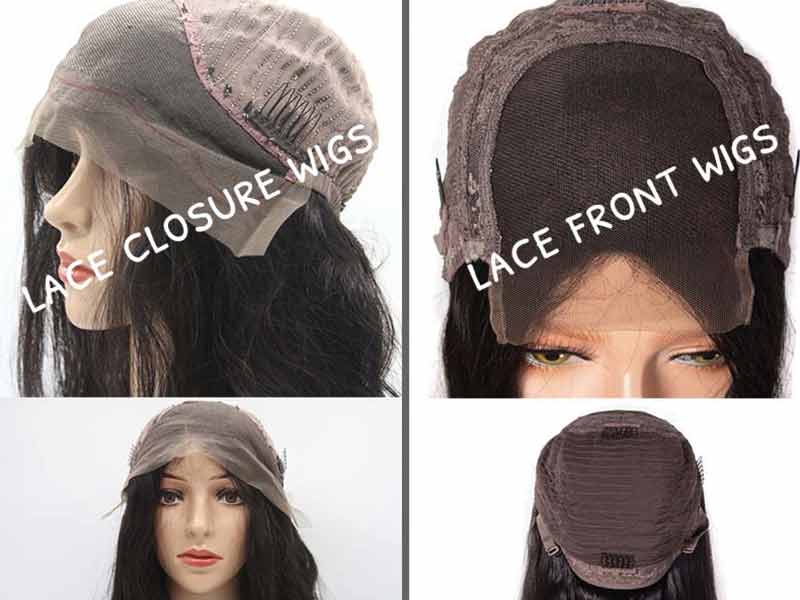 In short, two types of wigs are simple ways to conceal your hair loss and thinning hair areas. You will not go bankrupt when you these small hair systems. All you have to do is choose a perfect human hair wig and wear it. These wigs come in a variety of sizes and styles, that can cover perfectly your frontal hair loss, bald spots, and advanced hair loss.
Frontal vs Closure Wig – Wrapping It Up
No matter which style you like, Lewigs will try the best to provide the best lace frontal and closure to all of the beloved customers. Hopefully, after reading this post, you have got a clear concept of lace frontal vs closure wig. At our hair company, we have all types of sew in with frontal vs closure with a variety of colors, lengths, and textures. Visit our website to have a good unit of your own. We also give you the best high-quality hair wigs for hair loss.
Lewigs would love to see your comments below or contact us to place an order. We will be more than happy to be of service!