Why wigs are becoming more and more prevalent these days? For a reason, it is the fastest way to change the wearer's look and conceal the thinning hair perfectly. The most loved wigs are full wigs and lace front wigs. Not sure about the dissimilarities between a full lace wig vs lace front wig? Don't worry, Lewigs will get you covered!
In the following post, we will walk you through the essentials of full lace and lace front wigs as well as show the differences between them. It takes only a few minutes to scan through, so don't miss it out!
Lace Front Wig vs Full Lace Wig
All full lace wigs and lace front wigs are made of 2 main hair types: real human hair and synthetic hair. Both of them offer the user the most realistic appearance. While the natural hair wigs are versatile and durable, the synthetic ones also easy to wear and maintain. But smart wearers usually choose human hair wigs due to their outstanding benefits. With natural hair wigs, you can style it as you hope.
To make a wise decision, you have to know clearly what they are, their features and the differences between lace front vs full lace wig.
What is a lace front wig?
First, this wig comes in a variety of types, it could be human hair lace front wig, water wave lace front wig, human hair lace front wig straight with baby hair, deep wave lace front wig, etc. As you can see, the lace of wig is often 2-3 inches in width and applied to the front edges of your head. The rest of wig is made by sewing the hair weave on, not ventilating directly onto the lace anymore.
Besides, the wig is safe to wear and it will not slide down when wearing it. Often it is put on your head with glue or tape. The support of adhesive helps to secure the wig in place and you can wear it for a long time, up to 6 weeks. Moreover, it has an amazing strap inside that may be tightened. So feel free to brush and style the wig to have the best look.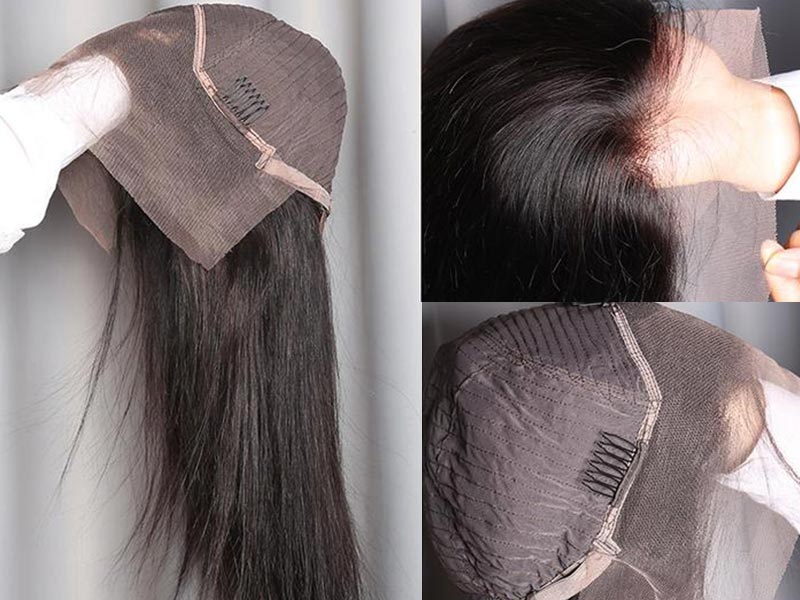 This lace wig is durable as it is is not made entirely from lace. The remainder of this unit is hair weave that is less fragile and tearing than the lace. You can wear and remove the lace front wig easily even for the first-time wearing wig.
Why the lace front wig become common? It gives you a finished look with a natural-looking hairline in the front. Part the hair in any direction if you want, in the middle or on the sides.
It is cheaper than a full lace wig. We think its price is reasonable and affordable for all clients. Keep the lace front wig in good shape so that you can reuse it many times.
View our excellent lace frontal wigs:
What is a full lace wig?
You are curious about the difference between full lace vs lace front wig. Continue learning about full lace wigs to distinguish.
You may not be strange with full lace wigs as they are a popular type of lace wig. It is all constructed from the lace and it covers all your head. Like the lace front wig, the full lace can also be parted anywhere you want. Moreover, you can out the hair up in a ponytail to create a natural look.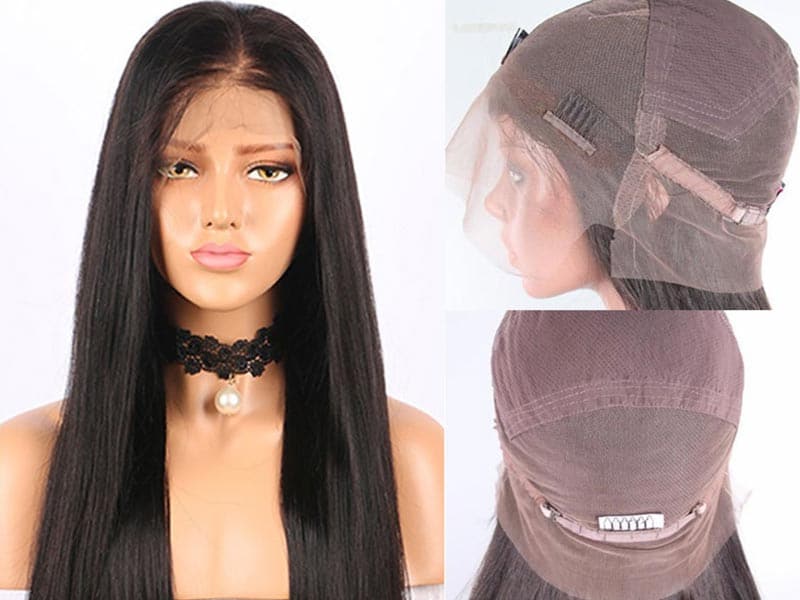 The lace is lightweight and breathable, bringing a comfortable feeling when wearing it. So don't worry that the other can detect you are wearing a wig. Full lace wigs provide the fuller and thicker hair. It is very suitable for those who are severe baldness.
Another texture of this normal wig is that it is much more flexible compared to the lace front. Thanks to this benefit, it attracts a large number of customers. You also simply wear and style it. As long as you choose the right size, your wig is ready to wear without making any adjustments.
Check out our lovable full lace wigs:
The Main Differences Between Full Wig vs. Lace Front
Experts say that all of the lace wigs are to protect your own hair and scalp. They keep your natural hair from direct sunshine, dirt, and heat as well. In addition, it is a useful and simple solution to hide your thinning hair. With human hair lace wigs, you don't need to wear a boring hairstyle. Style or color your hair wig without damaging your natural hair.
However, there must exist the differences between these two lace wigs, or they will never be called in two separate names. So, how are they different?
It is the base that makes the two wigs different
What is the difference between lace front vs full lace wig? Our answer is the base. The full lace wig has a base entirely made out of 100% lace, and all hair strands are only hand-tied onto the base. This item covers all over your head and it is advisable to wear a wig cap before applying the wig. With the help of the lace construction, you can easily form a ponytail or a high bun, which seems to be almost impossible to other types of wigs.
On the other hand, a lace front wig is attached along your hairline. The lace base is only in the front of the wig, and the rest is made with human hair weave.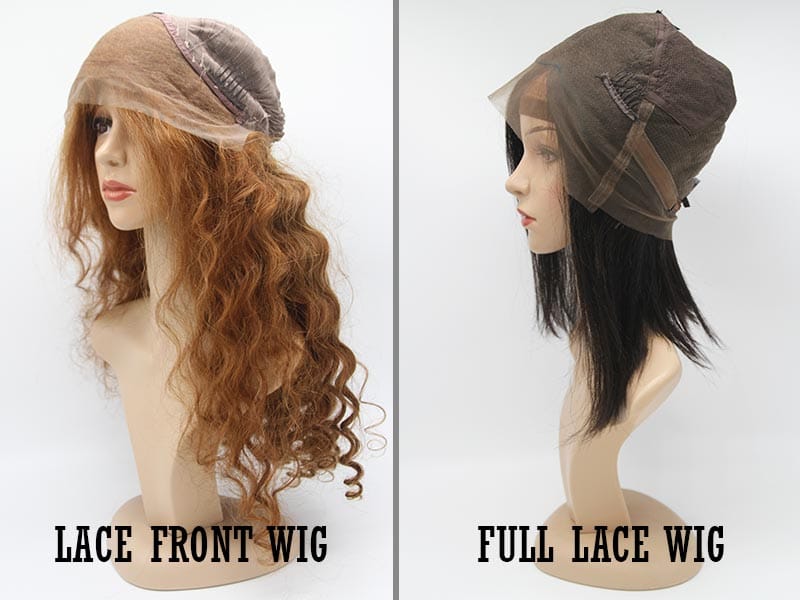 The differences in prices
Just so you know, it always costs more for a full lace base. The price is quite affordable with the normal lace or monofilament net, but when it comes to a more premium lace material such as a Swiss Lace or an HD lace, the price rockets up. That is to say, due to the area the lace must be placed, a full lace wig is more expensive than a lace front one.
The versatility of lace front vs full lace wigs
Obviously, the full lace wig works better in supporting hairstyles. You can freely make a ponytail, high bun, or whatever you want because the full lace construction would make the wig look natural.
In contrast, it is not that easy to implement in a frontal lace wig. As the rest part are all hair weaves, pushing the hair up or doing too complex hairstyles might make the wig noticeable.
And obviously, it won't perform some tasks in styling hair to whatever styles you want, as the weft hair in the back would be noticeable.
You might also be interested in:
Lace Front Wig vs Full Lace At Lewigs
Are you suffering from thinning hair? Or do want to change your hairstyle frequently without damaging your natural hair. Let's visit Lewigs and order the best lace wig.
A lot of people rock our full lace and lace front wigs. Both of them are made of high-quality materials – 100% Vietnamese and Cambodian hair. In the world of hair extensions and wigs, Vietnamese and Cambodian hair are famous for their smooth, shiny, and strong. This is the reason why we choose these hairs to create your wig. The hair is raw, no chemically processed. You can enjoy the good hair days with our hair products. All cuticles of the hairs stay in the same direction, from the root to the tip. So it can minimize tangling and shedding problems.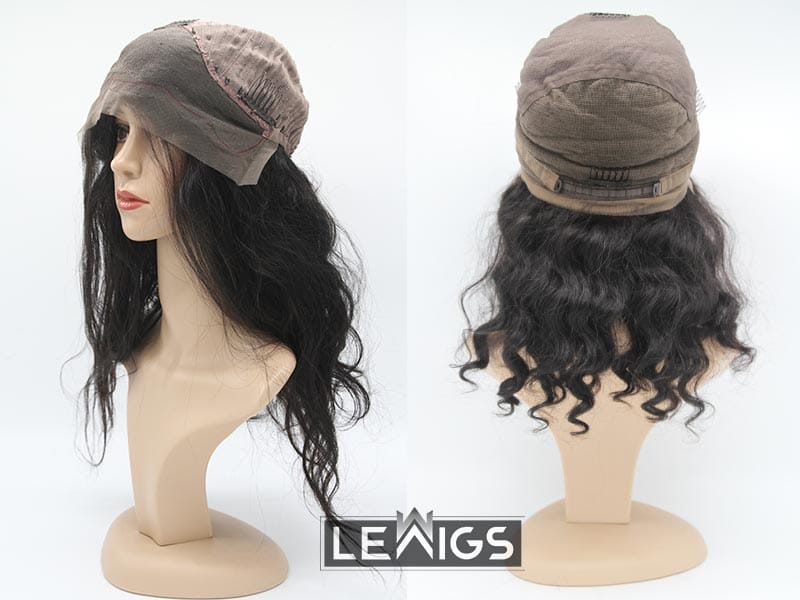 Furthermore, different from synthetic hair wigs, you can wash, dye, and even bleach human hair lace wigs freely. Especially, no one can detect that you are wearing a lace wig unless you tell them! And even when you tell them, they can't still believe until you let them touch tour hair. You can curl and straighten it as well. If you maintain and store it carefully, it can be used for a year or more.
In Conclusion
Lewigs hopes that you can understand the differences between full lace wig vs lace front wig after reading our words above. These lace wigs have their benefits and drawbacks, which is better – full lace wig vs front lace, it is up to you. Depending on your hobby, need, and budget, opt for a wig to change your hair and your life.
Should you have any inquiries or questions, leave your comments down below or text us via email info@lewigs.com.
So now, don't hesitate to buy a human hair lace wig at Lewigs? Feel free to contact us. We could give the utmost consultancy as well as offer the best quality hair system ever