Flat irons are a must-have item of every girl. With a few passes with steady hands, you can easily get a straight hair look. As long as you adjust the heat setting for the type of hair, it will not damage your own hair. But can I use a flat iron on my hair weave? Is it safe to apply heat to the hair system? You can do the job if you own a human hair system. So which brands are good flat irons for weave? We've polled a dozen professionals for the best items and helped you find the right tool for your dreams.
Let's get styling, beauties!
How can flat irons make a big difference?
The easiest and fastest method to transform wavy or curly hair to straight one is using a flat iron. However, if you set the tool at a high heat setting, you likely feel that your hair weaves are ruined after a while. The hair turns dry, resulting in hair breakage and split ends.
Bear in mind that every hair straightener is different. If you buy the wrong styling tool, it will ruin your natural locks and hair extensions.
Fortunately, we've rounded up several options for the best flat iron for weave hair that will help you pick the ideal straightener. Let's discuss in the next.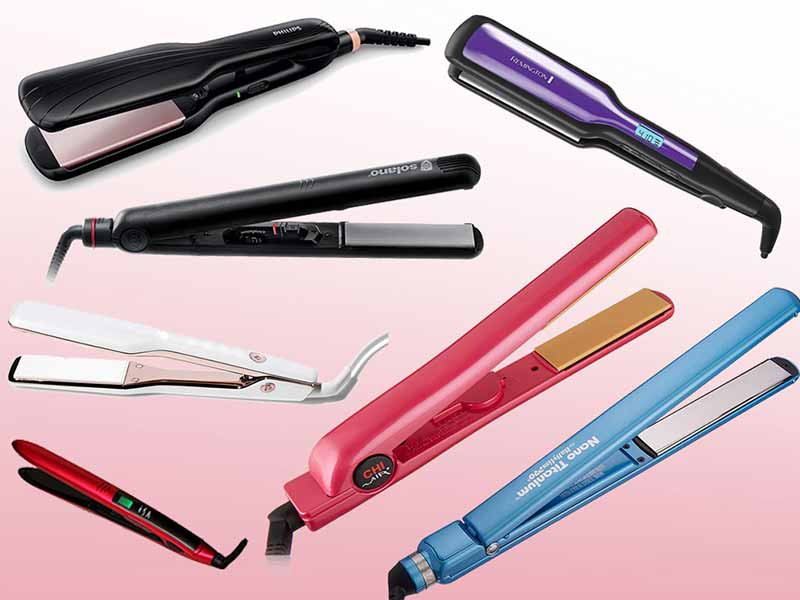 Top good flat irons for weave
When thinking about human hair weave and extensions, we know that they are available in different hair textures and patterns. You have to use a flat iron to transform curly to straight hair. But it's vital to know what kind of flat iron cause little to no damage to your hair extensions. 
Other suggestions:
Ceramic Flat Iron 
The ceramic flat iron is evaluated as the best flat iron for weave since it is durable and available at reasonable prices. What's more, its accessibility is magnificent! When you using this tool, the heat can be distributed evenly throughout your weave. This helps prevent hair frizziness and damage, too.
However, the ceramic flat iron has lower heat settings compared to other types. Hence, it will heat up slower. You take the item and plug in to heat it, it may take about 2-3 minutes before it reaches the desired temperature. If you use this item, be patient in the straightening process.
Because the straightener has low heat settings, you should use it on hair textures like body wave or wavy. If your weave is a Brazilian body wave, feel free to use this item. Its setting helps protect your hair system from damage.
Titanium Flat Iron 
Some hairstylists recommend this flat iron for weave because titanium is the only metal that gives flat and straight results for curly hair. The plus point of this tool is it comes with many heat levels, so you can adjust to fit your expensive hair replacement systems. 
The titanium straighteners are durable and have a withstand high heat ability. Also, it is lightweight and easy to use. Nowadays, many manufacturers team titanium flat iron with ionic technology to offer the best results for customers. Whether your hair weave is thickest or coarsest, it can work smoothly.
The styling machine helps save you time and a lot of effort when transforming your curly hair to a bone straight one. But the titanium flat iron has a high-temperature setting, you should be more careful when using it. Otherwise, it may get your hair weave burn and yourself hurt.
Steam flat iron for hair extensions
As it sounds, this best flat iron for weave hair works by the vapor infusion technology. The item is safer for multiple hair types than other traditional straighteners. First of all, steam flat irons can keep moisture within the hair and protect hair cuticles during the straightening process. Secondly, it causes less frizzy hair and eliminates dry and frizz as well. Hence, if you notice your hair weaves are easily broken when you flat iron them, try using a steam straightener. It is suitable for coarse wavy and curly hair.
As long as you use the machine correctly, you can create textures on your weave or even straighten the curly hair extensions. Furthermore, you can use it on both human and synthetic weaves with no doubt.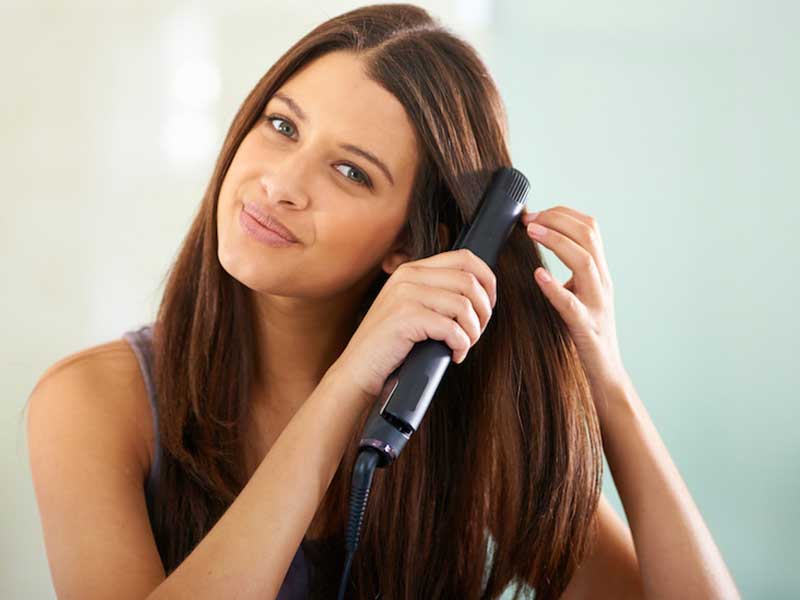 Additionally, a hot comb is a traditional tool, and it will help you get straightened hair extensions. It allows you to control the heat level and not damage your weaves. 
Jump to:
Best flat iron brands for hair weave
– HSI Professional Ceramic Tourmaline: This salon-grade straightener is suitable for all hair types and all occasions. Because it is a type of good ceramic flat irons for weave, it helps reduce static and frizzy hair, keeping healthy hair strands. The machine allows heat to be distributed evenly on your weave, providing good results. It may be a great travel companion for beauties due to its smart and compact design.  
– BaBylissPro Nano Titanium: The flat iron helps users style their hair effortlessly. It has many heat settings, and you can control its temperature to avoid damaging the hair system. It is the best item for frequent users as it uses digital ionic technology, offering sleek and straight results with less frizz. Compared to other traditional flat irons, the BaBylissPro Nano can resist corrosion longer.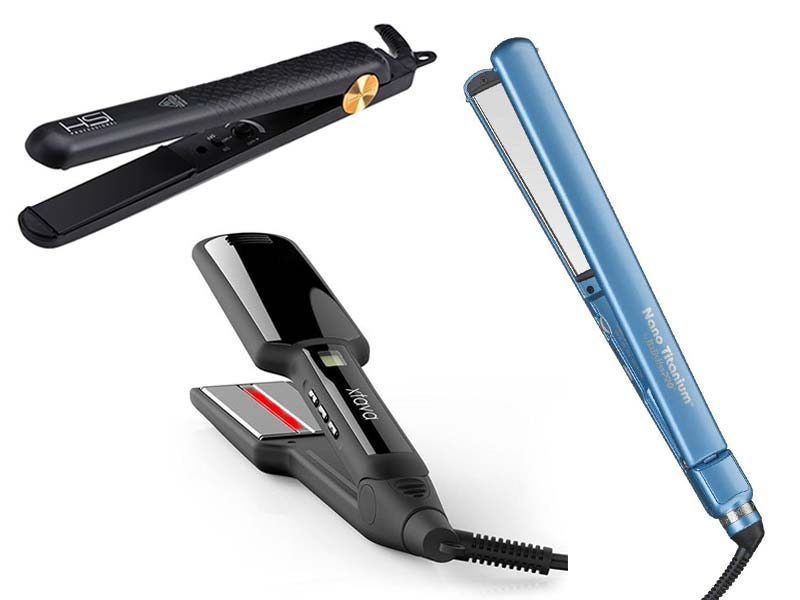 – Xtava Infrared Flat Iron: This is a great budget option for ladies. It has ten heat regimes, giving you them to choose the right temperature for your hair type. An interesting point of this machine is that it uses advanced infrared technology for hair straightening. Not only give sleek and perfect styling, the Xtava Infrared flat iron also keeps moistures and nutrients allowing the hair in the best condition. 
To sum up
Although the straightening hair trend is depleting these days, flat irons still have a place in this aspect. We recommend using the right and good flat irons for weave to make a huge difference in the hair. You should find out and opt for the machine that works best for you. 
Hopefully, our blog will bring you the best, good styling machines at affordable prices. After the straightening process, don't forget to take care of your hair extensions. The more effort you spend to take care of them, the longer time they can last.