Nowadays, people prefer to use natural ingredients for health and beauty purposes instead of products containing a lot of chemicals. Today, we would like to introduce to you about hair oil for men. Lewigs hopes that after reading it, you can choose one of those to try and get the results.
Coconut Oil
People use coconut oil for beauty purposes such as improve hair and skin conditions. Coconut oil for hair men is effective to improve hair's thickness. The lauric acid in it that helps protect the roots and strands and prevent them from breakage, resulting in reducing hair loss. Moreover, with the presence of antioxidants, using coconut oil boosts healthy new hair, making it becomes one of the best hair growth oils for men. Coconut oil keeps your hair follicles healthy by improving blood circulation and hydrating the scalp. This simple oil also fights against any bacterial problems, environmental pollutants, and excess heat thanks to anti-fungal and anti-bacterial properties. With all these benefits, apply coconut oil regularly can bring to men not only healthy but also soft and shiny hair.
Firstly, use your hands to heat a drop or two by rubbing between the palms. After that, apply this oil on your scalp and massage it. Do not forget to use your fingers to run oil from the roots to the ends. Then, wait for 30 minutes (even overnight) before rinsing off. You can use shampoo to rinse any oily residue.
Castor Oil
Castor oil for hair men helps improves the flexibility of the hair fiber because it provides some conditioning. It also prevents hair damage caused by inflammation thanks to containing antimicrobial properties which may be useful in terms of fighting off bacterial or fungal overgrowth on the scalp. Besides, although we have not got any specific evidence about the relation between castor oil and hair growth, many people see the improvement of their hair. The reason may be that the ricinoleic acid in castor oil locks in moisture, improves blood circulation, and stimulates a clean and healthy scalp, all of which help boost new hair so we can use it as hair growth oil for men.
The way to use is very simple. You apply the oil on your scalp with the applicator brush at first and massage gently. Then, make sure that all your hair should be moist. Wait for at least two hours to make oil penetrate the scalp, hair follicles, and hair shaft. You can use a shower cap in this step. Lastly, use shampoo and conditioner to wash hair carefully.
Similar posts:
Jamaican Black Castor Oil
You may wonder what difference between castor oil and Jamaican black castor oil. We can tell you that there are three main differences between the two effective oils.
The first one is the way of processing. While we make castor oil by pressing fresh castor beans and sometimes use chemicals, we roast the beans to product Jamaican black castor oil.
The second difference is the color. The castor oil is yellow and Jamaican black castor oil owns dark brown or black color.
Finally, Jamaican black castor oil has is more acidic than castor oil.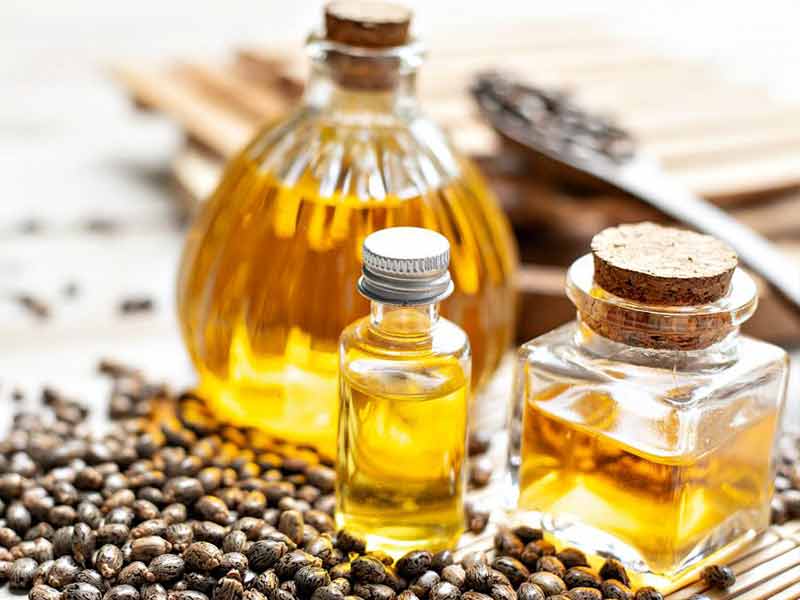 About its benefits, using Jamaican black castor oil regularly can moisturize hair due to vitamin E, omega-6 fatty acids, and omega-9 fatty acids, then protect your hair from itchy scalp. Like castor oil, Jamaican black castor oil improves blood circulation and nourishes the scalp, so many people tend to apply Jamaican black castor oil for hair growth for men. Your hair roots will be strong, so you can prevent hair breakage.
To use this oil, you also apply it to hair. Leave it on at least two hours before washing hair with shampoo and conditioner.
Argan Oil
Talking about the best hair oil for men, we cannot skip argan oil. This oil has another name which is "liquid gold" due to its benefits for health and beauty, including hair. The presence of fatty acids, mainly oleic acid and linoleic acid in argan oil can help maintain moisture. Besides, vitamin E can prevent dryness on the scalp. Moreover, anti-inflammatory and antioxidant properties improve skin condition, resulting in a healthy scalp. We also use argan oil to protect hair from sun damage and breakage during heat styling.
Massage your hair and scalp for 10 minutes with 8 to 10 drops of argan oil. Remember to cover your hair with argan oil from roots to ends. You can leave it on overnight by wrapping your hair in a towel or hair wrap. Wash hair carefully in the next morning.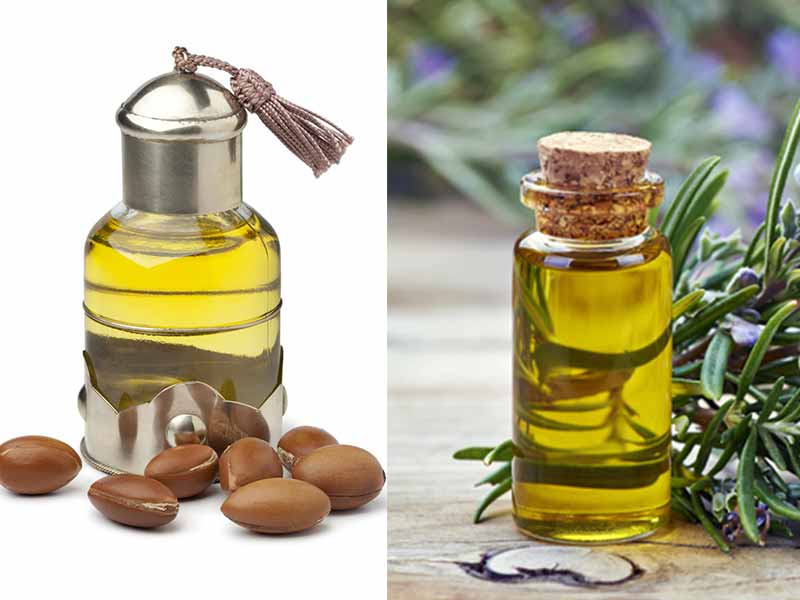 Rosemary Oil
Rosemary oil is an effective hair oil for men hair growth by boosting blood circulation. You will have a healthy scalp because rosemary oil moisturizes a dry scalp, prevents flaking and dandruff, and reduces inflammation. A healthy scalp means a lower risk of hair loss. Furthermore, it helps prevent and stop the spread of grey hair. As a result, your hair will become thicker and shiny.
You need to apply 5 drops of rosemary essential oil on your hair and massage it gently. Leave it for 5-10 minutes before rinsing it.
Read more:
Jojoba Oil
An amazing hair regrowth oil for men is jojoba oil. It helps hydrate your scalp, then prevents dry hair and dandruff, even relieves some scalp problems such as eczema and psoriasis. By encouraging blood circulation to ensure that the follicles receive sufficient nutrition, jojoba oil promotes new hair naturally. In short, with vitamin E, Omega 6 & 9 fatty acids, antioxidants, etc., jojoba oil really can bring to you beautiful hair.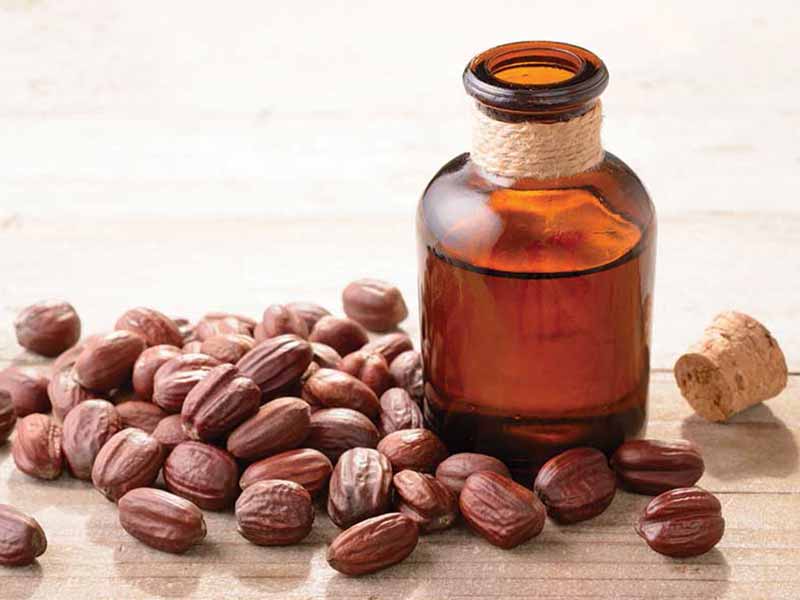 Before using, you should warm the oil up a clean pot on a stovetop or in a microwave-safe bowl. You may need about 1 tbsp for short hair and 2 tbsp for longer hair. Next, apply oil to hair. Leave it on for about 20 minutes, and then rinse with shampoo and conditioner.
We can apply hair oil for men for any type of hair: black, color-treated, straight, curly, etc. These oils we have mentioned above are all natural but it is still essential to check it carefully before using to avoid side effects. You can add use more than two oils at the same time. Besides, you can find hair care products containing these oils. However, we recommend you to ask the doctor first about your hair condition and the suitable dosage for your hair.
Lewigs is very happy to share with you about hair oil for men and always welcome your questions and opinions. Feel free to drop us a line at any time!