You are struggling with hair loss. What can you do to make the hair grow back? The hair strands fall out caused by many reasons like stress, age, pregnancy, etc. Don't worry! There are also different ways to encourage hair growth. Change your diet, take supplements, use one or a combination of treatments to keep your curls stay healthy. This blog post shares about hair regrowth for women so that you can get a perfect overall look.
Foster Hair Regrowth For Women By Improving Hair Hygiene
It is the easiest and best hair regrowth for women. Keep the scalp clean and oxygenated by shampooing hair regularly with a proper shampoo. Opt for a product that is designed for your hair type (straight, wavy, or curly hair) and scalp. Many of us make mistakes when reducing the frequency of washing hair. They think that washing hair too much is the culprit causing hair loss. It is true but it is still essential to keep the hair and scalp clean. Don't brush the hair when it is still wet.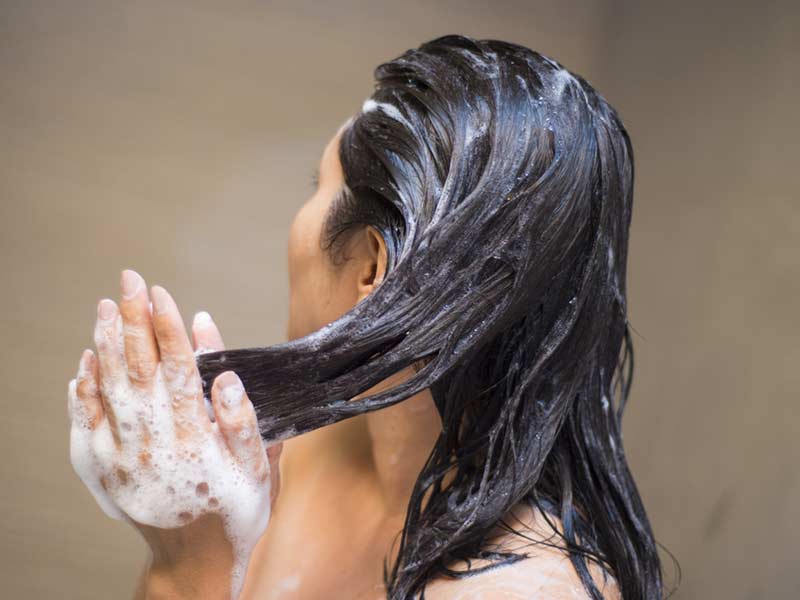 Use a gentle scalp massage after shampooing to encourage hair growth. Massage for a minute and move from the front to back. Rinse the hair with fresh and cold water to cleanse and boost blood flow to the scalp. In short, spend a bit of time out for yourself and hair to get the perfect locks.
Add Boost As Hair Regrowth Treatments For Women
Strengthen the hair strands' health with vitamin treatments. You can see the result after applying this natural hair regrowth for women for months. Vitamin groups such as vitamin A, B group, C, and H can help hair regrow after hair loss. Vitamin B group is the most helpful vitamin since it boosts nerve impulses, prevents hair from losing out, and hair growth. While vitamin A and C protect natural locks from different harmful external factors.
Eat foods and take supplements that contain minerals and elements such as zinc, iron. These trace elements can stimulate scalp oxygenation and new hair growth. Make sure that you get enough vitamins in your daily diet. Eat vegetables, fruits, meat, and so on that rich in omegas, amino acids, and protein. Have a balanced diet to increase keratin production. 
Related posts:
Change Your Styling Habit
Say no with tightly bound hairstyles. Whether you are white and black women, don't braid, tight bun, or high ponytail. Tie the hair strands looser, don't pull them. Never tie when it is wet because that is when the hair is weakest. Beauty experts suggest using metal-free elastics to prevent hair breakage. When washing or brushing, you avoid twisting and rubbing the hair strands. Before washing, brush the hair to remove all knots and tangles. Use a wide-tooth comb to prevent too much pulling at the roots of your hair.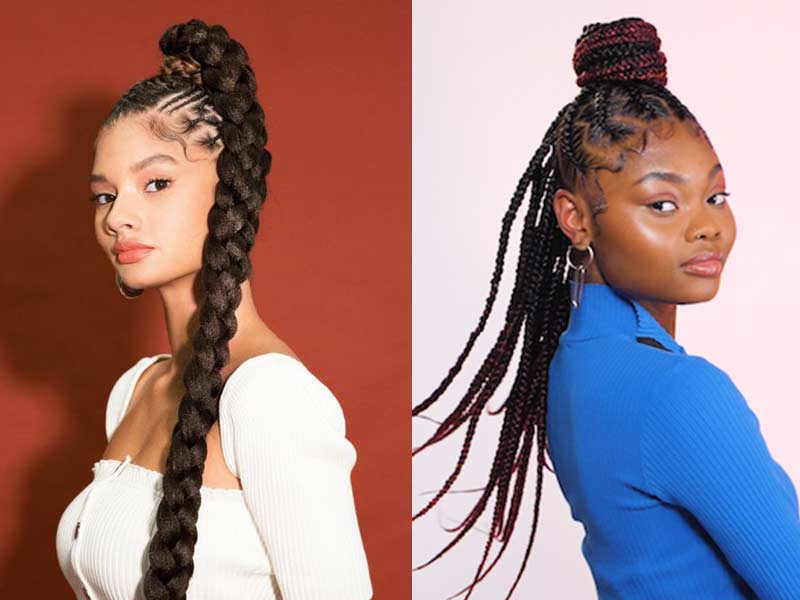 Limit using heat tools is a hair regrowth treatment for women. Avoid using straightening irons, hot rollers, or other chemical processes.
Light and Laser Therapy
If you are experiencing androgenic alopecia or hair loss due to chemotherapy, apply laser light treatment 2-3 times per week. You will get a fuller and thicker hair after taking several weeks or a few months. Although this treatment is not as regulated as medications, many people found it as the right way for hair grow back. Now, there are no unwanted effects associated with laser therapy. When searching about laser treatment, you can see other related names such as:
– Red light therapy
– Cold laser
– Soft laser
– Laser biostimulation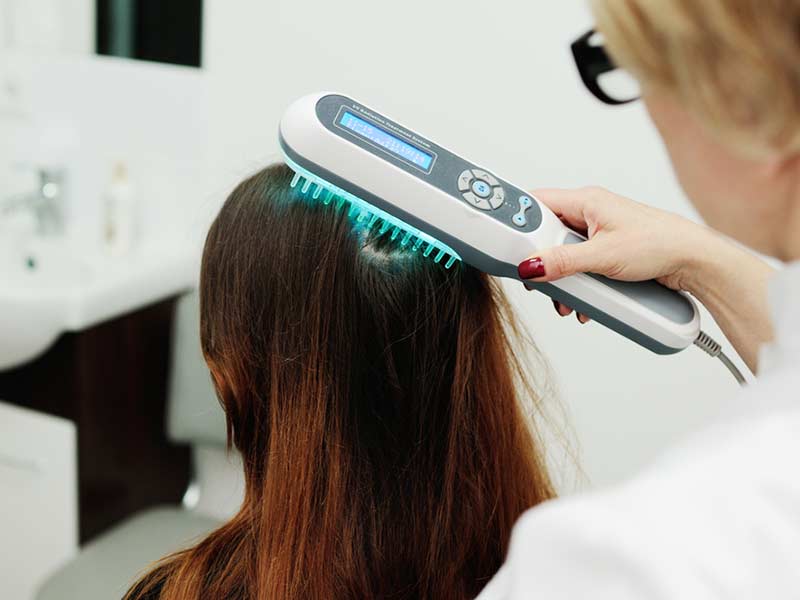 Get A Trim – A great hair regrowth treatment for women
This is a crucial treatment to help your hair stronger and grow faster. Somehow, cutting hair every six weeks allows it to stay healthier and no split ends. Cutting damaged hair will help the nutrients concentrate on raising healthy hair, stimulating hair to grow faster.
Manage Stress To Boost Women's Hair Growth
Stress is one of the main reasons for hair loss. So you should manage ongoing stress in your life by taking exercise, meditation, or yoga. Some studies showed that yoga and meditation help control blood sugar and promote good circulation, stimulating hair regrowth. Therefore, try to de-stress as much as possible.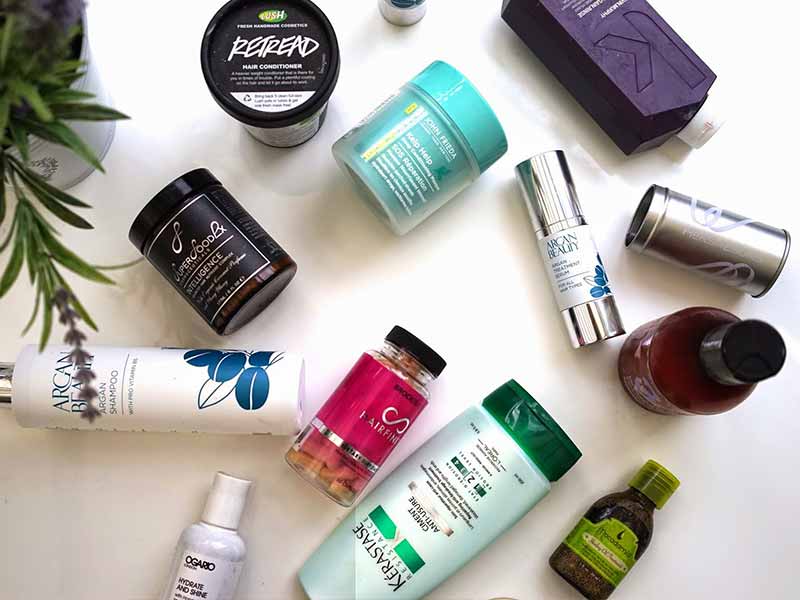 Opt for The Best Hair Regrowth Products
What are hair regrowth products for women? Which hair regrowth shampoo should you use? There are many different shampoos out there and it makes you feel a little bit overwhelmed. Use sulfate-free shampoo because sulfates can strip natural moisture out of the strands. Instead, reach for a moisturizing product to gently cleanse and nourish your tresses. By the time you start to notice hair loss, act immediately.
Go down on the Internet to find the best hair regrowth shampoo for women. Nowadays, many users choose Keranique as women's hair regrowth experts. This shampoo is formulated with ingredients that are approved by the FDA. It deals with the root cause of your hair loss, reactivates hair follicles, and restores your natural hair. The best hair regrowth treatment for women makes the hair visibly thicker, fuller, and stronger again. Purchase this product, and your hair is starting to come back. You can see dramatic results within the first two weeks. Everyone is amazed at your hair within the first month. Opt for Keranique, you now have a full head of hair. With it, you will stop struggling with alopecia for years.
Jump to:
Don't Forget to Use Protection
This is another treatment for hair regrowth for women. In certain cases, you can't resist the straightening irons and curling irons. It is better if you prepare your natural hair with the best heat protection. Most of the protection products can reduce the damage that excessive temperature does to fibers. Before drying or styling, spray heat protection onto the hair while it's damp to get your desired results.
Opt for products that contain honey or essential oils like argan oil. Not only protect the hair, they also lock in moisture, eliminate frizz, and promote shine.
Besides, you should not wash the hair with hot water, brush and dry correctly, deep condition to protect and stimulate the hair to grow faster.
Hopefully, after our blog post, you will have a more in-depth insight into haircare habits for hair regrowth for women. So you can have more treatments to get a nice overall look.
While you are waiting for your hair to regrow, you can consider using human hair toppers or wigs to add instant fullness to your tresses. See the beautiful hairpiece that Lewigs offer by browsing our website.
Have any other questions about best hair regrowth treatment or something relating to this topic, drop us via WhatsApp link or email.
Follow the Lewigs blog to update more interesting information!