Generally speaking, hair topper for thinning crown is an item that people use with the aim of covering the thinning top of their head. It is also known under other familiar names such as hairpiece, hair system, wiglet, headcover, and hair enhancer.
It would be extremely frustrating to see your hairline get thinner and thinner. If you are searching for a solution that could help you improve this situation in the quickest and most convenient manner, hair topper for thinning crown is what you should head for. Of course, it is not an easy task to find a good one because the number of products in today's market is so overwhelming. But don't worry! This exclusive guide from Lewigs will get you covered with the essentials of hair loss and hair systems, thus helping you to determine what you really need.
I. What is a hair topper?
1. Hair loss, baldness, and their impact.
Your scalp is home to roughly 100,000 strands of hair, each of which has its own life cycle. Hence, hair shedding is a common problem that everyone has to experience. Statistics reveal that there are averagely 50 – 100 hairs falling out from each human's head per day, so don't worry if you find some strands on your clothes or combs.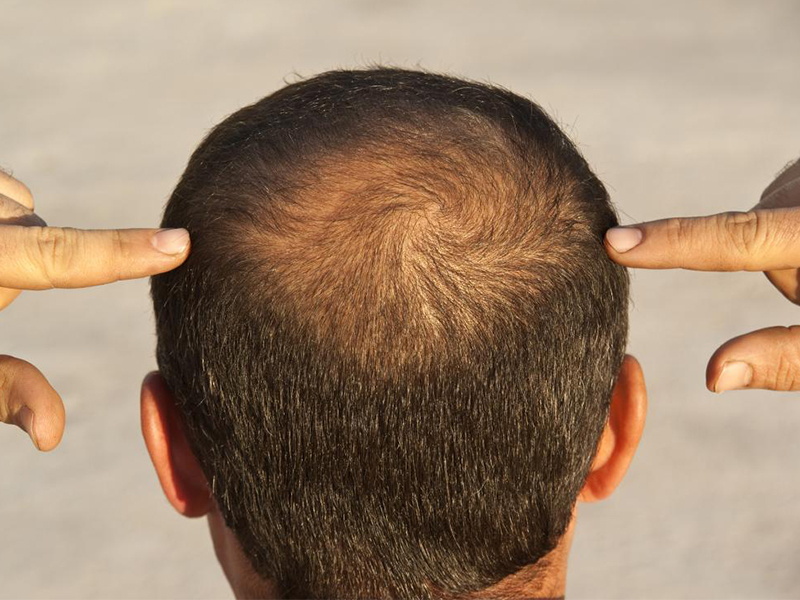 However, if you notice the hair is shedding in clumps and your crown becomes thinner and thinner, it's time to start worrying.
It might start with a thinning hairline, but after times, the problem would get worse and entail in baldness.
This phenomenon happens in both men and women, and it's never a wanted thing. Hair loss is not just a physical disease. It also makes you lose your confidence in your appearance, which then makes you scared of standing in front of others. More seriously, it might prevent you from reaching your life goals, from the simple things like dating to important occasions like developing your career path.
2. Hair loss solution
Once you have noticed your thinning crown, it is essential to find ways to resolve it. There are two most popular ways to go for: hair transplant and hair topper.
2.1. Hair transplant
Hair transplant is a surgery that bald people often sort out to re-grow their hairline. It might cost thousands of US dollar for this hair replacement solution. Thus, this is only suitable for those with a fat wallet.
Furthermore, hair transplant is often applied for receding front hairline, and this situation mostly occurs in men. Women, on the other hand, are rarely likely to encounter this symptom. Thus, it is not considered a really reasonable way to deal with thinning hair in women.
2.2. Hair topper for thinning crown.
Hair toppers, or hairpieces, is a wonderful item that could conceal your thinning hair immediately. You won't need to wait for the hair to regrow. Just putting on the topper, and you will have a seamlessly voluminous hair look.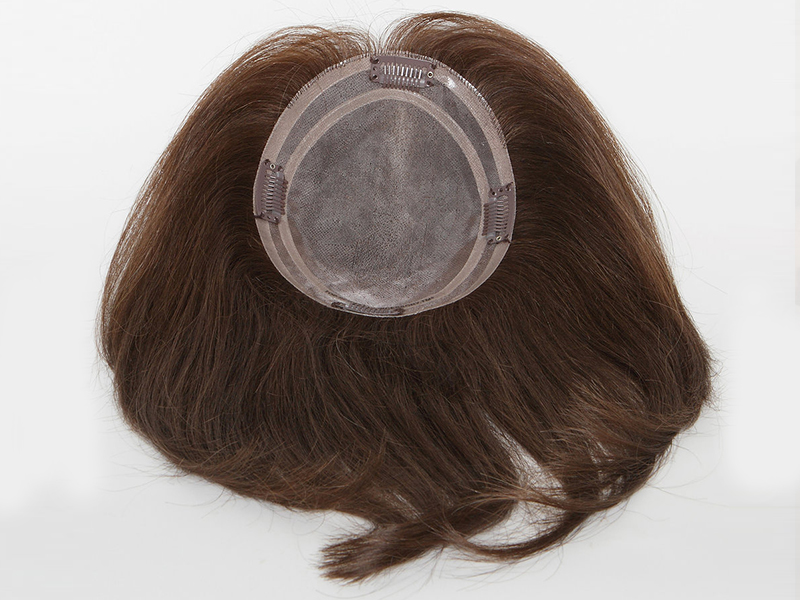 Hair toppers vary in sizes and length, thus fitting different baldness stages and scalp sizes. While some hair systems offer seamless coverage to the top crown, others work to hide the bald spots at the front or the back of your head.
Obviously, there won't be any all-size fit hair topper for thinning crown that could match any heads. But you could make a custom-made order by specifying all your sizes, length, density, and even more. A tailor-made hair topper would take more time to process, but it will definitely be worth the wait.
In addition, the cost for hair topper extensions is much more affordable. It costs only under 300 USD for a good hair topper for women. At Lewigs, the price we offer is even much lower, as we are a factory-based company, and we sell at wholesale rates. 
You might be interested in:
II. How to make a hair topper look natural?
If you are new to the world of hair topper for thinning crown, it might be quite overwhelming to look at the wide variety of products available on both online and offline shops. Even the reviews and information are abundant, too! However, sorting out which one is reliable, and which products could match your head, is never a piece of cake.
You need to take into consideration several criteria, namely the severity of your baldness, base size, materials, colors, and so on.
1. How bad is your hair loss?
We have seen many reports saying that wig wearers often wonder "do hair toppers look natural" because the effect it brings along does not go up to their expectation. In fact, these are the results of the insufficient consideration before buying a topper hair extension.
Below is Ludwig's hair loss scale for women. Lewigs mention this model because it's the easiest to understand and determine. Hence, check out to see if you belong to any of these stages.
1.1. Beginning stage (Grade I)
At this stage, women experience minimal hair loss. In other words, the hair at the top crown of your head looks thinner than usual. At Grade I, what you need is just a small-sized hair topper for thinning crown.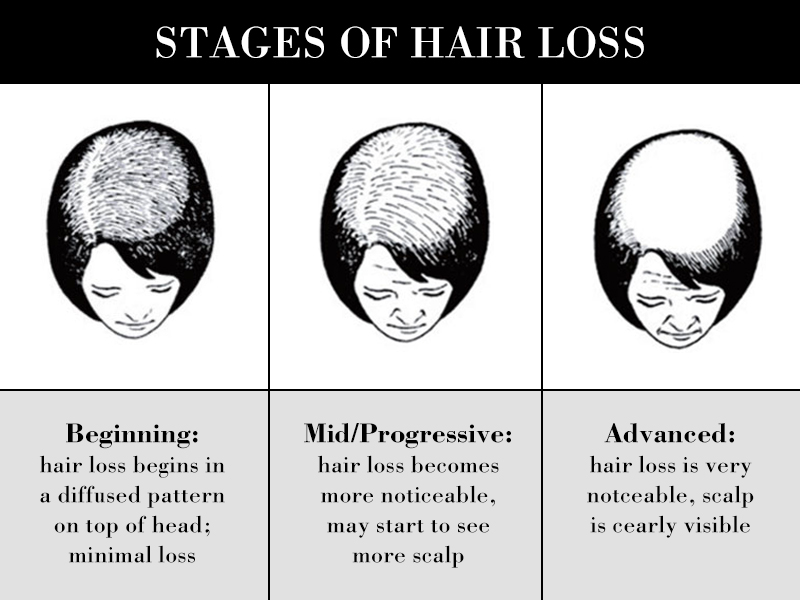 1.2. Progressive stage (Grade II)
It's when hair loss is becoming more and more noticeable and the scalp skin starts to be visible. It's time to use a medium to medium-large base size.
1.3. Advanced stage (Grade III)
When the hair can no longer diffuse the bald spots on your head, you've encountered severe hair loss. A topper hair piece with a large base is what you should head for.
2. How large is your bald spot? Measure your baldness
It's essential to determine the exact size of your bald spot as well as the scalp so as to find a matching hair topper for hair loss. Measure from the front to the back, and side to side and record the results. Based on the measurements, you could find which base size is suitable to choose. In case you do not know really well about the size, you can give the results to our support team and they will consult you on the best products.
Notably, there is one thing to bear in mind. Kindly add ½ – 1 inch to the final figures. It is to add spaces for the pressure-sensitive clips, which will help secure the topper hair extensions on your short hair. 
Read more:
3. What kind of hair toppers should you use?
"How to make a hair topper" or the base materials for your hair systems are also common questions that you should ask yourself before deciding to buy. To form a topper hair piece, the hair will be ventilated onto a base. This base might be made from different materials, and followings are the three most popular base types that we often see in human hair toppers for women with thinning crown.
3.1. Lace hair topper for thinning crown
Lace, which is indeed a fine mesh, is the most popular material that people use to make a hair topper. Artisans would knot the hair into the lace by different techniques to form a complete headcover.
Lace hair toppers are lightweight and breathable. Both light and air could pass through the lace, thus it would be exceptionally comfortable to wear, even when you sweat a lot.
However, the knots are rather noticeable. Therefore, people tend to bleach the knots to make it look more realistic.
The major types of lace base are monofilament wigs, French lace (normal lace), and HD Swiss lace. 
3.1.1. Monofilament hairpieces
This conventional lace is the most popular material to make a hair topper for thinning crown. It offers the perfect balance between naturalness and durability. It is stiffer than French and Swiss laces, thus it could last longer.
3.1.2. French lace hairpieces for women
French lace is the favorable material to form the front or the whole hair system. It is soft and breathable. It could last quite long (4-6 weeks) on your head, also.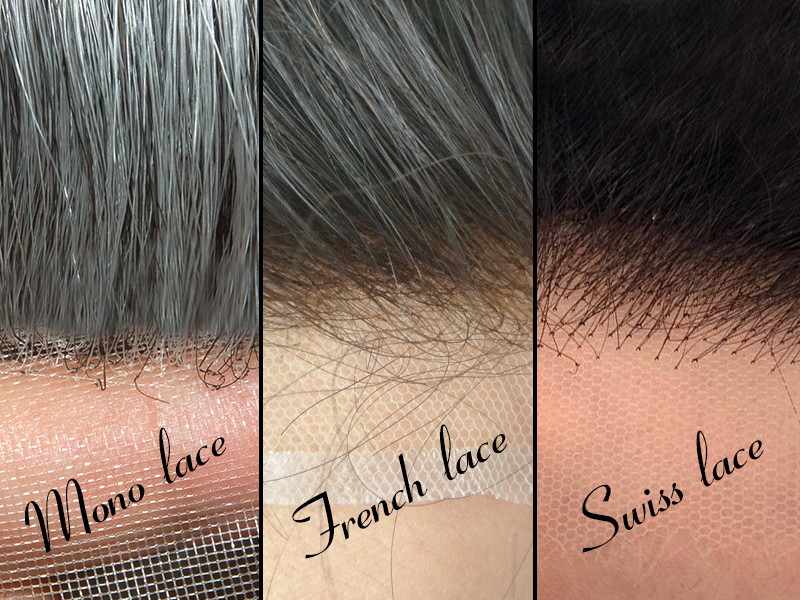 3.1.3. HD Swiss lace wig toppers
HD Swiss lace is the most natural lace material in the market nowadays. It is extraordinarily thin and transparent, thus looking undetectable when attaching to your scalp. However, as it is thin, it is easier to tear than the mono and French lace.
3.2. Skin base hair toppers for thinning hair
If you are seeking a topper extension that could look invisible on your scalp, skin hair topper is absolutely the best option to go for. In fact, it is made from polymer (consisting of silicon and PU) to imitate human's real skin. Hence, the hair enhancer with the skin base would look invisible on your head. 
However, it would be somehow uncomfortable to wear this item, as it won't let either air or light go through. In other words, your scalp won't be able to breathe. Thus, if you sweat often, do not opt for this hair topper for thinning crown.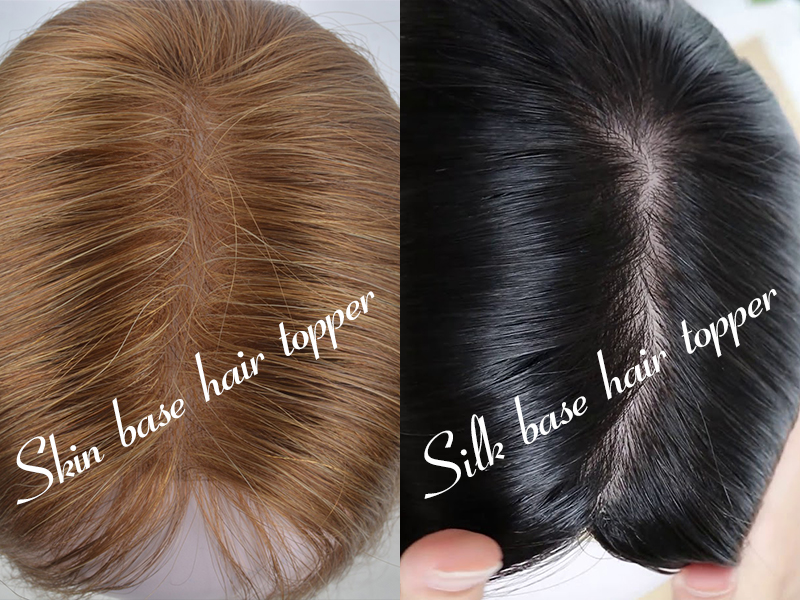 3.3. Silk topper hair extensions
Silk base consists of 02 layers: a silk-like fabric and a lace. The hair will be knotted on the lace and then covered with a layer of silk. Therefore, the knots are hidden, and the gridlines become invisible. 
Silk material offers the best ultra-realistic hair look. However, as it is made from 02 layers, it is thicker than other materials, thus being likely not to conform to our head well.
4. Have matching hair color, length, density
A good hair topper for thinning crown must have the uniform length, color, and density with your real hair.
4.1. Hair density
It refers to the density of the hair knotting on the base. Carefully check if the density looks similar to your bio hair. If it's thicker or finer, it will no longer look natural.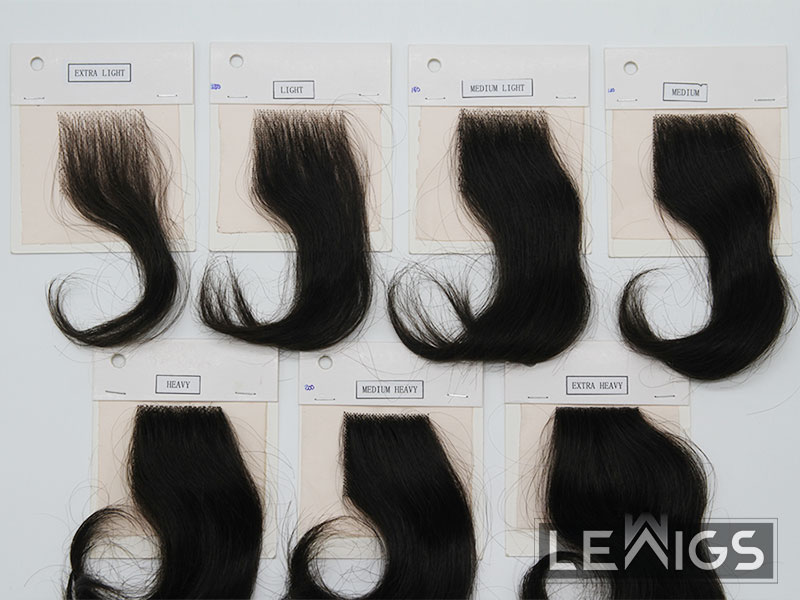 There are several levels of density available at Lewigs, from extra-light to extra-heavy. However, the three most common grades that our clients often opt for are 130%, 150%, and 180%.
4.2. Hair color
There is no color that could exactly match your bio stresses. Hence, try to find a color that could resemble your real hair the most. We have a color chart for you to look at, but please note that due to the light, the shade might be a little bit different.
4.3. Hair length
Lewigs have best human hair of various lengths. Kindly check the hair length chart for straight, wavy, and curly hair to determine your wanted number.
III. Where to buy the best hair topper for thinning crown?
In today's 4.0 world, everything could be done through some clicks. In other words, you won't need to go shopping around till your feet get hurt to find a good hair piece. Aside from the worldwide famous brands like Jon Renau, Uniwigs, and Enchantop, there also exist several reliable hair suppliers that provide top-notch hair topper that could satisfy you.
And Lewigs is one of these names.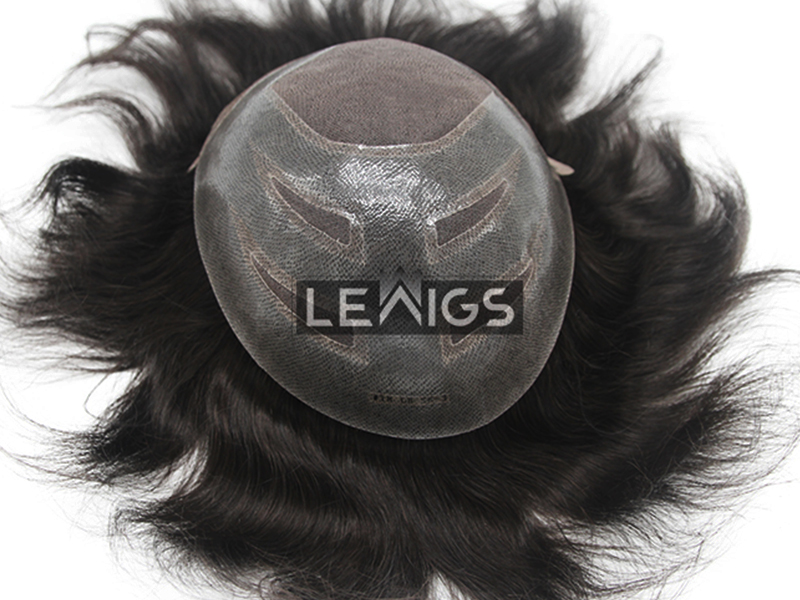 Despite having been in this business for not so long time, Lewigs has gained a huge reputation for our excellent human hair toppers and wigs. We collect human hair from healthy donors only and always commit to bringing the best topper-wearing experience to our clients.
High-qualified as our products are, we apply factory prices for all of our items. Our prices are noticeably lower than other suppliers, thus being suitable for both people with a fat wallet and those with a smaller budget. We have a good policy for wholesalers and frequent customers, also.
IV. In a nutshell.
You might feel hesitant to take the very first steps into the world of headcovers and wigs, but once you have walked inside, you will no longer be able to stand yourself from digging in.
Hopefully, our guide above would somehow get you covered with some of the essentials of hair topper for thinning crown so that you could find your best mate.
Do not forget to take a look at our website to learn more about other interesting things about hair toppers. You can also reach us via our email: info@lewigs.com or hotline: (+84) 98 261 44 86 to get further assistance. We are only 24/7, so feel free to drop us a line!