Thinning, receding hairline or baldness is the result of aging, hormonal changes, medical conditions or heredity. And there are about 80% of men and women over the world now may suffer from that problem. Not to mention that the hair loss can happen on the sides, the crown or the back of your head, not only at your hairline. Many people come to wig or extensions to deal with that problem, but there is another option that is worth a try, hair topper. If you want to look fabulous with your hairpiece, hair topper with bangs is what Lewigs will recommend you today!
What is hair topper with bangs?
Before getting to know about the topper with bangs, we will tell briefly about what is hair topper for those who are new to it.
As its name showed, hair topper refers to a hairpiece that covers up the thinning or balding areas at the crown or the top of the head. Hair topper is used not only to deal with hair problems but also to add volume and length to hair. There are various shapes and sizes of hair toppers but the construct is relative the same.
The hair topper with bangs is a type of hair topper, covering not only the top of the head but the forehead as well. So whether your thinning hair is at the crown or at the hairline, hair toppers with bangs will be the best choice!
The best hair toppers with bangs come in various sizes, shapes, textures, and colors. So it will easily blend to your real hair, giving you a natural-looking effect. The best hair topper with bang is the one made with human hair.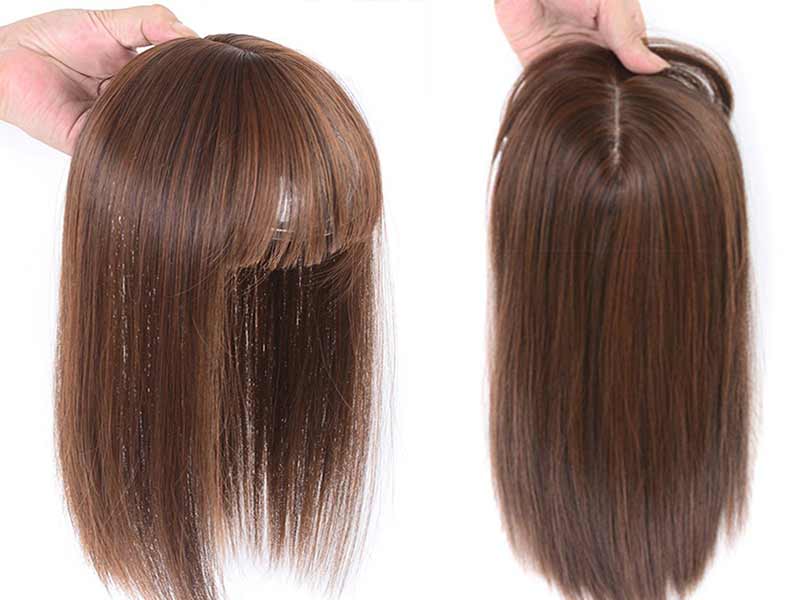 How to choose your own hair toppers with bangs?
As mentioned above, hair toppers with bangs have various types for you to choose one from, so find the suitable one matching well with you is not easy. So, Lewigs is glad to help you find your best hair toppers with bangs.
Below are some tips you can employ to choose the best hair topper bangs that offer you the most flattering and natural look ever!
Similar posts:
Tip 1: Choose the hair topper with quality hair source
Like hair wigs or extensions, there are types of hair toppers with bangs that are better in quality than the others, offering the feeling like real hair. And the source of hair to make hair toppers play a role in the quality. So. if you want to choose the one that will go with you, take it into consideration.
Like other hairpieces, hair topper with bangs is categorized into human hair topper and synthetic hair topper.
Synthetic hair of hair topper with bangs is made of fine plastic fibers, designed to look like human hair. But it does not always look natural as real hair. This hair topper is already done curly, wavy or straight texture and you cannot change its hairstyle. This is because it cannot resist heat styling. So, synthetic hair topper with bangs suits those who want to use a hairpiece over a short period of time.
On the contrary, human hair toppers with bangs, as its name showed, made of virgin human real hair. So, it provides every user with a natural look as if the hair is growing directly from your scalp. If you want to style hair with the heating method, human hair toppers are for you. This is because it acts like your real hair. Hence, a long-term user is suitable for that type of hair topper bangs.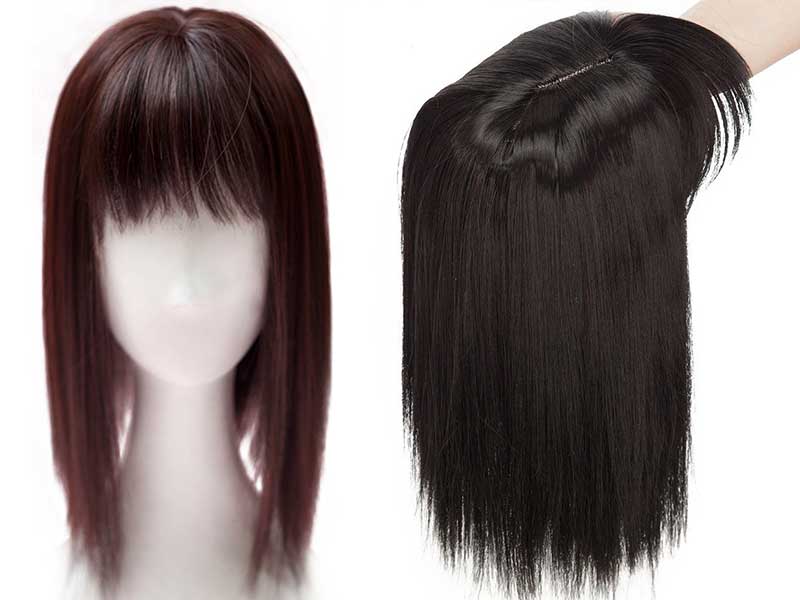 Tip 2: Choose the toppers to apply to different areas
Hair loss or baldness spots happen at any part of your head. Hence, hair toppers with bangs are designed in different types for specific areas of your scalp. If you want the one that can help you deal with baldness, consider that. Below are 3 major types of hair toppers in terms of position, which you can refer to
Part hair topper: This type of hair topper can cover any part of your scalp flexibly. If you have hair loss on the left, on the right or in the middle, you can use it.
Top hair topper: This type of hair topper is worn at the top of your head to cover the thinning areas or bald spots. The size of the topper will determine the wide of its coverage
Crown hair toppers: The crown of your head is at the top back where your scalp starts to curve. The crown hair toppers will help you to cover a rectangular area, which is perfect to add more length and volume to your hair.
How to install hair toppers with bangs properly?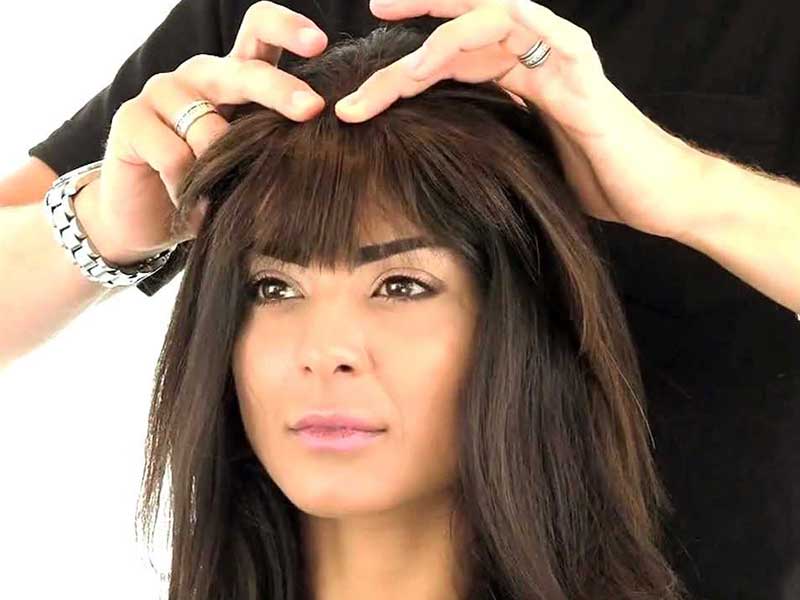 First, open all the clips inside at both ends of the hair toppers
Decide where your hair topper will go and then place your hair topper with bangs. Adjust your hair to well blend.
Secure your front clips first, then lightly run your finger across the length and clip the back ones.
Style your hair as you desire and finish!
How to wash human hair topper properly?
Use cool water to wash. Wet it from base to tips
Take a proper amount of mild shampoo to your hands then apply it evenly over your toper.
Do not run, twist or massage just simply smooth the product over your hairpiece
Rinse well from base to tips with cool water
Read more:
How to condition your hair toppers with bangs properly?
Take a small amount of hair conditioner into your hand then apply it evenly to your hair.
Rinse the condition with cool water.
Squeeze the excess water gently ( no rubbing) then use a towel to lightly blot hair.
Put your topper on a wig stand to let it dry naturally.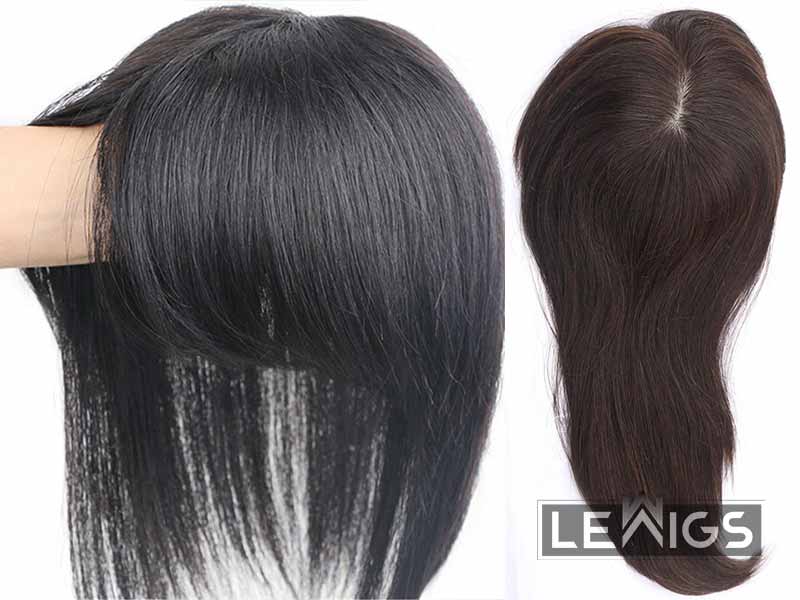 All in all
Hair topper with bangs is really worth your choice if you know how to choose and use it properly. It is easy to apply as well as remove so you will need to see your hairstylist any time you want to change your toppers.
We hope that this article has helped you have a better understanding of hair toppers with bangs. If you want to get one for yourself now, shop at Lewigs. All of our products are high-quality hair toppers made of human hair. Visit our website to take a look and if you have any questions, do not hesitate to ask us. Our team service is glad to hear from you!
If you like this article, share it with your friends and follow us now for more interesting information!