Hair toppers today go by many styles due to the wide array of demands of wearers. It is available in different hairstyles, colors as well as length. You are looking for a realistic hairstyle with this miniature version of wigs, try wearing a hair topper with fringe. We're sure that this hair may deal with all your hair problems. Our following post will discuss hair toppers with a fringe, including its definition, styles, and much more. Let's start!
What do you know about a human hair topper with fringe?
Before getting to know about human hair fringe topper, we present about topper meaning for those who are new to this term. Hair toppers come with different names thanks to its benefits, like wiglet, hair enhancer, and more. People always called hair toppers "wiglet" as it is small and they look like a miniature version of human hair wigs. This hairpiece is used for different purposes, covering areas of hair loss, adding more hair volume, etc. Designed for different areas of your head, so there are many sizes and shapes of toppers. If you wear a suitable hairpiece that fits your head size, it will lie flat on the scalp and blend well with your natural locks.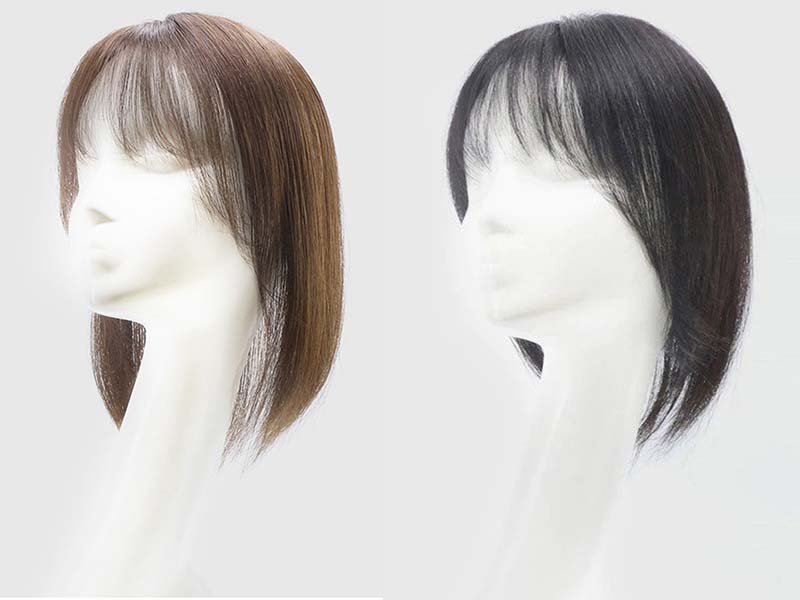 The hair topper with fringe is a type of this hairpiece. Not only conceal the thinning areas on the top of your head, it also covers your forehead very well. Hence, this hairpiece is a great solution for concealing receding hairline and thinning hair at the crown. The best hairpiece comes in different styles for customers to choose from. You can easily find a hair topper with side fringe or any hair you like. It blends your bio hair and gives wearers a natural-looking effect.
Who should have a hair topper with fringe?
Anyone with hair problems who wish to have a fuller and thicker hair look can try it. You want to cover up thinning areas on the top of your head, purchase this hair.
If your hair is lacking volume, wear a hair topper with fringe. That's why some wear hair toppers to add hair volume and reach natural-looking tresses. You should know that not everyone wearing a hairpiece gets baldness. 
Other posts:
How to take a hair topper with fringe
Determine your affected thinning areas
This is the easiest and first step to begin shopping for a human hair topper with side bangs. Hair toppers are designed for different sizes to suit different areas. For instance, you should get hair toppers with bangs if your hair is thinning at the crown and forehead. Determining your bald spots on the head helps you buy the correct hair system. Find the hair on many big websites or e-commercial pages, we're sure that you can get your desired hair.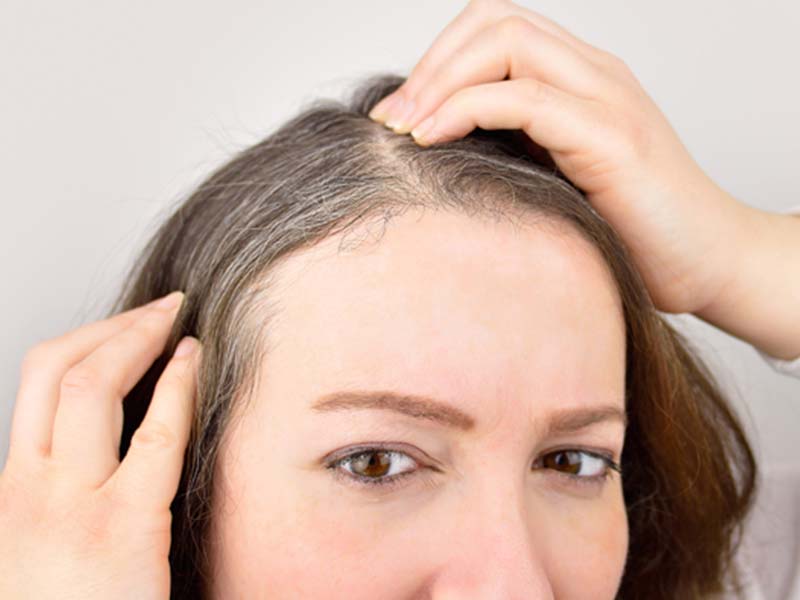 Choose the quality of hair topper with fringe 
Like other hair systems, you should consider the quality of the hair when buying a hair topper. Good hair quality offers good hair feeling. You should choose a hair that gives you feeling like real hair. Synthetic hairpieces now are designed meticulously and look like natural hair. However, it is still artificial fibers, not as durable and versatile as the human one. If you buy a curly or wavy synthetic hairpiece, you cannot change its texture. Why? Artificial fibers are very sensitive to heat, they may be melted if you use heating tools. Hence, this hair is suitable for short-termed wearing.
On the contrary, human hairpieces with fringe work amazingly on its way. It offers the wearer a natural-looking effect that the hair is growing directly from your scalp. Buying a human hair topper with bangs Amazon, it's a long-term investment. Also, it is made of real hair strands, you can cut or style the hair bangs you want.
Buy the hairpiece with bangs based on your face shape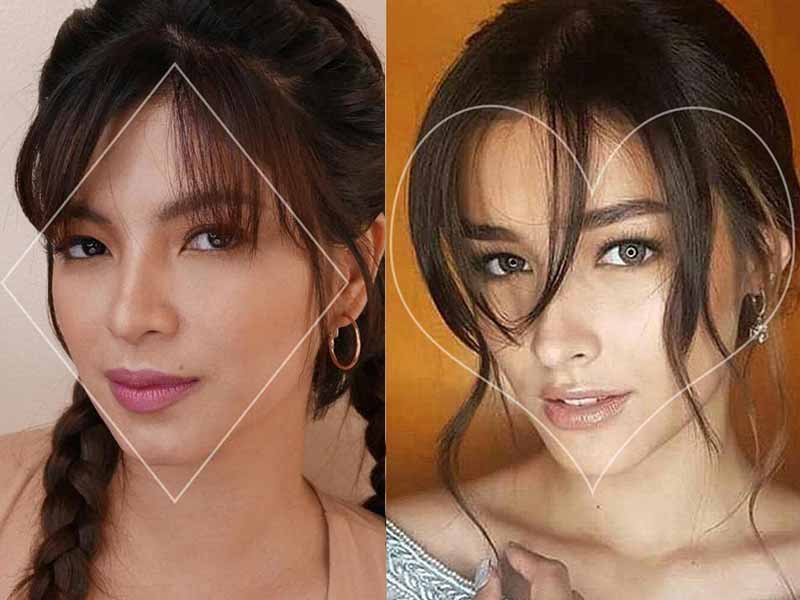 There are many bang styles for hair toppers, such as side bangs, baby bangs, softened blunt bangs, and so on. You can choose the hair that suits your facial shape and natural locks.
If we have awards for hair bangs, side bangs will definitely win the "Most Popular" prize. It suits all faces, especially for round face shapes. Purchase a hair system with a side-swept fringe, it helps create more length in your face, offering an oval shape. Try wearing a hairpiece with baby bangs if you want to create some fun. Ask your hair manufacturer to customize the hair or you can take your hair to your hairdresser to cut bangs. Baby bangs are a fun option, especially suit the heart-shaped face. The hair bangs will create the midline of your forehead.
In addition, there are many wearers who choose the hair topper with fringe according to their preferences. Some like medium bangs while others want to add some curls on their long and layered bangs.
Jump to:
How to maintain hair toppers with fringe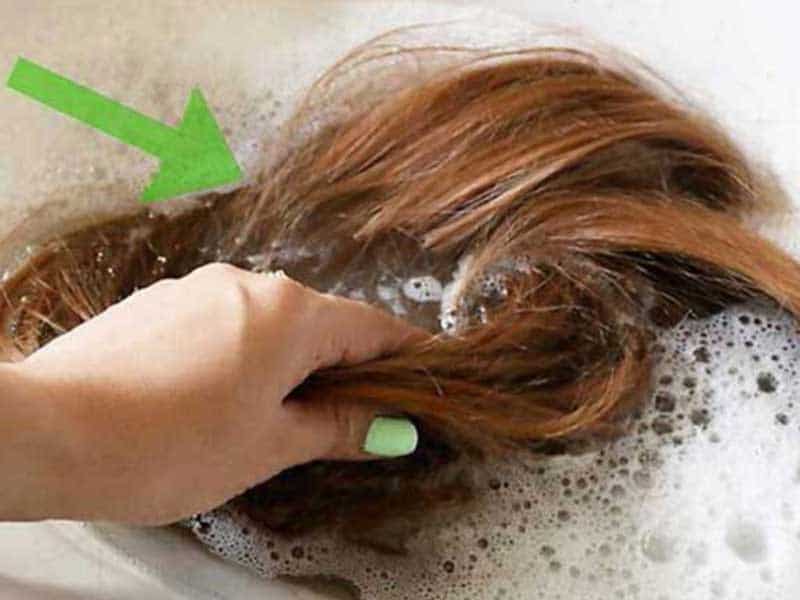 I have shopped for a hair topper with fringe UK, how can I keep and wear it longer? Apply these following principles:
– Never brush wet hair toppers with fringe: Dry the hair with a soft towel before brushing it. Remember that don't brush the wet hairpiece, no matter how messy it is.
– Apply little conditioner on the bangs: Take an appropriate conditioner amount otherwise the bangs appear greasy and oily. It causes the hair to be heavy and weighing down. No need to apply conditioner to the bangs regularly.
– Use a heat protectant when waving or curling: Just like other hair systems, you have to apply heating protection on the hair topper with fringe when styling. It helps you protect the hair strands well. Never style the hair when it is wet as it is the most vulnerable and quickly loses wavy and curly.
To sum up
You desire to have a hair topper with fringe to get thick and natural-looking hair. You have a smart decision. Now you know how to choose the correct hair topper with bangs, so I hope that you would find this post useful. 
Have a nice day and enjoy your beautiful hair.