You might feel a little bit nervous when first trying the hair topper without clips on. However, once you have got familiar with it, you will no longer want to come back to the clips!
What is it, actually?
Read on to know more about no clip hair topper from Lewigs.
Can We Wear A Hair Topper Without Clips?
Definitely YES.
Perhaps the clip-on hair topper has been so popular with people who own thinning crown that they might think that it "must" go with clips. In fact, there are several kinds of topper hairpieces on the market that don't require clips to be attached to your head.
If you have read over our article: How To Wear A Hair Topper Without Clips, you might get our idea there. 
Apart from using pressure sensitive clips, there are other ways to wear your hairpiece on. You can definitely use a liquid or tape adhesive to do this job.
A plus point is, these ways of application will also help the hair topper to sit even firmer. It is also less likely to be blown out by the strong wind or the like.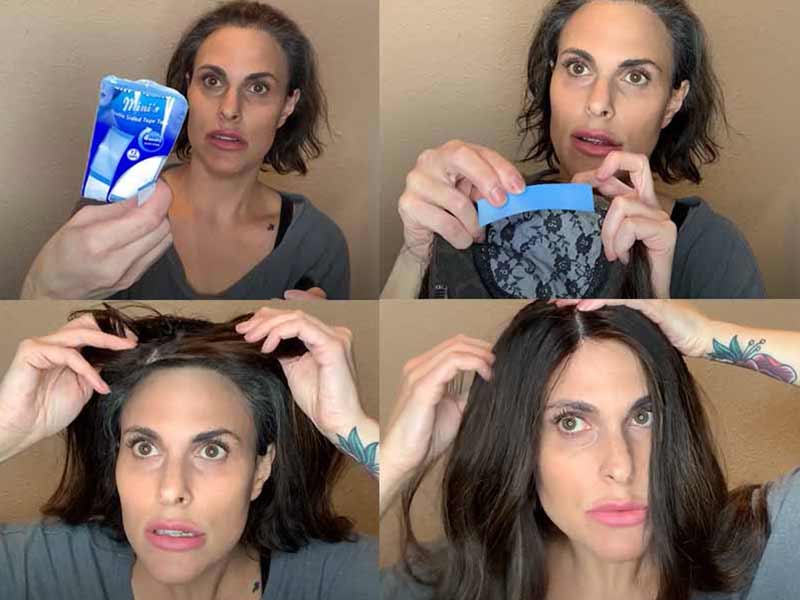 What Does A Hair Topper Without Clips Look Like?
First, let see how a clip-on hair topper is like. Normally, a clip-on topper hair extension will be made with a lace base, where the hair is knotted onto. Most of the time, the perimeter of the topper piece will be rounded with ½ or 1 inch of PU skin base. And this edge is where the clips are secured. The clips might be on the front and the back, and sometimes there are more on the sides.
To apply this kind of human hairpieces, the user will clip it on your natural hair to let it stay on your crown. And this is when drawbacks appear.
It is admittable that clip-on toppiece is the least secure among the application methods. For example, if your natural hair on the top of your head is too thin and can't be enough to keep the topper in place, it will easy to move and even fall out when you run, jump, or sit under the high wind. Or some of the times, it might hurt your scalp when you clip the hairpiece unproperly.
And that's why people go for other options without clips.
It's the same hair topper, but without clips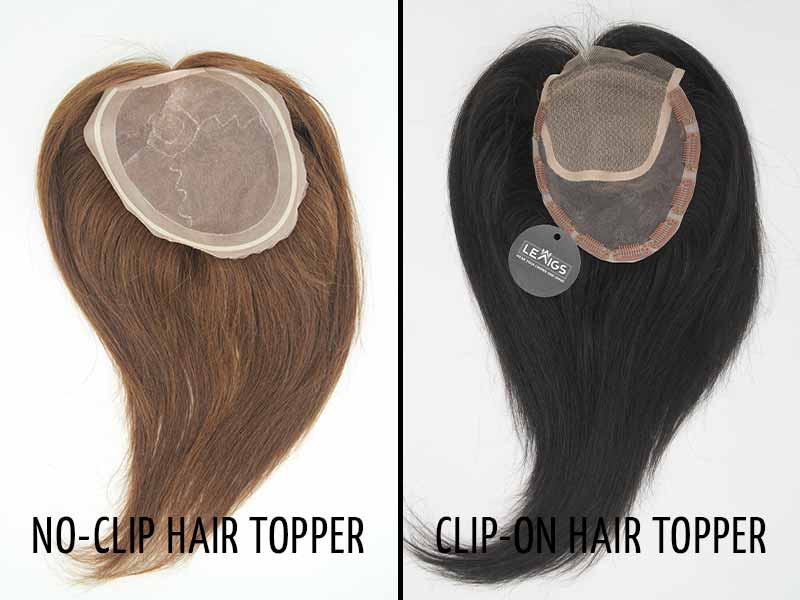 Regarding the base construction of the topper hairpiece, the no clip hair topper is nothing much different from the clip-on ones. It might be made with French lace, Swiss lace, or a 2-layered silk base. Similar to the clip-on, the hair topper without clips has a polyester perimeter.
This perimeter is exceptionally important because it is the place where the adhesive bondings will be placed.
You will use tape or glue to wear the hair topper without clips
How to secure a hair topper without clips?
To attach the hair topper to your crown part, you can use either tape or glue. These adhesives are easy to find at any hair store or e-market. Some reputable brands are Walker, Got2B, GhostBond, etc.
When choosing the adhesive, remember to find ones that are water-resistant. It will help your hairpiece to stay in place when you sweat, work out, or go swimming. In contrast, if you find a random adhesive that is easy to dissolve by water, your topper piece will fall out easily.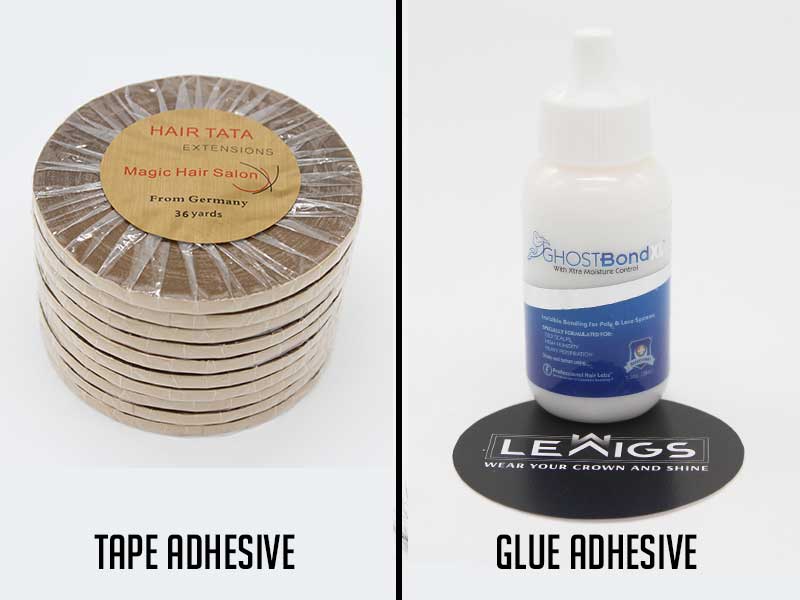 You will need to shave your crown
Unlike hair toppers with clips, the no-clip top piece requires you to shave your crown before putting it on. The hairpiece is attached by tape or glue; hence, to make it stick and stay firm, it's better to let it touch your skin instead of hair.
If you let your natural hair there, it might hurt when you attach or remove the hair topper.
You won't need to shave all your head but only the part where you will place the topper only. With the toppers that have the mono lace part at the top and the weave on the side (the mono top or the pull-through hair topper), you only need to shave the top. For the rest, you can pull your bio hair through and make them blend together.
You might feel interested in:
Where To Buy The Best Hair Toppers Without Clips?
You can find anything you want at Lewigs. We have all kinds of human hair toppers for you to choose from. Clip-on or without clips, all depending on your taste.
At our stores, we do have the ready-made hair toppers; however, it is not of large amount. Our factory concentrates more on making custom-made hairpieces based on individual clients' requests.
You can first place your requirements about your dream hair topper with us and our staff will consult you on the best construction for your hairpiece. Once the order is placed, our worker will work on knotting and making your topper extensions.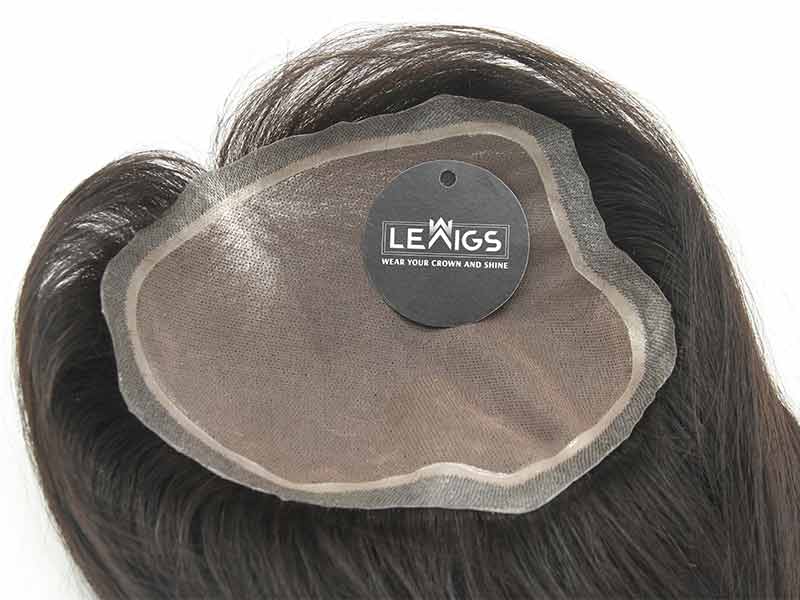 Rest assured about the quality because all hairpieces from Lewigs are made of high-end Vietnamese and Cambodian human hair. Our hair has been undergone strict filtering before being ventilated onto the hairpiece.
Furthermore, we have flexible return and refund policies if you want to adjust anything about your hair topper or return the hairpieces back.
So, why hesitate? Grab your phone and contact us via our hotline right away!
The Final Words
Undoubtedly, hair toppers can come with or without clips. A hair topper without clips even brings more comfort and convenience than what you have expected.
Lewigs hope that this post somehow helps you understand more about this kind of topper hairpieces. If you feel interested in getting one, feel free to drop us a line at any time to get instant support.