Hair loss or bald is always a big problem with all people, especially men because many people have faced this problem since they were 20 years old. If you're lucky, you won't get bald until middle age. However, don't worry too much as your hair gets thinner during your young years. You can still confident with your hair, just choose a hairstyle that suits your strengths. Therefore, to help you look better and more comfortable when going out, the post will introduce the best haircuts for men with receding hairline.
Buzz Cut – The best haircuts for men with receding hairline
If you're still afraid of white-headed shaving, why not try buzz cut? The hairstyle is a wonderful and amazing choice for anyone who gets a hair loss problem. The idea of this haircut comes from the electric trimmer, used to create a short, crisp hairstyle, with the same length of hair across the entire head.
This hairstyle will significantly reduce the feeling of a wide forehead because it has been blended with the hairline. For men with oval faces, this type will be a great choice for you. Not only does it increase masculinity, but it also helps you do not need too much time to groom, care.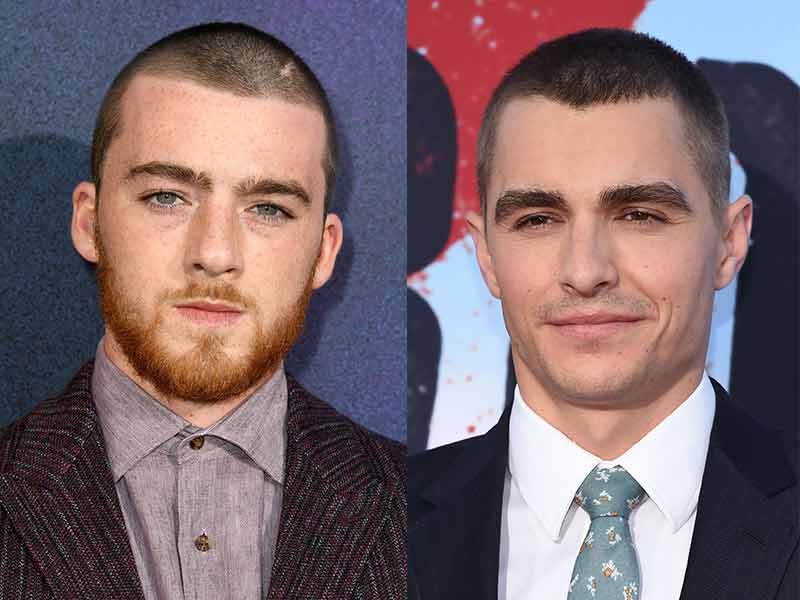 Furthermore, this simple, masculine hairstyle is perfect if the hair shows signs of thinness at the top of the head and hairline. It helps reduce the attention from the hairline to the face.
Therefore, when owning the hairstyle, other people are difficult to recognize that you are a little inferior to your head. It is the reason why buzz cut is always referred to as the first when men need a beautiful and attractive hairstyle for covering hair loss.
Other inspirations:
Slicked back – the favorite hairstyle for men
The slick back became one of the most popular hairstyles in the late 20th century and is still the choice of many people today. It is a great way to turn attention away from the hairline. The slicked back is neat, minimalist, and timeless hairstyles for men. If you are nostalgic and love the classic style, this is the hair for you.
Besides that almost every face suits this hair, the hair is cut short, neat and tapered on the sides, leaving a little on the top of the long hair brushed forward. You can also use glue, to style your hair more attractive and seductive. You just need a comb, wax and hair comb backward. Men should use a little spray to hold the hair. However, you should be careful if you want to avoid a shiny top than necessary.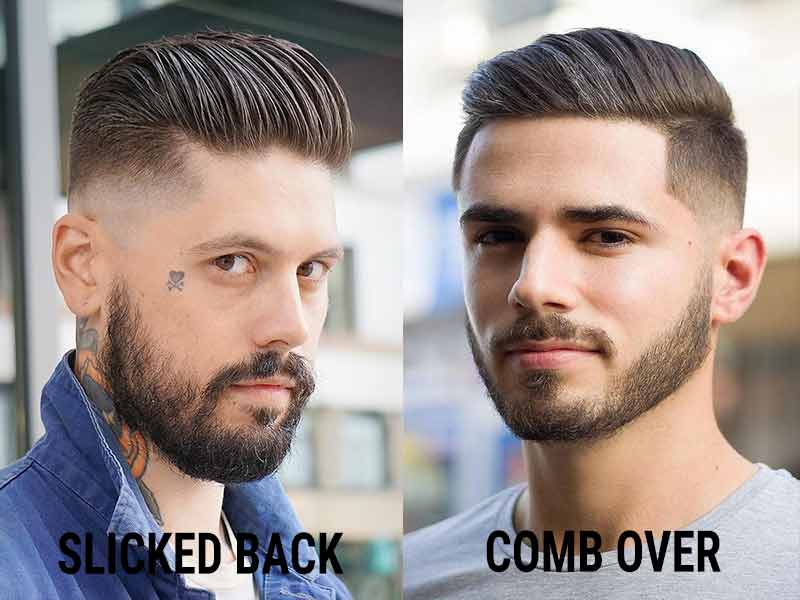 Comb over – the wonderful choice for gentlemen
This hairstyle is perfect for men with signs of heavy hair loss because it converts hairline into strengths. You can make your hair feel thicker and stronger by covering it through the hairline. A hairstyle is still frequently used by men, with variations over time. This hairstyle is now very diverse styles from classic to modern. For men with large foreheads, especially the M-forehead, a partial hip hairstyle is a great option. Besides, with this neat and cool hairstyle will bring you an elegant, masculine and attractive beauty than ever.
To get this hairstyle, men only need a little longer hair. You can use wax to style, then brush your hair back and to the side. Furthermore, you don't forget a little styling spray which will help you look more handsome. Therefore, it is known as the best receding hairline men haircuts.
Quiff with taper fade – handsome and stylish hairstyles for men with a receding hairline
Tapered cuts provide a lot of styling options. Like a pompadour or a slick back but longer and thicker, it is most beautiful when the hair on the top is long. It's quite a popular hairstyle today and the best haircuts for men with receding hairline, because it's quite versatile, and can adjust the shape for every face.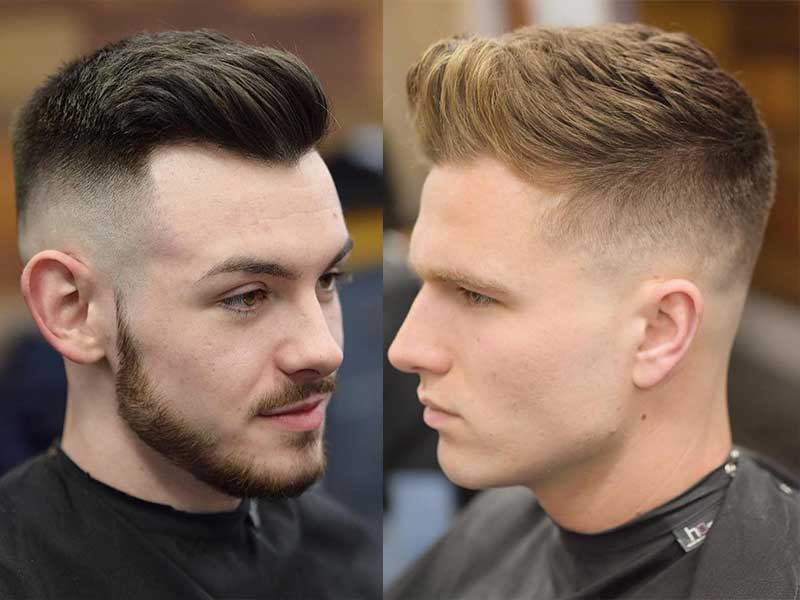 Hair is kept short on the back and sides, the edges are combed forward, hiding the hairline quite effectively. This hairstyle is a great choice for men who like the classic style but no less luxurious and seductive.
Besides that, to get the wonderful hairstyle, you need to shave white and keep your hair short above. It not only makes men look younger but also makes them have a very modern style.
Read more:
Military Cut – Classic military haircut
Blending classic military hairstyles with middle hair gives you a sleek and attractive appearance that is hard to resist. This hairstyle is quite easy to perform, suitable for all hair types. You should cut with an electric trimmer, but the top of the head is more elaborate with scissors. The hair is gradually blended to create a seamless gradient between the two sides.
For this hairstyle, you need to shave your head first so that the hair is the same length. The overall length of the hair is 1-2 cm and follows the hairline. If successful, your hairline will almost disappear, bringing masculinity without much effort.
Therefore, when owning the hairstyle, you don't need to spend too much time to take care of it when you want to go out. The military cut is always the best choice for men who are too busy or lazy.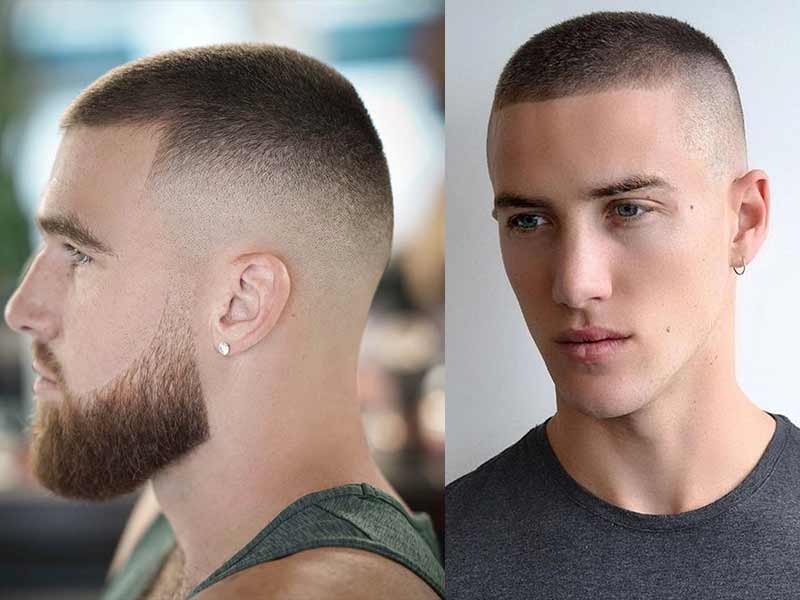 In fact, no one wants to experience hair loss, mainly due to hormonal changes in middle age or genetics. Another cause is stress due to work and life. Therefore, hope that after the post, you will choose for your own the best haircuts for men with receding hairline which will help you look handsome and feel confident when going out.
Besides that, if you need more useful and necessary information about hair or the way to take care of your hair, don't forget to visit our website. We will introduce many tips to help your hair look more beautiful and attractive through interesting posts.
Last but not least, you don't hesitate to like and share the post with all readers.