Scroll down for the best hairstyles for men with thin hair and big forehead.
You may not know it, but men have more hair troubles than women, including thin hair and big forehead. These problems are often encountered in middle-aged people, and sometimes, we also see it in some young people in their twenties.
Sadly, even if you have thick and beautiful hair, the risk of your hair being thinned in the future is unpredictable.
Yes. This is not only a problem for those in the case, but even you should learn about it because it's not too late, and you can prevent it from happening now.
But do not misunderstand.
Even if you are having problems with your hair, some ways still can make you outstanding. That's why you should know the best hairstyles for men with thin hair and big forehead that we will provide in this article. We will also guide others on how to prevent that from happening in the future.
Let's dig into it!
What causes hair loss and big forehead in men?
Knowing the cause of your hair loss will help you avoid them quite significantly.
Genetics
Male pattern baldness is inherited from the parents' genes to their children. So if you have a family member who is balding, the chances of you encountering this situation in the future will be likely to happen.
Medical issues
Hair is nourished well when we eat and replenish the necessary nutrients. Some conditions, such as anemia, cause hair and protein and iron deficiency, leading to hair loss.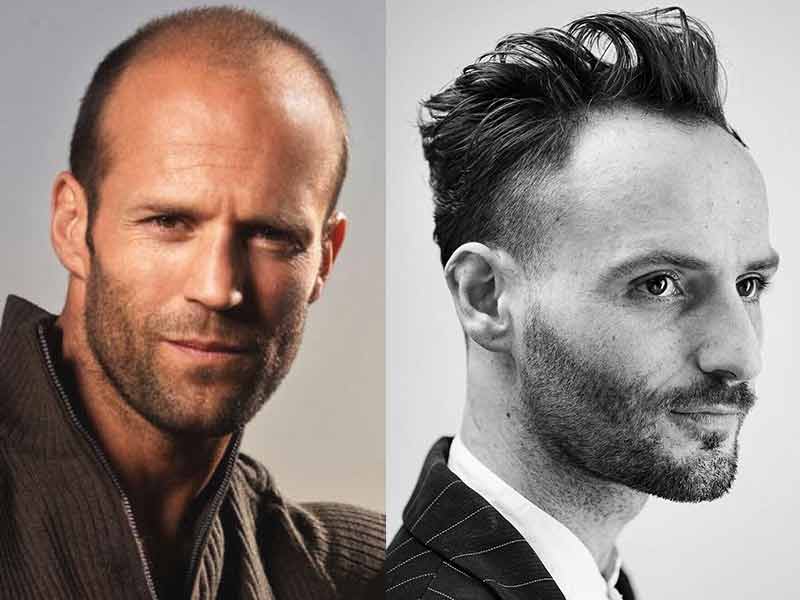 Stress or shock
If you have trouble with life or you lose weight suddenly, etc., all will lead to hair loss.
Infections
If you not only have hair loss but also see scalp or bald spots, you may have an infection like ringworm.
Styling
Some hairstyles that use chemicals will lead to hair dry and loss. In addition, if you tie your hair too tight, the pull will cause your hair to thin out.
Other inspirations:
How can you prevent your hair from getting thin?
By eating a balanced diet, full of nutrition, always cleaning hair, and scalp massaging will help you avoid hair loss later.
– Implement protein from meat and fish to feed hair
– Eat plenty of spinach to provide hair with the iron
– Drink enough water every day
– Wear hats when going out to avoid dirt and pollution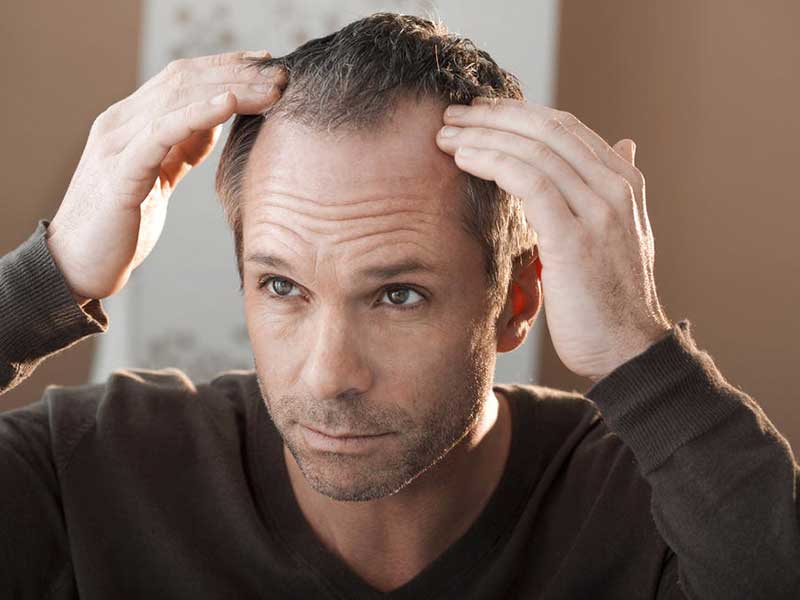 – Do not use shampoos with too much detergent
– Massage scalp with coconut oil, lavender oil, or almond oil, etc.
– Let hair dry naturally
– Supplement vitamins A, C and Biotin
– Always on high mood
Popular hairstyles for men with thin hair and big forehead
Short Curly Hairstyle
This is one of the simple hairstyles for men with big forehead. This haircut will add movement, avoiding people's focus on your big forehead. Besides, the best hairstyles curly for men with big forehead also solve the problem of your thin hair, helping it look thicker and more fluffy.
This hairstyle is quite fancy and outstanding, giving you a sweet and clean appearance. To do it, the barber will cut the hair at the back shorter and the fringe will be brushed onward. Thanks to that, the front hair will hide your hairline and part of your big forehead, making it look smaller.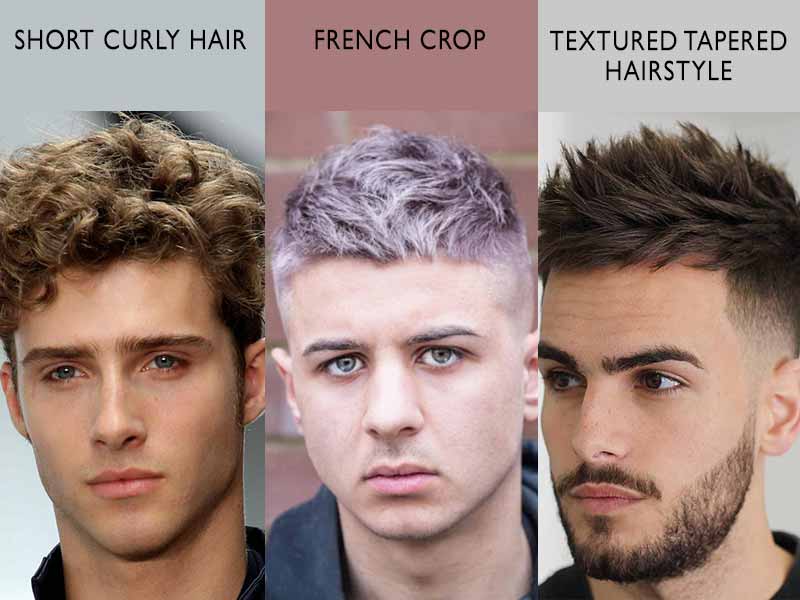 Textured Tapered Hairstyle
This is the hairstyle that many men with thin hair preferred. You can use the gel to fix it and keep its fashion. Besides, you can also combine with the side-swept haircut to make it complete.
Side-swept Fringe
With the hairstyles for men with a big forehead like this, your forehead will be covered on the side by your hair and thus, it is great for guys with a big forehead. The back hair will be faded completely, and the front will be more focused.
Meanwhile, it also works to make the hair bulge, giving your thin hair a cooler look.
Layered Long Hair
You may worry that long hair will accidentally make your hair look thinner. However, if you have layered hair, it will have the opposite effect, ie help the hair thicker. Besides, style your long fringe, and it will cover part of your forehead, making it look smaller.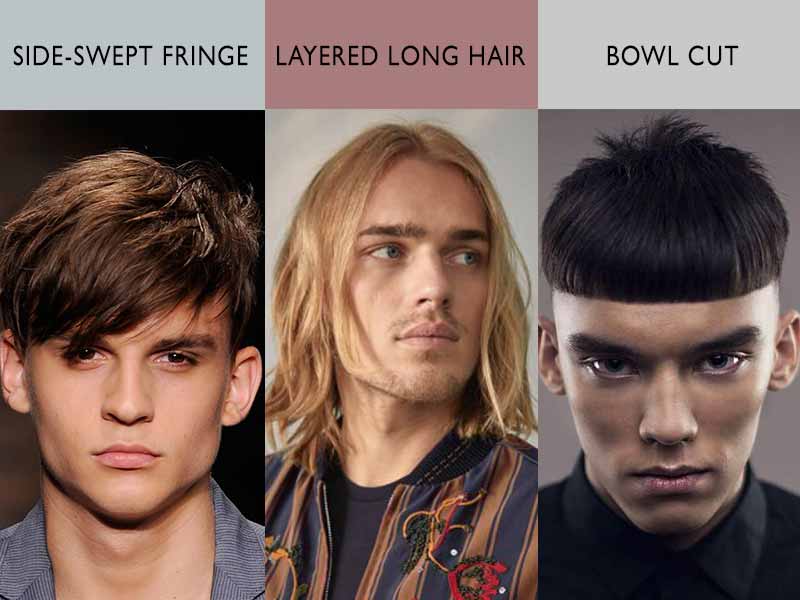 Bowl Cut
This is among unique and good hairstyles for men with big forehead and is not for anyone. However, once you have tried and succeeded with it, you will look stylish, fresh, modern and fashionable.
This haircut will slide your forehead in half and thus, your forehead will look smaller. It will extend evenly around your head.
Slicked Back Style
Surprisingly, even though you slick all the hair back which will show all your forehead, this hairstyle doesn't make your forehead look big at all. Instead, your B-shape forehead will make it more trendy by partly forming the hairstyles for men with medium hair and big forehead.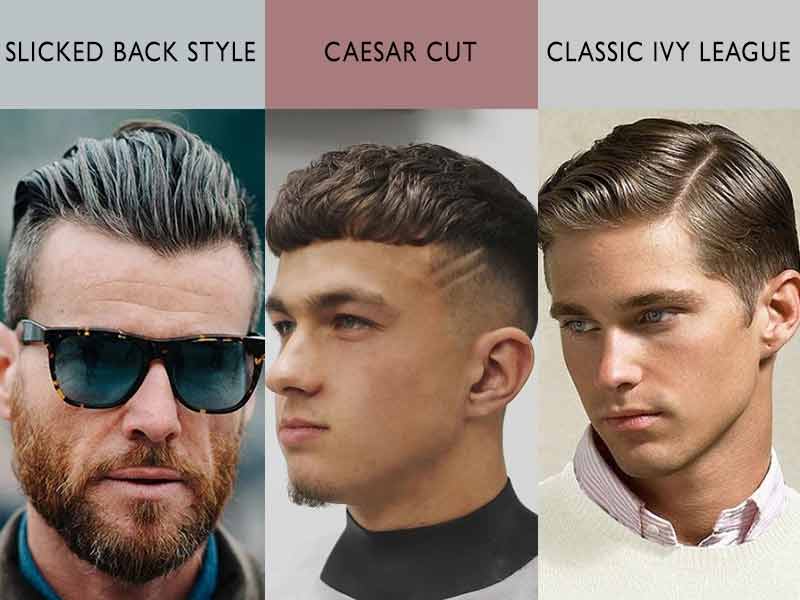 Caesar Cut
This hairstyle is quite similar to the French crop but gives a more luxurious and elegant look. These easy hairstyles for men with big forehead have hairs layered and horizontal fringes above the eyebrows. Therefore, your forehead will no longer be empty, and the problem of thin hair will not be discovered.
Jump to:
Classic Ivy League
This is a hairstyle you can see quite a lot in Hollywood movies. It gives the owner a sleek, elegant and luxurious look with long hair slicked back, but the hairs are not in a certain order.
Clean Shave
It's simple, right? It's not about the short hairstyles for men with big forehead, but no one will know you have thin hair and a big head. You can also perfect your hairstyle with a beard or sunglasses.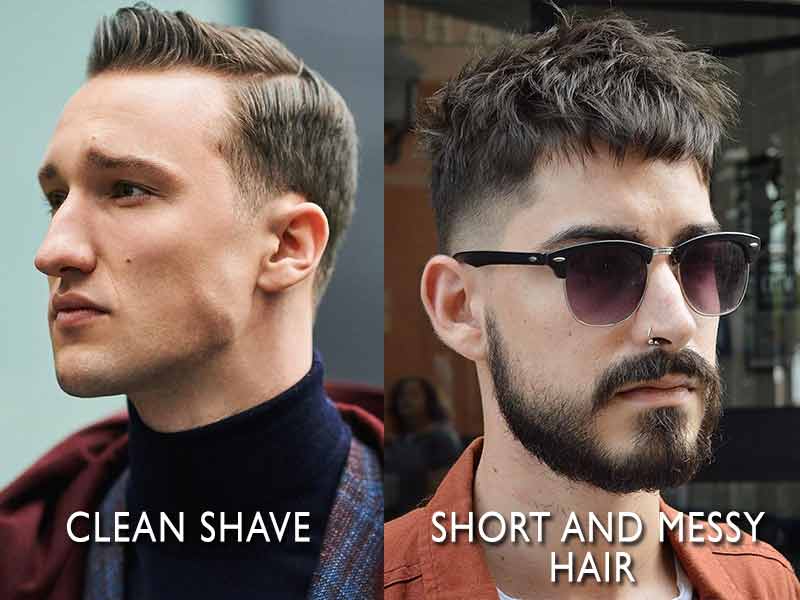 Short And Messy
At first glance, your hair will look natural if you have these best hairstyles for men with big forehead. Besides, adding movement to your hair will help focus other people's attention to it instead of your forehead or hairline.
To sump up
Thin hair and big forehead are the most common problems for men. However, they are not too terrible because you can still control your hair thanks to the best hairstyles for men with thin hair and big forehead. I'll add more tips, tricks as well as deeper information if you want to learn more. Don't forget to like and share the article with others if you find it useful. Thank you.