When choosing a shampoo, we care for not only its cleaning ability but also its benefits on bringing us healthy and beautiful hair. Therefore, people tend to use products with natural ingredients and formulas to avoid side effects. That is the reason why a range of hair care companies focuses on reducing chemicals in their products. They avoid using chemicals, such as sulfate, paraben, alcohol, and more. In our article today, we would like to show you certain the best sulfate free shampoo. Let's read it carefully and try one of those!
What Is Sulfate-free Shampoo? Why Use It?
Firstly, let's find what sulfates are? Sulfates (also called sodium lauryl sulfate) help clean by making the product lather and emulsifying the oils such as sebum and dirt from the scalp. That's why many manufacturers add them to cleansers such as shampoo and shower gel.
The sulfate-free shampoo has no sulfate in its ingredients. Today, many people tend to use this type of shampoo, because:
– It is useful for colour-treated hair. Sulfates in shampoo affect badly on hair colour, resulting in faded hair.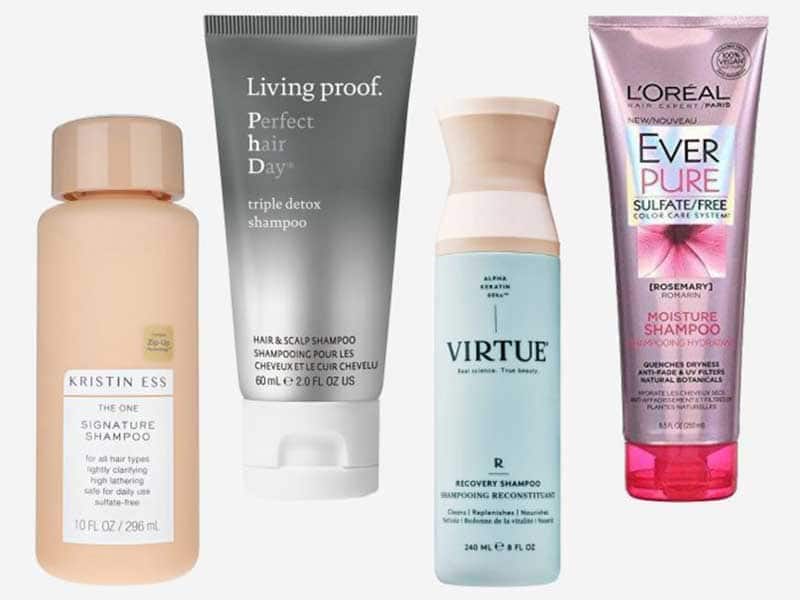 – Sulfates may cause dry and irritated scalp, leading to damaged hair and irritation. Therefore, using sulfate-free shampoo is an effective way to keep moisture on the scalp.
– Sulfate-free shampoos and conditioners are safe for the environment because they are formed from natural ingredients.
– If you have a sensitive scalp, you should choose sulfate-free shampoo to avoid being allergic.
You'll also like:
Best Sulfate-free Shampoos
The Body Shop Rainforest Moisture Shampoo
If you have dry and damaged hair, the rainforest moisture shampoo of The Body Shop is an ideal choice for you. For the packaging, it is in a dark brown coloured plastic bottle, especially a transparent bottle that helps you see how many products are left. It is easy to open and close with a sturdy flip open cap. Its benefit comes from Ethiopian honey that helps reduce dry hair and keep your mane soft and shiny. Besides, sugarcane in it cleanses your natural locks gently. Additionally, this shampoo is not only sulfate-free but also paraben-free, silicone-free, gluten-free, and colourant-free. With no chemicals, it will not cause scalp irritation or itchiness.
What's more, the product has a pleasant scent with natural ingredients. What surprises us is that this product is eco-friendly and not tested on animals, like all The Body Shop products. You can use the rainforest moisture conditioner of The Body Shop to smooth hair effectively.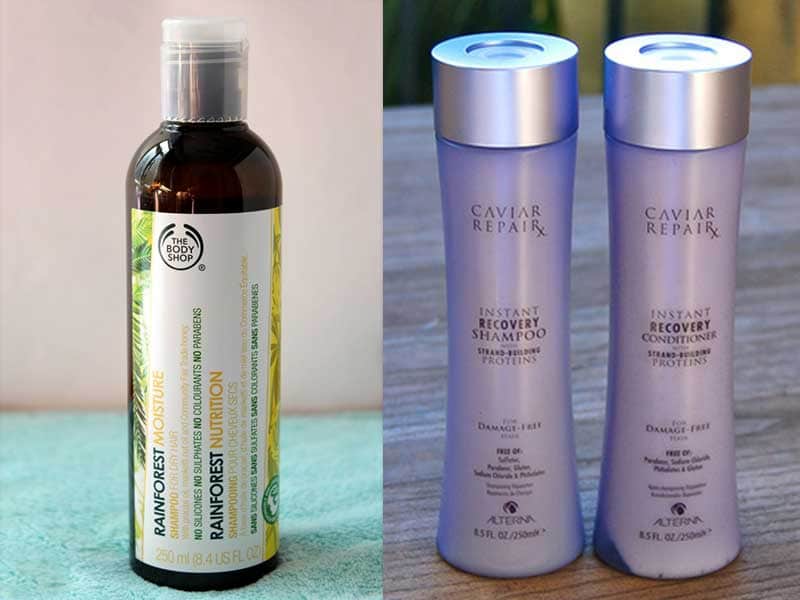 Alterna Caviar Repair RX Instant Recovery Shampoo
Caviar Repair RX instant recovery shampoo of Alterna is suitable for all hair types, especially dry and damaged hair. If you frequently use heat tools and forget to apply a heat protectant, it is your best mate. This sulfate-free shampoo also has no paraben and synthetic colours. It is rich in shea butter and linseed oil, which soothe and hydrate your scalp. Shea butter is also beneficial to prevent hair from UV rays and environmental pollutants. Furthermore, strand-building proteins in this product can restructure the hair from the inside out, bringing to you shiny and attractive hair. Therefore, please keep it on the list when you are wondering which sulfate-free shampoo is good for your hair.
Shea Moisture Raw Shea Butter Moisture Retention Shampoo
This is one of the best sulfate-free shampoos, especially for curly hair, because it is rich in shea butter. What's more, it contains argan oil and sea kelp. Argan oil is used widely due to its hair benefits such as reduce hair loss and sunlight effects, moisturize hair, prevent damaged hair. In general, it improves scalp health. These benefits come from fatty acids (oleic and linoleic acid), vitamin E, antioxidants, and anti-inflammatory properties. Besides, sea kelp helps promote hair growth and strengthen hair thanks to several vitamins and minerals in it (zinc, iodine, copper, etc.). With all these ingredients, this sulfate-free shampoo changes your hair from dry and damaged hair to soft and shiny hair. You can go with the same-brand conditioner to achieve the best results.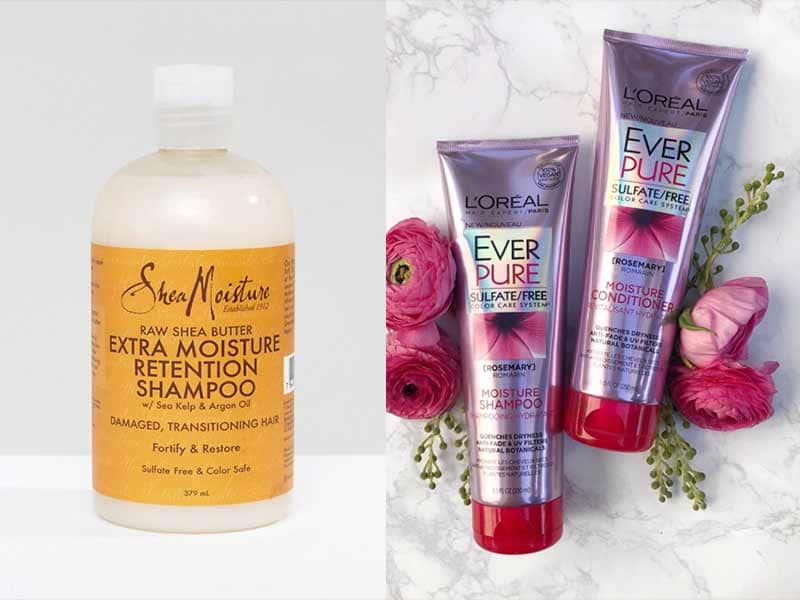 L'Oréal Paris EverPure Sulfate Free Moisture Shampoo
L'Oréal is one of the most favorite drugstore brands with no sulfate and reasonable price. The main ingredient of this shampoo is rosemary, which helps have anti-inflammatory properties. Also, it promotes nerve growth and improves circulation. As a result, your dry hair will have moisture, softness, and luminous shine.
Along with sulfate-free, this shampoo is paraben-free and has no salt. Hence, it can keep your hair colour and prevent damaged hair. If you are finding a simple sulfate-free shampoo to boost hair growth, do not skip it. For best results, you can use both sulfate-free shampoo and conditioner to your hair care routine.
Related posts:
OGX Nourishing + Coconut Milk Shampoo
This is also a drugstore cheap sulfate-free shampoo. For a long time, coconut milk is famous for restoring damaged hair, boosting new hair, reducing dandruff, and conditioning hair. Then, your hair will have more strength, elasticity, hydration, and balance. Besides, coconut smells amazing, giving a comfortable feeling when applying on hair. You will not be afraid of dry hair anymore because it has no sulfate and paraben. Instead, moisturized, glowing, and soft hair is waiting for you!
Aveeno Pure Renewal Gentle Shampoo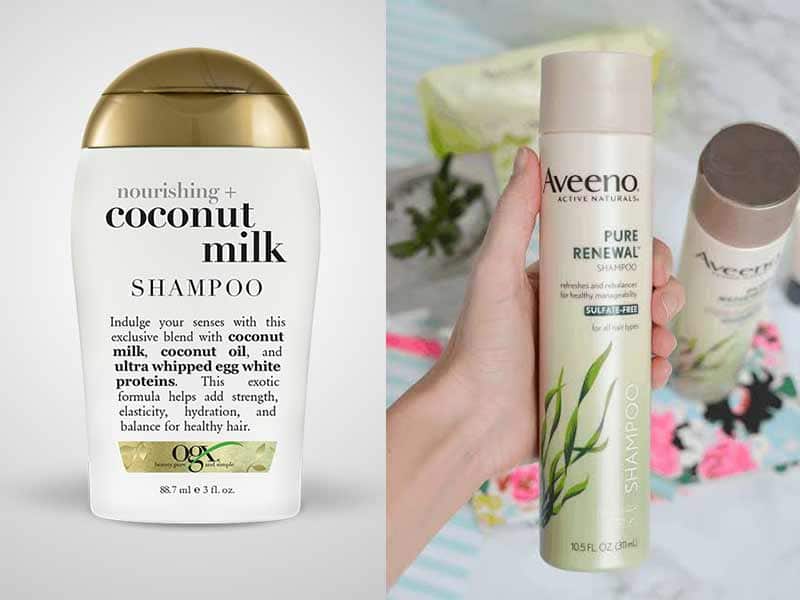 This is an ideal sulfate-free shampoo for coloured hair. You will be surprised by the improvement of your hair: shiny, healthier-looking, and full of life. One of the most remarkable of this item is seaweed extract. This ingredient contains collagen and other nutrients that nourish your strands well. Thus, it improves hair recovery, hydration, and thickness. Being rich in vitamins A and C, seaweed extract also promotes hair growth, so it is among the best sulfate-free shampoos for fine hair.
In The Bottom Lines
Have you decided to start using some best sulfate-free shampoos after reading our article? Lewigs hope that with this interesting information, you will find the good sulfate-free shampoo for you. Because they are natural, they are safe for almost everyone, suitable for both men and women. However, we always have an exception. If you try and get some side effects, stop it immediately.
Our page also has many topics about hair care, wigs, etc., so please visit it. Besides, we are happy to hear your comments and questions about our topic today. As a result, do not hesitate to share it with us.