You can color your curls in various ways. For example, have a salon-done it, else apply a temporary hair dye spray. Note that traditional hair colorings can consist of possibly damaging and toxic chemicals. They can contain parabens and ammonia – for instance. That is why using homemade hair dye can be one of the most effective ways of staying away from these chemicals. As its name suggests, it tends to use home-ready ingredients Or, If possible, you should use a quality hair system alternative. With them, locks will be grateful to you for a long time.
Natural colors will produce natural hues on the strands. They will not generate artificial colors such as entirely platinum blonde and hot pink. The light/ blonde recipe can eventually lighten your hair. You see, they bleach it naturally yet the dark and red hues tend to leave one temporary tint that lasts for several weeks (based on the frequency that you wash it). All shades can be set thanks to the sun.
Below we have put together some favorite natural hair dye recipes for different hair colors.
Homemade hair dye for brown 
It is simplest to make the hair darker if these locks are already dark or light brown. Be sure you test on a small section of strands before you apply on the entire head, particularly on chemically treated hair. Leveraged as one rinse, these tend to darken grey hair over time as well. If you use them often, they will show darker results faster. For more dramatic, quicker effect, get the most out of 100% pure and natural Henna powder. For a more gentle or slower tone, make use of these herbs:
Ingredients
– 2.5 cups of water
– Rosemary Leaf, Nettle Leaf, Sage Leaf: 1/4 cup for each.
How to make the dye
Use water to simmer the herbs in one small pan for half an hour or until the water gets genuinely dark. Follow by removing from heat. Also, when cool, you should be careful with straining herbs out. Be sure that you remove all small pieces – you can use cheesecloth. Then, keep the mix in the fridge.
Next, brush or spray into your hair – let it stay for about 60 minutes before you shower daily. After that, use shampoo as usual.
You can use it as a rinse as well as a leave-on after each shower. Make sure you repeat until you attain the desired color. It comes with a cumulative effect, and the difference will probably not be noticeable in the first few days. Plus, the herbs in this blend work to remove dandruff and boost hair growth.
Related posts:
Homemade red hair dye
They will result in a dark/ red strawberry blonde tint in lighter locks as well as an auburn tint in darker curls. The effects are cumulative – that is why more prolonged use over time will generate a more vibrant red. If you desire continual red hair, we suggest you add it to your hair care routine.
Ingredients for this homemade hair dye
– 1/2 cup of fresh marigold petals or calendula flowers
– Two tablespoons of hibiscus petals (or an increased amount for more red hues)
– 2 cups of water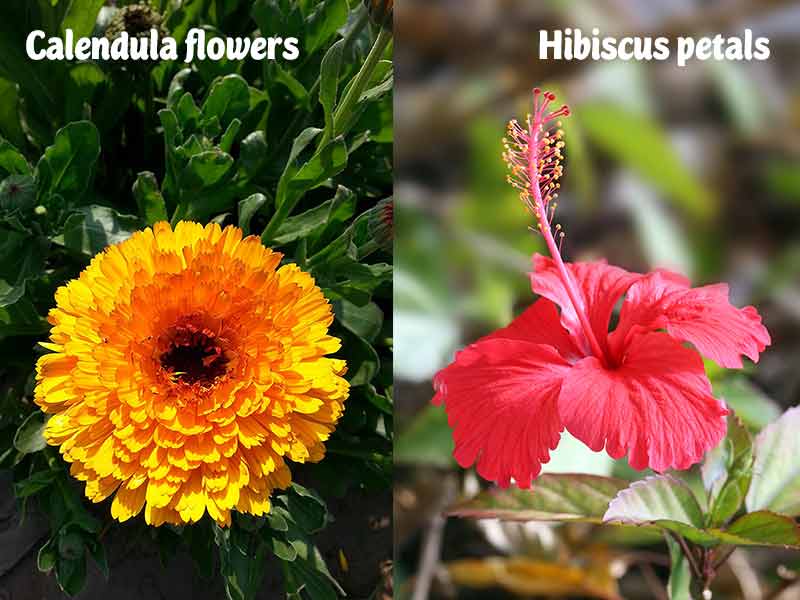 Instructions
First and foremost, boil the water as well as simmering with the marigold/ calendula and hibiscus for at minimum 30 minutes. After straining off the flowers, keep them in the fridge. Make use of them as a final hair wash after each shower. If possible, dry hair in the sun. You should repeat daily until you attain the desired shade and next every few days for maintenance.
Black hair dye
Do you have extra light hair? Then, it will be hard to achieve additional dark hues with only herbs. That said, you can do it with enough patience. Below, we have listed a couple of herbs that work. Note that you can make use of any combination. Again, remember to test on one small hair part before your application. These are the recipes you can try:
– For genuinely dark locks, place Black Walnut Powder (about 1/4 cup) in one cheesecloth bag or tea bag. Then, steep in three water cups in a one-quart mason jar for six hours at minimum or overnight.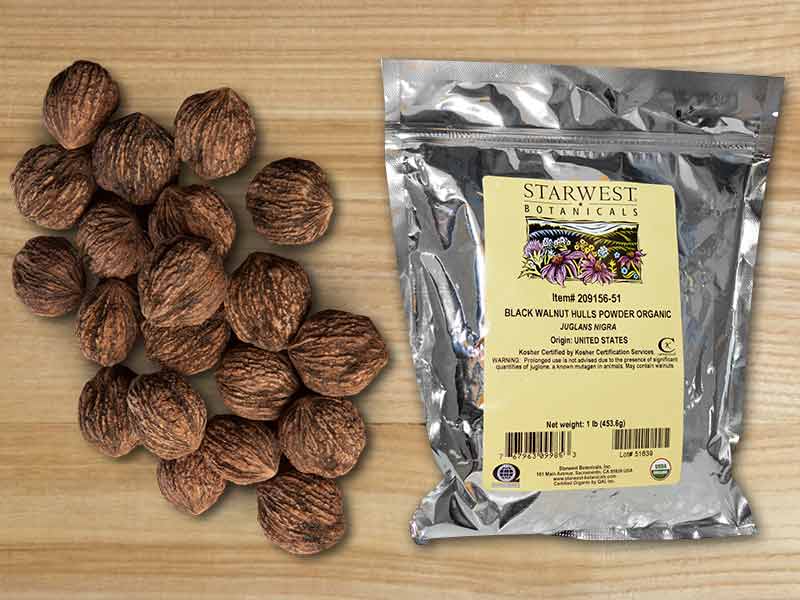 You can use this dye as a rinse. For the best, dry in the sun. It will produce EXTRA DARK hair, particularly if you have dry hair or your hair is color-treated. Not all, it will deliver the darkest coverage for grey curls. We suggest you repeat daily or as necessary for darkening as well as maintaining your dark shade.
– Leverage strong brewed black tea as your hair final rinse for darkening other color locks. Besides, it is nourishing for your strands. It will offer a temporary darkening effect as well. Repeat as needed to achieve the desired shade and if you can, sun-dry.
Jump to:
Other colors
– Homemade hair dye for blonde
Compared to many others, blonde hair tends to take up more color. Lemon juice does an excellent job for the light blonde as well as some darker blondes. Also, a tea from calendula and chamomile will be fantastic for darker blonde types.
– Purple hair dye recipes
We recommend using pureed beets for a reddish-purple hair tone.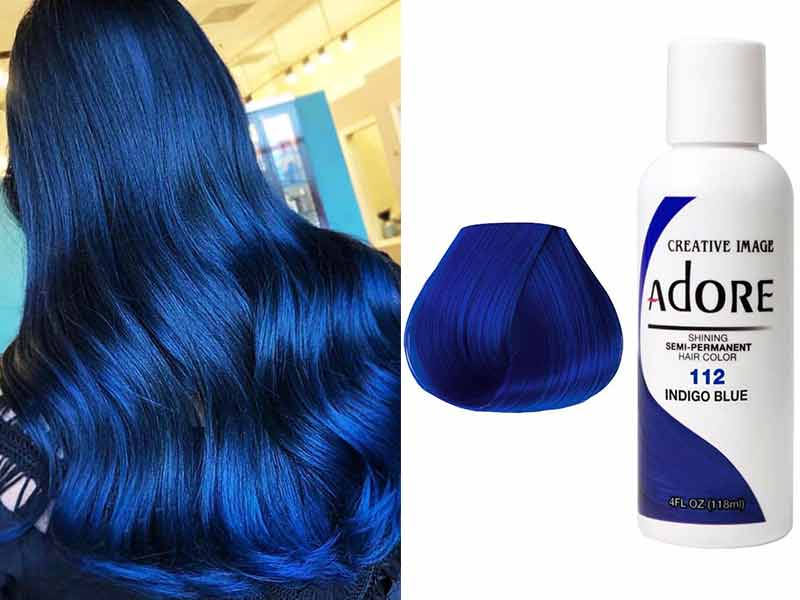 – Blue hair dye
Trust in Indigo for your blue-black hair. For the best result, you can use it with or after your henna treatments.
– Washable, temporary white hair dye homemade
Apply one thin aloe vera gel coat throughout your hair. Put baby powder to your fan brush while the gel remains wet. Then, brush the powder on the locks. Let the powder and gel dry.
In the bottom line
Hopefully, you love our homemade hair dye recipes. With these herbal hair colors, be sure you test on one small part of your curls first, particularly with color-treated hair. You do not have to hesitate too much about whether you should experiment with them on your hair. They are natural, after all!