Do you want to change your hairstyle without applying chemicals on hair? Do you want to dye your hair but you do not know if that colour is suitable for you or not? Or Do you want your hair to look thicker while waiting for new hair growth? If your answer is yes, let's take a wig – a popular product to help you change your appearance immediately. However, most people wearing wigs do not like being recognized that they use wigs. Therefore, we need to change our wigs a bit to make them look more natural. One of the most common methods is to bleach knots on lace closure.
In our article today, we will introduce to you the way on how to bleach knots on lace closure with simple steps. Hope you can get success in bleaching knots on lace closure.
Why Bleach Knots On Lace Closure?
The problem of wigs is not only the density but also the knots on lace closure which make wigs look unnatural. Therefore, we should bleach the knots to make it look like real hair with new hair growth. In addition, you can reduce the heavy-headed feeling. Your wig now becomes softer.
It sounds simple but without proper instructions, you may find it quite difficult to bleach knots on lace closure. Do not worry! Let's continue reading some steps we give you on how to bleach knots on lace closure and try to do it by yourself.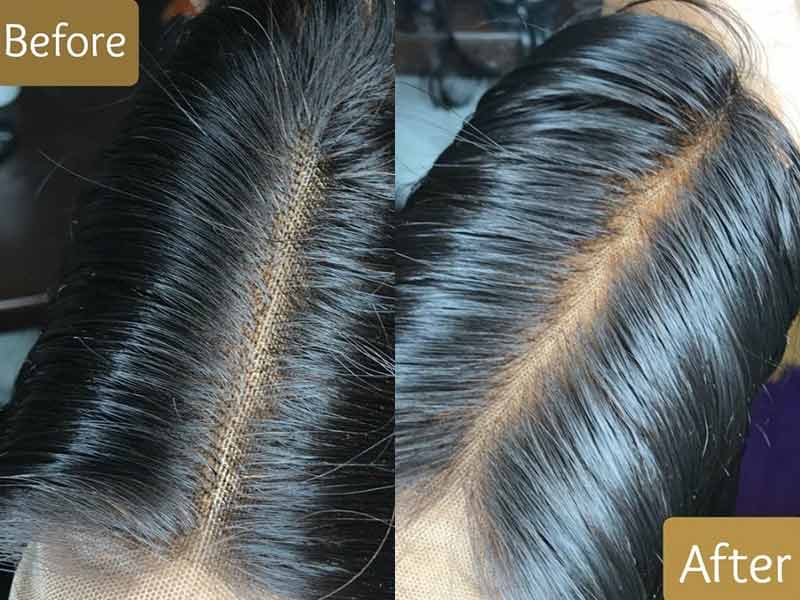 How To Bleach Knots On Lace Closure
To bleach knots on lace closure, you need a wig, bleach powder, professional developer, mixing brush, bowl, aluminum foil, neutralizing shampoo, conditioner, gloves.
Step 1: You have to keep the lace closure inside, then remember to pin it to a foam head. Be careful with the baby hair. You should clip them to make sure that they are on the right way.
Step 2: Now, you mix bleach powder with a professional developer in a bowl with an equal amount. You have to stir the mixture thoroughly until you have the desired consistency. From this step, you should wear gloves while bleaching so that your hands will not be dirty. Furthermore, the chemicals can affect your skin badly such as dryness, allergy or other uncomfortable feelings.
Step 3: Apply the mixture on the mixing brush. Then, brush the knots on lace closure gently. Do not forget that you bleach knots, not the hair wig, so if you brush strongly, you can apply the mixture on the hair wig. Moreover, make sure that you bleach all knots, try to avoid missing any knots. After finishing, it is essential to use aluminum foil to cover the lace closure.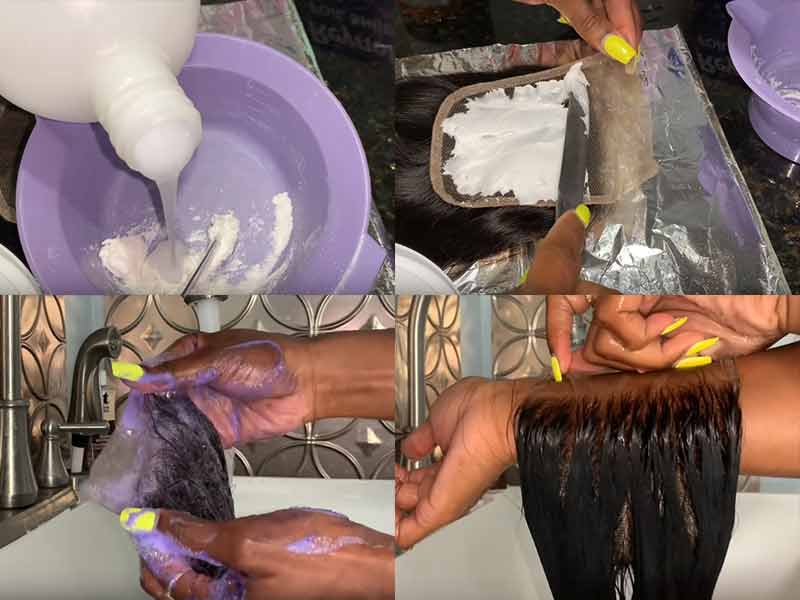 Step 4: Leave the mixture on knots until your knots become a honey blonde. Then, you can wash it. Remember to let the lace face downwards, otherwise, you will bleach your hair wig.
Step 5: After that, use a neutralizing shampoo to rinse your lace off. Wait for 5-10 minutes before washing again. Then, a conditioner is useful to moisturize hair.
Step 6: Instead of twisting or wringing your hair wig, use a dry towel to suck water gently. It is better to let hair wigs dry naturally because your hair wig has been exposed to many chemicals, if you continue applying heat to dry it, it will be easy to get damages.
Read more:
Bleach Knots On Lace Closure – Tips
– Take enough bleach mixture to cover all knots on lace closure
– How much developer to use with bleach? You should take 20 to 30 volume.
– Make a thick bleach mixture, the too loose mixture cannot be effective
– Make sure that you do not bleach all the hair on wigs
– Bleaching knots on closure can damage your hair wigs and lessen the lifespan of wigs. However, do not worry. It is essential to care for wigs with suitable products after bleaching. If you take care of our wig regularly, it can last for a long time.
– Make sure that you do not leave any bleach, any shampoo or any conditioner on your hair wig.
– You can be successful with bleaching knots on lace closure. However, if this is the first time you do it and you are not confident, you can ask for help. Let an experienced person do it for you.
– If you are wondering where you can buy wigs, it is very easy to answer. There are many companies selling wigs on the market, both offline and online. However, like most products, we have high-quality and low-quality wigs. So, be careful when buying wigs.
Consider Lewigs. We sell wigs made from 100% Cambodia and Vietnamese human hair. Besides, because we made them from human hair, they look very natural. Moreover, human hair wigs are easier to style and change the colour than synthetic wigs. We have many wigs in different colours, different lengths, and different styles as well, so we are sure that you can choose one which is suitable for you.
Do not worry if you have not used wigs before. We also provide you with information about wigs such as: how to preserve wigs, which products for wigs, some problems you may get and solutions. The feedback on our website is obvious evidence of our wigs' quality.
To wrap up
Hopefully, this article is useful for those who want to gain information on how to bleach knots on lace closure to make your hair wigs look like real hair. Not only real hair but also hair wigs require your care. Therefore, ensure that you take care of your hair wigs to maintain its beauty and its quality for a long time.
If you have any questions or comments, please send them to us. We are always happy to answer you.
In case you want to buy our wigs, contact us immediately. If you have any problems when using our wigs, we are also ready to help you solve it.
For more hair care topics, you can visit our Lewigs blog.
Cheers!