How to braid short hair men? You think braiding is a very scary thing when you first start doing it. But once you have a go with the right instruction, you can get it. We think it is far easier than you think. And plus, when you learn how to braid your own hair, you don't have to rely on your mum or friends to come and do it for you. 
Braiding is where the plait actually incorporates other hairs on the head to make go in a line and stay close to the scalp. Never suppose that it's only for long hair or long men's wigs because short hair men can rock it too! Dig into Lewigs' sharing below to know how to braid hair for guys. Let's start!
What Do You Need For Braiding Short Hair Guy?
To braid boys hair, it requires a certain length of hair. Sometimes, people said that longer hair is best suited for the braided man. How long does your hair have to be to braid for guys? Specifically, your hair is at least a few inches in length to get extreme braids. The longer your hair is, the long braids you can. For instance, with three inches of hair, you only get smaller braids. In contrast, eight inches of hair will offer longer and thicker braids.
Braids for men works effectively with almost hair types and textures. Straight, curly or kinky curly, braiding is easy in all. Whether your hair is thin or thick, you can get braiding hairstyles.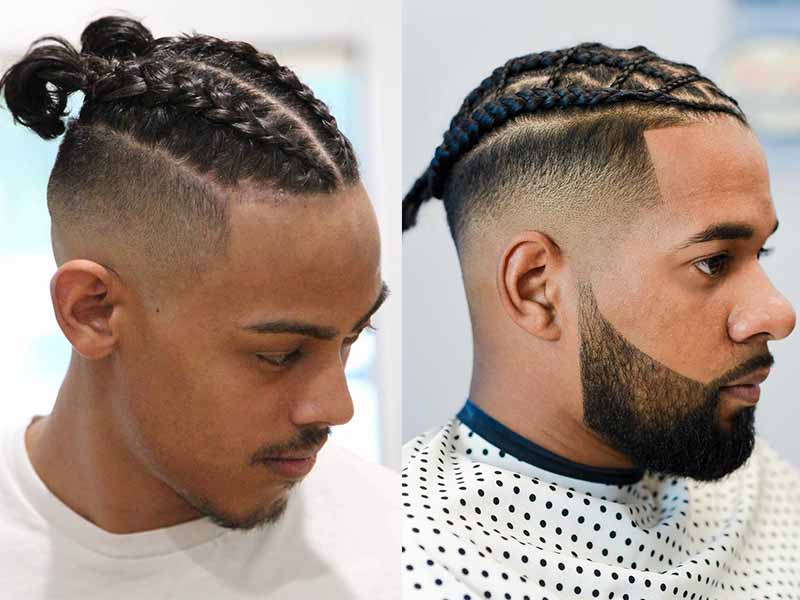 What about face shape? I have a square face, can I braid my short hair? Of course. If you only simply braid, no need to worry about your face shape too much. With some certain braided hairstyles, it also favors different face shapes.
Some necessary things you need to braid your own hair guys:
– A good quality comb
– Hair oil or leave-in conditioner
– Small rubber bands
– Spray bottle for water
Jump to:
How to Braid Short Hair Guys
Before creating braids, you should wash the hair thoroughly with mild gentle shampoo let it dry completely. Then brush the hair using a good quality comb. Remove all knots and tangles from your tresses.
Step 1: Part the hair
Depending on the hair thickness, divide your tresses into 2-3 sections. Once you have parted, apply the miracle leave-in conditioner onto your hair. You can spray your hair with water to dampen it, this makes your hair more manageable.
Step 2: Braid hair 
Now, it's time to make cornrows. How to braid guys short hair? Grab a small piece of hair that you want to start the braiding, and separate it into three small equal portions. Hold each portion between your fingers. Take the left portion and pull it over the middle one. Now the left part turns the middle one. Continue taking the right one and pull over the middle. Repeat the process to create the "X" mark. Take the hair from underneath and braid until you reach your desired length. Fasten the first braid with a rubber band.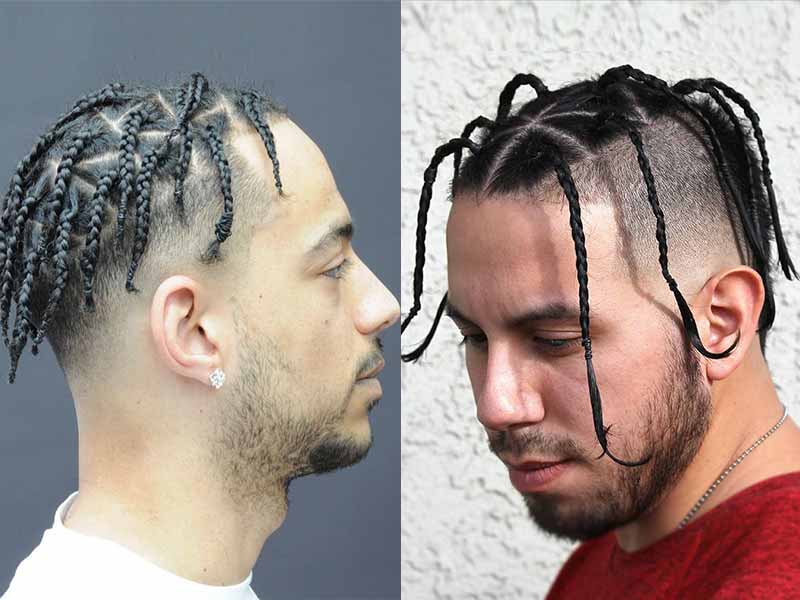 Note: Don't pull the hair as it can cause hair loss. If your hair is dry when you are braiding it, don't forget to spray water onto it.
Step 3: Continue braiding
Continue working around until all of your hair is braided. Once you have finished, you get a traditional cornrow.
Often braid short hair is a favorite hairstyle of black men as their hairs are curly and quite coarse. But you can apply it on short white guy hair. Doing the same as you want to braid short hair for white men.
Another way to braid short hair for black men
We show you how to braid and twist on short hair. Apply hair oil or moisturizer onto the hair. You can put styling product that can keep the braid up to 1-2 weeks.
Make the lines and separate the hair. Only braid the hair in the front and sides of the head. Now, section the part for the first braid. What you want to do is to add your edge control on the side. When you sleek the hair down, it looks clean. Then you start braiding. Because the man's hair is short, especially on the sides, the best thing you can do is trying to do with your nails and the end of your fingers. At the end of each braid, you twist it to make sure that the braid is secure. You don't need any elastic bands. 
Continue working in the next parts until the hair is braided. It requires patience. Finish braiding, you start doing the twists.
For the twists, you use the edge control and again separate the hair at the back of your head. Use the comb tail to stick down the hair, so you can actually twist. Take 2 small pieces of hair in the first section and twist. Continue twisting until the first one is all twisted. Repeat the twisting process on the rest hair. This hairstyle takes you 2 hours or more to finish. 
Other interesting posts:
Warning: Don't Braid Your Hair Too Tight
The short braid is certainly a trendy hairstyle, but it also causes harm to your scalp and natural hair. The short braid is certainly a trendy hairstyle, but it also causes harm to your scalp and natural hair. If you braid your hair too tight, it is the main reason causing hair loss and male pattern baldness. The hair falls down as you put too much pressure on hair follicles.
Braiding the hair too tight causes headaches. Tight tension is not good or may damage your natural hair, hairline, and scalp as well.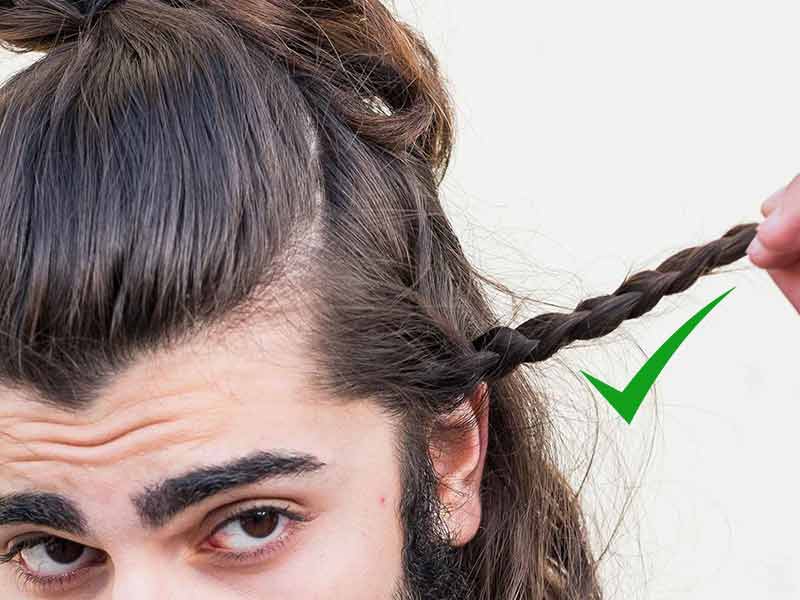 If the braid makes you feel pain or headache, undo it and rebraid looser. Remove all braids that cause little pumps on the scalp. Style your hair as long as you feel comfortable.
Wash the hair with warm water is a great way to loosen braids. Rinse with water and gently rub your braids and scalp to loosen them a little. Remember to do it gently. Loosen up these tight braids to save the hairline. Try not to rough up your hair.
To Wrap Things Up
How to braid short hair for guys is a process that gives you joyfulness in every moment. We hope that our blog post will provide all the useful information you need. The more carefulness you put into the process, the better results you get. Follow our guides, we sure you will be successful. 
Follow Lewigs's blog for more interesting hair care tips and methods related to your haircut. Share it with your friend if you find it useful!