Boys often hesitate to have hair curled. The first reason may be that their hair is not long enough to keep the curly hair lasting longer on their heads. Or it may be because styling can cause damage, breakage, and frizz to their hair.
Fortunately, curling for men can be done easily at home. And there is more than one way on how to make men's hair look curly that can save you a lot of costs compared to hairdressing in hair salons.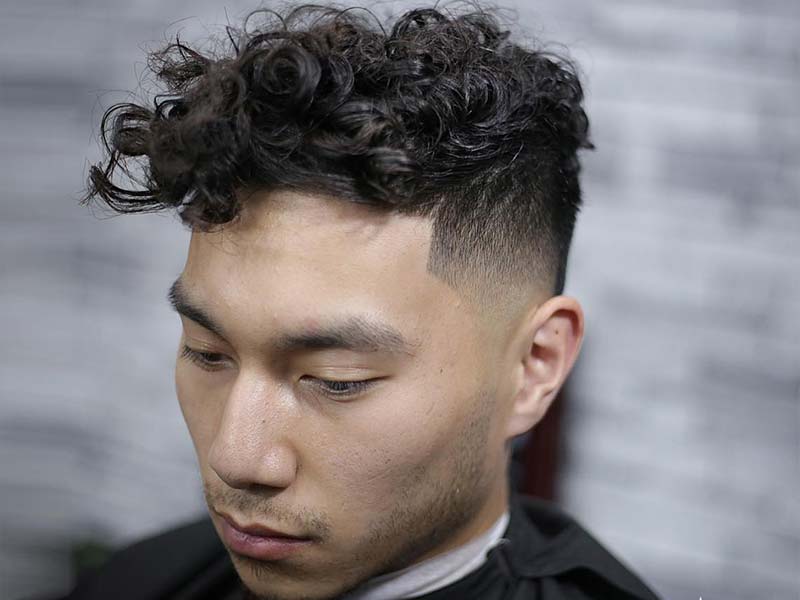 If you are concerned about this, then we will provide you with the best curly hair products for guys on the market.
Besides, we also help you choose the curly hairstyle that best suits your preferences and face. So, don't miss any useful information on how to get curly hair men in this article.
The sexiest curly and wavy hairstyles for men
There are dozens of curly and wavy haircuts you can try, from short, medium-length hair to long hair. However, we will only choose the 10 most popular curly hairstyles for men. Thanks to that, you will not be confused but can still choose which one suits you best.
For short hair
If you have short hair, don't worry too much. You can try hairstyles like the curly quiff, tight curls, and slick back curls. They are all very masculine and trendy hairstyles.
However, men's hair is usually more solid and harder to form than women's hair. Therefore, try a pomade or styling mousse, and your short curly hair will be as you expect.
For medium-length hair
For those with medium-length hair, the hairstyles that best suit them are curly fringe, curly hair fade, undercut, and bowl-cut hair. While the bowl cut hair will give you a dynamic appearance mixed with a bit of romance of the blue-eyed guys of the 90s, the remaining 3 hairstyles are truly stylish and modern.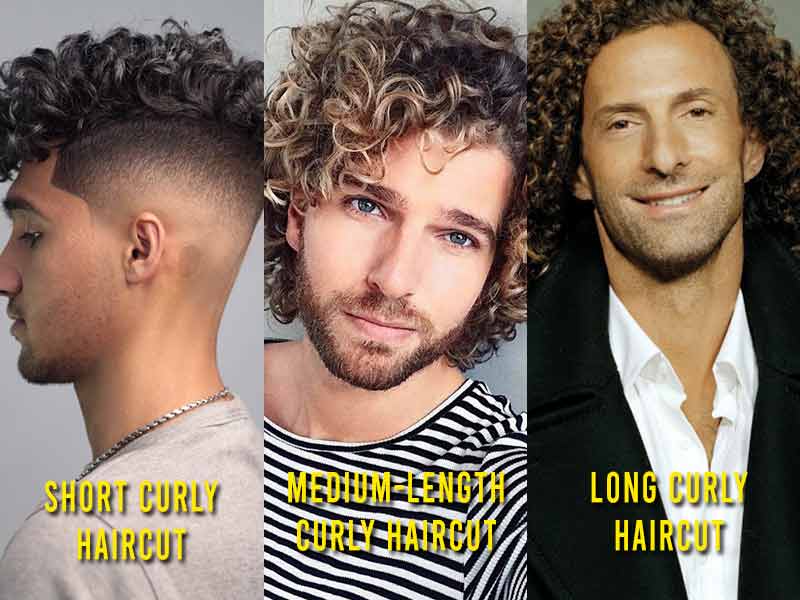 While the three haircuts do not require you to care for the hair on either side but the one up top, you will need some shiny pomade for it to shine. As for the bowl cut style, the more natural it is, the more handsome you will look.
For long hair
Finally, if you are familiar with shoulder-length hair, there will be no hairstyle that suits you better than man bun, messy curls, and dreadlocks. Man bun will give you a robust, masculine appearance, in contrast to the sexless but attractive beauty of messy curls. Meanwhile, if you are pursuing a strong, wild, and personality style, then dreadlock is an option that you should not ignore.
How you can get curly hair
How to make men's hair more curly at home?
It is not difficult. However, it requires you to invest yourself in high-quality shampoos, conditioners, and curlers. Fortunately, they are quite easy to find.
First, you need to wash your hair and wipe it with a towel. This will help keep your hair free of oil and dirt, so the curler will also work faster and longer. After that, spray a layer of heat protectant onto your hair before using any curling method.
You can use either popular hair curling products for men or sea salt spray, which is how to get curly hair for men with straight hair. Both ways need to be applied evenly across the hair from roots to ends.
Finally, you dry your hair with a dryer. You can use a roller, pencil or finger to wrap the hair while drying. After the hair is dry and perfectly curved, the pliable pomade is the secret of how to make men's curly hair look good.
Top-rated curly hair products for guys
L'Oreal Paris Dry Primer Spray
L'Oreal Paris is probably not new to you. Their hair care products are top-rated, including this heat protectant. It will help keep your hair safe from any hair styling process, from straight to curly hair. Furthermore, your hair will look smoother, shinier, and fluffier. And the condition of oily hair will not appear on summer days anymore.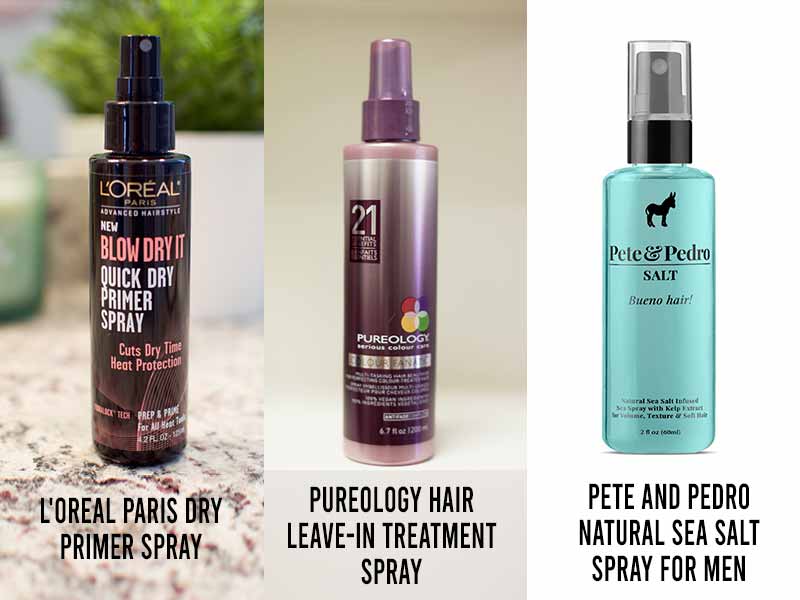 Pureology Hair Leave-in Treatment Spray
This product not only protects your hair from heat damage, but it also moisturizes dry hair, prevents split ends and makes it easier to comb. Therefore, you can also use it for dry hair after every shampoo.
Pete and Pedro Natural Sea Salt Spray for Men
You can rest assured that this spray works exactly as advertised. It will bring you a great look with a fresh smell. Especially, if you want perfect curly hair, it will help your hair not tangle or dry.
Beauty by Earth Sea Salt Spray for Hair
It is an effective solution for how to get curly hair for men. It has aloe vera, algae, green tea, and raspberry fruit ingredients, so it works very well in bringing to you soft, shiny, and healthy hair. Also, in particular, it doesn't just stop at the simple haircut.
You'll also like:
Rocky Mountain Barber Company Pomade for Men
It is a classic product for men with a firm hold and high shine. Whichever hairstyle you have, it will work perfectly without causing hair damage because the manufacturer has used natural oils. In particular, it is easy to wash off with water after a day on the hair.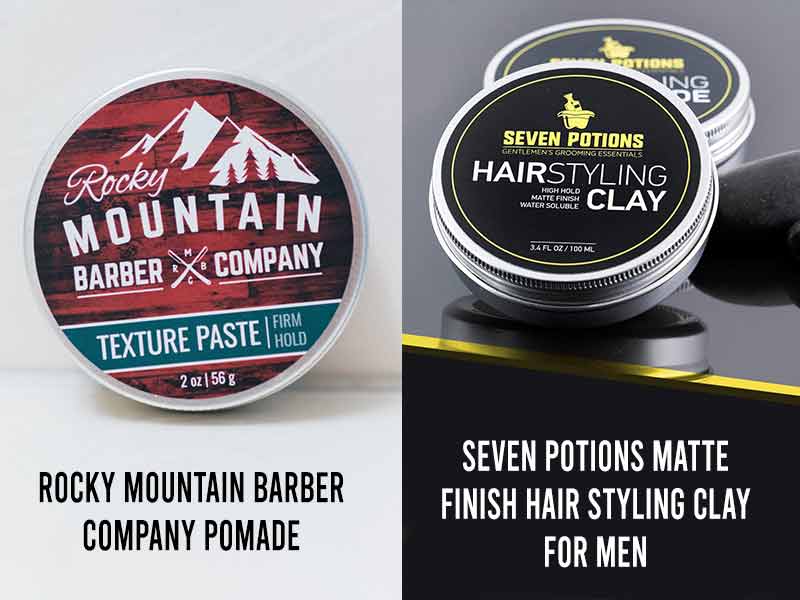 SEVEN POTIONS Matte Finish Hair Styling Clay For Men
The item has natural ingredients, including natural clay, waxes, shea butter, and oils, so it is advantageous for hair, providing a high level of flexibility and hold. Besides, it also has a mild, delicate, and pleasant natural smell.
Our last words
How to get curly hair men does not seem challenging to answer. Shifting from straight hair to curly hair, you can do it easily, effectively, and safely with many popular hair products. If you need further guides on how to get curly hair for black men, feel free to contact us or visit our website. Also, don't hesitate to like and share the article with others. Thank you.