Color fading and turning green tones are the most common problems for those dyeing their tresses blondes. According to experts, the breadth will turn green if they are affected by chemicals or are damaged. If you color your strands blonde or other cool tones, the hair ends tend to turn green tones. 
You want to remove unnatural green out of your colored or bleached hair. That's why Lewigs is here. Let's scan through some several simple and effective methods on how to get green out of hair and find the best solution. 
What Causes Your Green Hair Problem?
Many reasons can make your blonde and bleached hair turn green tones, such as hard water, chemicals in swimming pools, etc. The most common cause that affects your locks is the chlorine in pool water. Too many swim-sessions in summer days make your blonde turn green quickly. Also, hard water is another culprit. Copper in water is the main factor giving your locks a green tint. Why do your locks have unnaturally green hue? Because copper and chlorine bond together, forming a film that sticks to individual strands. And it causes your strands to turn green hue. Now, move to the next part to find out effective methods on how to get green chlorine out of blonde hair.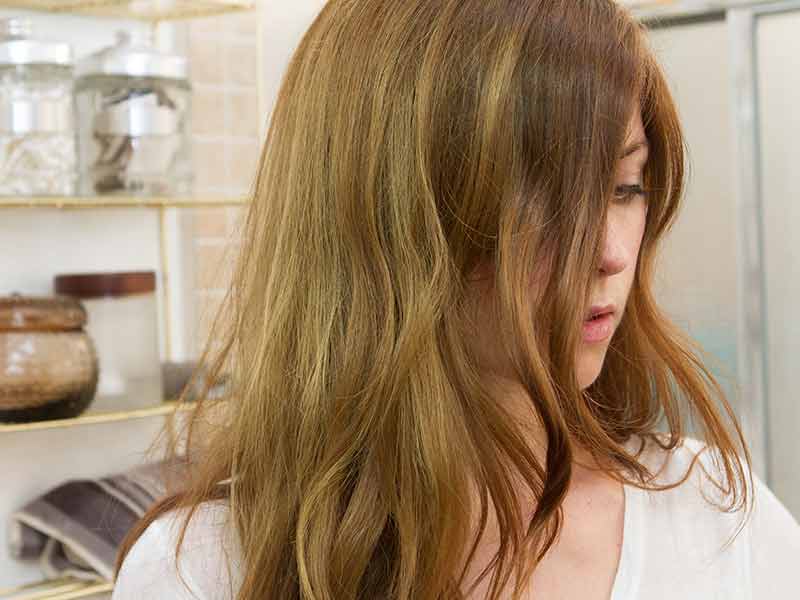 Other tips:
How get green dye out of your hair
No matter what causes your green hair areas, it isn't too hard to remove. It is a dye job gone wrong, or it appears when you go to the swimming pool too frequently, figure out these methods below. 
Use ketchup to get green out of hair from chlorine
This is a nifty homemade remedy about how to get green dye out of hair. Washing your blonde hair with ketchup is a simple and quick way that everyone can do it at home. It may sound crazy, but the acids from tomatoes can get rid of the green tint by breaking down the film of chlorine and copper. Gently massage the ketchup on your locks with your fingertips, and let it sit for 20-30 minutes. Remember, focus on the green areas.
How to get green out of blonde hair with ketchup: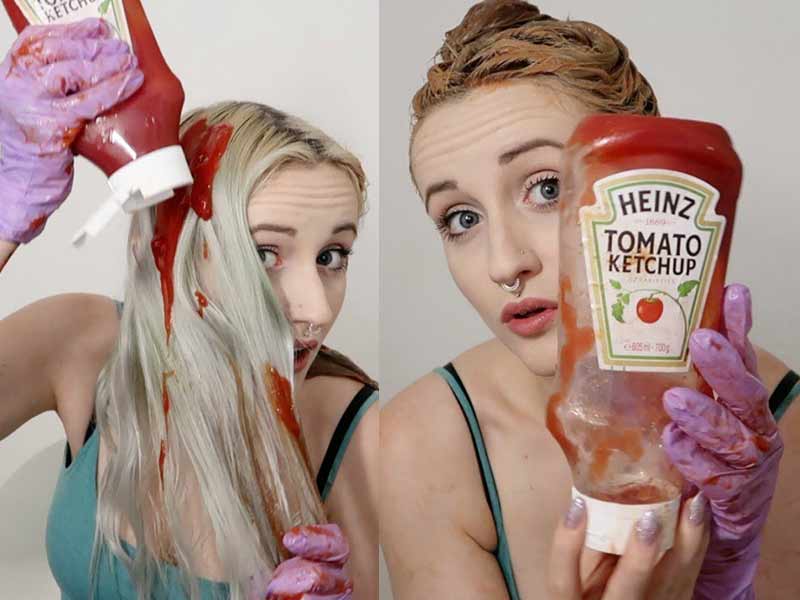 You can use it for dry and wet hair. If you have washed your hair, wring out the excess water before applying ketchup. Slather the ketchup on the green areas and all over your locks, gently massage, and wrap your head with a shower cap. 
Leave ketchup on your hair for about 20-30 minutes and relax. Then rinse it out thoroughly with cool water. Shampoo and condition your hair as you would normally do. Repeat this method until you see most of the green hue is gone.
How to get green tint out of bleached hair with baking soda and vinegar
The mix of vinegar and baking soda can cancel out the green hue from your tresses. Depending on the green areas, you can repeat the process a few times to get the best result. You grab some baking soda, mix it with 1/4 cup of vinegar and 1/2 cup of water. 
Remember, wash your hair before applying the mixture. Now, massage the mixture into green areas and leave it for several minutes. Then rinse your hair out with your existing shampoo and conditioner. Worried about the smell of vinegar on your hair? Don't worry as the smell will disappear when your hair dry. If you don't like vinegar, mix baking soda with your shampoo and water. Create and apply the paste as the way you use vinegar.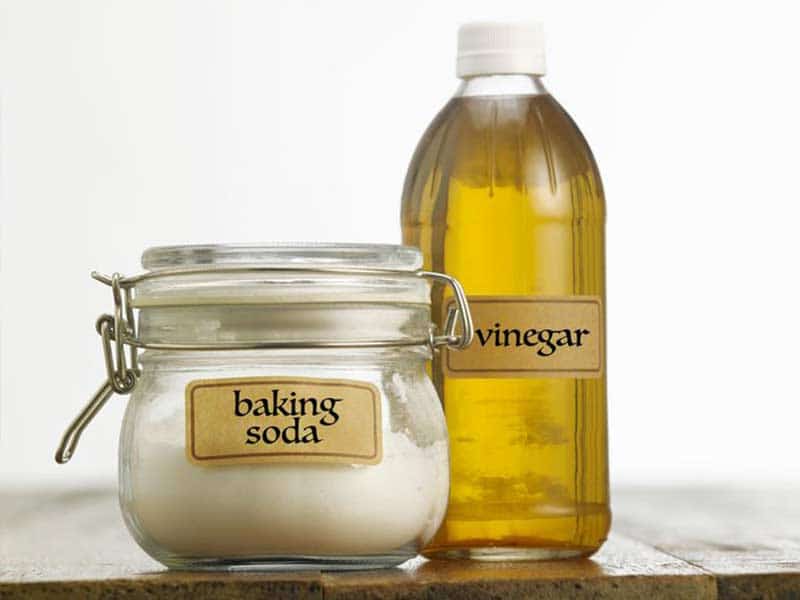 Invest in a clarifying shampoo
Pick the right shampoo, and it is one of the best methods on how to get green out of hair after coloring. If you shampoo your hair incorrectly and poor-quality products, you may end up with damaged hair.
Use a specially-formulated product for swimmers' hair to have a nice hair look. Pick shampoos that contain stronger surfactants removing green chlorine out of blonde strands. Purchase clarifying shampoos such as Head & Shoulders, Paul Mitchell clarifying shampoo two, and more. A shampoo helps strip all buildup products out of your hair. 
To properly shampoo your tresses, apply a small amount of shampoo into your green strands. Gently massage, don't use your nail. It would be best if you focused on green hair areas. Shampoo once a week, and check the result after several washes.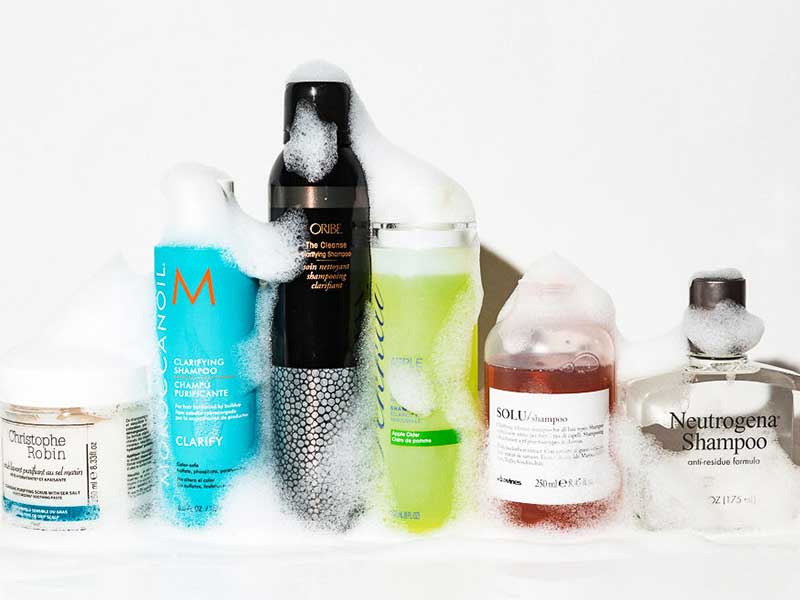 Get your hair to a hair colorist
This is another way on how to get green tones out of blonde hair. Green areas on tresses make you feel uneasy. Make an appointment with your hairstylist right away, and he/she can give you advice. Talk to them about your hair status and how you take care of strands. You even can do another dyeing session to hide the unnatural hair hues. Don't worry! A professional hairstylist can fix the hair so that it suits your desire.
Prevent blonde and bleached hair from turning green tints
Here are several tricks to protect your hair:
– Before jumping into the pool, you should wear a swimming cap.
– Wet your hair and apply your existing conditioner in it. This way helps your hair absorb fewer chemicals from the water pool. 
– Invest in a good clarifying shampoo to rinse your tresses out right after a swim. It helps remove chlorine and copper out of your hair thoroughly. 
Read more:
Final thoughts and advice
How to get green out of hair? Bear in mind that green areas in your hair are not a severe problem, so don't panic. Calm down and use one of the above tips to make your hair shine again. If you have blonde or ash color, please protect your hair to prevent green tints.  
Also, taking care of your curls after fixing green is essential as it can help you to maintain the hair dye or better your next dyeing. Find and invest in the right clarifying shampoo and be loyal to it. That way helps you have long-lasting color and avoid green hair.
If you find this post exciting, follow Lewigs blog now for the more interesting writings about hair care and hairpieces!