How to get silver hair at home may be your goal today. After experimenting, we have finally discovered the best way to do so. You can use this guide for reference. It includes steps and products we suggest to achieve silver white, silver lavender hair, etc. without a salon.
Beforehand, let's touch something you should prepare. Silver is a quite demanding shade. That is why you should guarantee that you are willing to take on some responsibility! Have you not colored or bleached your locks before? If so, we suggest you have this done at a reliable salon. Doing so will ensure it is done correctly. However, if you are ready to experience and do it yourself, keep reading. For a safer bet, we recommend trying it on your hair system.
How to get silver hair at home
Bleaching!
Were you given birth as one natural level 10? Otherwise, it is quite challenging to achieve this shade without bleach. Based on your natural hue, you may need to do the lightening procedure a couple of times. Do not take this process lightly. The possibility is that you ruin your hair. Either, bleach burns may be the consequence if you fail to do proper research in the first place. Contact us or follow our blog posts for more useful related information.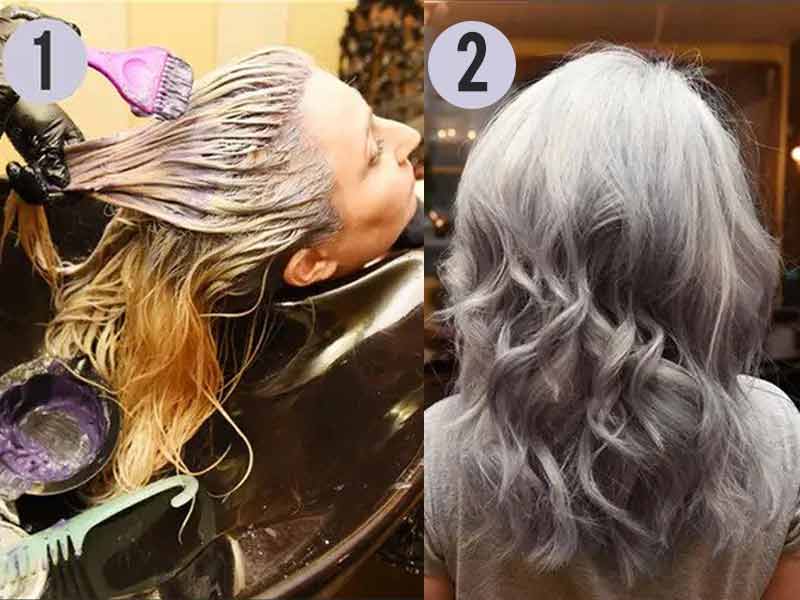 Crucially, your locks reach the level that is as light as it can before you try to make your hair silver. It had better appear like that of the banana peel inside. Note that you will be stripping down your real curls' color. So, it can get brittle. We suggest you count on a few deep conditioning products. Either, leave-in conditioners work fine as well. They help repair your strands. Also, they will make your hair shiny rather than being dull and unhealthy.
Other tips:
Toning it
As part of how to get silver hair at home, the toning procedure is what will remove the yellow shades. Plus, it is a must for your expected silver-grey look. A purple based toner should be your choice – for example, the Wella T18 Lightest Ash Blonde model. You can use this item with a five or ten-volume developer. The 20, as suggested on the bottle, is not necessary. Doing so will be able to prevent your hair from suffering from further damage. With such volume, it will not lift the shade anymore. Instead, it will only deposit it onto your curls. You can use the bowl/brush way. Be sure you obey the instructions included as well. Let it be for half an hour or so. Then it will surely do the trick. Do not forget to check your locks throughout the process.
For another choice, despite not being the permanent one, attempt a semi-permanent home-made toner. It should not ruin your hair in any way. Still, remember, it will not be able to deliver the same staying power.
You know, toning your locks may be able to get you to the hue you expected without additional dye. Yet, do you desire something darker? Then, a silver/grey color dye should be your option.
Dyeing your dark hair silver
You can make silver hair dye at home. Yet, for the fastest and best result, you can try the Pravana Chromasilk Vivids that comes with silver. It is famous as one durable semi-permanent color. There are no developer requirements. That is, there will be no damage to your hair. Similar to the bleaching procedure, put it using a bowl and brush.
There are several ways that you can do so based on the hue of grey you wish to attain. For instance, empty the whole tube into your bowl. Next, put it as is for one darker steel grey shade. Else, dilute it, and go silver at a lighter hue.
If you want to dilute it, correctly how to do? Pour your conditioner into a bowl. Follow with putting a few of the Chromasilk colors. We suggest placing 3/4 a conditional cup and half of your tube for the light silver hue. Blend it. Then, use a brush to apply it.
Tips and tricks for taking care of your silver hair
– Silver hair may be among the most challenging shades to achieve and maintain. It usually fades pretty quickly. Thus, aside from learning how to get silver hair at home, you should bring home some products to help maintain the color. The Roux Fanci-Full Rinse in Silver Lining is fantastic. You can use it in between coloring jobs. Put this temporary hair color rinse on your damp strands. It will be able to last until you wash it out with shampoo. Have you managed to train your hair to only ask for washing about twice a week? If so, this is a fantastic item!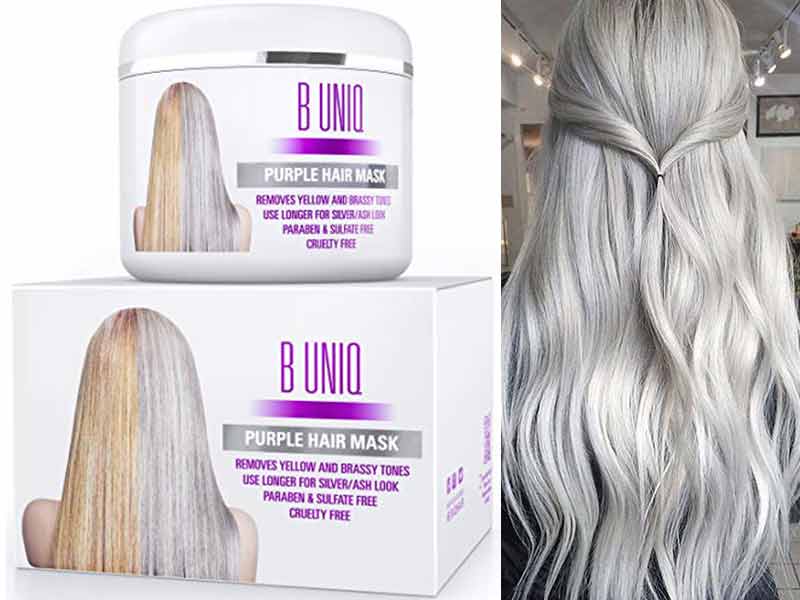 – Shampoo your locks with one purple based shade correcting shampoo. We suggest Clairol Shimmer Lights. It is useful for controlling and preventing the yellow tones.
– If you want to keep your hair appearing healthy, rely on one deep conditioning treatment weekly. Do not forget that the less you rinse your hair, the longer the shade will last.
– Do you want to use regular shampoo? Select one with sulfate-free. You know, they will strip out the hue slowly. Many shampoos "for dyed hair" should work. Still, bear in mind that it will end up fading no matter what the shampoo you use.
Read more:
In the bottom line
We do hope that our guide on how to get silver hair at home has helped you find the best ways that suit you most. With them, you should be able to brag about your perfect silver hair look.
Do you have any other surefire methods? We would love to hear from you! If you have any related inquiries, please do not hesitate to comment below. In addition, remember to share the post with those who may be genuinely concerned about if it is useful to you. Thank you! Have a nice day and a brilliant look!