Curly hair toppers are the awesome items to help ladies go curl fast. You will no longer need to worry about your thinning hairline. Instead, you will be updated with a new, fashionable, and impressive hair look with a curly hairpiece.
You can purchase a ready-made curly hair topper or curl it at home yourself. Down below, Lewigs would like to get you covered with the reasons why you should try curly hair at least once and how to do it on your own.
Why Go For Curly Hair Wig Toppers?
Here are some unique benefits of curly hair toppers you should aware of.
Lightweight and breathability
You may know the hair topper is a small version of full wigs. But unlike the full lace wigs, it does not provide full coverage, so it is lightweight and offers a comfortable feeling. Many people can wear this hairpiece during the hot day and humid summertime.
Usability
Only 5 minutes, you have beautiful hair with curly hair toppers. All you have to do is attach the hairpiece into your head with the pressure-sensitive clips and secure it in right place. Moreover, it is safe to wear. With the pressure-sensitive clips, you can rest assure that it does not hurt your head and your scalp.
Naturalness
It is very difficult to detect whether someone is wearing a curly human hair topper or not. It matches your natural hair perfectly. Your existing hair is still shown out and it makes the human hairpiece more attempting to people with hair problems.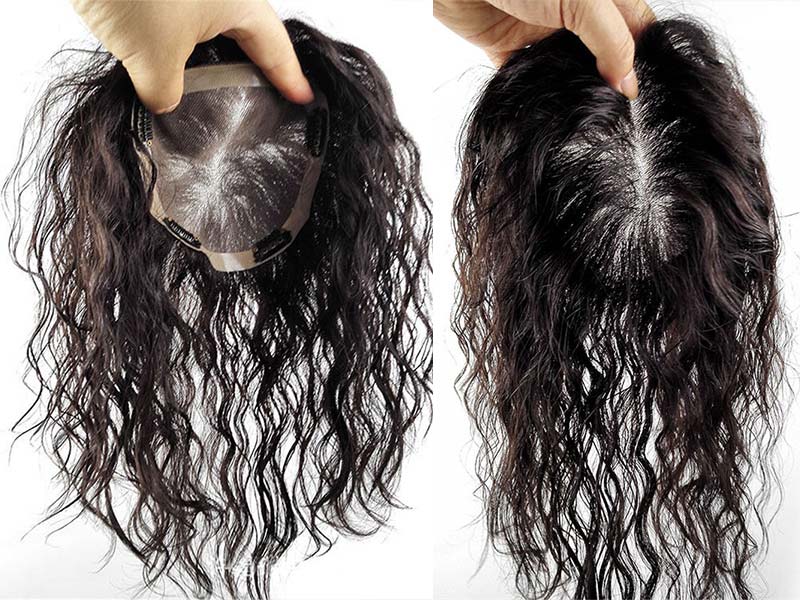 Affordable Price
Because of its small sizes, the hair topper's price is friendlier than a full lace wig. Hence, you can get some pieces at a time to change your style and look instead of wearing only a boring wig.
Jump to:
How To Curl A Hair Topper Yourself?
Human hair toppers can be styled freely. However, you still should be careful when curling it to protect your hair from damaging. If you would like to change your style and curl your hairpiece, let keep the styling tool at a low heating level. You should find some care tips, your human hair topper will hold the curls longer, also.
And here are some quick ways to turn your straight hair toppers to curly ones at home.
Make curly hair toppers with a curling iron
Step 1: Put your hair on a stand or a mannequin head and heat your styling tool. If you prefer small curl, let's divide your hair into small sections, use hairpins to secure the hair in place. If you would like big curls, divide your hair into a few sections.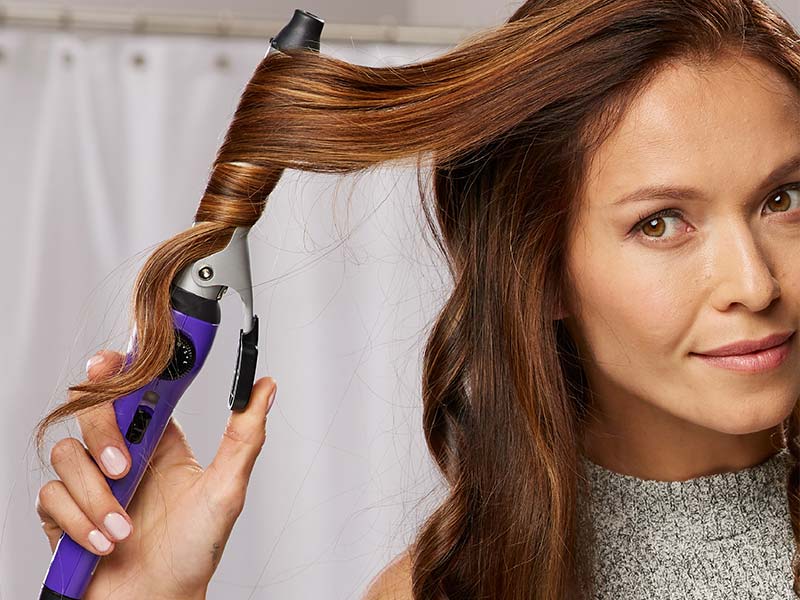 Step 2: Leave your tool on the low or medium setting. Now wrap curling iron around a section of hair and curl it up. Hold it for 10 seconds until you feel your hair begins to warm. Then gently release into the palm of your hand and pin the curl to let it cool.
Step 3: Continue curling with the rest of your human hair system. You can keep the curling iron in place longer if you want to get tighter curls. Keep the hair completely cool in order to hold curls well.
Remember that you must never curl or style your hairpiece while wearing it.
Form curls with rollers
First, you have to brush your hair system to detangle any knots before curling. Use a wide-tooth comb to brush your hair protecting it from shedding or damaging. Detangle from the end of your hair, then move up to the root.
Next, section your hair by using clips. Now you can wrap the hair section around a roller. Roll from the end of the hair to the root and please keep it as tight as possible. Continue the process with the rest of the hair sections until all are rolled up.
Then, use a hairdryer to blow your human hairpiece. Hold the tool on each roller about one minute as the curls will look messy if you use heat too long.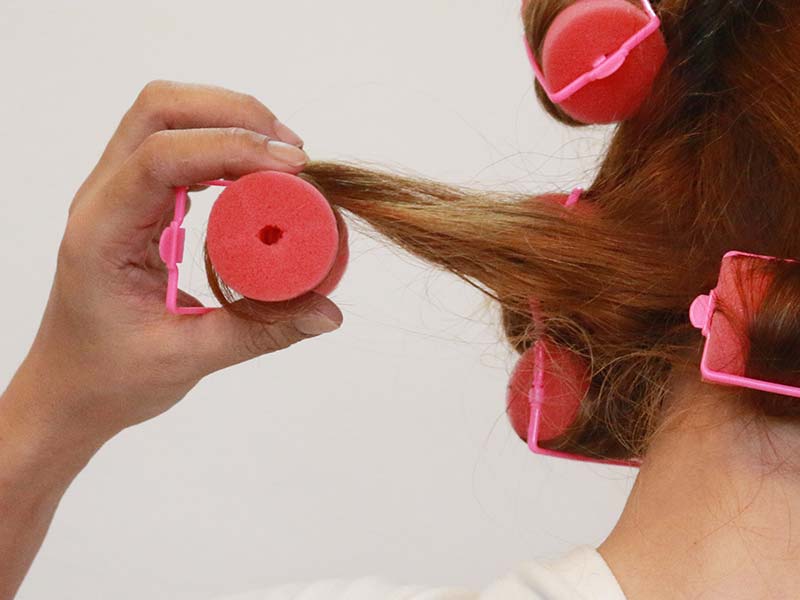 Finally, gently remove the rollers from the hair topper, not pull rollers. Run your fingers through the curls to have a more realistic appearance. If you have no use hairdryer, roll your hair and leave it overnight. You can get beautiful curly hair toppers for women's thinning hair.
Take a look at our ready-made hair toppers:
Use hot water to make hair toppers curly
Step 1: Moisturize your hair system. The moisturizer will help the hair hold the curls better.
Step 2: Use perm rods to curl the lace hair topper. Similar to these methods above, section your hair and roll it onto perm rods. Continue doing until all your hair sections are rolled onto perm rods.
– Remember that you have to determine how large you would like your curls before roll the hair.
Step 3: Dip your hair topper into hot water. Ensure that all perm rods are dipped and you should hold it in the hot water for 15-20 seconds.
– Make sure that the water is hot.
– Be more careful when you handle hot water.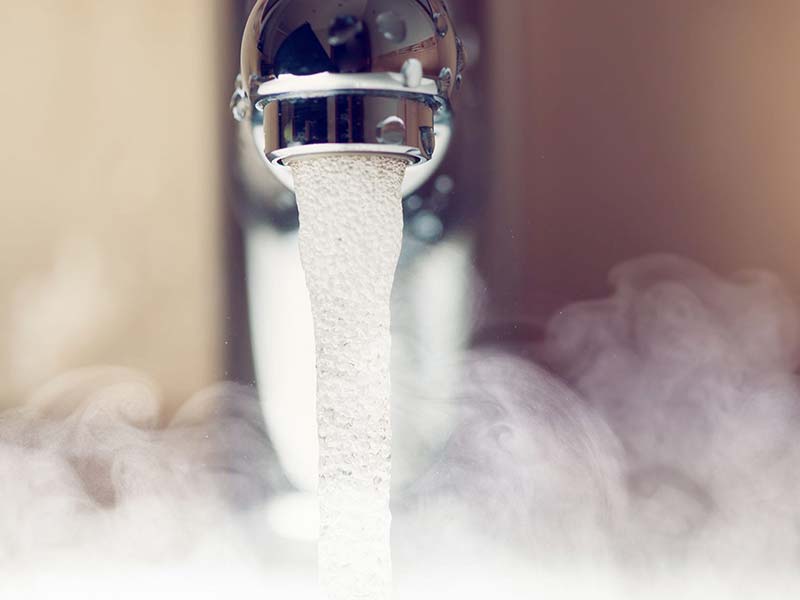 Step 4: Keep the hair in perm rods and let it dry. You have to spend a day so that the hairpiece can dry completely. If you are in a hurry, use a hairdryer is acceptable. Use your tool on the low setting.
Step 5: Remove perm rods when your hair is dry. Run your fingers if you would like the curls to look natural and softer.
To Sum up
That's all information on how to curl your hair topper. We hope that you will have the best curly hair toppers after reading the post. Please follow the steps to achieve a good result and tell us if you want to add more information. Lewigs has a professional customer service team so that they can respond to your demands in a fast and accurate way.
If you would like any additional information about hair toppers or any human hair systems, please feel free to contact us at any time. Or you can subscribe to our website if you do not want to miss our new hair replacement systems.