Needless to say, the lace front wig is among the most favorable option when it comes to women's hairpieces. Made with hair knotted onto the super-thin lace, lace frontals offer seamless appearance to your frontal hairline. Still, how to make a lace front wig look natural is not an easy game that any noobs can win. 
In the following posts, Lewigs have rounded up with the easy tips that could make your lace front wig look natural for a long time. It takes only a few minutes to scan through, so don't miss it out!
The Rooted Color Is Exceptionally Important
Unless you own a naturally dark-colored hair, it would be strange if you own one uniform color from root to tip, especially when you wear bright hair colors. The hair often has shades and gradients, so no part will look exactly the same as the other. And once your wig has only one flat color all the way down, it will look really "fake".
Of course, you don't want anyone to recognize you are wearing fake hair, right? 
If so, then care your rooted color.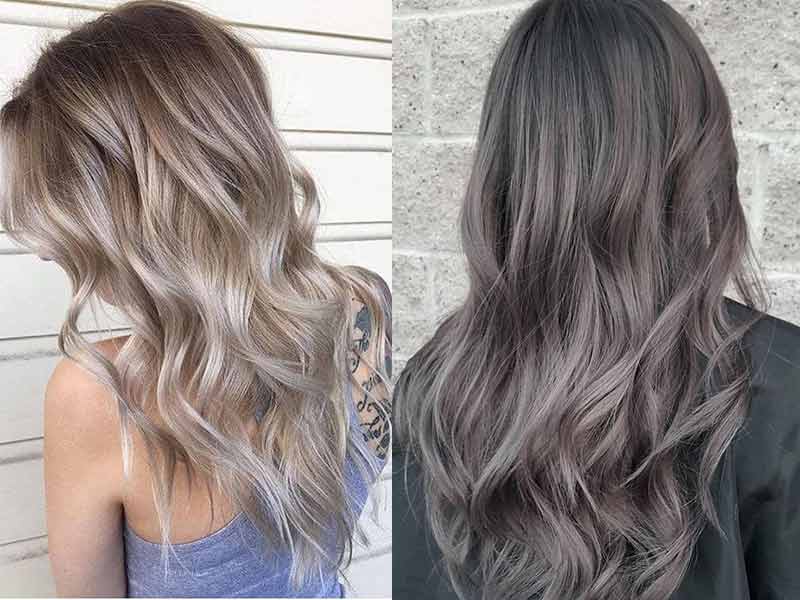 What does it mean?
The color of strands on your lace frontal wig should have "dimensions". It had better mimic the natural gradients of people's natural hair. To make it possible, you can consider blend colors to create your final color hue.
Nowadays, people tend to make the wig highlighted or dyed ombre, or just simply add an ashy shade to the hair. 
Other tips:
Bleaching Knots To Make It Invisible
A big drawback that we often see in wigs is the apparent knots on the lace based. Hand-knotting is the popular technique to ventilate hair onto the lace. It might be knotted once or twice to prevent the strands from slipping out. The knots on the lace are visible and easy to be detected if you look at it at a close angle.
There are different knotting techniques for different parts of the wig. Often, with the lace frontal hairpiece, they often use the single knot method so that the knots will be as small as possible. However, it is still there to be seen.
To make all these tiny knots undetectable, you can bleach it. When you bleach the hair knots, it will appear almost invisible and then blend well with your scalp color. Together with bleaching, choose a lace color that is similar to your skin so that it can mimic the scalp perfectly.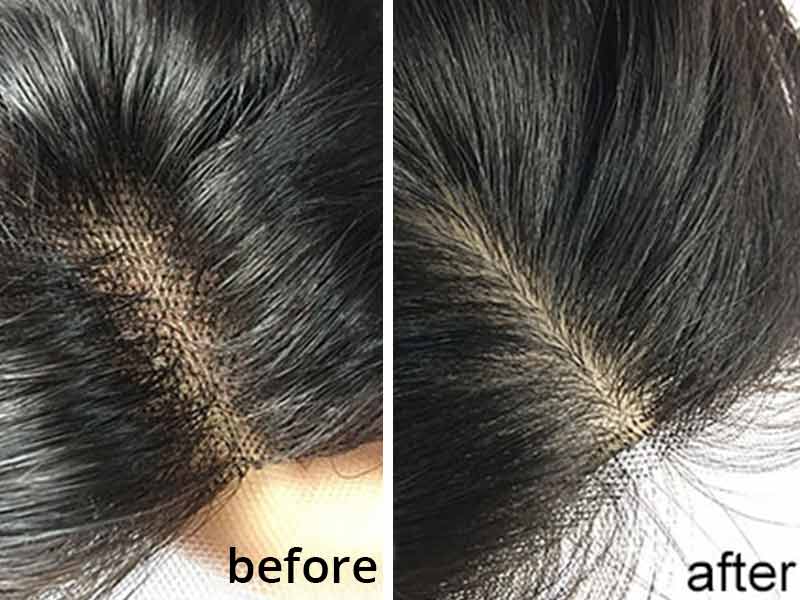 How to bleach the knots to make a lace front wig look natural?
To prevent the bleach from touching and harming the hair strands on the wig, remember to flip the wig over before bleaching. Then swipe the bleach mixture over the lace base. For 20 or 30-volume bleach, you should wait for around 20 minutes before rinsing it. Also, remember to check it periodically so that the lace won't become "too" light. Once you feel the bleaching result is OK, shampoo your wig to stop the process.
Baby Hairs Would Make Lace Front Wig Look More Natural
What we mean is, plucking the hair on your lace frontal wig to make it look like your bio baby hair.
The hairline of humans is normally much thinner than other parts. Hence, if your lace frontal wig offers too dense hairline, it can never look natural as human's bio hair.
Therefore, remove some density by tweezing the hairs on your lace front. You should do this task when you are putting your wig on your head. And it's always better to sit in front of a mirror to see how the hair goes.
Remember to be careful when tweezing the hair because once you do it too hard, you might rip off the lace, which is thin and vulnerable.
For the detailed guide on plucking a wig, read our article: How To Pluck A Wig?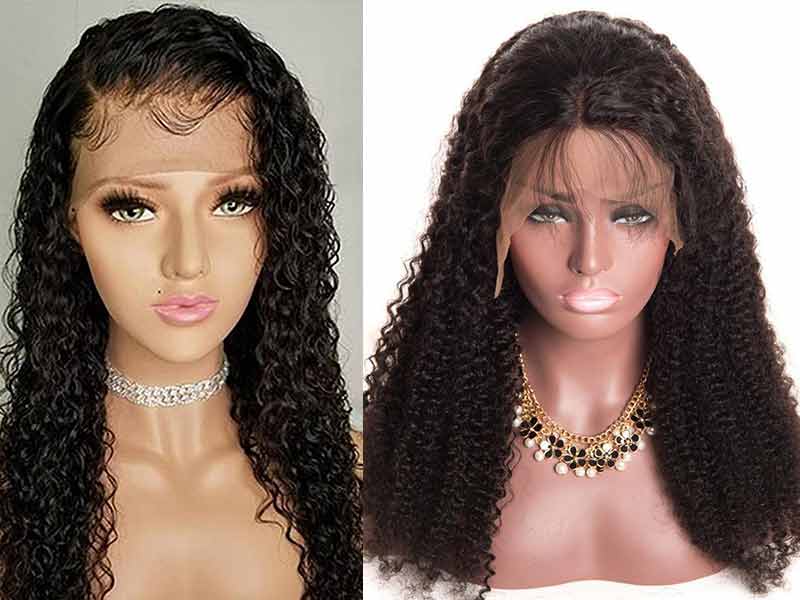 The Braid Pattern of Your Natural Tresses
As all of you might know, you need to braid your bio hair to make it neat before wearing the wig on. Finding your braid pattern is a must-take step that you need to do before wearing any kind of wigs, not only a lace front one.
Once your natural hair lays flat, the wig will then lay flat and look more realistic. Experts advise women to cornrow or flat twist your hair in the same direction as the wig part. It is to make sure that what you see through the parting line of the wig will be your skin, not your braided hair.
That said though, many of the times, you don't really need to braid your hair. If you own super fine hair, you can just slick it back and make a low ponytail. Your wig will then cover it easily. This way is exceptionally suitable for those who want to switch between your real hairdo and wig. For example, you can wear a wig this day, and then remove it and have a wash-and-go hairstyle with your real hair the very next day.
Getting A Custom Cut For Your Frontal Lace Wig
Unlike synthetic wigs that are already styled before selling, most human hair wig is unstyled. If there is any, then it will be only about creating a wavy or curly pattern or dyeing color only.
To make the lace front wig look natural, you should have it styled. It is suggested that you should go to a hair salon to get the wig cut and styled so that it could look great on your head.
There are several ways to style the wig. A beautiful-looking wig should be well-styled so that it looks like natural hair. It should fit your face shape and skin color, also. This task is better to be done by a hairstylist.
It's OK to have it cut at home, but in that case, you should make sure that you are able to trim it, not to ruin it.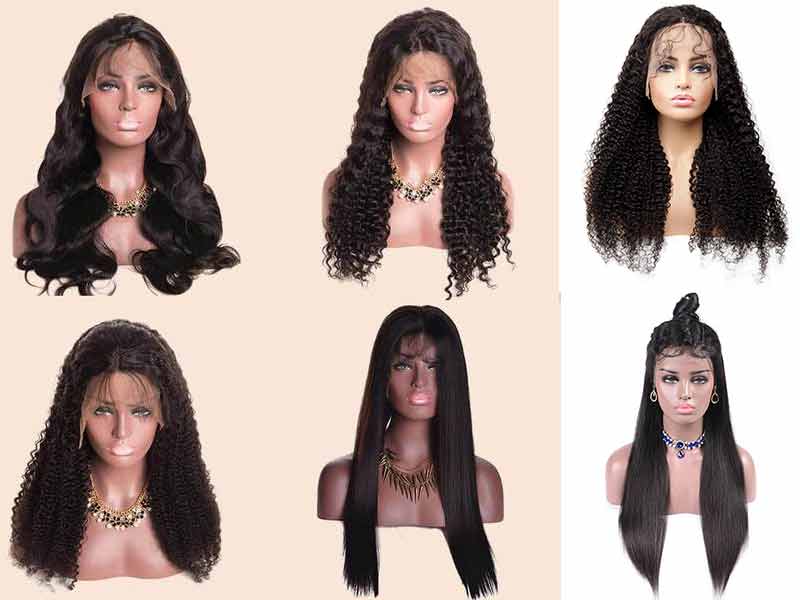 Lastly, Hair Quality Is The Key
OK, no matter how much we have been mentioned, the quality of the wig is the determining factor that would decide whether your lace front wig part would look natural or not.
We are not saying synthetic lace front wig is no good, but in fact, wigs made from synthetic fibers would look shiny and unnatural. Additionally, it's hard to re-style.
Instead of going for a cheap synthetic wig to save some coins, it is a better deal to invest in a high-quality human hair wig.
Because it's human hair, so it will mimic your bio tresses better. Also, the human hair wig will be easier to style, and it even lasts longer than synthetic ones. 
Jump to:
In general, human hair lace front wigs overweigh synthetic and low-quality ones in most aspects, such as the lace, the hair grade, the color, the touching feeling, and so on. Check out Lewigs' store! We have many samples and models of lace frontal human hair wigs to choose from. And our quality, as what we have been long reputable for, is of course top-notch.
Don't just buy a wig, unbox it, and then apply it directly to your head. Remember to tailor it before putting it on so that it could make a flawless fit. Lewigs hope that the 6 tips we have introduced above will somehow help you understand the way to make a lace front wig look natural. 
if you have any inquiries or feel interested in our products, feel free to drop us a line via our hotline at any time! We are always happy to be of service!