Normally, a good human hair wig will contain a frontal lace piece. On this part of lace, the hair strands are meticulously knotted by hand so that they could fall freely and create a natural-looking hairline. What if you fail to get that kind of wig but buy a cheap synthetic wig that has no lace front? Don't worry, there are still ways to make a non-lace front wig look natural. 
Undeniably, a lace frontal wig is a preferable choice thanks to the realistic hairline it offers. It is not as expensive as a full lace while the effect is still exceptional. That's why it is loved worldwide by wig wearers.
That said though, not everyone is willing to devote their money to that kind of wigs. Instead, many women would rather go for a cheaper option, which is made of synthetic hair and contain no lace front. In many other cases, they might make their own wigs on their own by combing hair bundles altogether.
When you realize your hairpiece is not as good as expected, it's been too late to regret. Therefore, instead of wasting this fake wig away and buy a new better one, try to improve the situation first. Down below, Lewigs have come up with some ideas to help you make your wig that isn't a lace front look natural.
Give it a shake
The first thing to make a significant change to your unrealistic wig is to give it a shake. After you have unpackaged the non-lace front wig, shake it.
Usually, the non-lace frontal wig often contains stuck and broken strands and is often styled into a very "flat" transition. And that's the main reason that makes the wig look fake. In contrast, if you take a look at a natural-looking human hair wig, the hair is allowed to fall in different directions so that it could mimic the natural movement of the human hair. Also, the hair quality is exceptional when every strand is strong and healthy.
Giving the wig a shake is, hence, a good way to change the initial look of your hairpiece.
This task is to remove all kinds of broken hair and then reduce the flat transit effect that synthetic wigs often have. 
Blow-dry your non lace front wig to make it look natural
Next, to make a wig without lace front look natural, blow-dry your hairpiece in a few minutes.
Grab your hairdryer, set it at the coolest option, and blow your hair for a couple of minutes.
Why blow-drying?
It is to separate the synthetic fibers that are stick to each other and add more texture to the strands. Blow-drying can also reduce the shine that the artificial fibers give off.
You can also learn about making the wig less shiny at our article: How To Make A Wig Less Shiny
Saturate your wig with dry shampoo
To make either a lace front or a non-lace front wig look natural, it is always essential to keep the wig clean. Dry shampoo for hair extensions and wigs will help in this case.
When you spray the shampoo onto your hairpiece, make sure you reach every single strand. Once you have sprayed it, shake off the wig to distribute the shampoo evenly and then use a comb to gently brush through your wig.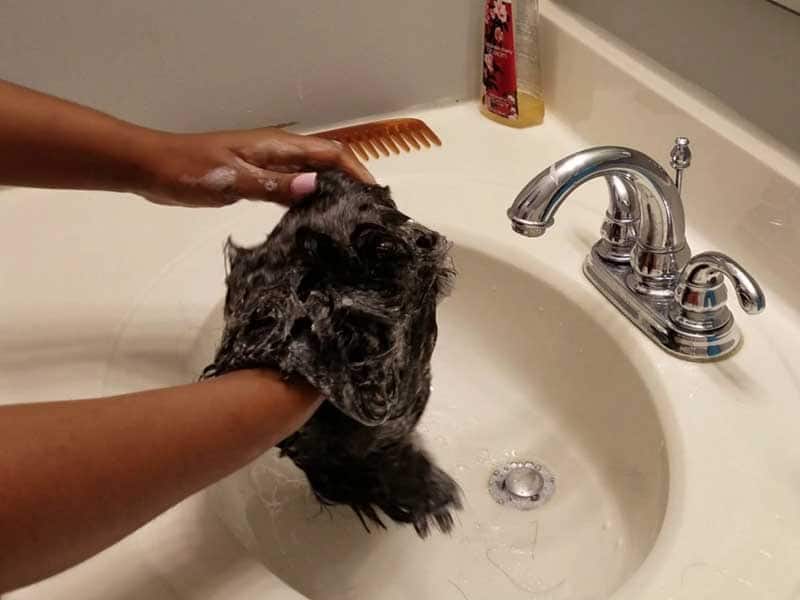 By cleansing the hairpiece, you have somehow reduced dirt and shine while at the same time adding more volume to the hairpiece. Your wig will be left with a pleasant smell, also.
When you are outside and feel your wig too oily or greasy but don't have a dry shampoo with you there, you can make use of the baby powder. It could work as a dry shampoo but remember not to overuse it. Your wig needs rinsing anyway. 
Other posts you might like:
Blend the parting lines with your natural scalp
Wigs often come with a parting line, and in case it does not match your natural skin, it would look really fake. Hence, to make your wig without a lace front look natural, it is necessary to customize the parting lines.
You can make it blend by using makeup powder, concealer, or the like. By giving the parting line the matching color to your scalp, it will perfectly mimic your skin and reduce the risk of being detected. The hairpiece will appear like your natural hair and won't make others doubt when looking at.
In case your wig doesn't have any pre-styled parting line, create one. You can pluck some hairs to leave the spare space to make your scalp visible. Don't make it too large or it will look weird, anyway.
Create baby hair on wigs without lace front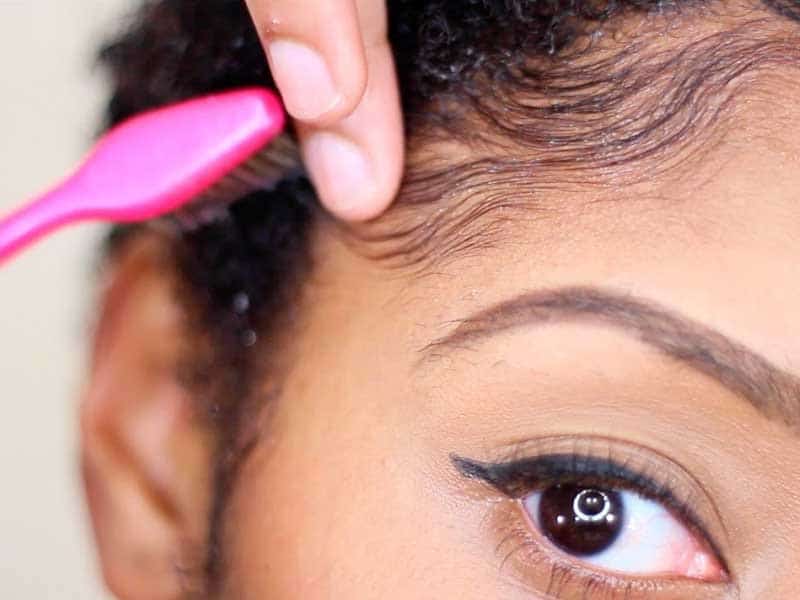 Last but not least, baby hair can help to make your non lace front wig look natural in some minutes.
Use a good pair of scissors to cut some hairs at the bottom layers around the edges to make the baby hairs. Then, comb and separate these small strands to make it appear like your real hair.
In case the wig is of the same color and texture as your real hair, you can pull out your real baby hair instead. In this way, you won't need to trim your wig any longer.
Above all, these are some small yet effective tips on how to make a non-lace front wig look natural. Hope that you can find your way to slay your wig. 
That said, even when there are ways to make your non-lace wig look good, it is always better if you choose a lace frontal one. With the help of the lace piece, you will save much effort on making it blend and look realistic on your head.
If you feel interested in getting new wigs at reasonable prices, visit our online store to see some samples Lewigs offer. We mostly do customize the wigs based on individual requests, so feel free to leave your inquiries if you have any.
We are always happy to be of service!