Quick weaves have become a hot trend recently among human hair weave wearers because they are cheaper, quicker in installing and more convenient than the traditional weave. So what is a quick weave? and how to make a quick weave wig and install it? Keep reading to know more.
What is a quick weave?
A quick weave is involved in a weaving hair technique where hair tracks are glued to a protective cap. This cap is placed over your hair on your head, creating a full coverage. Then, the hair wefts are cut to adjust the size and glued to it. Before wearing the protective cap, your hair can be held down by braiding or using a hardening gel.
A quick weave is a great alternative for traditional sew-in weave if you are interested in wearing a wig.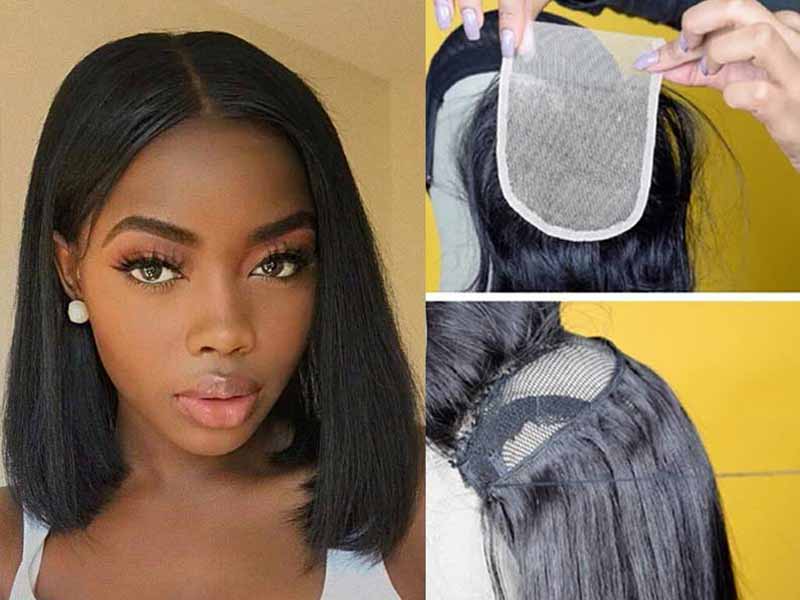 How to make a quick weave wig with glue?
What you will need:
Human hair bundles
Hair wig bonding glue
Scissors
Quick weave wig cap (depend on the color of your natural hair or hair bundles)
Wig clips, T-pins
Needle
Transparent nylon thread.
A wig head
Lace closure ( optional)
Other guides:
How to make a quick weave wig?
Step 1:
Place and pin the wig cap on the wig head, then position the lace closure and secure it on the cap with T-pins. Next, sew down the lace onto the wig cap with the threaded needle to make sure that it stays flat on your head after all.
The benefit of making a quick weave wig with closure is that the lace closure can help you to have a natural-looking hairline whether the color you choose depends on the color of your natural hair or hair bundles.
Take your human hair bundles, measure the track with the base of the cap then cut it to fit the length from one end to the next of the cap.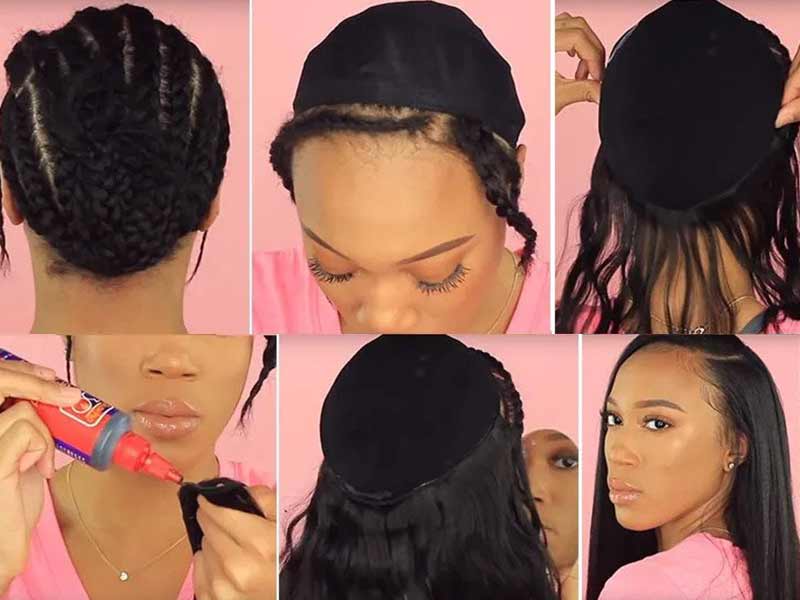 Step 2:
After cutting the track of hair bundles, start to bond it to the cap. Use the bonding glue to secure your bundles of hair. Always start from the nape or the base of the wig cap with your longest length track. Once you finish bonding one track, wait for 5 to 7 seconds to leave the glue dry before starting to glue the next hair bundles
Step 3:
After taking each track of hair and placing it on the cap, press it down to make sure it has been firmly secured.
Step 4: 
Repeat the steps above and when you are closing to the top of the wig cap, cut the wefts to prevent bulkiness.
Step 5: 
Curve your tracks at the top to shape it according to the shape of the lace closure (U-shape or half-square shape). If you love wearing a bang, you can take a straight hair bundle, with a deep side part to style a long or short bang as you want.
Step 6: 
Let your wig sit about 1 hour to ensure that the glue has dried completely after you finish gluing.
Make sure to trim out the excess cap material underneath the lace closure.
Installing A Quick Weave
After finishing making your own quick wig, you may want to wear it immediately. There are some notes you have to remember.
Wash and shampoo your natural hair before placing the quick weave on your head.
Make sure your hair dry completely before applying since wet or damp hair can cause mold to grow on your head.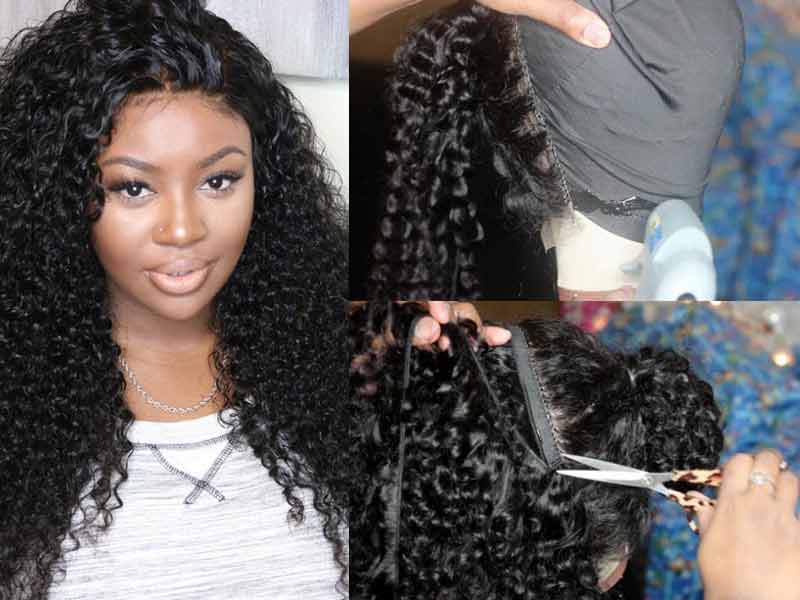 With steady hands and patience, anyone can apply a quick weave. Make sure your hair is clean and dry before placing the cap on your hair.
Hold down your hair before wearing the cap by braiding or using a hardening gel to make sure you will have a seamless look after all.
A quick weave can be made at home or by your hairstylist.
Should I use a quick weave wig?
Before making any decision, let's consider the pros and cons below related to a quick weave.
Pros
The cost for a quick weave wig is inexpensive. It can be even cheaper if you do it yourself with the help of a few tutorials or directions. And of course, a quick weaved can be installed by you without any help from the expensive hairstylist.
As its name shows, a quick weave wig does not take time to apply as the traditional sew-in does. It can be done after 1.5 hours. So, it is a great choice for busy women who are seeking a stunning look.
A quick weave will not damage your own hair, it even protects your hair since you don't need to use chemicals and heat to style the hair to get your desired look.
A human hair quick weave with closure offers you a natural-looking and you can style it in any way you want.
A quick weave can last quite long, between 4-5 weeks if you take care of it properly. Besides, it requires low maintenance. Just be careful with using oil-based products since oil can loosen the glue and causes hair wefts to slide off.
A quick weave is removable.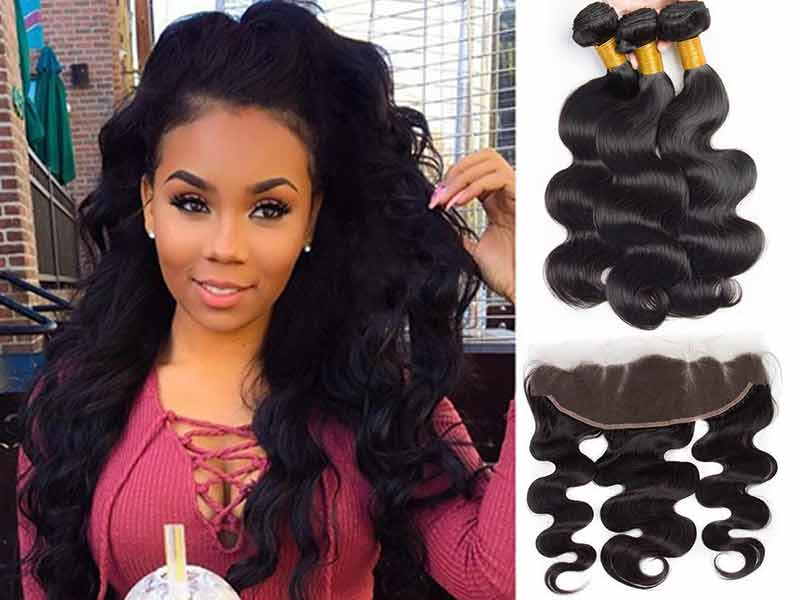 Cons
The glue you use to install may mess up your quick weave hair. Once it dries, it can leave some dried clumps as well.
A quick weave typically lasts shorter than sew-in weave does.
Quick weave wefts or tracks have more risk of shedding than a sew-in weave.
Read more:
Final words
A quick weave is such a good choice if you want to get a fuller and thicker look in a short time. It is easy to make, install, and remove. Hence, if you are more of a DIY person, this type of weave is for you
Hopefully, after this post, you can understand more about quick weave, its pros and cons, and how to make a quick weave wig.
If you want to buy the human hair wefts/ bundles to make your own wig, visit Lewigs right now. Here we will provide high-quality hair bundles made of 100% human hair. So, you don't need to worry about the quality and lifespan of the products. Feel free to drop us a message anytime you have any questions! We're happy to hear from you!
If you like this article, share it with your buddies and start to follow Lewigs blog for the more interesting information!
Thank you for your time!