Have you made yourself U part wig cap? It can be the best solution for your fine hair problems. U part wig disguises your bald spots, etc. Not all, your hair will become fuller and thicker. With the best cap to use for a U part wig, people will not possibly notice if you wear a toupee or not. Still, knowing how to make u part wig weaving cap is necessary if you want to enjoy these benefits and get the most out of this item.
There needs an appropriate application for the realistic look. Below, Lewigs will present you some U part wig cap tutorials that will help out a lot with your journey perfecting the look of your tresses.
What Is A U Part Wig Cap?
Often the best u part wig cap includes small combs, adjustable strap, and clips. The combs are distributed in the front, 2 sides and at the back to keep the human hair wig in place. Like a full wig, you can style and part the hair wig in any direction, on the right, middle or on the left-hand side.
With the best cap for U part wig, you will have most styling options. Especially, it blends well with your natural hair, offers the most realistic appearance.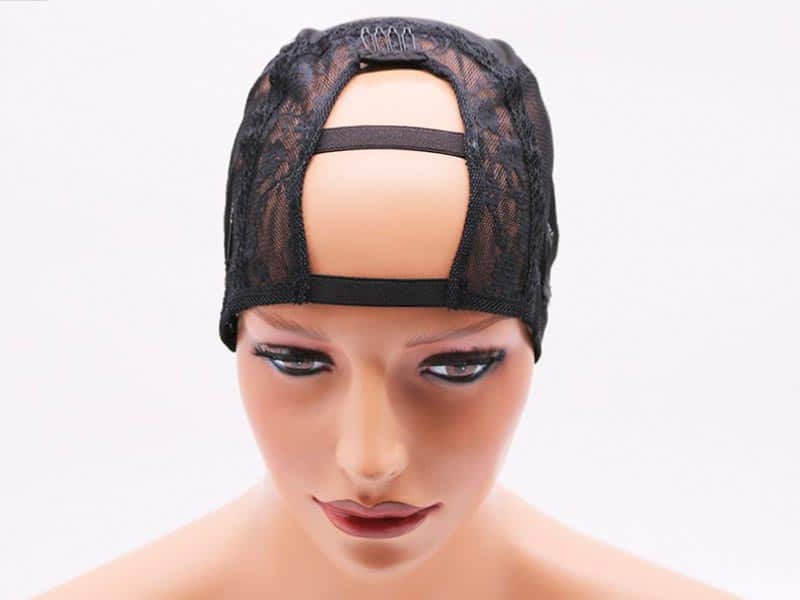 To make U part lace wig cap, the wigmaker also uses basically the same materials as they create a full lace wig. However, it has a U-shaped opening that allows your natural hair to go through. The wig cap can be dyed to match your skin tone if you want. Most black people use the cap in dark or medium brown. The lighter brown or transparent color is suitable for wearers who have lighter skin tones. 
View our excellent human hair wigs:
How To Make Your Own U Part Wig Cap
We gonna show you how to make your own wig cap with lace.
Braid your hair first and measure the length and width of your head and write down the results. The length of the wig will start from the hairline to the back edge of your hair. The distance from the front to the back edges of your head is the width. Also, measure along the back of your head, put the clothes measuring tape from one ear to the other ear.
Cut a piece of lace material based on the measuring results. In the hair market now, there are 2 popular types: French lace and HD lace. Both of them offer a more natural look.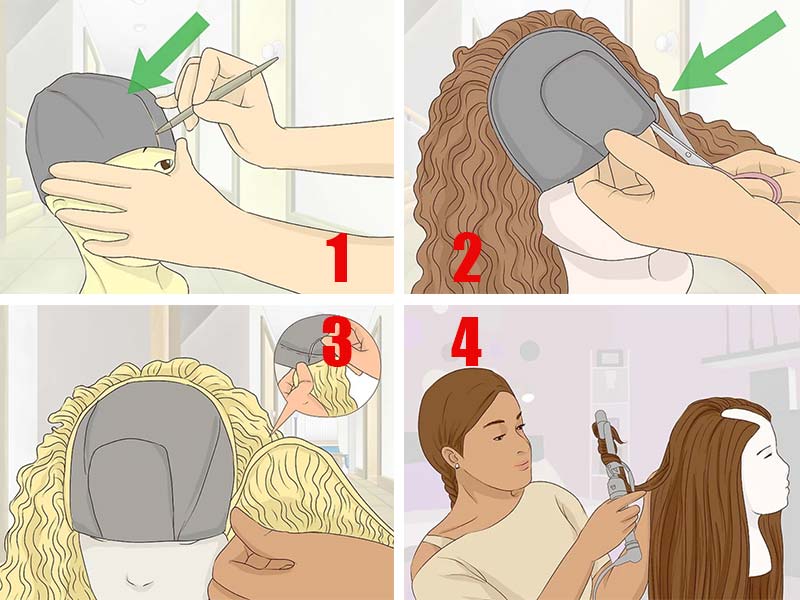 Pin the lace onto the wig head. If you pin it down at an angle, it will not slip through the holes of the lace. Ensure that the lace is kept tightly in the right place and laid as flat as possible onto the wig head.
Use a needle and thread and sew the lace. Just pull the pins out and sew the lace by using a needle and thread. Once you have done, cut the lace in the front to create a U-shaped opening. Depending on how you part the hair, you can cut the shape in the middle or side of the lace.
One more important thing you have to do is sewing the accompanying items to the wig cap. You want a U part wig with clips, with combs or adjustable straps? Or you can sew all these items if you are afraid that your wig will slide off when wearing. Now you have a DIY U part wig cap.
How To Put On U Part Wig Cap
Step 1: Style your natural hair under the wig cap
Braid the hair before attaching the U part wig weaving cap. You can braid your hair, make cornrows or create a bun at your neck's nape. Leave a small section of your natural hair.
Also, make your hair tuck underneath the cap more easily with gel.
Step 2: Spray the skin protector
The lace wig cap is breathable but you still spray protector for the scalp. Spray over the head. Leave it 20-30 minutes to let it dry. After that put the wig cap on your head.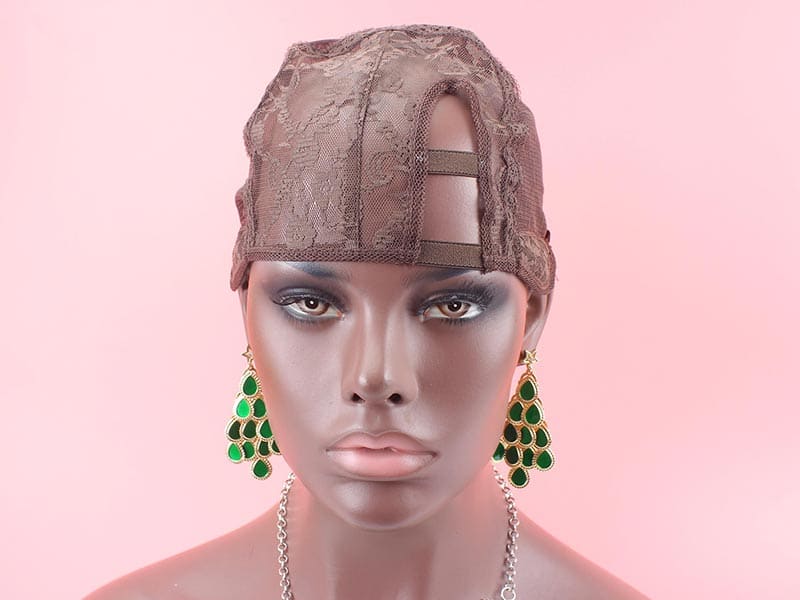 Step 3: Place the cap and adjust it
By doing that, your natural hair will be covered by the cap. Position the cap's edge exactly on the edge of your hair. Adjust the U-shape that fits and blends your parting line as you want.
Note: You have to use the cap color that matches your own skin tone and natural hair.
Step 4: Hold the cap in place
Are you afraid that the wig cap for u part wig can slop or slide off? Secure the cap with the clips on your hair. Be sure to have clips on your head's front, at the back, and 2 sides.
You might also want to read:
Best Cap To Use For A U Part Wig At Lewigs
Don't' you have time to make a cap wig for yourself?
Are you a newbie in the hair market?
Are you looking for a place to invest your wig?
If you are one of these above, Lewigs should be one of your best options. Are you finding the best weaving cap for U part wig? Or are you looking for some more U part wig net caps for your collection addition? Either case, you cannot go wrong with our beautiful hair products.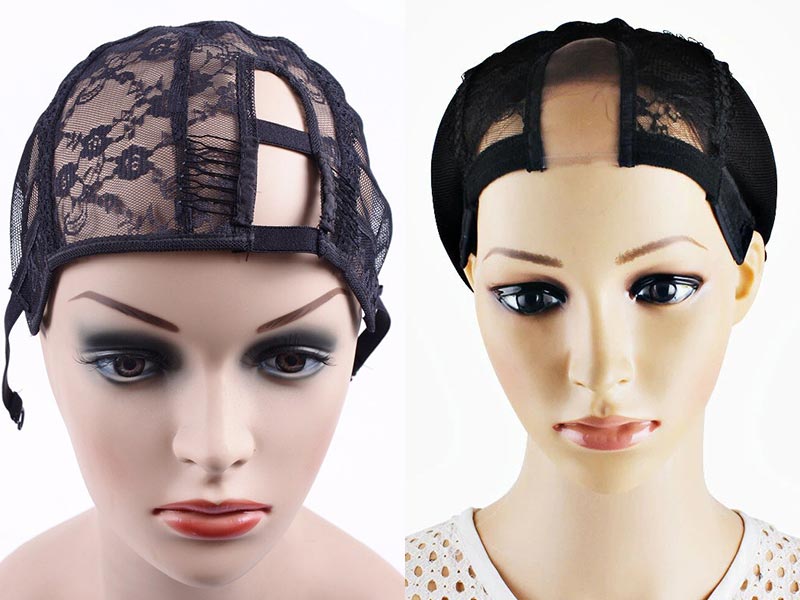 What is the best cap for U part wig at our hair company? There are abundant choices for every color and ethnicity. Are you looking for an African American wig cap, let opt the cap that is in dark or medium brown. Do you want to go with a small and cheap cap without compromising quality? Our items are made for you. You need a side part or braided wig cap, tell with us and we will make it for you. We have U part wig cap for sale at reasonable prices. We guarantee it will fit your head and match your hair naturally!
Final thoughts
Lewigs hopes that the post brings to you everything about the U part wig cap. Is it quite easy to create U part wig weaving cap by yourself, right?
Wearing a wig is a good way to conceal the hair defects and offers you a voluminously gorgeous finished look. Moreover, U part wig also blends your existing locks naturally so that no one can detect whether you wearing a wig or not.
Besides, if you are looking for human hair full wigs, visit us. We say no with synthetic hair and guarantee that it will blend perfectly into your existing hair anywhere. Lewigs always commit to selling only 100% human hair. We are one of the most reputable wholesale human hair systems in Vietnam. Our hair products are very safe to wear. At an affordable price, you can find a good hairpiece for your own. Interested in getting the best human hair toupee? Visit our website. We have a wide range of human hair extensions to offer!
For any further information about U part wig and the ways to apply it, feel free to contact Lewigs via WhatsApp: (+84) 98 96 33 424 or email info@lewigs.com to get support. We are always online 24/7, so don't hesitate to text us a line!