To purchase a perfect wig that best fits your head, knowing how to measure head for a wig is a must. If you want to learn the way to measure head for wig size, let's check it out through this article.
Guide on how to measure your head for a wig
You cross an ideal wig online, then your order it without trying on in advance and it ends up with unfitting wig since it does not match your head size. And this not a certain case of a certain person, it happens commonly, hence, knowing how to measure head for wig is really important.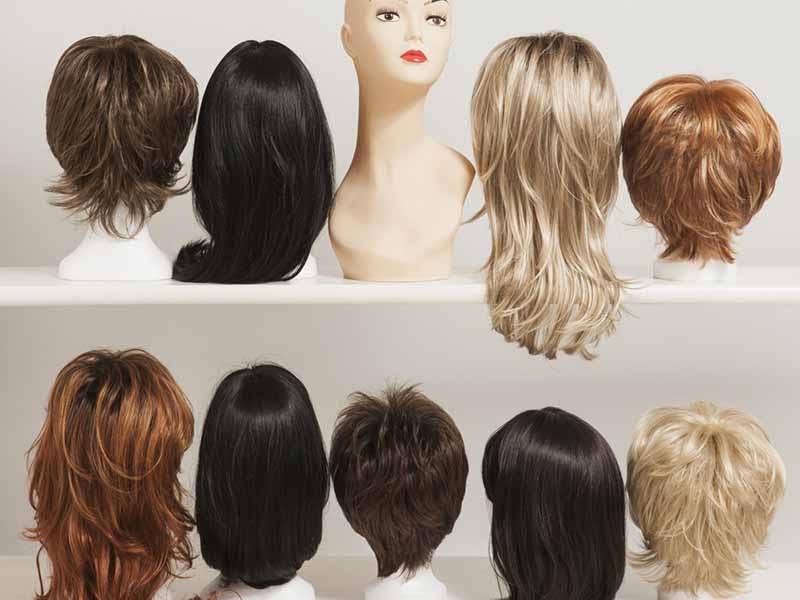 A great and comfortable fitting wig is virtual, especially if you have intention in using a wig for a long time. If the wig is too loose or too tight with respect to your head, it will cause some unexpected problems and you may regret due to not measuring head size beforehand.
You are a new wig user? So we bet you don't want to pick up your very first wig in the wrong size. Once you know the actual size of your head, you can pick up various hairstyles that you desire straightforward.
Related posts:
Hair preparation before measuring head size for wig
The common mistake that people often make at first is not combing down, and make hair near, hence they cannot get the accurate size. So remember to prepare your hair before measuring for a precise result. In case, you have long hair, make a low ponytail or braid them (straight back cornrows). On the other hand, if your hair is short, mold it down with hair product, and use a wig cap to make your hair further down. Briefly, set your hair in the way that you wear a wig then start to measure your head size.
To identify the right size for your wig, follow some rules in measuring head size. First, if you lack time to set your hair in the style for head size measuring, simply part your hair out of the way.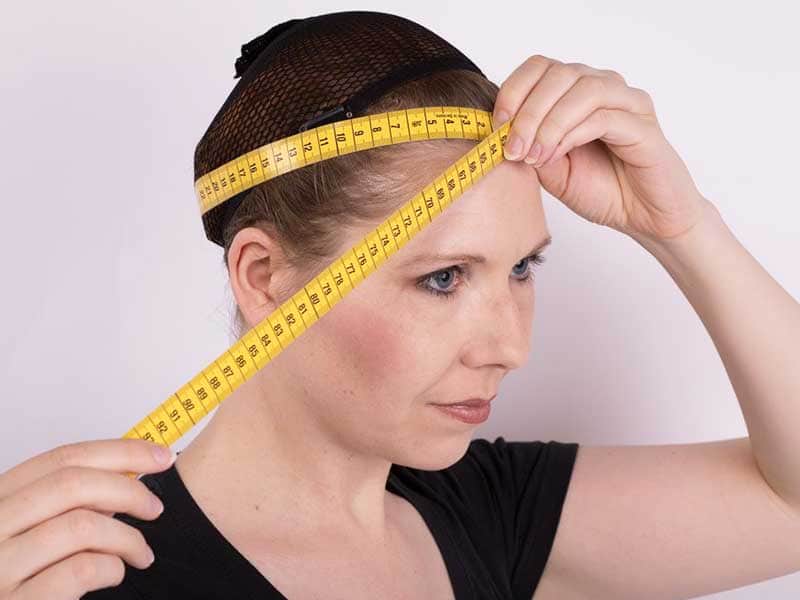 To measure the forehead-to-nape size, leave a central part when sectioning your hair into two-part.
Start measuring the forehead-to-nape part from the frontal hairline to the end of the nape. Then guide the measuring tape along with this direct.
To measure the ear-to-ear size, divide hair into 2 halves: top part and bottom one by creating a horizontal line on your head. Then, guide the measuring tape across your head for the accurate result
Wig measurement chart
You can refer to the wig measurement chart below to get more information on how to measure head for a wig.
| | | | |
| --- | --- | --- | --- |
| | Circumference | Ear to ear | Front to back |
| Child (small) | 18.5″ – 19.5″ | 12.5″ | 12″ |
| Average (Medium) | 21.5″ – 22.5″ | 13.5″ | 14″-14.5″ |
| Petite | 20." – 21.5″ | 13″ | 13.25″ |
| Large | 22.5″ – 23.5″ | 14″ | 15.5″ |
Bear in mind that, the size of the head play part in choosing wigs, it acts as a guideline. All of the companies and manufacturers offer their own size systems. So if you can provide them your accurate size, it will be easier to make a wig that fits you perfectly.
How to measure head for wig size?
Circumference
How to measure head circumference for wig?
Begin with the circumference measurements. This measure all-around your head.
The thing you need is a fabric measure tape, position it from the center of your frontal hairline, then guide it around to your tape and back to your first point.
Mark where the tape ends on the tape, and employ the number to get your size by comparing it with the chart size.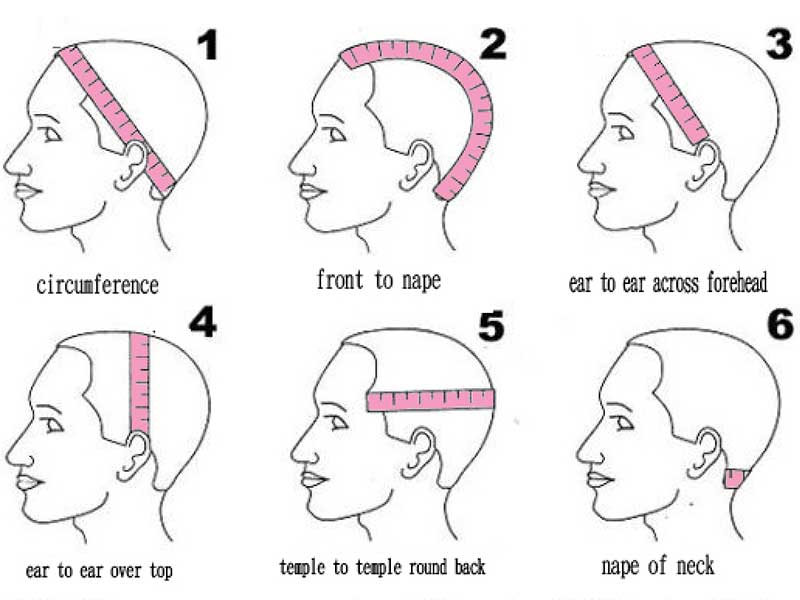 Ear to Ear
Position your tape at the front of one ear, guide it across your frontal hairline and ends at the same point of the other ear. Use the result to refer to the size chart.
This measurement is the most vital one you need to know.
Forehead to Nape
Use the tape and start measure from the center of the front hairline at the forehead, straight back cross the crown and end at the central point of the hairline at the nape of your neck. The nape of the neck is where your necks bend and the skin folds.
How to measure your head for Custom Made Wigs?
There is nothing worse than making a stunning wig but end up with unfitting your head.
If you tend to create a wig on your own with a wig block, here are some tips you can use. First and foremost, you should hair correct measurements of head size, this is the key point. how to measure your head for a wig block? Simple use of the method above.
Next, map out a rough draft of your hairline and nape perimeter. Then make use of the result you used have measured to indicate the distance on your wig head or wig blogs with some marks: the circumference, ear to ear, and forehead to nape.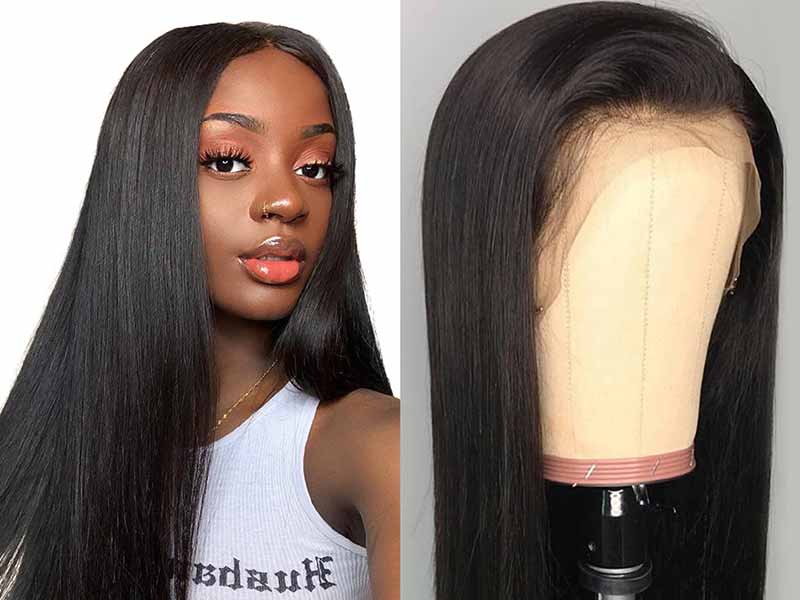 After measuring your head size, carefully put a cap on the wig block or wig head, make sure it fits well on the wig head then pin it down.
The most important numbers you need for making a wig are the circumference and ear to ear measurements. The circumference may loose over time in case it is too tight. You can pick the wig cap with the adjustable straps. Therefore, you will not need to worry much about taking the head measurements
Perfect Fitting Feel
A perfect wig will fit well with your hairline, just a few inches above your eyebrows and the back of the wig will bend down to match well with the nape of your neck.
According to a study, about 95% of the population use the wig cap with average or medium size.
Wig cap has a size label attacked inside so when you order a wig online, let's check it if you have any problem with the size.
Read more:
The bottom line
No wig would look perfect or natural if it does not fit your head. Hence, hopefully, this article on how to measure head for wig will help you to find the correct size of your head, helping you choose the ideal wig.
If you are want to know where it is a reliable place to buy wigs, pay a visit to Lewigs website. At our sites, you are offered the most high-quality hair wig created with 100% Cambodian and Vietnamese human hair, which is long-lasting and natural in look. What is more, you will be received professional help from our 24/7 service team, they will consult you in choosing the best size to your head. And when coming to us, you can order a custom made wig for your own size. Hence do not hesitate to drop us a message anytime you need help.