It is impossible to learn about hair replacement systems without coming across the term "lace front wig". Regardless of your hairstyle, hair length, texture, and color, there are a variety of lace front wigs that fit your natural hair and needs perfectly. In the hair market, human hair lace front wig, straight or curly lace front wig, etc are available.
Many wearers tend to wonder "Is the hair wig ready to wear from the packaging?" or "Will the front wig fit their head?" Let Lewigs show you some popular way on how to put on a lace front wig for beginners.
How To Wear A Lace Front Wig With Glue?
Preparation the hair
First of all, cleanse your real hair. Washing your hairline with a gentle cleanser and dry it. We recommend using acetone or rubbing alcohol because it can remove excess oil and tiny dust on your skin. Dab acetone on a cotton ball or swab and wipe it along your hairline. In some cases, many wearers are allergic to the chemicals, so remember to apply a thin layer of scalp protector after using the acetone or alcohol.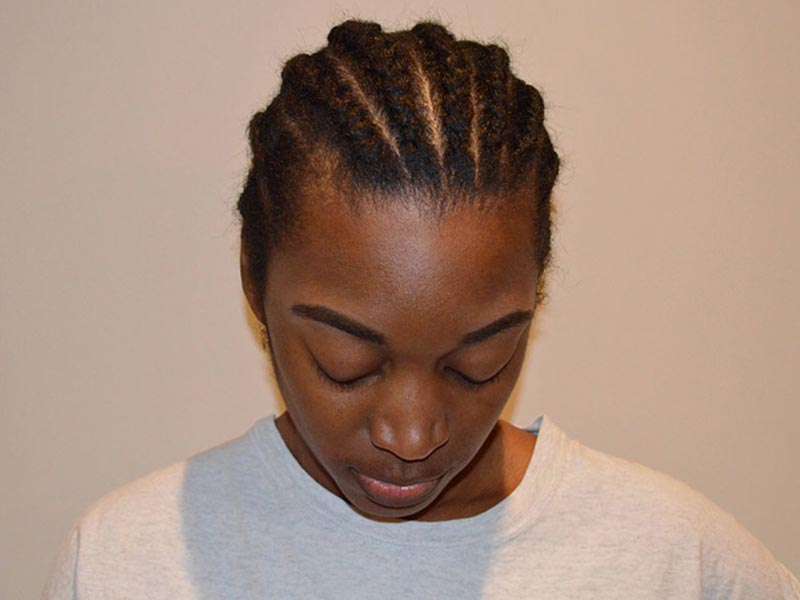 How to put on a lace front wig if you have too much hair? Kindly flatten your hair to make your wig look more natural. You can braid your long hair or make cornrows and secure it by using gel and bobby pins. In case of short hair, tie your hair in a ponytail. When you create braids, there are still little hairs at forehead coming up, you can use hairspray to shape it in place. Or you can use a hairbrush and comb it back. If you use a hairspray, let it dry completely before putting the wig cap on.
Wear a stocking cap
Stocking caps or wig caps are used to flatten your hair and hold it in place. Gently pull the item to cover your head, adjust it so that your bio hair is hidden perfectly underneath this cap, even your hair on the nape of your neck.
Test the lace front wig
Before you add glue, make sure that the wig fits your hair properly. To test it, you can place the hair system on your head and line it up with your real hairline. Don't wear a tight or loose wig as it makes you feel uncomfortable. Even if the hair is too tight, it can cause your headache.
Once it fits your head, cut the excess lace. Pull the hair away from your face by some clips, then using sharp scissors and cut the lace along your hairline. Cut it close to the lace front wig' hairline. Next, take your lace front wig off and set it in a clean place.
Add lace glue
The next step on how to put on a lace front wig is to add glue. Use your finger to apply a thin layer of the adhesive along your entire hairline. You can add more than one layer depending on the type of glue you use. You may need to wait a few minutes until the cream turns clear before adding the next layer.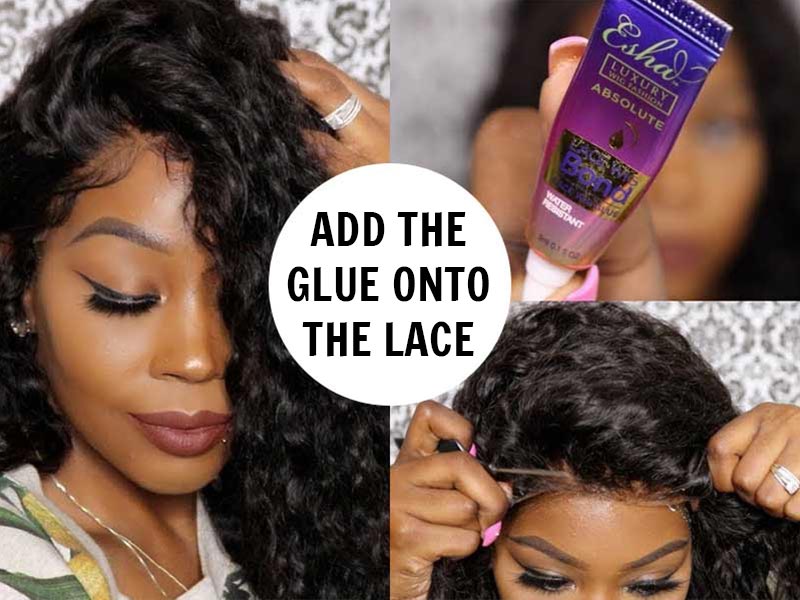 Continue waiting a few minutes before applying your lace front wig. If you use a hard bond glue, you can apply the wig immediately.
Apply the lace front wig
Taking your lace and place it on your head. Adjust the edge of your wig so that it blends your natural hair. Adjust the hairline and the back of the wig. When you satisfy with your wig, press the hair firmly into the adhesive. Use the rubbing alcohol or acetone to remove any excess glue in your forehead.
Give the wig a fantastic style
Put some makeup powder on your lace so that its color resembles your skin tone. Brush your hair and style it as you desired. If your wig is real hair, you can use hot styling tools and hair products. In the case of synthetic hair, it is better if you avoid brushing regularly and using styling tools on it.
Take a look at our desirable wigs:
How To Put On A Lace Front Wig With Tape?
As we said earlier, wrap up your bio hair and clean your forehead are the important and indispensable steps before wearing a lace front wig. So take some rubbing alcohol to clean up all the residue oil and makeup from your forehead to allow for a good application. Gently clean your entire hairline.
Then apply the scalp protector around the entire hairline to protect your skin and to allow the adhesive to hold better.
Once you are done basically, ready to apply the tape. You should use double-sided tape, one part of the tape goes on your skin and the other part on the inside of the lace. Apply the tape directly along your hairline. When the tape is laid flat as your hope, you can go ahead and peel off the protective paper. Normally, use a tweezer or your fingernails to peel off the paper.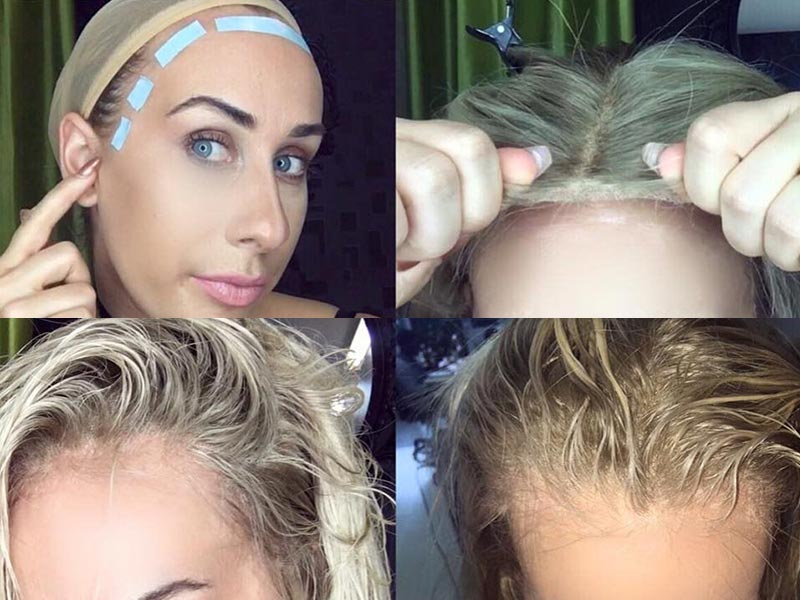 Determine the position and put the hair system on your head so it is ready for attachment. Use hairpins to hold back the hair of your unit. You can tie it at the back so it is not in your way. Now apply the lace onto the tape and press it. Remember to always press the lace down on the tape to increase the adhesion. Make sure that the tapes are overlapping for a seamless and neat application.
Remove the hairpins gently without pulling the hair or the wig. Style your hair in order to have the most natural look.
What about how to put on a lace front wig with baby hair? You do the same way, but when styling your wig, use a toothbrush and play around with the baby hairs. You don't need a lot of baby hairs. Use a little bit of styling gel for your baby hair.
How To Put On A Glueless Lace Front Wig?
Do you prefer wearing a hair system without glue? Glueless lace front wigs are the best way you should try.
With some ladies who are fond of their convenience, they don't wear a wig for a long time. They would like to find an easy way to put on their wig. They need something that can be removed easily before going to bed. Hence, glueless wigs may be a simple and fast way. Or if you are allergic to the chemicals in the adhesives, this wig is also a safe item to wear. So take a look at how to put on a lace front wig without glue.
Similar to the way you do on how to put on a lace front wig with glue, make your hair ready for installation. You have long and thick hair, braid it or create cornrows. If your hair is short, pack it in a low ponytail and put it on a wig cap. You can skip wearing a wig cap if you want.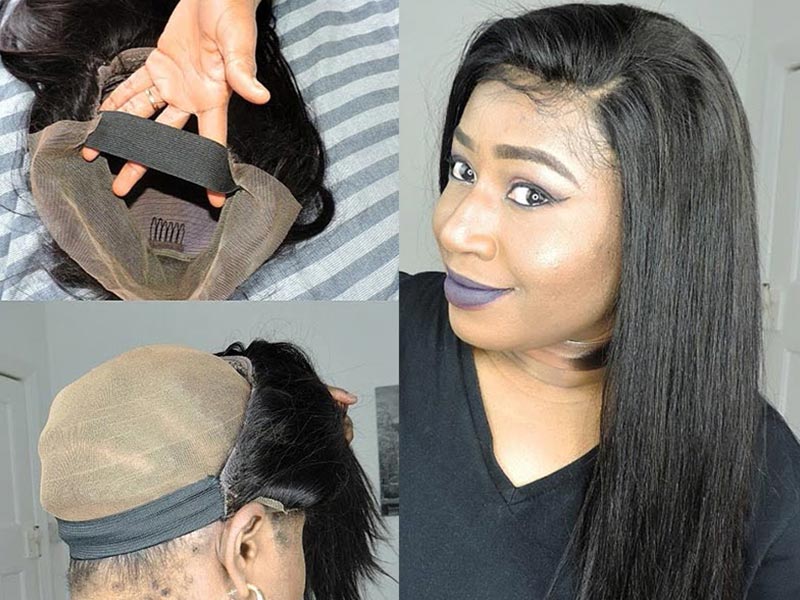 Tip: Ensure all your hairs are tucked in the wig cap.
A glueless lace front wig always comes in with an elastic band inside that allows securing the wig in place. If not, you can sew it in by yourself. Hence, you should choose a wig that fits your head size perfectly. If the wig is too tight, it can cause your headaches. Now put the wig on your head, then gonna fix it. Where there is an excess lace, cut it using sharp scissors or small pinking shears. Now, making a part and styling your hair to have the best look. Use a styling gel to lay the baby hairs on your wig.
Tip: If the lace is slightly visible, apply your skin foundation or makeup powder to the lace.
You might feel interested in:
How To Put On A Lace Front Wig With Clips
How to put a lace front wig on with clips – start to finish! Quick, easy and convenient!
Step 1: Braid or tie your bio hair. Adding some styling gel on your edges before wearing a wig cap.
Step 2: Grabbing a wig cap and putting it all over your head. Wearing a wig cap can keep your natural hair in place and protect your own scalp and hair.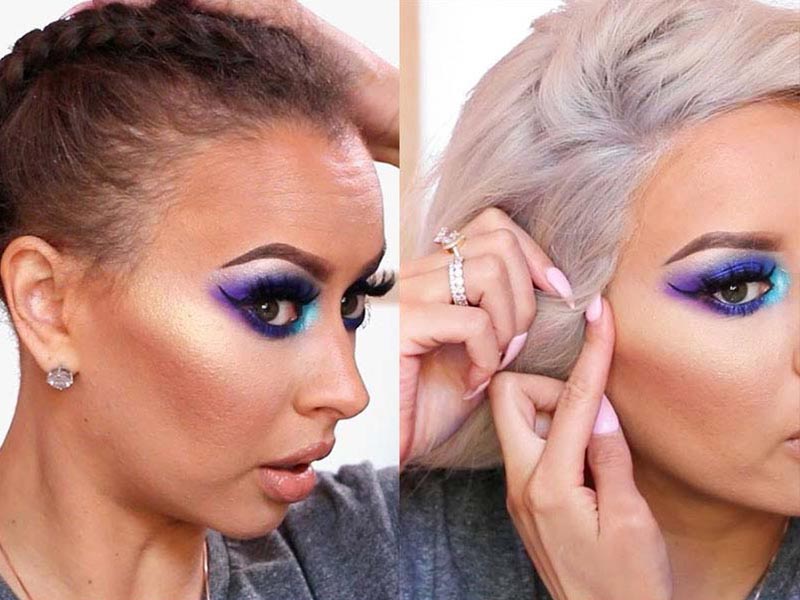 Step 3: Finally, you know how to make a lace frontal wig look amazing? Open all clips underneath the wig. Normally, the clips are in the front, 2 sides and at the back of the hair. Adjust the hair after you place it on your head so that it sits in place. Remember to line up the center part of the unit with the center of your forehead. Now, pull it down in the back to fit your head correctly. Secure all your clips.
Step 4: Use a rat-tail comb to part the wig. Brush and style your hair freely if your wig is made of human hair.
The Bottom Line
Don't hesitate to learn how to put on a lace front wig. We hope that this tutorial will be useful for you whether you have long or short hair. Only take a couple of minutes to get a wig completely ready to wear, it will change your look instantly. Should not fear if you are not successful for the first time, because you will be able yo better the next time.
If you want to add more fantastic tips, how-to guides or find the best lace front wig, check out our website now. We also have a wide range of hair replacement systems such as full lace wigs, closures, toupees, toppers, and so on that are 100% real human hair.
For any special requires or questions, kindly contact Lewigs via Mobile/WhatsApp or email info@lewigs.com. We are online 24/7.