Wig offers a gorgeous hair look. But choosing a hair system that actually works well for the face is a challenge. The different styles and colors bring the wearer different appearance. You don't want to wear your boring curly wig for a long time, you want to change it. Keep reading to learn more about the methods on how to straighten a wig.
How To Straighten A Lace Human Hair Wig
Preparation
Place your wig on a styrofoam wig head and secure it with some long needle pins. So the wig does not slide off during the process. Spray the styling heat protection serum to the hair. Then comb your human hair wig to make sure that it is not tangled. Let's get started the first method which is probably the most used.
How to straighten a wig with a flat iron
Step 1: Clip all the hair so that they are out of your face and only leave the bottom part. Turn on the heating tool on. Then wear heat-resistant gloves during the process otherwise you can burn your skin.
Step 2: Take a small hair section and you start straightening. And run your brush along with the hair as well, just from the top to the bottom. Run the flat iron through the hair until it is as straight as you want.
– Don't take large chunks to straighten literally, do like small pieces and run your flat iron to it slowly.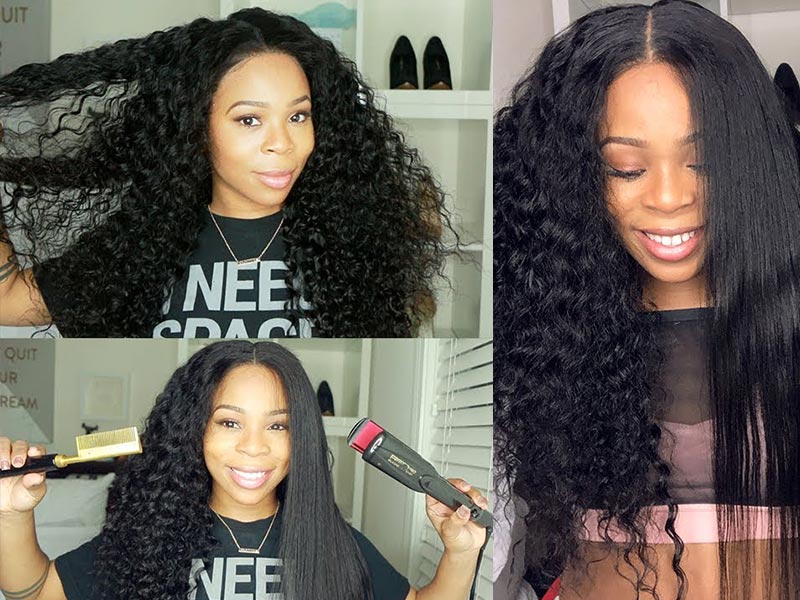 Step 3: And just do the rest of the hair. Please have some patience with yourself as the process of straightening may take about one hour to complete.
Use a steamer or hairdryer to flatten wigs
How to straighten a real hair wig with a hairdryer? First, you need to secure the wig to a styrofoam wig head. Then section the hair and brush it. Use hair clips to hold the hair in the front and sides up out of your face, leave the hair at the bottom.
Now hold the hair section at the bottom tightly in one hand and a hairdryer on the other hand. Turn on the machine, adjust the heating level. Avoid using the hottest level because it will damage your wig.
View our top-notch human hair wigs:
Run the machine through the hair, you have to point the nozzle of the dryer to the hair. Don't leave the dryer too close your wig and never hold it in a place too long. Be more patient to do the whole process.
Do the same for all of the hair. When you have finished the first section, unclip other parts and repeat the straightening steps.
Straighten a wig without heat
You have a short curly wig, you want to straighten it but don't want to use the above methods. Let's try to straighten a short curly wig without heat, it does not harm and damage the hair. 
Before straightening, brush the hair out and split the hair down the center. Spray water to the wig and start wrapping it. Then flip a hair section on one side over the opposite and wrap around the back. Secure it by using bobby pins. Repeat this step with another hair section. Once you've done, allow the hair air dry completely.
How To Straighten A Synthetic Wig
Steam the synthetic wig
Step 1: Put your wig on the stand and remove all frizzy ends and tangles. Turn your wig steamer on.
Advantages of a wig steamer:
– Developed to reshape and restyle wigs
– Steam director allows for precise for styling
– Instant and continuous steam
– Steam penetrates fibers to renew and reshape
– Easy automatic on/off button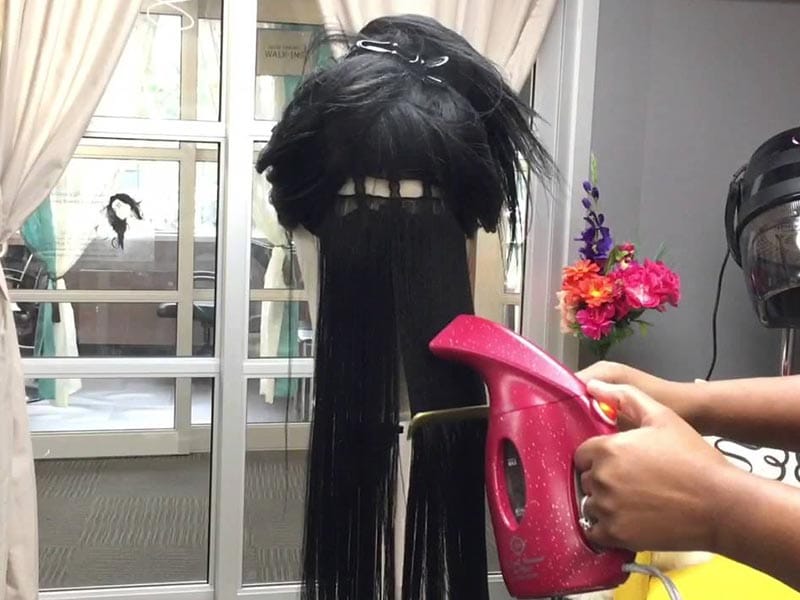 Step 2: Start steaming to straighten a curly wig. Hold the steamer in one hand and a comb in the other hand. Brush your hair section with the machine following behind.
– Be cautious to never place your hand or your arm directly in the line of steam since it can cause serious burns.
Step 3: Run the steamer through the hair section at least 2-3 times until the curls are removed.
Step 4: Once you've done, continue the process with other sections. Let the wig air dry and comb it again.
Flatten synthetic wigs with hot water
How to straighten a curly synthetic wig with hot water is a super easy and fast method. If you don't own any styling tools, this is perfect for you. The wig should be brushed out completely before you straighten it with hot water. 
You are going to heat up some water in a boiler. Once the water is all heated up, it's time to remove the curls. Let's switch your location and place your wig into your bathroom. Now dump the water all over the wig covering as much as possible. Because it is a curly wig, you should repeat the process 2 more times.
Let it dry overnight and the next day you can brush the whole wig again. Try to avoid brushing a wig when it is wet because it can damage your fibers.
This method is also applied to straighten a wavy hair wig. And you need to do the whole process one time, you can get a good result.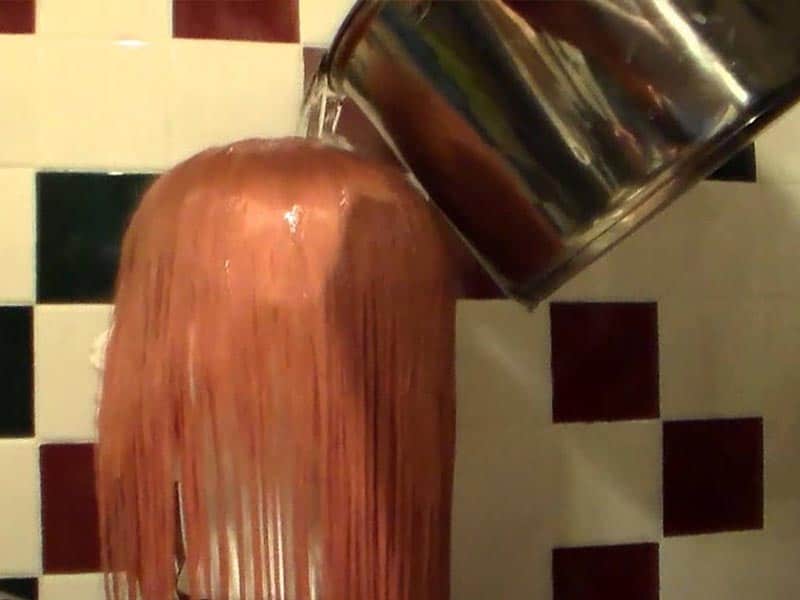 Straighten a synthetic wig with a flat iron
We think you should use a heat-resistant wig as the heat can melt the normal fibers. Ask the wig company or do a heat test first if you decided to do with a heating tool. Set the iron on 200 degrees Celsius. Take a small section of the hair wig, let's check out what happens if you are using too much heat. The fibers will frizz out or they are straight completely. If the hair is not frizz, you can apply this method to your wig.
Before getting started to straighten a wavy wig, you should clip all the hair up out of your way so it is easy to work with. You start at the back of your wig and work your way up. This process is not different than straightening your real hair.
Spray the hair with water or heat protectant serum to protect your wig and keep its shine. Wear heat-resistant gloves during the process.
As the fibers get really hot always, separate a small section and comb it first before straightening. It is good to use a wig brush to remove any tangles.
Turn on your tool and set it on 160 degrees Celsius. Then run the iron through the first hair section. Go over the hair more time until it is straight as you desired.
Remove the clips and repeat the process on the rest of the fibers. Once you have finished, you have new style for your wig.
You can apply these methods to straighten a costume wig or fake wig. That's all for straightening a wig. So have fun with your new wig, new style!
You might feel interested in:
How to straighten a synthetic wig without heat
You have non-heat resistant wigs, you can still straighten it. The wearer can straighten a wig without much damage. Wet your hair and gently brush the hair until it dries. Ofter, people always allow their hair dry after washing. So now, to straighten the wavy wig, you try to brush the hair in a few minutes while you are drying it. Work in a small hair section at the ends first, then move to the top. Pull the hair out and hold for several seconds to help it straighten out.
In Conclusion
The wig wearers always try to change their hairstyle to update the fashionable trends. They straighten their wavy or curly frontal wigs as straight hair texture is easily manageable and actually fantastic. Lewigs hopes that this article has somehow offered you an idea about how to straighten a wig.
However, if you don't want to straighten your wig, you can browse our website to view our straight human hair wigs collection. Our hair comes in a variety of shapes, textures, and colors. You will be 100% satisfied with our hair quality as well as the price after using it.
Drop us via line (+84) 98 261 44 86 (WhatsApp/Mobile) or email info@lewigs.com for any questions. We are always more than happy to be of services!