You are a big fan of straight hair as it allows you to get a variety of fashionable hairstyles. Is there any method that flats the hair without damaging? How to straighten natural hair safe?  It will be a piece of cake. Lewigs' post displays you some common methods to straighten natural hair at home, consisting of using no heat, chemicals, and flat irons. 
How to Flat Iron Natural Hair
Straighten natural hair with a flat iron is a common method now as it offers effective and quick results.
Before using a flat iron, you should apply a thin layer of styling heat protection to your tresses. Then comb to make sure that it is free-tangled.
Follow our guideline on how to straighten natural hair safe with a flat iron: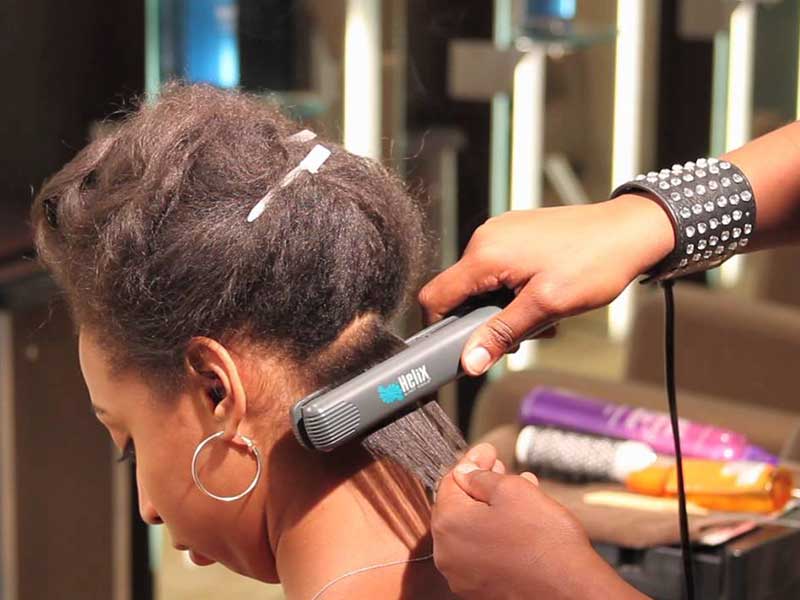 Section your hair into 4 sections. If your natural hair is thin, you can separate it into 2 or 3 sections. Then you turn on the flat iron.
Next, hold the first section and start straightening. You can apply this method on natural hair silky straight or natural curly hair. Put the flat iron at the root of the hair strands an pull the tool down.
You should press down the flat iron to get good results. Remember that always maintain pressure while flattening the hair. Once you have done, move to the next section. Keep doing until all of your hair is straightened. 
Straighten the edges and baby hair as well. The process requires patience, so you should do it slowly. The result will not let you down. Whether it is long or short natural hair, use a flat iron is ok.
However, you should limit using a flat iron too much as the heat can make your hair dry, brittle, causing hair breakage. 
Similar posts:
Straighten natural hair with a hot comb
This is another method to flat the hair with heat. Spray heat protectant and detangle your hair. Similar to the above method, section your hair into small sections so that you can work easily. Turn on the hot comb. Hold the bottom of the section, and run the tool through the hair at least 3 times to straighten. Keep doing until you reach the entire hair.
To protect your natural tresses, you should let the comb in the moderate heat level. If you use the electric comb to straighten very short natural hair, be careful. Don't let it burn your skin.
How To Straighten Natural Hair Without Heat
How to straighten natural hair safe without heat damage? The heat can destroy your hair so you want to find alternative methods to straighten natural black hair.
Wrap the hair around your head
To get straight hair, you should wrap your damp hair around your head until it is dry. The technique is easy but it requires patience.
– Section your damp hair into 2 pieces. Take the first piece at a time and just wrap it around your head. Secure it in place with hairpins. You create a little bun at the crown with the left hair.
– Now you need to wait for your hair to be air dry completely. You can cover your head with a towel or shower cap.
When you take the towel and hairpins off, you will be surprised at the final results. Let's try!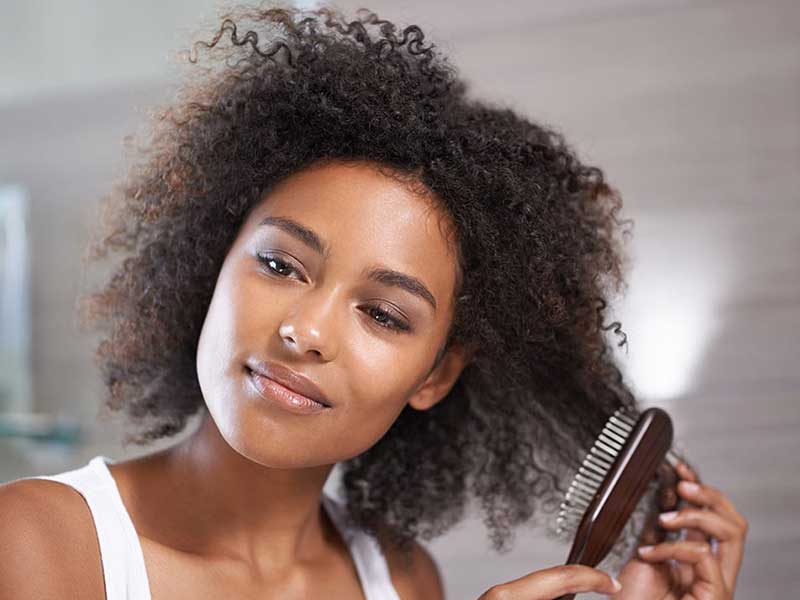 Straighten hair overnight
This is a great way to straighten natural curly hair without heat or a perm.
Step 1: Prepare the hair
Before you wash the hair, you have to brush to make sure that all of the tangles are out. Try to make your hair silky and smooth before starting the process.
Then wash and condition your hair as you usually do. No need to use any special masks or try anything too crazy.
Step 2: Smooth & detangle
Use a tangle teezer to smooth everything down. Brush the hair bottom then work your way up. Be gentle as the wet hair is vulnerable.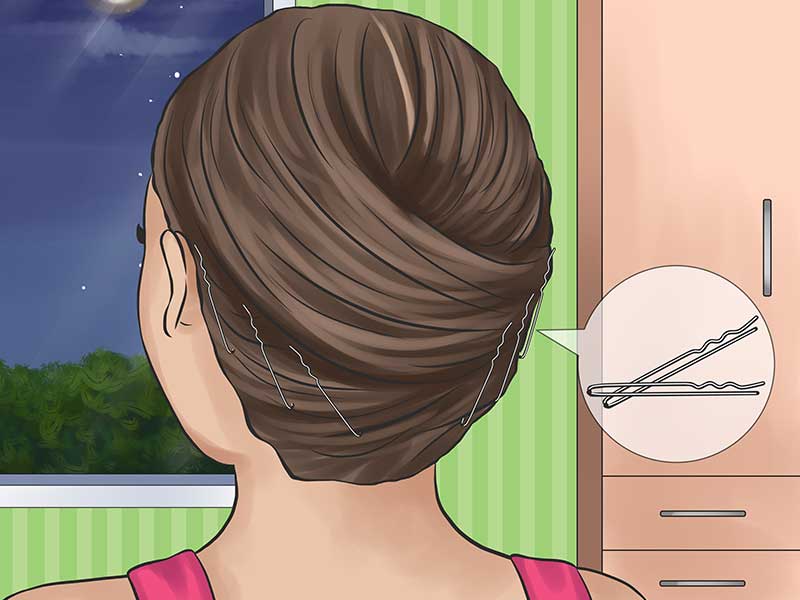 Step 3: Straighten roots
When your hair is damp, pulling it back into a tight ponytail. Secure the ponytail with a hair tie. Make sure that everything remains as tight as possible you get. Take a fine-tooth comb to comb the roots. It allows the hair to turn out really super straight. Wait about an hour for the roots to dry. To keep your hair ends damp, you can twist them into a bun.
Step 4: Flat lay
If the end part is no longer very damp, wet it with water to re-activate. Put entire hair behind your head. Take a one-inch section and start brushing them through. This is how we are going to straighten the hair. You take the section, wrap it around as if it's like a headband. Keep the hair tight, smooth and lay flat to the head for perfect results. Use three or four bobby pins to keep everything. Keep doing the exact same thing to the rest of your hair.
When everything is wrapped up, take a scarf and secure everything. And you can sleep on it. Let your hair strands straighten for minimum 5 hours (overnight) before taking them out. Once all of your hair is dry, take out bobby pins, and you can reveal your heatless straight hair.
Highly recommend using this method to straight both natural hair and edges of natural hair. We believe that you will love it for the first time you tried. 
Read more:
How to Straighten Natural Hair Safe Without Chemicals
How can I straighten my short natural hair? You should apply hot oil treatments to straighten natural black hair. How to apply the method? You have to prepare coconut oil and castor oil. These natural oils can nourish and soften the hair effectively. The saturated fats on them provide emollients to the scalp and hair follicles. This is a reason why they are essential ingredients in most hair care products.
Now, let's start to straighten natural hair without heat or chemicals.
Step 1: You combine a tablespoon (tbsp) of coconut oil with a tbsp of Castor oil, create a mixture. Put it in the microwave to warm it up.
Step 2: Wet your existing hair. Then apply the mixture onto your damp hair and scalp. Keep doing until all hair strands are covered by the oils.
Step 3: Massage your scalp for 10 minutes so that all of your hair is completely saturated with the mixture.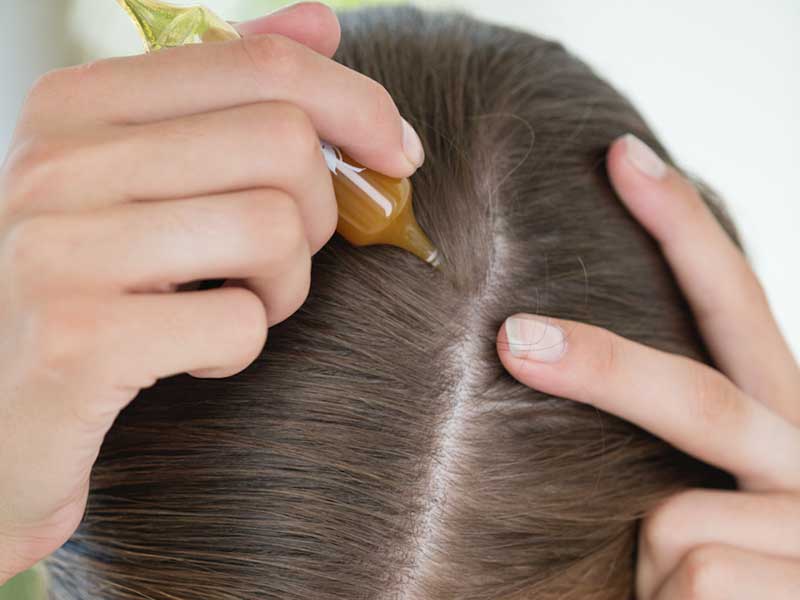 Step 4: Continue let the oils sit on your hair for a half of hour. Cover your head with a shower cap.
Step 5: Rinse thoroughly with lukewarm water and sulfate-free shampoo to remove all residue.
How often you should apply this method to straighten hair naturally at home with natural remedies? Twice a week is perfect. After several times, you will see the result.
Also, how to flat twist natural hair for beginners, you can use milk spray, create eggs and olive oil mixture, etc.
To Sum Up
All our experiences of how to straighten natural hair safe are shared above. Select your own method and change your hairstyle, your life. To get more useful stuff, don't forget to visit Lewigs blog. And if you have other ideas on this topic – how to straighten natural black hair without heat or a relaxer, share with us and other readers. We are looking to hear your voice.
You love straight hair but you don't want to straighten it. Opt for a wig or toupee at Lewigs. It is the best option and will be the best companion for you in the future.  
Just like human hair, our hair systems can be styled, permed, and straightened easily without affecting your natural tresses. Why don't you using it? Be quick! Contact us via hotline or email to get the best hairpiece at a wholesale price. We commit to offer you the best product and service. 
Thanks a lot!