You don't like your dull curly hair, and you want to change it. How to straighten my natural hair? When straightening natural hair, women like to style their hair with safe methods, no damage. You can straighten natural hair with no heat, using chemicals or heating tools. Of course, they are some popular methods which offer the hairstyle as you want.
Therefore, Lewigs would like to sail you on how to straighten natural hair at home. We will go deep into different ways to straighten hair that you could try yourself.
Straighten Natural Hair Without Heat
There are a lot of simple ways to straighten natural black and curly hair without heat.
Wrap the hair overnight
Wash your hair with a gentle shampoo, then apply a leave-in conditioner. Pour a suitable amount of conditioner onto your palm and add them to your tresses with your fingers. Leave a few minutes for the deeper the moisturizer. The hair care products create pressure to straighten and offer tangle-free hair. If you do not find any conditioner for your own hair, use natural oils such as coconut oil, olive oil, seed oil, etc. Depending on the thickness and length of hair, you can use a moderate amount.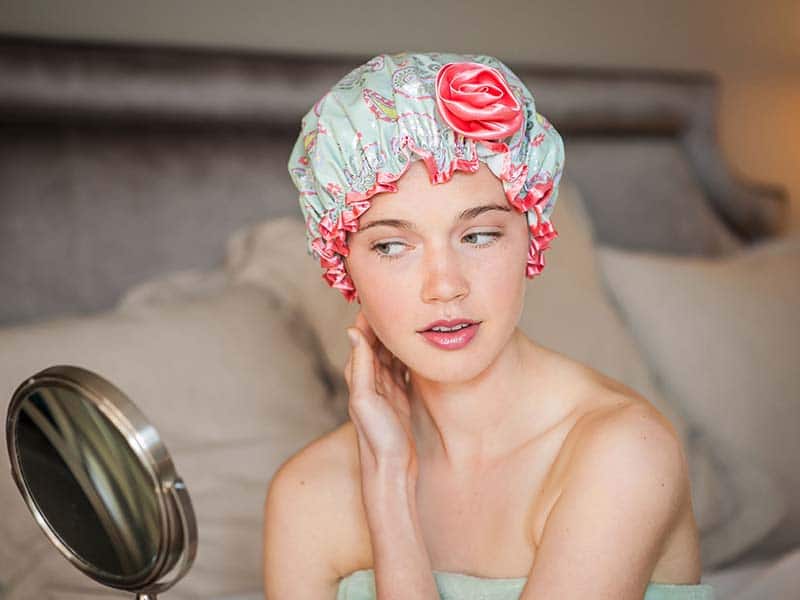 Section off one side with a hair tie or bobby pins. On the one side, you divide it into two parts, pin back the parts you are not using. For the strip of hair that is left, you are going to brush it as straight as possible and begin wrapping it around your head. Use bobby pins to hold it in place. Repeat the same step the rest of the hair. It is ok to overlap your hair.
When you have all done, grab your wig cap or showering cap. Place it from the back to the front of your head. Why should you use a wig cap? As it is tight enough to lay your hair down and keep everything in place. And you can place a silk wrap if you leave it overnight. After four to seven hours or in the morning, unpin every strand and gently brush your hair in the way you pinned it up to avoid any tangling. You will be satisfied with the finished look.
Use hair bands
This is another way to straighten natural black hair without chemicals or heat. Follow these steps:
– Wash your hair so that it will be damp and clean. Do not blow-dry the hair. Make sure your hair is damp, not soaking wet and dry, either.
– Prepare dozens of elastic hair bands depending on the thickness and length of your hair. Don't tie your hair with rubber bands.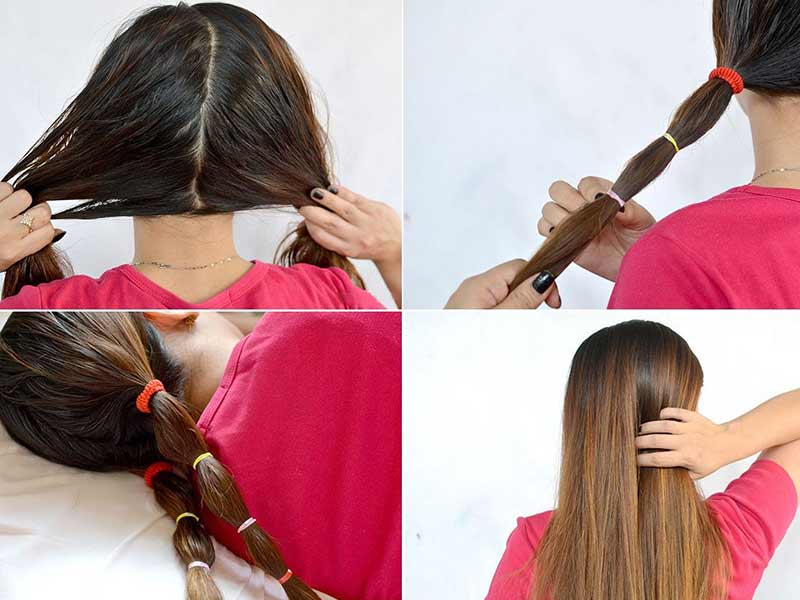 – If you have thin hair, divide your hair into two sections. What about thick natural black hair? Part it into four equal sections.
– Tie sections of hair with hair bands to hold the hair securely. Tie to the nape of the neck. Then continue tying another right below the first one until you reach the end of the hair. Keep all hairs sticking out.
– Repeat the process with the rest of the hair sections. Go to bed and leave it overnight. Remove all hair bands in the morning. Without a perm, without heat damage, you still straighten your natural hair at home.
Read more:
Straighten Natural Hair Without Chemicals
Use rollers set
Wash your hair as usual. Then condition it. Leave it a few minutes for deeper moisturization and rinse out with fresh water.
You should use roller sets on the damp hair, not wet. If your hair is dry, spray water on it. You can use a rat tail comb to divide the hair off. Start with the first section by brushing it out from the roots to the tips. Then gently wrap the smooth hair around the roller. A good roller set can keep the wrapped hair tightly around it. When you roll the sections, secure it at the root to make it stay in place.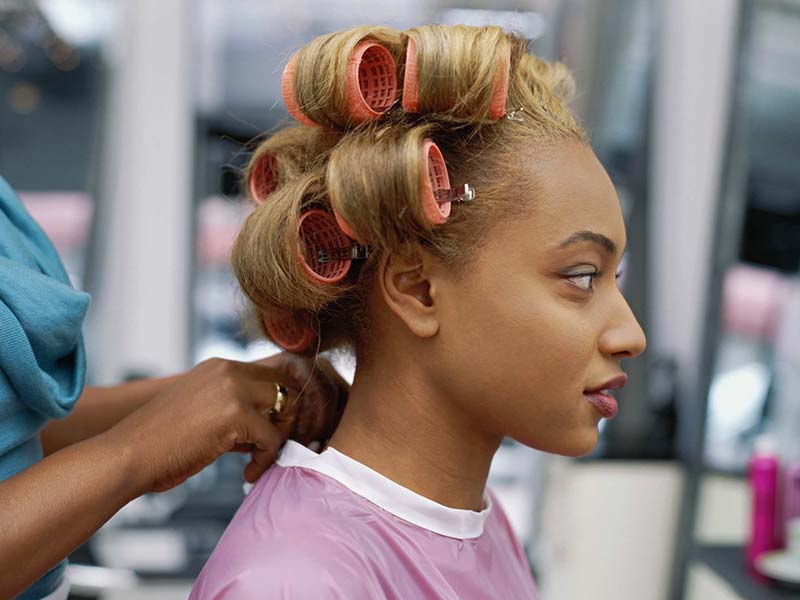 Now, you leave your hair air dry as it can cause pressure on the roller set to straighten your tresses gradually. If you have a plan to leave it overnight, use a silk towel to wrap the hair. In the morning, remove all rollers, and you have straight natural black hair without chemicals.
Coconut milk and lemon juice
You also straighten hair naturally at home with natural remedies. You know coconut milk can nourish and soften the hair. The saturated fats on it help to provide emollients. It also contains acids that restore the acid-alkaline balance of the scalp. This is a reason why it is an essential ingredient in most hair care products.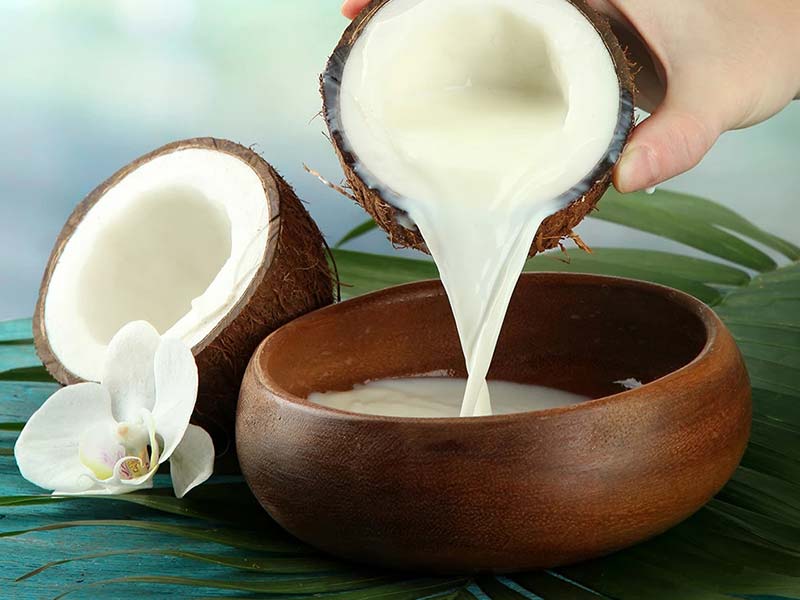 To create the hair mask, mix lemon juice with extra virgin coconut milk. The effect of lemon is cleansing and straightening the hair and helps add luster to the hair as well. Use your fingers or brush to apply the mixture onto your tresses. Make sure you distribute the mask evenly on your hair to get the best result. Wear a shower cap to keep the heat warm, making the curls straight.
Use A Flat Iron To Flatten Hair
One common way to straighten natural hair, as well as a human hair wig, is by using heating tools.
Prepare the hair
Shampoo and condition your locks. Apply heat protectant products to prevent your hair from damaging. Let your hair air dry is better. If your hair is thick and coarse, you can use a blow dryer on low or medium heat level. However, we don't recommend using this tool.
Steps to straighten short natural black hair with a flat iron
How to straighten natural curly hair? First, brush the hair out to remove all tangles and knots. Part your hair in those four sections, then use hair clips to secure them. Turn on the tool.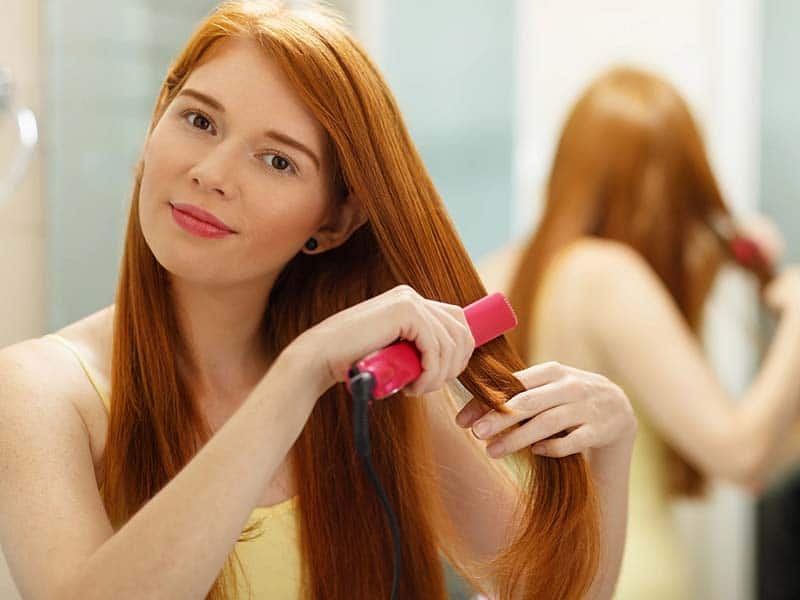 Next, start straightening the first section. Just comb through the hair again to smooth it out. Place the flat iron at the root of your hải and run in the downward direction. To get the best results, you should press down with the machine and always maintain pressure when straightening. Keep doing until the hair strands if straight.
Then, repeat the process until all hairs are straightened. Don't forrget to straighten edges of natural hair. Be patient to do the process. You will be satisfied with the finished look.
Note: Don't style your hair more than a few times per month since too much heat causes dry and damaged hair. The most effective method to protect your natural tress is limiting using heating tools.
You might also want to read:
How to use a hot comb to straighten your hair
Spray water and detangle your hair as you do in the above methods. Part your hair into small sections and put heat protectants on the hair. Use an electric hot comb and test to make sure it is hot enough. Now hold the tip of a hair section and run the comb through. You have to leave the comb to go through your hair multiple times, at least three times, to straighten. Let's go ahead with the rest of the hair.
Use the electric comb at a moderate heat; you can straighten natural hair without damage.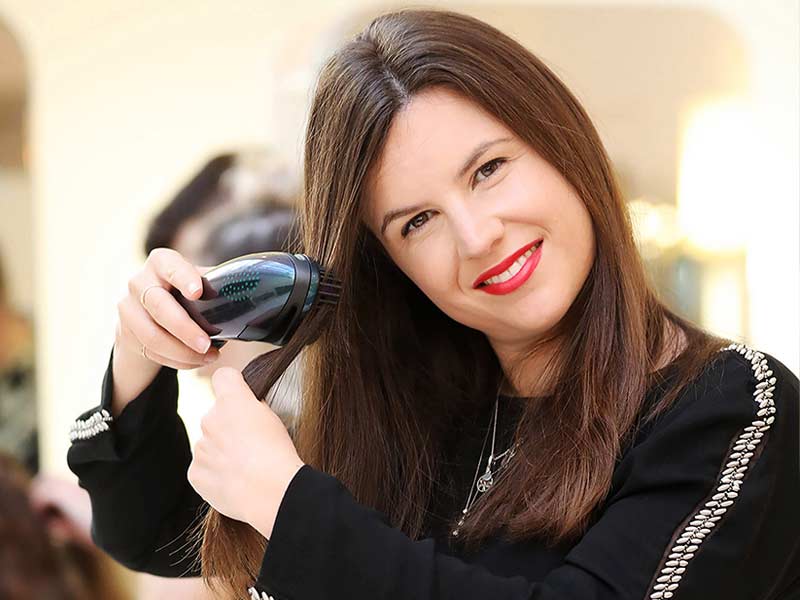 If your hair is too curly, you can apply a relaxer to straighten it as a styling method without heat. Add relaxer to your edges and your tresses. Read the instructions carefully and don't leave the relaxer on for longer. Rinse your hair with water. Then shampoo it about 3 to 4 times. Make sure you use the right type of clarifying shampoo as it is the only product that can absolutely remove all of the relaxers from your head. Next, you apply a deep protein conditioner. Finally, shower and rinse it out.
Kindly note that you had better not use this method to flatten your hair topper as it might severely damage the hair strands.
The Bottom Line
Lewigs hope that after reading our sharing, you will know how to straighten natural hair. Visit Lewigs' blog posts to get more necessary information, tips & tricks to take care of your real hair.
If you have other ways on how to straighten natural black hair without damage, don't hesitate to share it with us. We are looking for to hearing your voice.