Just like the skin, the hair also needs your careful maintenance, especially curly hair. If you were born with curly hair, please consider it as your luck. With this hair type, you can get many cool hairstyles to show yourself. Treat your hair as you would do with your child, turn it into manageable curls. How to take care of curly hair? These tips should help you deal with the vulnerable and breakage curly hair.
Here are some tips and tricks on how to care for curly hair so that it always stays bouncy and voluminous.
Apply pre-shampoo to your dry hair
Have you ever tried adding shampoo on the dry strands before washing or showering? We believe that it is completely foreign to some. 
However, it is a great way to take care of your curly hair. Instead of lathering the shampoo as you usually do, you apply the shampoo to the areas that need the cleansing. Use your fingers to separate the curls and work the shampoo in. For instance, you apply to your dry scalp, around the hairline and nape that are greasier sections. Because curly hair tends to tangle easily, this method helps you manage the curls and detangle it well. Leave it at least 20 minutes. Cover your hair with a shower cap or towel as needed.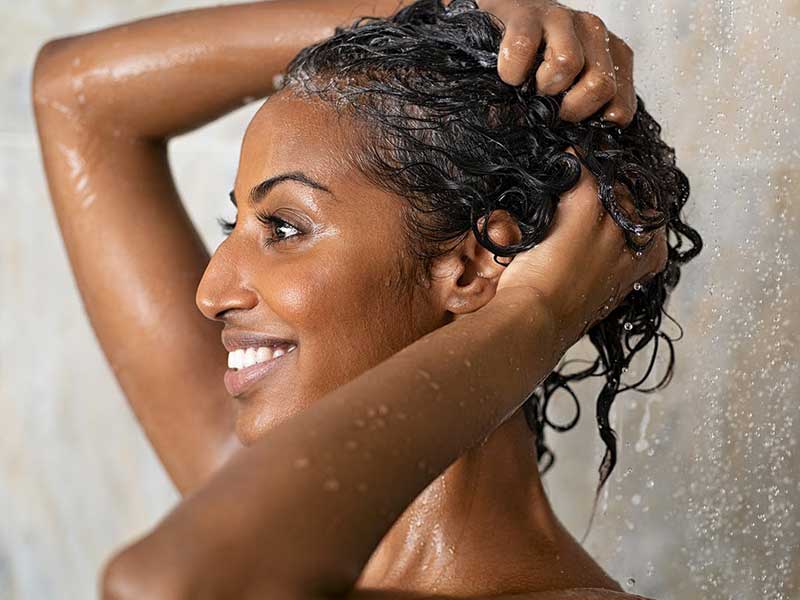 Skip daily wash
You can guess that daily shampooing will remove natural oils that moisture your scalp and hair. Do not need to shampoo curly hair as regularly as the straight. Wash hair daily will stretch and dry out your thirsty strands. But don't forget to condition the hair. Add the hair care product frequently even if you don't wash the hair to take care of curly hair male and female.
Nourish with conditioner
How to take care of long and thick curly hair? It is not unusual when natural curly hair is dry. Due to the kinks of your curly hair, natural oils struggle to reach the hair ends. Buy a conditioner that helps the hair feel softer and smoother. Apply more conditioner at the hair ends and don't let it stick to the roots. Use a wide-tooth comb to distribute it evenly.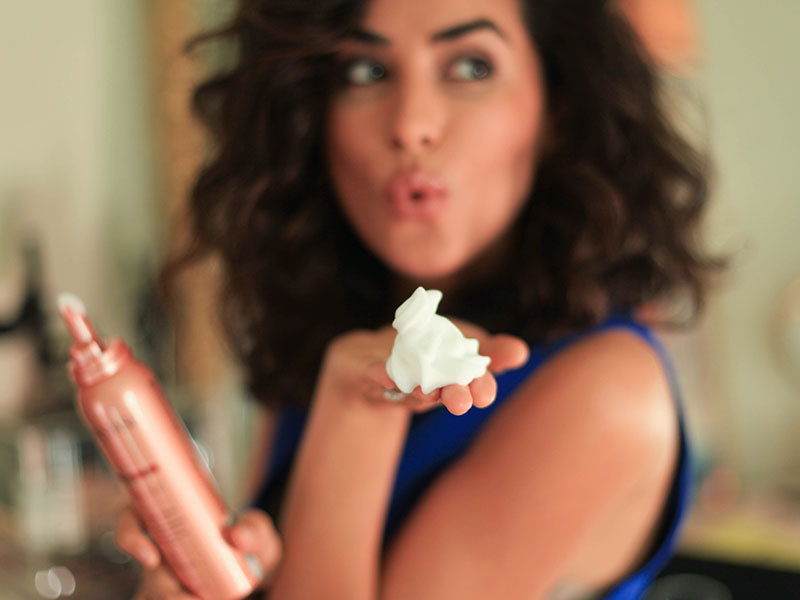 Use special product lines that specially produced for curly and dry hair. Apply a sufficient amount will help the hair absorb well and create a protective layer for all strands without affecting the curl. If your hair is chemically treated or colored, you can apply this tip to keep your luxurious hair.
Equally, no matter what curly hair types are (deep curly, kinky curly, mixed curly, etc.), a nourishing serum is your best companion. Try adding the protective serum to the damp or dry hair to get a shinier and more manageable hairstyle.
Related posts:
Leave your natural tresses air dry or use a diffuser
After shampooing your natural tresses, don't use a dry towel to dry it since this only causes frizzy hair. Still, use a towel to pat and gently squeeze the excess water. Then leave your hair air dry.
Feel free to use your hairdryer equipped with a diffuser. You have to distribute the heat evenly yo reduce the frizz. But don't overdo it. Dry out between 90 to 95 percent, and leave 5 percent to dry naturally.
Minimize brushing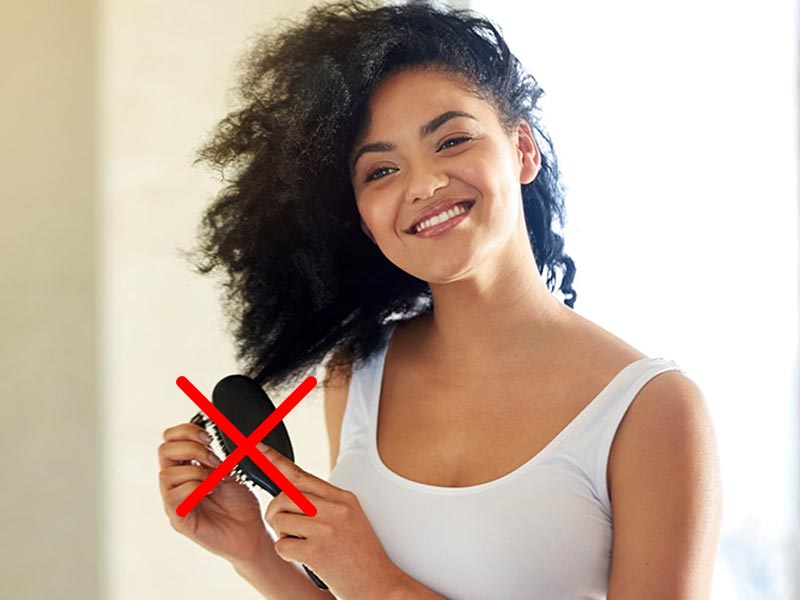 You can't help brushing the curl but try to limit brush the hair too many times per day. Brushing is too aggressive for your curly hair, it pulls out natural curls and causes frizz. If you want to detangle, gently brush it with a wide-tooth comb when it is wet or run your fingers through if it is dry. Start at the ends of the hair and move up to avoid damage and breakage. Keep in mind that the more gentle and patient you are, the better you care for your hair.
Use styling products on wet hair
I have got a new curly hairstyle, so how to take care of my curly hair. Please apply styling products on your natural tresses when they are still wet. This helps lock in the moisture and maintain your curls bouncy and gorgeous at any time. It only takes five minutes, it will deeply nourish the curl. Repeat the tip every week.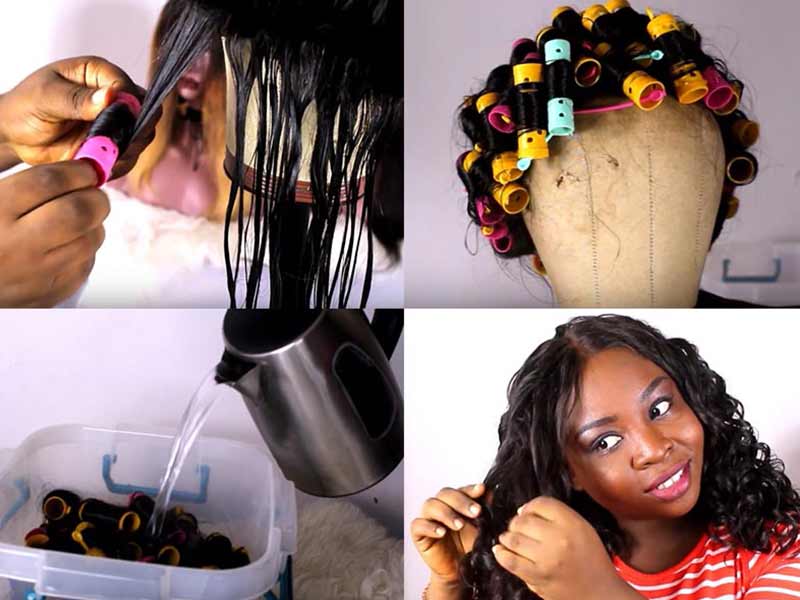 Lay off the heat
Why my kinky curly hair dry quickly? How to take care of curly hair naturally? All of the thermal tools like a blow dryer, curling iron, flat iron, cause hair breakage. Try to wean yourself off of the using heat styling tools. Set your hair in rollers set overnight to keep the shape or let it dry naturally.
If you are a hot tool addict, buy the highest quality item you can afford. Or set them in the lowest or cool level when using. Don't forget to apply a heat protectant prior to styling. Don't let the tool too long in one place. 
Read more:
Sleep with a satin pillowcase
Invest a satin pillowcase or sleep cap to take care of natural curly black hair at night. It keeps your hair away from getting frizzy or flat. Or you can create a loose braid style before going to bed. Spray moisturizer to your braids and peace of mind to sleep. In the morning, you can see the result, your hair is no tangling. And the hair-styling process will be much simpler and faster.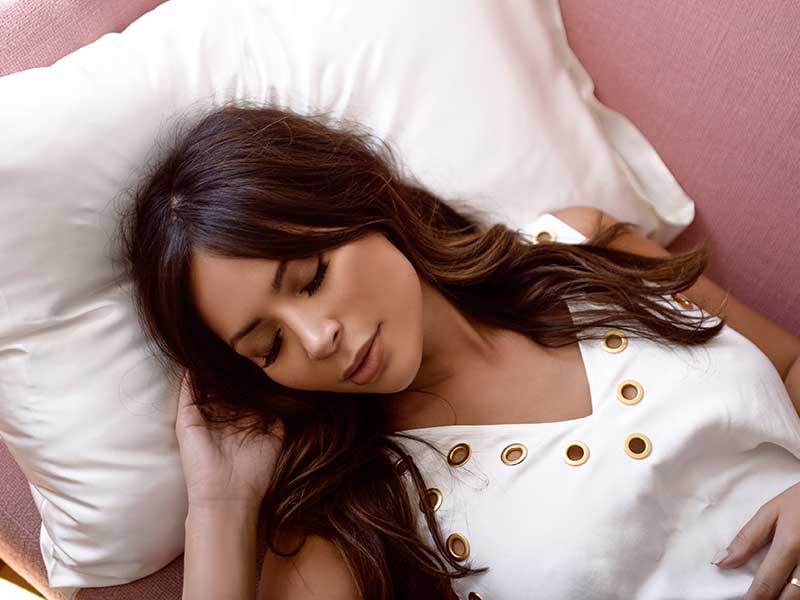 Get a trim every 6-8 weeks
Whether your hair is straight, slightly wavy, curly or kinky curly, you trim the hair regularly to remove split ends and breakage. Depending on the hair types, you should get trimmed hair from 6 weeks to 3 months. With curly hair, the ideal time to trim hair is every 6 to 8 weeks. The men's hair is healthy as they cut the hair more often. Therefore, to take care of curly hair guys, you should keep your tresses clean and remove hair breakage.
To wrap up
Earning voluminous hair is what everyone always dreams of. Lewigs hope that these tips and hacks we provide above might help you know how to take care of curly hair.
In case, you have super-coarse curly hair and you can not manage it. Visit Lewigs to opt for a human hairpiece. We supply all types of hair for men and women like wigs, toppers, and toupees. Human hair system is the best and fastest way to cover your nightmare – dry curly hair.
Have any special inquiries about human hairpieces or related things, feel free to contact us at any time. Our professional staff will offer you round-the-clock care.