Wigs have become a recent raven. They are available in different textures, colors, and lengths. Also, the hair can be customized in a way so that it suits wearers best. You purchase a curly wig as it has the same texture as your natural locks. However, it is too thick. How to thin out a curly wig? Many individuals thin out the hair system for a natural-looking wig. Follow our blog post to know how to do this. 
Can I Thin Out My Hair Wig?
I have bought a hair wig, but I'm unhappy with its density. Too much hair makes it bulky and unnatural. You may wonder if it is possible to trim the hair. Or how to thin out a big curly wig? Of course! If you are confident about your ability, cut extra hair strands with a pair of thinning shears.
Nevertheless, this process is sometimes challenging to do yourself. If you are unsure, visit a hair salon and ask for professional help. A well-trained stylist with wigs is great. This way, you will avoid horrible haircuts.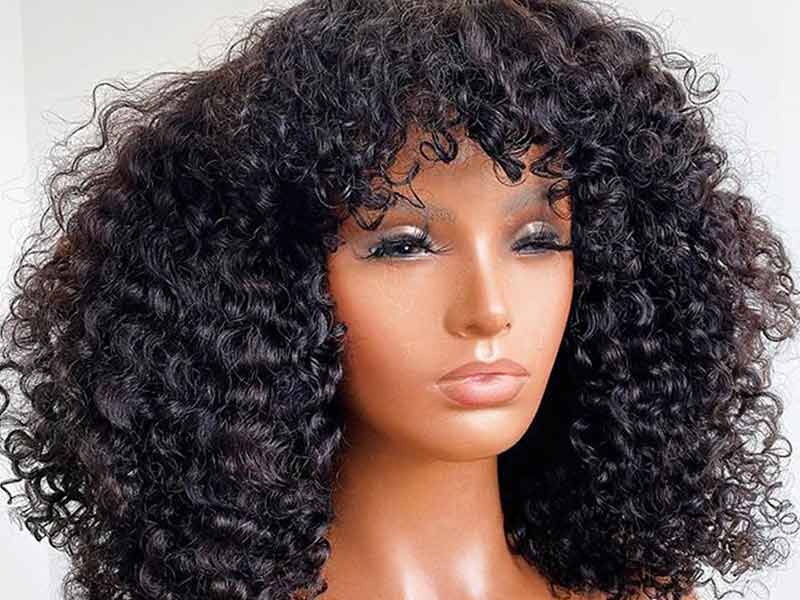 Related posts:
What you will need
You would like to thin out a wig yourself, we recommend investing a pair of thinning scissors. Choose the scissors with fine teeth since they just trim some of your strands. It provides a natural and soft finished look. Or utilize regular scissors and straight razors when thinning out the hai. But these two tools require your ability and take time to finish, or else you will ruin your hair replacement system.
Next, you prepare some hair clips and a comb. Before trimming the hair, you should split the hair into small sections with clips. The comb has a function to remove tangles and brush out the cur hair.
However, we recommend that you should choose a professional to do all step-by-step on how to thin out a curly wig with regular scissors. He/she can check how much thinner suits your hair, face, as well as hairstyle.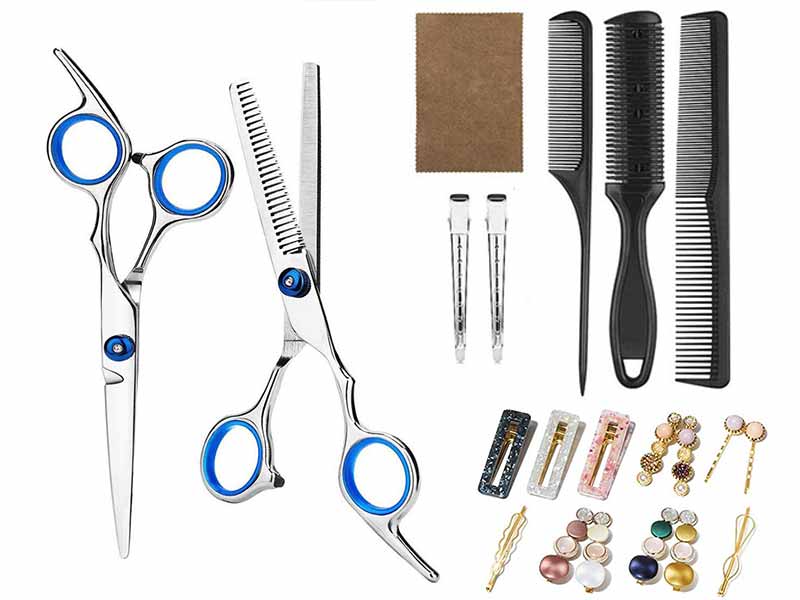 How to Thin Out A Thick Curly Wig by Yourself
You feel your wig is too thick and dense, thinning it is a great solution to give a natural hair look. Now, getting started to change your thick curly wig!
Determine where you crave to thin out the wig
Never ignore this step as it decides how naturalness your hair is. Put your wig on the head and determine where you want it to be thinned. Mark these areas before getting started.
Make a hair part you want to work on
Take the wig off your head and place it on a mannequin head or wig stand. Remove all knots and tangles with a comb and start splitting the hair into even sections. Secure the hair in place with some hair clips. Isolate the area of your curly wig you want to thin out.
Thin out your wig
Take your scissors in one hand and hold a hair section on the other. Trim the hair section. You should not cut straight into the hair, just do an angle. And don't get too close to the scalp area as short hair strands will straight up. Then it makes the wig look too bad. Cut the hair a quarter of an inch at a time to avoid any disasters. After trimming, you just comb the hair to get the excess hair out.
Keep trimming hair
Slowly do the same process until you get a perfect hair wig. Keep doing until all hair sections are thinned out. Comb and style it to get the finished look. You can pluck some hair strands out until you see the hairline look natural as you desire.
Voila! This tutorial on how to thin out a curly human hair wig will give wearers a natural hairline and a wispy look.
Note: When thinning out the wig, people often start at the top of the hair. Keep in mind that you can trim the hair off but cannot add more hair on your wig. Hence, check how much thinning your hair when trimming to avoid disasters.
Read more:
How to thin out a curly synthetic wig
You basically follow the above technique to achieve a nice hair look if you want to thin out synthetic hair systems. Besides, utilize a straight razor can be acceptable. You have to wet the hair before trimming and slowly work to control the tool.
What Types of Wig Can I Thin Out?
You could trim some kinds of wigs, such as full lace wig, 360 wigs, and lace frontal ones. You apply the same technique to thin out your wig and achieve thinner curly hair. 
We advise you to buy a human hair wig and trim it if you are not delighted with the density. Its quality is better than the synthetic one. Real human hair is flexible and easy to style. Also, it can last for a long time with proper maintenance.
In addition, choose the right hair density of wig so that it can save your time and money. Hair wigs are available in several common density levels, like 130%, 150%, and 180%. Depending on your existing hair, you can choose the right option and get a sleek look. If you are a newbie, consult experienced wearers or ask the seller before making the last decision.
To Wrap It up
All women want to achieve beautiful hair, so we think this post about how to thin out a curly wig is helpful. If you have your own way to thin out their wig, share with us. We will consider and upgrade our blog. 
If you are looking for a curly wig or other hair replacement systems, don't hesitate to try out products from Lewigs. We commit to supply top-notch items that are made of real hair strands. We aim to create the best hair products to refresh our customers' hairstyles. You can make a small order to test our hair quality. Don't forget to follow our website for more detailed information about hair systems.
Thanks for your follow-up!