We know there're many wig wearers who ask themselves the question "Is it even worth it to bring a wig on my trip?" when packing their suitcases. Is it necessary to travel with a wig? Many wigs users may wonder that kind of question when packing their luggage for a long trip or even just a day trip.
And the answer is " Of course!". People tend to pack their beloved items such as favorite clothes, shoes, jewelry, and handbags. As a wig wearers, leaving your adored wigs at home will be your big mistake. So, how to travel with a wig?
Whether you have used wigs for so long or you just a newer to the wig, knowing how to travel with your wig will help you properly pack your suitcase as well as enjoy your trip with your favorite wig. Today, Lewigs will give you the answers to several popular questions raised by travelers with wigs and offer you some useful tips as well. Let's check it out!
Question: How to pack the wig correctly?
Answer:
To maintain your wig cap shape, it is better for you to wrap your wig cap with scrunched tissue paper.
Next, you had better comb your wig hair to prevent tangle. Then, roll the whole hair net over the entire wig ( it may take time if your hair wig is long). This step will help to reduce tangling.
After wrapping your hair over the whole wig, put it into a bag. It is better to use a plastic bag or a silk bag for a friendly environment.
You may wonder why we do not recommend you use a wig box instead. It's because a bag will save the space in your suitcase and help to comfort your wig.
Lastly, leave a small amount of air inside the bag and then seal the bag to protect your wig without getting squished.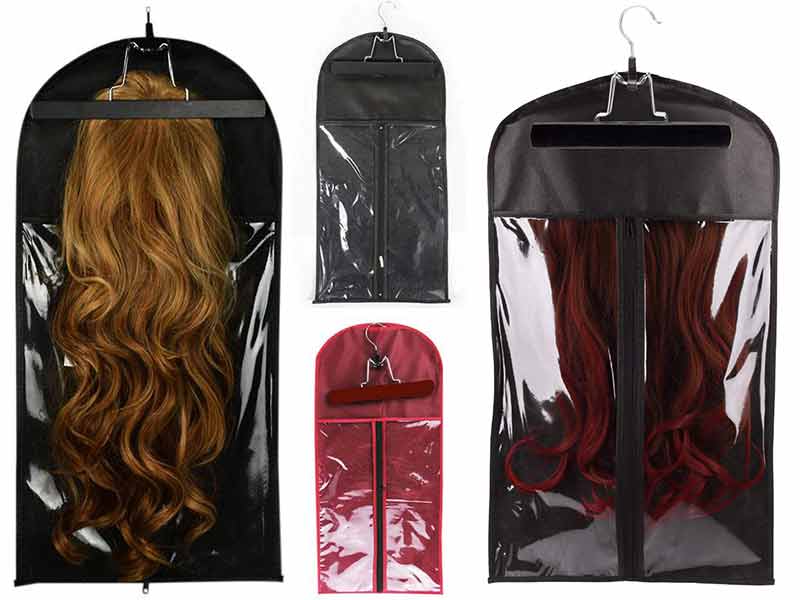 Question: Do I have to remove my wig when airport security checks?
Answer: No for sure!
Just like your outfits, wigs can be seen through by the airport security machines. Moreover, it is unusual for the Transportation Security Administration to request you to take off your wig.
The only case you must take off your wig for security check is when they detect something hidden under your wig. To prevent this situation from happening, we advise you to limit wearing too many mental pins to secure your wigs, which can set off a sensor as well as raise suspicion.
If the Transportation Security Administration asks you to remove your wig and you feel uncomfortable and unsafe to do it in front of many people at the security check area, discreetly tell the security that you are using a wig and you hope to take it off in a private room. They will allow you to do it in a private place so that you will not feel too stressed when removing your wig.
Other questions:
Question: What kind of wig care products and tools to bring along when traveling?
Answer: We advise you to bring along a portable wig stand. Once you arrive at your hotel, take out the wig from your luggage and immediately put it on the wig stand you prepare. The portable wig stand will help to keep your wig in the best shape throughout your holiday when it is not worn. Moreover, it helps you prevent your hair wig get creased or tangled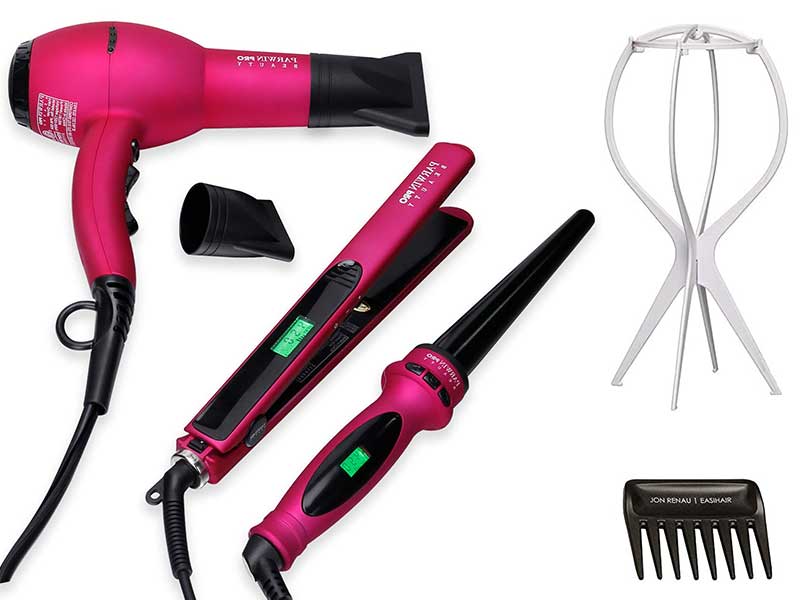 Other wig care products as well as tools to consider to bring along
A wide-tooth comb: This is a perfect item help you to brush your wig hair after any time of use and before you place it on the portable wig stand. Wide-tooth will lessen the chance of getting tangled. Remember to gently comb your hair for the best result.
Shampoo and conditioner for wig: Wigs is just like your real hair, it can get wet or dirty while traveling so it is better to wash it. But using the shampoo and condition at the hotel to clean your wig may damage it, it is better to bring travel-size wig shampoo and conditioner bottles, which is more well-treated for your wigs.
Curling iron or Straightener: You can change your style every day in your trip by bringing these heat styling tools. But remember that, you can only use it with Human hair wigs since synthetic wig can be ruined when contacting heat.
Where you can find your favorite wigs?
If you looking for a place to get a brand new wig before enjoying your trip, visit Lewigs website! Here, you can find yourself high-quality human hair wigs at a reasonable price. Our hair wig is customized in all primary styles such as straight, wavy or curl at any length with any colors. You can also or custom made wigs for your desired wigs for your holiday
Lewigs guarantee that all of our hair wigs are produced by hair collected from 100% Vietnamese and Cambodian virgin human hair, which is super durable and perfect in the look.
If you have any questions or suggestions, our professional customer service team will help you to answer any questions in the shortest time.
Jump to:
To sum up
Hopefully, in this article about how to travel with a wig, you have found some useful information you want to know when going on a trip. Note those tips on your list for traveling and you will have a memorable holiday!
If you have further questions about how to travel with styled wig cosplay, feel free to contact us, simply drop us a message at the box chat or via our email: info@lewigs.com or the hotline (+84) 98 261 44 86 (Mobile/WhatsApp/Viber). We are glad to hear your questions!
If you like this article, share it with your friends who also want to know how to travel with a wig. Don't forget to follow our blog for more interesting information!
Thank you for reading! Have a nice trip with your beloved wig!