Do you know what a lace front wig is? How long does lace front wig last? How to wear a lace front wig? There are too many questions regarding this hair wig. The lace front wigs are a secret weapon to flawless gorgeous hair that is virtually undetectable. It will appear as if you have a natural hairline in front and no one will know whether you are wearing a wig or not. It can last from 1 to 3 years with proper care.
Many people tend to wonder "Will the front wig fit their head?", "Is it easy to wear?" Let Lewigs show you some popular way on how to wear a lace front wig for beginners.
How To Properly Wear A Lace Front Wig
How to wear a lace front wig with glue
– Flatting your natural hair first. Braid, tie in a low ponytail or pin your hair up. Secure it by using gel and hair clips. When creating braids, there are still little hairs at the forehead coming up, you can use hairspray to shape it in place. Or use a hairbrush and comb it back.
– Shampooing the hair and your scalp. Using acetone or rubbing alcohol to make oily-free areas. If your skin is allergic to the chemicals, so remember to apply a thin layer of scalp protector after using the acetone or alcohol.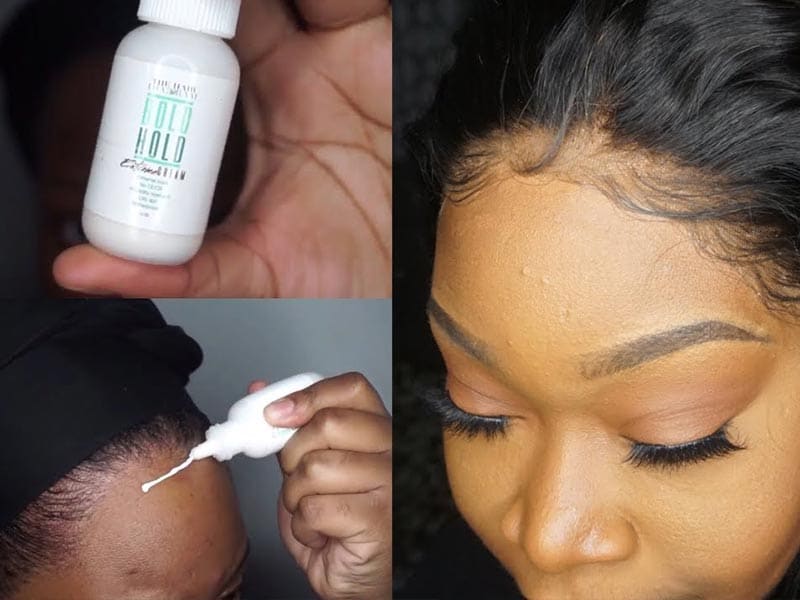 – Wearing a cap. Gently pull it to cover your head, adjust so that your natural hair is hidden perfectly underneath this cap. Don't wear a tight wig cap since it makes you feel uncomfortable and causes your headaches.
– The next step on how to wear a front lace wig is adding glue. Applying a thin layer of the adhesive along your entire hairline. It is better if you use your fingers to add the glue. Depending on the type of glue adhesive you use, you can add more than one layer.
– Taking your lace front wig and putting it on your head. Adjusting so that it blends seamlessly your natural hair. Once you've satisfied with your wig, gently press the wig into the adhesive. Now you can brush and style this hair wig as you want. Often, glue is used to wear a lace front wig on shaved head.
You can do the same with how to wear a lace front wig cosplay.
How to wear a lace front wig with tape
Wig tape is a type of bonding adhesive for holding hair systems. Before applying tape, preparing your skin as you do with glue. Wipe your forehead with a swab that is soaked in alcohol. Then, adding a thin layer of scalp protector on your skin right below your hairline to keep your skin from irritating.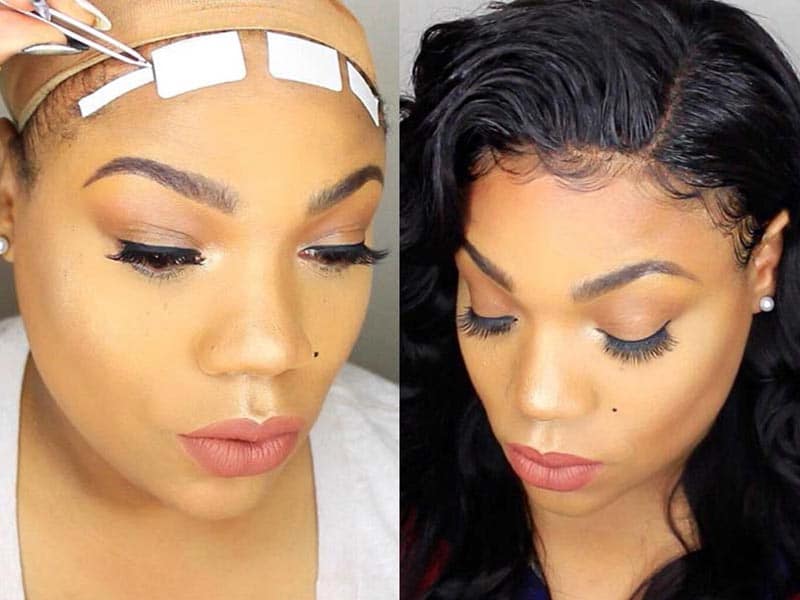 If you use wig tape roll, please cut it into small pieces to fit your hairline. Peeling the protective paper off the tape and applying it in the place where you want your wig sit. Press down these pieces so that it is sticky properly.
Next, remove all the back paper of the tape so you can put the lace frontal wig on your head. Ensure that the wig is in the right place and press it down on areas where the tape is.
You are able to part and style your wig to make it look natural.
What about how to wear a curly lace front wig? Doing the same way, but when styling your wig, you should use your fingers and run through the hair.
Putting on your wig with clips
Most wigs come with clips to provide the wig wearers with a secure fit. They are in the front, 2 sides and at the back of your wig.
How to wear your hair under a lace front wig? Braiding your hair and wrap it with a stocking wig cap. Wearing a cap can keep your natural hair in place and protect your scalp as well. Now everything is ready.
Do you know how to cut and wear a lace front wig look amazing? Opening all clips underneath the wig. Placing it on your head and adjusting so that it sits in the right place. Bear in mind that you have to line up the center part of the hair with the center of your forehead.
Then moving on to locking in the clips on both sides and back of your head. Using a rat-tail comb to part the wig as you want. Styling your hair with heating tools if your wig is made of human hair.
A lot of wearers ask if the clips hurt but it is so small and safe to wear. It does not hurt you at all.
View our top-rated wigs for women:
How To Wear A Lace Front Wig Without Glue or Tape
You are afraid that the chemicals in glue and tape can irritate your skin. You want to wear a hair system with no glue or tape. How to wear a lace front wig without adhesive? In this case, a glueless lace front wig is the best way you need. Let's refer to our instructions on how to wear a lace front wig without glue for beginners.
Similar to the way you do on wearing a wig with adhesive, make your hair ready for installation. Cleaning your hair and braiding the hair if you have long hair and packing in a low ponytail if your hair is short. Wearing a wig cap or not is up to you.
How to wear a glueless lace front wig? Cut the excess lace on your hair system and place it on your head. Often this wig has an elastic band inside that allows securing the wig in place. If not, you can sew it in by yourself. Hence, you should choose a wig that fits your head size perfectly. Adjusting the glueless wig however you like. Then trimming or styling the hair to make it look natural. Follow the step-by-step guide on how to wear a front lace wig without glue to make your wig look amazing.
How To Wear A Lace Front Wig While Working Out
Having a work out with your lace front wig can prove to be quite a challenge. Because glue is stronger than the wig tape, it is widely used. You can visit Lewigs's blog to know some top glue brands now. Choosing glue that is water-resistant as you may be sweating when working out.
How to wear a lace front wig with natural hair? Please wrap your natural hair under a wig cap. Make sure that your natural hair is hidden perfectly underneath this cap, even the hair on the nape of your neck.  
Taking your hair wig. You should choose a front lace wig that has bleach knots, light baby hair in the front, and natural-looking hairline. Putting it on your head and cutting off the extra lace.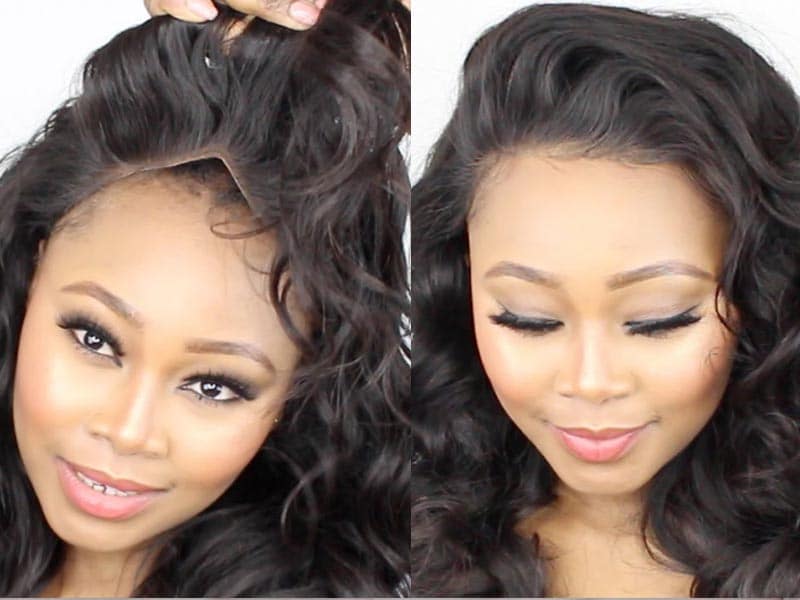 Then pulling the wig back and adding glue along your hairline. Wait a few minutes until the glue is dry, moving the hair forward. Press the hair on your side edges and foreheads into the glue.
Grabbing your hair with an elastic band just to make sure that you have set the wig in front. After 10 minutes, you leave it off and now the wig installation is finished. Put your hair in a ponytail and now you can go out for work or go to gym fitness.
You wonder if there's a way on how to wear a lace front wig without cutting the lace. You should give the manufacturer your measuring results and they will create your perfect wig, no need to cut the lace. 
Related posts:
How To Wear A Lace Front Wig In A High Ponytail
Putting your wig on your head by following the above methods, using tape, glue or glueless wig. But we highly recommend using glue to attach a wig. This will ensure the security of your wig when pulled up into a high ponytail. If you want to style the hair to look natural, you need to keep everything really simple. Now, let's start.
First, brushing the hair with a wide-tooth comb to detangle knots, starting to ends and move up.
Then you apply some of the moisture leave-in. Focusing on the ends of hair because this area is drier than the others.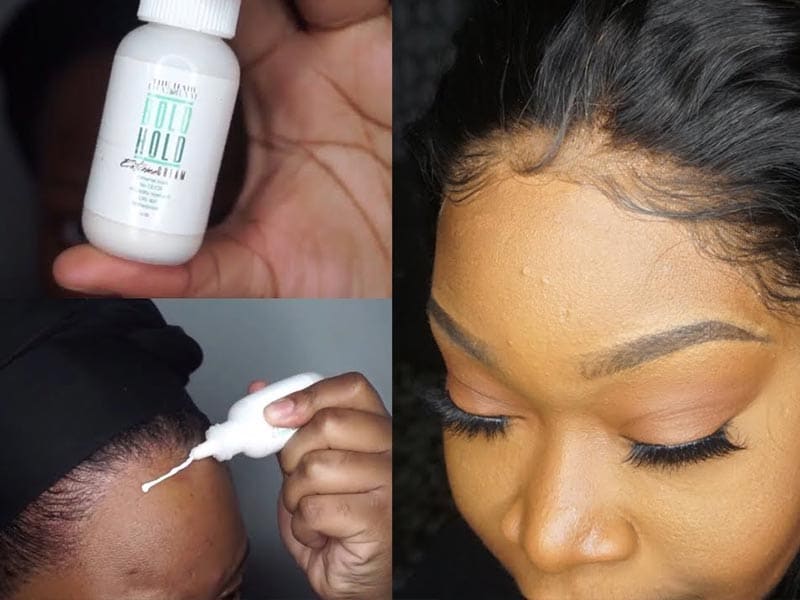 The next step on how to wear a lace front wig in a ponytail is to create just a little bit of baby hair. Just use a rat-tail comb or a toothbrush to create the baby hairs and make it look as natural as possible. Now, taking the hair and pull it up. Pulling the hair up into a ponytail until the back of your wig is lifted all the way. You can use a hair bow or tie to secure the hair. 
How to attach a lace front wig African American is the same. Black women are suitable with dark hair color wig such as brown, golden brown…
To Sum Up
Don't hesitate to learn how to wear a lace front wig if you are bald. Lewigs hopes that this post will help you cover all necessary information about how to attach a wig with lace front. Only take a couple of minutes to get a wig completely ready to wear, it will change your hair and appearance instantly. Don't fear if you are not successful for the first time, because you will be able yo better the next time.
If you have other ways to do this, share with us. Or if you would like to add more useful tips, take a look at our website now. Regarding human hairpieces, we supply a big collection of wigs that are made of 100% human hair.
Have any questions, drop us via hotline or email info@lewigs.com. We are online 24/7.