Description
Product
Combo collection: hair bundles, lace closure, and lace frontal at Lewigs
Closures & Frontals
100% hand-tied on HD lace. Thin, invisible, and natural-looking
Hair Bundles
Bone straight Vietnamese hair
Weft Type
Double weft hair. Neat, tight, no shedding and tangle
Hair Length
Please CHOOSE the specific hair length above.

Example:

14 14 14: 3 bundles of 14 inch-long double weft hair
14 14 14 closure 12: 3 bundles of 14-inch long hair and 1 closure 12 inches
And 14 14 14 frontal 12: 3 bundles of 14-inch long hair and 1 frontal 12 inches

Hair Quality
 Top-quality Remy bone-straight Vietnamese human hair. Strong, silky, long-lasting.
Hair Parting
Free part
Hair Color
Kindly CHOOSE the specific color you want. We have 3 options available on this page: natural black #1B, burgundy (red), and brown mixing.

For other colors, you can still request order by contacting us directly via our hotline at any time.

Delivery
For in-stock hairpieces: immediate shipping via UPS, DHL, etc., depending on your address. It normally takes 3-5 business days for delivery.

For out-stock, backorder, or custom-made products: within 20 days. CONTACT US to know more.

Note
For any changes in size, length, or color of the bundles and closure/frontal, reach us directly via our hotline at any time to get support.
ABOUT LEWIGS COMBO COLLECTION
Are you looking for an option that could bring you a natural-looking and long-lasting hairpiece without paying much cash? Instead of buying a ready-made wig, purchasing 3 bundles and a closure or frontal and making the wig yourself would benefit you a lot. Here're some distinguished features of the combo from Lewigs:
Hair Quality
Lewigs' bundles and closures/frontals are all made of 100% unprocessed human hair collected from young and healthy donors. The tresses remain its original healthy state and are exceptionally smooth, shiny, and bouncy. There are little to no signs of tangling, split, or dry.
Because the hair is top-notch, wearers can re-style or re-dye the hair later on in case you want to change the styles.
Closures and Frontals
The lace hairpiece in this combo collection is 100% hand-tied on HD lace. The hair strand is meticulously ventilated by skilled manufacturers, ensuring the durability and the naturalness of the lace pieces.
Hair Bundles
This combo comes with double-weft bundles. They are tight and durable, thus minimalizing the risk of shedding. Still, it is light-weight and sits comfortably on your head without much pressure.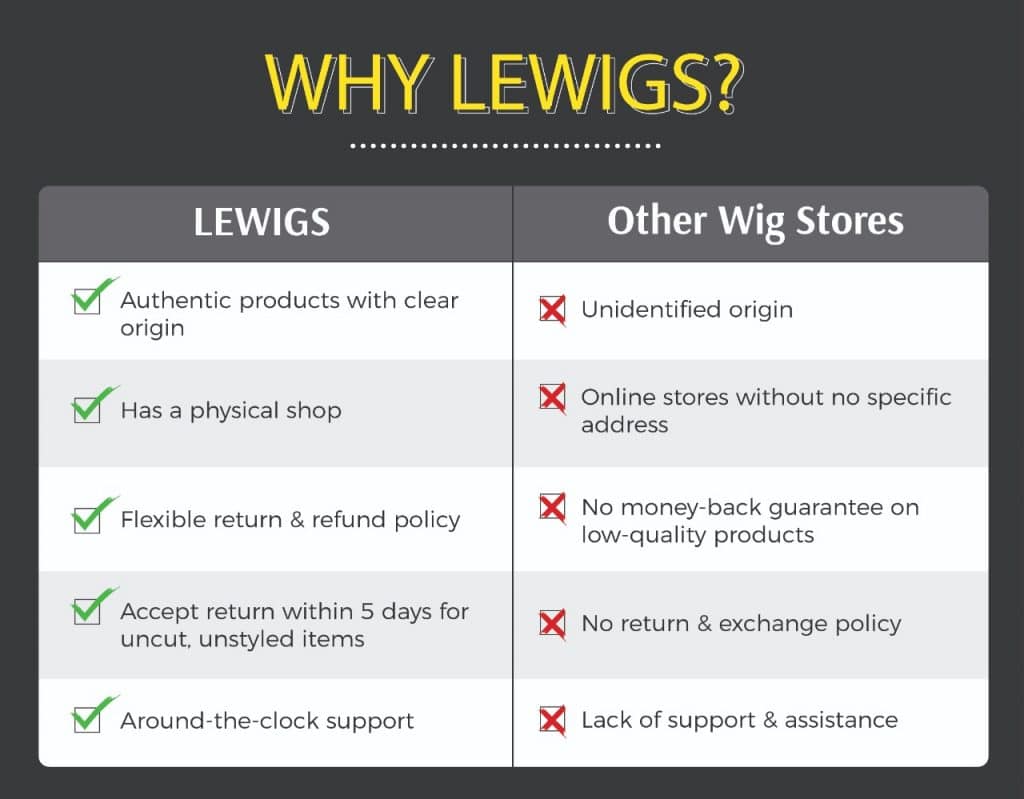 HOW TO MAKE A WIG WITH BUNDLES AND CLOSURE/FRONTAL?
For the detailed guide about sewing in a wig with bundles and closure/frontal, kindly take a look at our INSTRUCTION