When you think of Real Housewives of Atlanta star Kim Zolciak you probably think of her bleaching blonde hair, that part of her identity. In 2008, she appeared on the reality television series The Real Housewives of Atlanta aired on Bravo. Kim Zolciak wigs were always a hot topic for audiences, she was often wearing lots of makeup and especially wasn't minded to flexing her property on the program. However, since then, Kim Zolciak has changed her look. Now, she is the mother of six children, and she has had work done. But there is one thing that remains. Kim still adores her wigs and has even worked on turning her passion into a business venture
Why does Kim Zolciak wear wig?
Do you know why does Kim Zolciak wear wig?. On The Real Housewives of Atlanta, Kim didn't mention much about the reason why she wears wig and people didn't want to know it at all. After showing off her long golden locks, people thought that Zolciak was done with these wigs things. But for Kim, the point is to save time.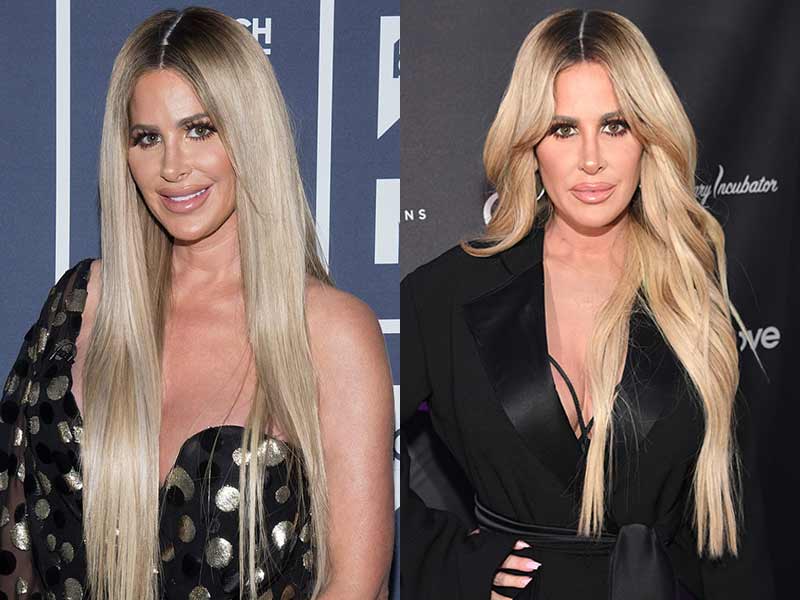 "Real hair don't care. I love my hair but a wig is way easier for me! They can be curled off my head and just put on and I'm ready to roll! Be on the lookout my extension line coming soon #GoBig," Kim Zolciak shared on Instagram, adding that she would rather spend time with her children than doing her hair in the morning. That means a wig help her to save the time, she won't have to worry about "bed head" in the morning but still got a pretty hair looks.
Kim Zolciak's wig collection
As we saw on the program RHoATL, Kim doesn't go anywhere without her wigs collection. She always preserves wigs in Ziploc bags. Wherever she goes, she can have a brand new wig for every day to change. With her forgetting shoes is OK, but leaving this hair, she lost."
Long Wavy Capless Attractive Wig In Style Vogue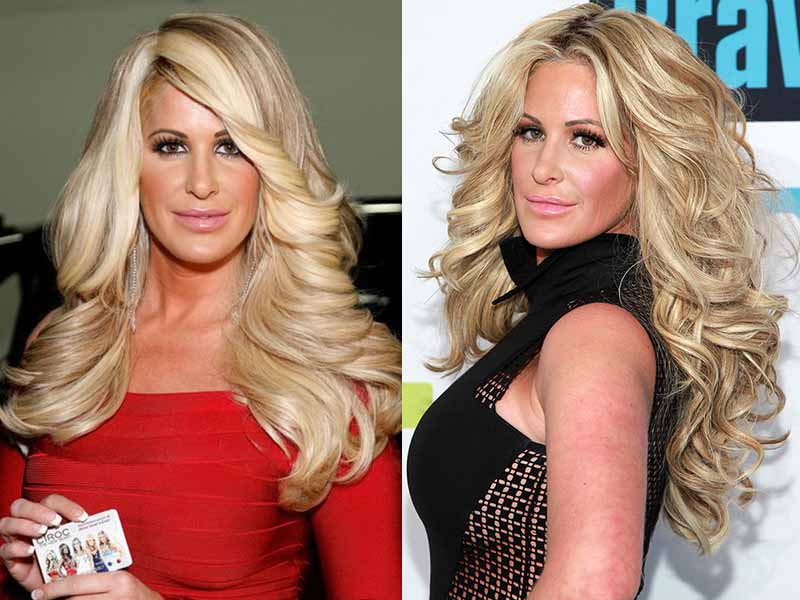 What is a capless wig? This type of cap allows for maximum aeration for the wearer. The cap is built up by vertical lace strips with open spaces between wefts. These openings make the wig lighter and more comfortable than standard cap wigs. We can see Kim wearing this type of wig most of the time because of its convenience and lightweight.
Similar posts:
Magnificient Straight Lace Front Natural Hair Wig
Lace front wigs will create a natural hairline with a sheer lace material along the forehead. It will create the most flawless look, highlighting the shape of your face easily.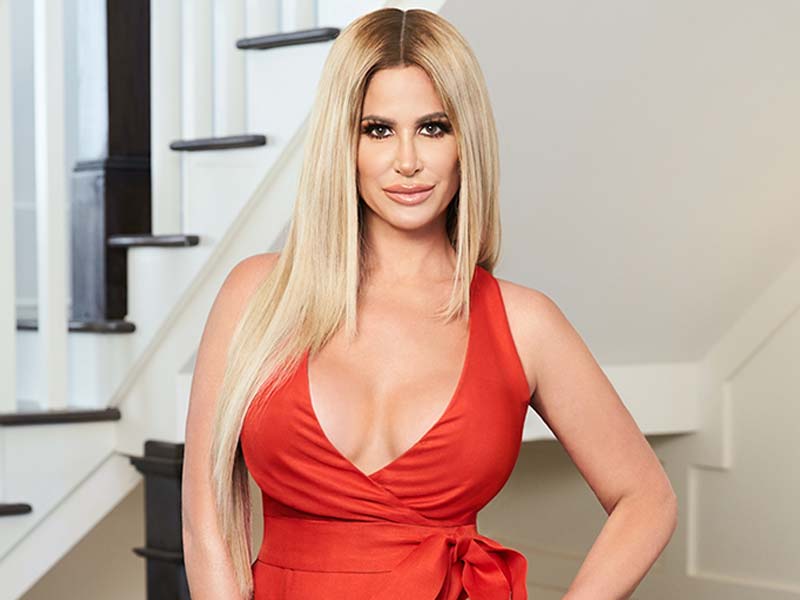 That wig is favored not only by Kim Zolciak but lots of other famous celebrities worldwide.
Extraordinary Wavy Synthetic Lace Front Wig
Lace front wigs are your secret weapon to flawlessness. It is well-known because it will appear as if you have a natural hairline in front. The front part of hair systems is lace-based material. Moreover, strands of hair are hand-sewn.
Wavy Synthetic Capless Wig
Capless wigs allow Kim's head to stay cooler than wigs with solid hats. Because it is made with less hair, the specific capless construction allows some airflow to the head and scalp. There are also adjustable straps or hooks in the nape of the neck to secure the wig instead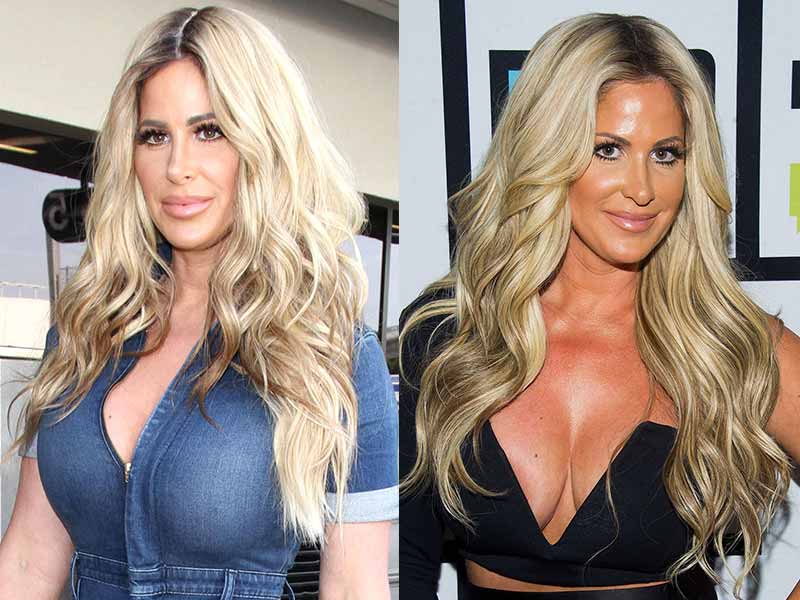 Wavy Remy Human Hair Monofilament Wigs
Monofilament wigs give Kim Zolciak a soft touch; basically see through and very hard to detect. The monofilament weaving allows each strand of hair to move freely and more naturally. The top has a monofilament construction which allows you to dress in one direction and the hairline has 'hair' is coming from your scalp and not the cap.
Kim Zolciak without wig
It's strange when we see Kim Zolciak without wig or makeup, she posted her photo on Instagram with a bare face and real hair. Kim's real hair is a little bit darker than the wigs that she wears. She really surprised the fans when admitting herself is quite a brunette woman. "I had dark hair almost black until I was about 15, that's when I started coloring it!
Zolciak-Biermann says delayed never go back to full-time brunette. But now that she's basically "100 percent gray," as she told TODAY Style, she's having to dye her hair frequently and alternate with wigs.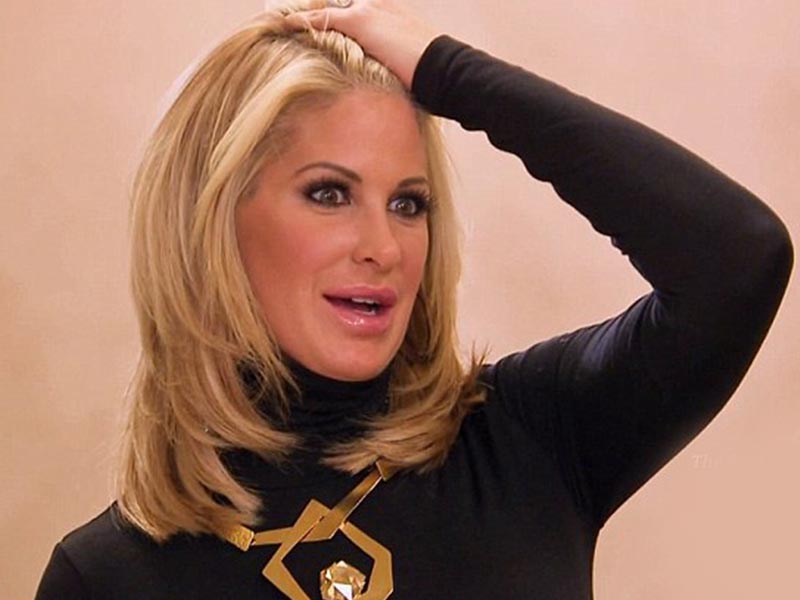 She also mentioned that she doesn't want her hair to be too dark it would really upset her, using wigs to help her hide dark hair. Wigs are essential to her overall look, she feels sexy when wearing it on.
Kim even trying to start her own wig business, all of the wigs will be sold for charity purpose
Jump to:
Where does Kim Zolciak buy wigs?
Well… no one knows the answer to this question except Kim and her stylists. However, types of wigs like Kim Zolciak's wigs are abundant at Lewigs. All wigs are made from fine material. Wearing a wig, you can save a lot of time. There are many women have a busy life and schedules. These are the times when you'll appreciate how convenient and easy it is to put on a wig that makes you look good without having to do much.
Want to have Kim Zolciak wig?
Let's Lewigs help you to do it. It was difficult to find a better hair supplier than us. We are 100% confident about the quality and cost of our products. They are absolutely made from the best human hair. Different colors and lengths are available for you to choose from. So maybe finding a suitable one for you is not that difficult
Check out our collection of human hair wigs for women now to find your best picks! Or contact us directly via our hotline to get instant support.
Look forward to hearing from you!